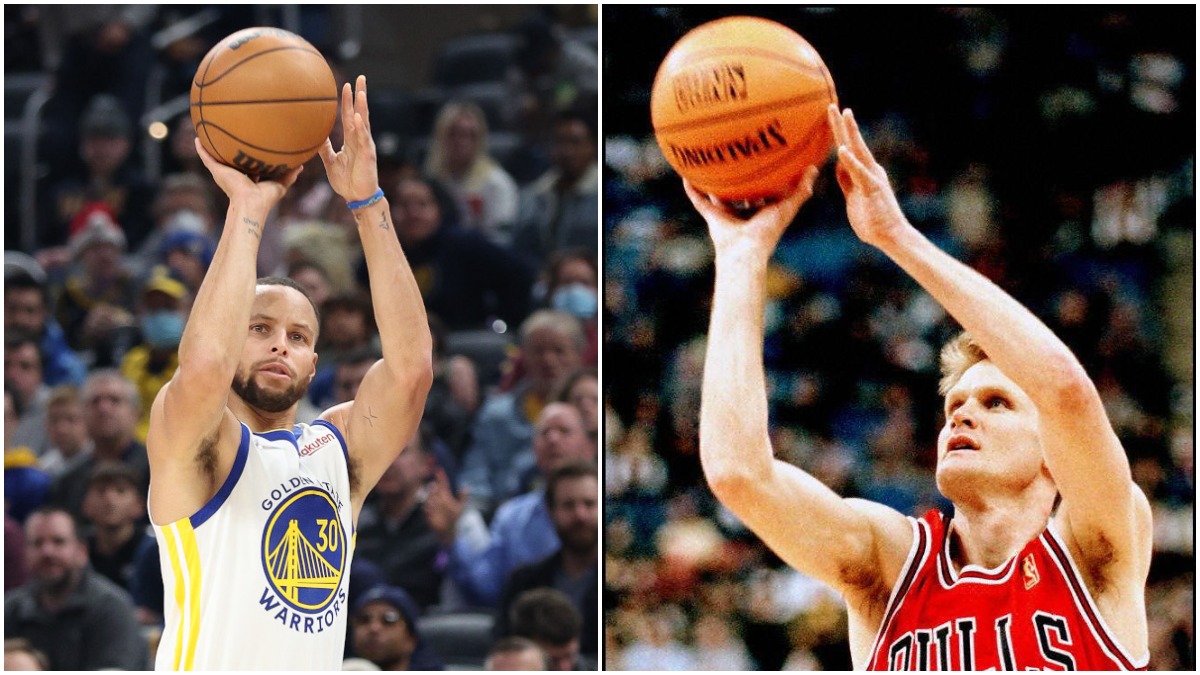 Stephen Curry Makes NBA 3-Point History, but Steve Kerr Is Still the All-Time Leader in Accuracy
Steve Kerr is the most accurate 3-point shooter in NBA history. That doesn't mean he's a better shooter than Stephen Curry.
On Dec. 14, Stephen Curry passed Ray Allen for the NBA career record for 3-pointers against the New York Knicks. But he's not even the most accurate 3-point shooter in his organization. So why isn't anyone talking about Golden State Warriors coach Steve Kerr being the greatest shooter of all time?
There are several reasons why that discussion doesn't exist. It's not an apples-to-apples comparison. Heck, it's not even apples-to-oranges. No, comparing Curry to Kerr is more along the lines of comparing apples to staples. Context matters, particularly in this case.
Steve Kerr is the most accurate 3-point shooter in NBA history
It is correct to say that Steve Kerr has the best 3-point shooting percentage in NBA history among qualified players.
The qualification standard might need to be adjusted to reflect the modern NBA.
In 15 NBA seasons, Kerr shot 45.4% from 3-point range. Hubert Davis is next on the list at 44.1%. The top two active shooters follow, with Seth Curry at 44.0% and Joe Harris checking in at 43.9%.
So not only is Stephen Curry not the most accurate 3-point man with the Warriors, but he's also not even No. 1 at the family table.
Curry is seventh at 43.1%, .0002 ahead of Tim Legler.
Let's get back to the qualifying standard. To reach the career leaderboard, a player must have made 250 3-pointers in NBA competition. In the shortened 2020–21 NBA season, four players made at least 250 deep balls. Curry led the way with 337, followed by Buddy Hield (282), Damian Lillard (275), and Duncan Robinson (250).
A total of 25 players have made 250 or more triples in a season. Curry has seven such seasons. For the record, Kerr's career-high was 122. Context matters.
Stephen Curry's average of 3-point attempts per game dwarfs everyone
Stephen Curry moved him past Ray Allen for the all-time lead. Allen set the mark with 2,973 long bombs.
He's already the NBA's leader in 3-point attempts per game among players with at least 250 made. Curry's career average is 8.7 attempts a night. Only Lillard and Luka Dončić average more than eight (both at 8.1).
On the career list for attempts per game, one must go all the way to 24th place to find a player not on a current roster. That's where Allen sits with his career average of 5.7 deep tries per game.
Steve Kerr is the most accurate 3-ball shooter in NBA history, but he took 1,599 3s in his career. He made 726. His average of 1.8 attempts per game ranks 491st among qualified shooters.
Kerr made the most of his opportunities. But Curry exceeded Kerr's career total in just two seasons; Steph launched 1,675 shots from the land of three in 2015–16 and 2016–17.
Need more reasons not to compare Stephen Curry and Steve Kerr?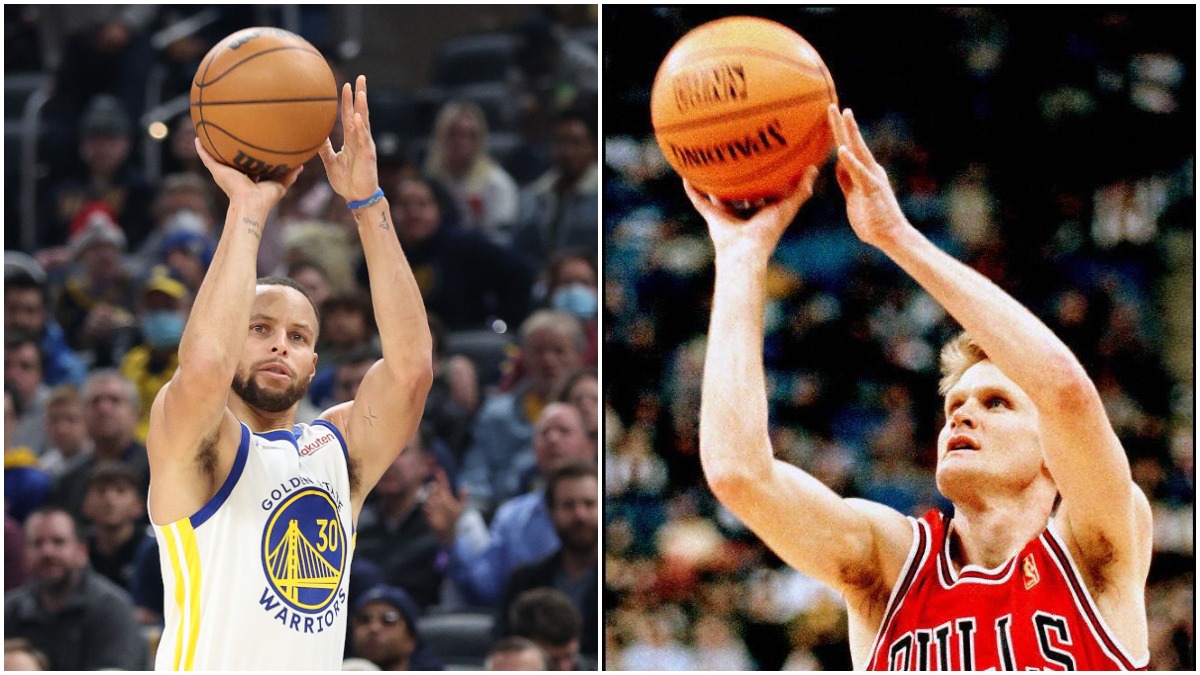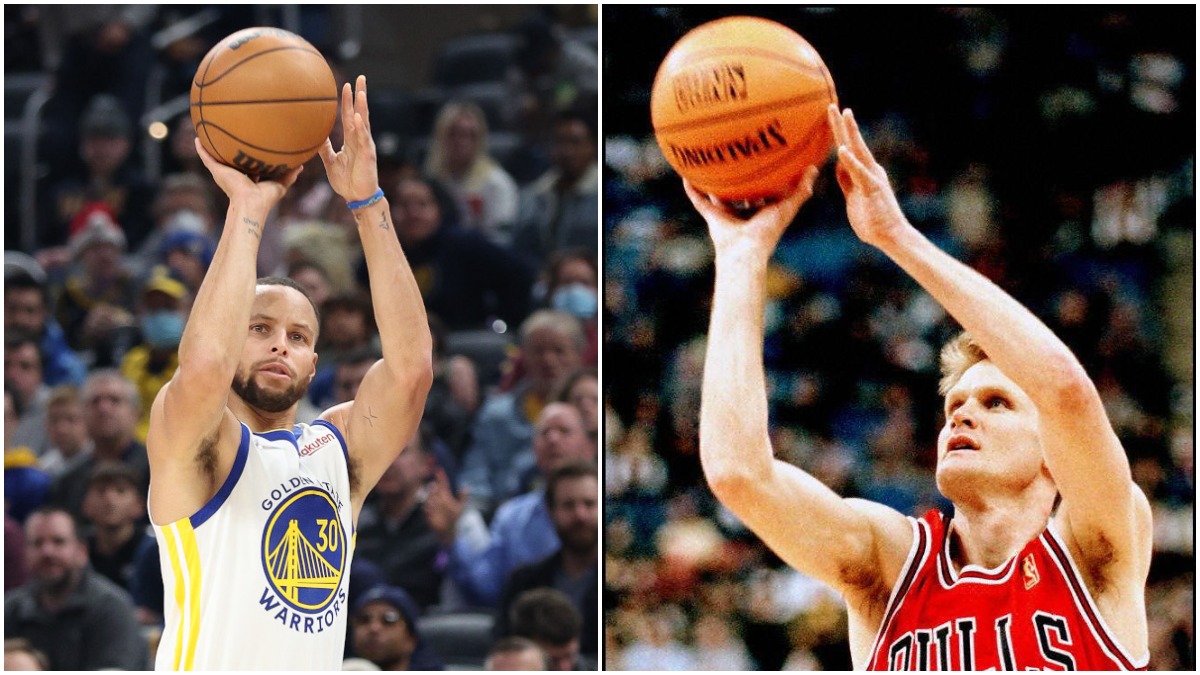 Steve Kerr was a deadly 3-point shooter. But in 910 career games, he started 30 and averaged 17.8 minutes per game.
Stephen Curry has started all but six of the 788 games he's played, averaging 34.3 minutes a night. With two NBA scoring titles, Curry is the focal point of the Golden State offense.
Conversely, coaches weren't lying awake at night thinking of ways to stop Kerr. That is not a knock against Kerr. It's reality.
Then there's this. Kerr was active from 1994–97. During those three seasons, the NBA had the brilliant idea to move the 3-point line closer to the basket to increase scoring. The line was changed from 22 feet in the corners out to 23 feet, nine inches.
Kerr torched the nets in those three seasons at a 49.8% clip and topped the 50% mark twice. Alas, the change did little to boost scoring. Teams space their offenses around the 3-point line. Moving it in meant there was less space available to run sets.
In other words, the idea to open the floor made it more compact. Someone should have thought to run the idea past a coach or a player. Who knew?
Back to Kerr. If you take the three seasons of the strawberry short line out of his career totals, he falls to 405-of-955, 42.4%.
That's significantly behind Curry's 43.1% mark. Instead, Davis becomes the all-time leader at 44.2%. He shot worse with the shorter line (thanks in part to a 16-of-70, 22.9% disaster in 1996­–97).
Stephen Curry is he NBA's 3-point king. And he's been plenty accurate enough to change the league, even if his percentage doesn't match Steve Kerr.
Statistics courtesy of Basketball Reference and Stathead.