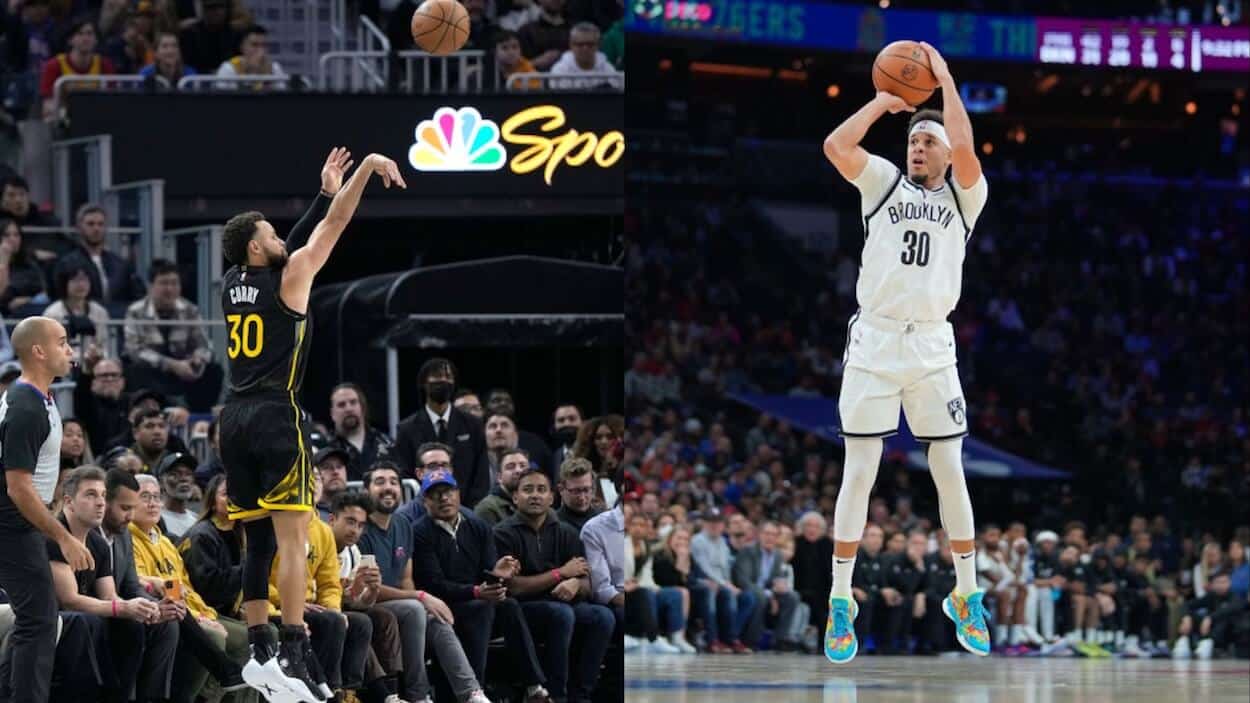 Who's a Better Shooter: Stephen Curry or His Brother, Seth?
Stephen Curry is about to become the NBA's all-time leader in 3-pointers made. But is Steph a better pure shooter than his younger brother, Seth?
Golden State Warriors star Stephen Curry is one of the best shooters in basketball. And beyond his raw stats, the guard also played a key role in pushing the modern game toward a more three-point-centric style.
But is Steph even the best shooter in his own family?
Dell Curry, Steph's father, shot 40.2% from beyond the arc for his career and led the league in 3-point percentage during the 1998-99 season. Seth, Steph's brother, has carved out an NBA career of his own, further building on the family legacy.
In fact, while Steph has already cemented his place as one of the best players in NBA history, Seth is quietly one of the best 3-point snipers ever. With that reality in mind, let's dig a little deeper into the Curry family battle for shooting supremacy.
Stephen Curry blazed a trail toward becoming the most prolific 3-point shooter in NBA history
Stephen Curry's shooting resume is unmatched.
Curry has made at least 200 triples in 10 different seasons, the highest total in NBA history. The Baby-Faced Assasin has made 300 or more 3-pointers four times, including his sensational 2015-16 MVP campaign that saw him pour in a single-season record 402 threes.
But Steph doesn't simply make 3-pointers. He converts at an elite rate. As of the end of the 2022-23 campaign, Curry is shooting just under 43% from beyond the arc, placing him 12th all-time. He's particularly skilled at making above-the-break threes and making it rain from the wing.
Additionally, Curry doesn't hesitate to launch from different area codes, a skill he first honed at Davidson College. He can pull from anywhere on the floor and gives defenses trouble because of his constant motion and sneaky ability to create space for himself and his teammates as an off-ball screener.
Steph's success and his place in NBA history — he passed Ray Allen to take the top spot on the all-time NBA three-pointers made list in December 2021 — have made him basketball's leading Curry.
Little brother Seth, however, also deserves his flowers as one of the best shooters to ever grace the hardwood.
Seth Curry boasts bragging rights over Steph in a specific shooting category
Seth Curry took a far less conventional route to the NBA than his big brother. Steph became a star at Davidson and got drafted in the first round of the 2009 NBA Draft, but Seth had to earn himself a spot in the Association.
After beginning his NCAA career at Liberty University, Seth transferred to Duke. While he found a niche under Coach K, Curry went undrafted in 2013 and mostly spent time in the G League in his first couple of professional seasons.
Eventually, though, the worm turned, and Curry finally gained a foothold with the Sacramento Kings during the 2015-16 season. After a trade sent him to the Dallas Mavericks, he established himself as a quality NBA player, starting in 42 of his 70 appearances with the Mavs during the 2016-17 season.
While he's bounced around the Association — the guard has played for the Grizzlies, the Cavs, the Suns, the Kings, the Mavs, the Blazers, the 76ers, and the Nets — one thing has remained constant. Seth continues to stand tall as one of the best shooters in the NBA.
Just how tall? He shot better than 43% from beyond the arc from the start of his career through the end of the 2022-23 campaign.
If you remember Steph's shooting percentage from above, you'll note that Seth has the edge when it comes to accuracy. In fact, the younger Curry ranks as the sixth-best three-point marksman in NBA history.
Which Curry brother is the better shooter?
While it's fair to highlight Seth's place above Steph on the career 3-point percentage list, let's make some qualifiers.
Steph is averaging 9.0 attempts from beyond the arc for his career. That's more than double Seth's average of 4.3 attempts. Moreover, big brother has fired over 6,000 more triples in total (7,929 to Seth's 1,893).
When accounting for volume, it's hard to argue Seth is truly a better shooter than Steph. Sample size is a real thing, and when you're attempting that many more shots, you're bound to convert at a lower percentage.
Furthermore, we need to consider how the two brothers get their threes.
Both Seth and Steph are comfortable pulling up from above the break, but the older brother is more accurate from that part of the floor; little brother is typically better at converting shots from the corners. Similarly, the Warriors star excels at sinking pull-up triples and step-back threes, while Seth is more comfortable as a spot-up shooter.
And we haven't even touched overall impact.
While that may seem like a soft factor — numbers, at the end of the day, don't lie — you can't overlook how Stephen Curry and his shooting changed the NBA. There was a time when three-point shooting was seen as a niche skill set; it was nice to have a long-range marksman on the roster, but pounding the paint was the way to win.
These days, though, threes are an inescapable part of the modern game. Even big men, who would have once been confined to the low block, are expected to be able to drift to the perimeter when required. Floor spacing, defensive schemes, and virtually everything else has shifted as offensive weapons have moved outside.
Is Steph Curry solely responsible for that change? It's tough to narrow things down to one man, but it's impossible to overlook the role of his individual success, plus that of the Golden State Warriors, as a driving force behind basketball's evolution.
Ultimately, both Curry brothers should end their respective careers at or near the top of most 3-point leaderboards. But Steph's remarkable volume, range, creativity, and imprint on the sport make him not just the best shooter in the Curry family but an all-time legend of the game.