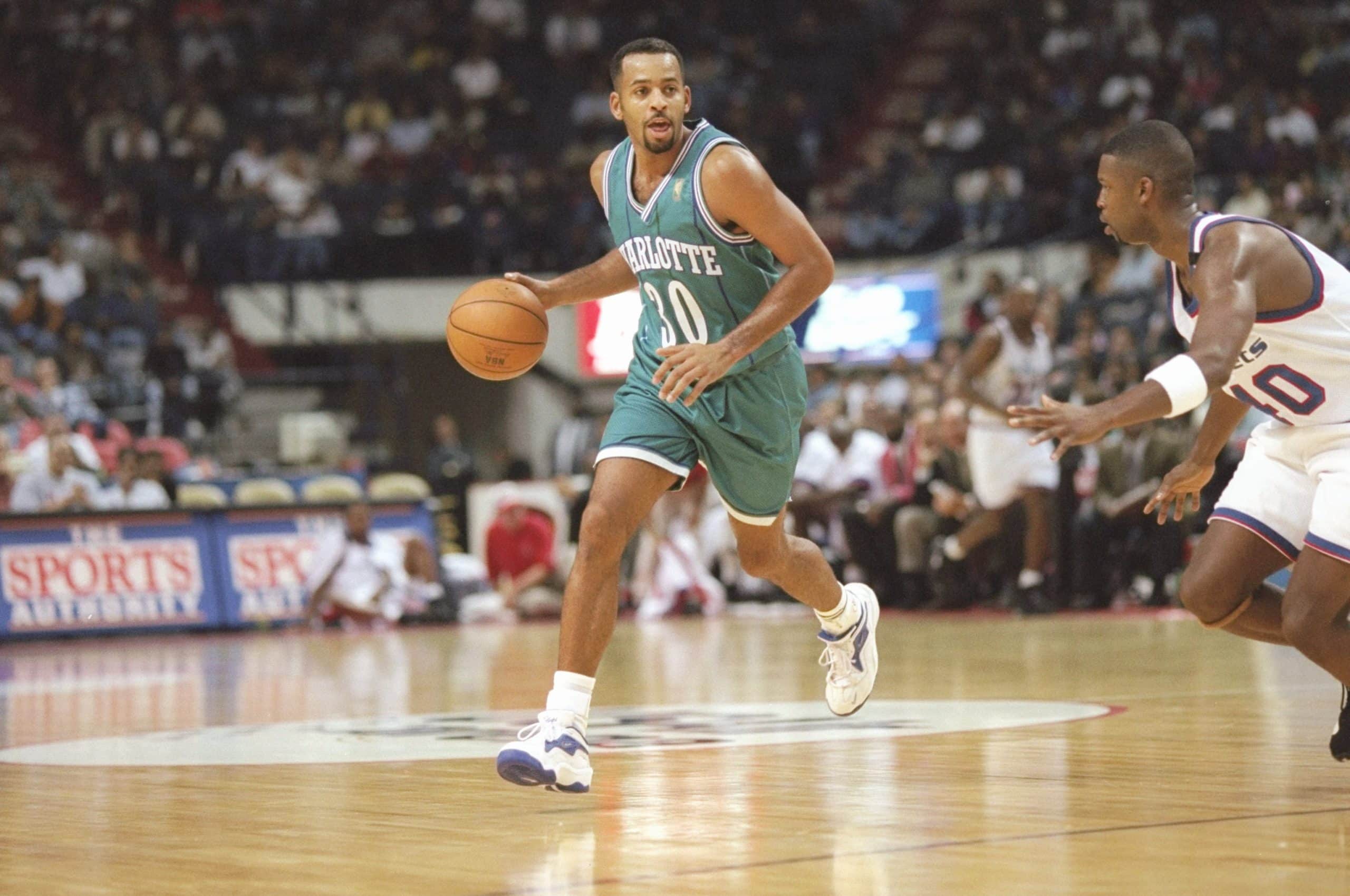 How Good Was Dell Curry, the Father of Golden State Warriors Star Stephen Curry?
Dell Curry was a solid player off the bench during his 16 years in the NBA.
By now, most NBA fans know Golden State Warriors star Stephen Curry got his basketball career going with a little help from a family member. When Curry was young, he'd spend much of his time at various basketball arenas watching his father during his 16-year NBA career.
Dell Curry played for five different teams, spending most of his time with the Charlotte Hornets. Although son beats father when it comes to awards and NBA notoriety, Dell Curry had himself a pretty good professional career.
How good was Dell Curry?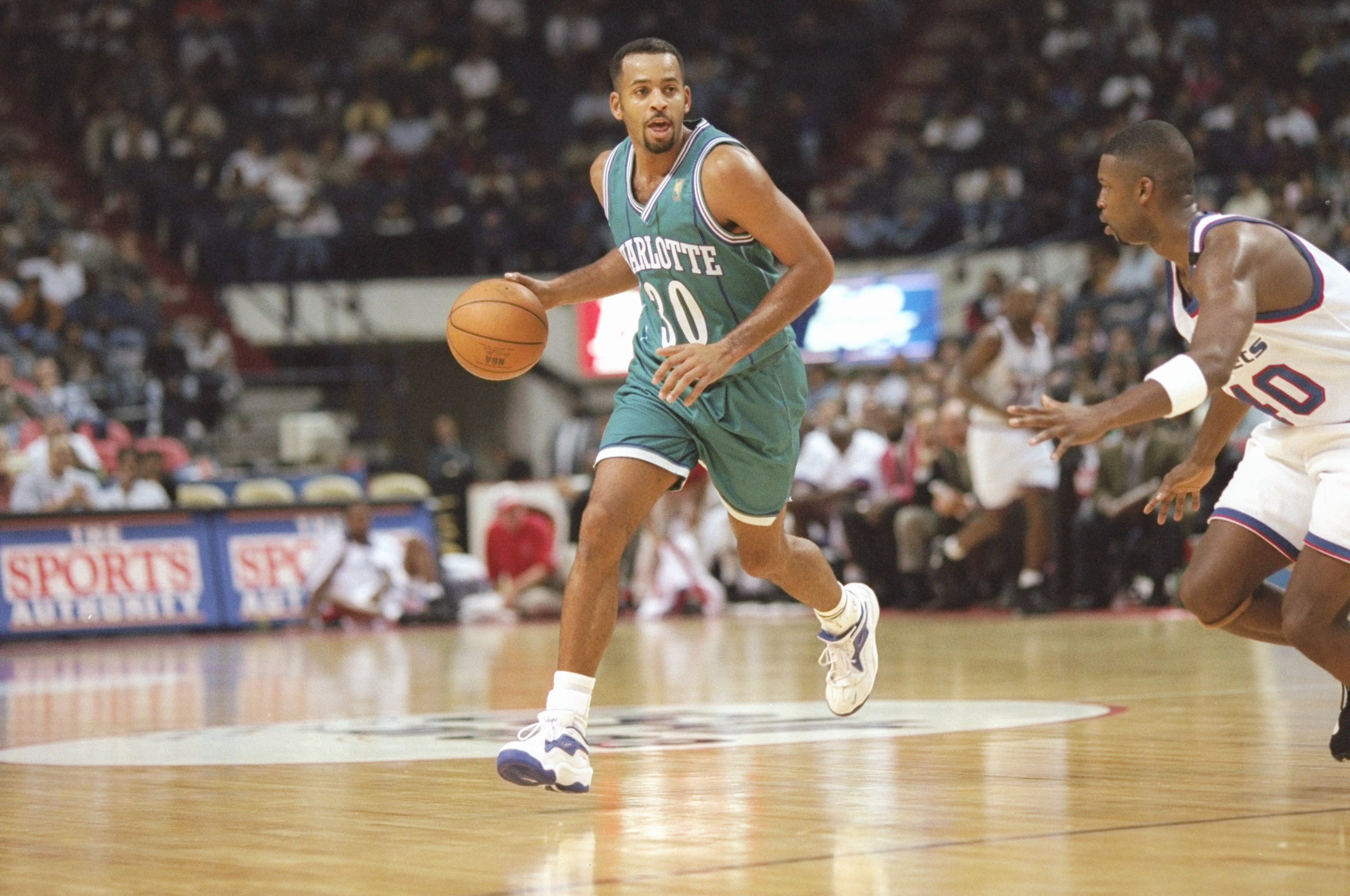 Things didn't appear overly promising for Dell Curry early in his NBA career. The Utah Jazz selected him with the 15th overall pick in the 1986 NBA Draft. A two-sport star, Curry was also selected by the Baltimore Orioles in the 14th round of the 1985 MLB Draft but opted for basketball. The Texas Rangers also drafted him out of high school in 1982.
After a stellar two-sport career at Virginia Tech, he played his first NBA season with the Jazz but only averaged 9.5 minutes. He put up 4.9 points and struggled with his shooting. He made 42.6% of his shots from the floor and 28.6% from three-point land.
After one year, the Jazz traded Curry to the Cleveland Cavaliers, where he saw more playing time. In 19.0 minutes of action, he averaged 10.0 points and improved his shooting (4.58% and 34.6%).
Curry played 79 games with the Cavs but was left unprotected in the NBA Expansion Draft. The newly formed Charlotte Hornets made him their first pick. He found a home in Charlotte for the next 10 seasons.
Unlike his son, Curry was never a superstar. He proved to be a solid scorer off the bench. With Charlotte, Curry averaged 14.0 points in his 10 years as a reserve. His best year came during the 1993-94 season when he averaged a career-high 16.3 points. He was named the NBA's Sixth Man of the Year that season.
For eight straight seasons, he shot better than 40% from three-point land, including a league-leading 47.6% in his first and only season with the Milwaukee Bucks. Curry finished his career, playing three seasons with the Toronto Raptors.
Steph Curry looks for his fourth NBA title
Steph Curry begins his quest for his fourth NBA championship Thursday. His Warriors host the Boston Celtics in Game 1 of the 2022 NBA Finals. Steph's career has been quite different than his father's.
The Warriors selected Steph with the seventh overall pick in 2009. He made an instant impact, playing 36.2 minutes per game and putting up 17.5 points.
In the 2013-14 season, he made the first of his eight All-Star appearances by averaging 24.0 points and 8.5 assists. Two years later, he led the league in scoring for the first of his two scoring titles.
In 2015, the Warriors made the NBA Finals for the first time since 1975. They knocked off LeBron James and the Cleveland Cavaliers in six games. Those teams met in the championship round four straight years, with the Warriors winning three times.
In 2019, the Warriors returned to the NBA Finals but lost to the Toronto Raptors in six games.
Steph Curry owes a lot to his father for getting him to where he is today. Now he looks to join players like James and Shaquille O'Neal, who have four championship rings.
All statistics courtesy of Basketball Reference.
Like Sportscasting on Facebook. Follow us on Twitter @sportscasting19 and subscribe to our YouTube channel.