Who's Statistically a Better Shooter: Stephen Curry or His Father, Dell?
Over the course of his 13-year NBA career with the Golden State Warriors, Stephen Curry has developed into the greatest shooter in league history. The game of basketball itself is played differently because of Steph's unlimited range and accuracy.
Steph's brother Seth is currently a sharpshooter with the Philadelphia 76ers. But neither of them were the first Currys to drill threes in the NBA.
Their father, Dell, was a sniper himself during the 1990s.
But statistically, who's the better shooter? Steph or his father?
Dell Curry was a journeyman marksman for 16 seasons
Dell was the 15th overall pick in the 1986 NBA Draft by the Utah Jazz. He played more than a decade and a half in the NBA.
He only played one season with the Jazz before moving on to Cleveland. His age-24 season saw him land in Charlotte, where he spent the next 10 years.
The Dell Curry Hornets jersey is the most recognizable of all the Dell Curry jerseys. He played in 701 games, and although he only started 77, he averaged 25.1 minutes per night for Charlotte.
Dell averaged 14.0 points over that decade was a 40.5% shooter from three on 3.3 attempts a game.
He was the NBA's Sixth Man of the Year in 1993-94 and finished inside the top 20 in 3-pointers made four different seasons.
But Stephen Curry has blown past his father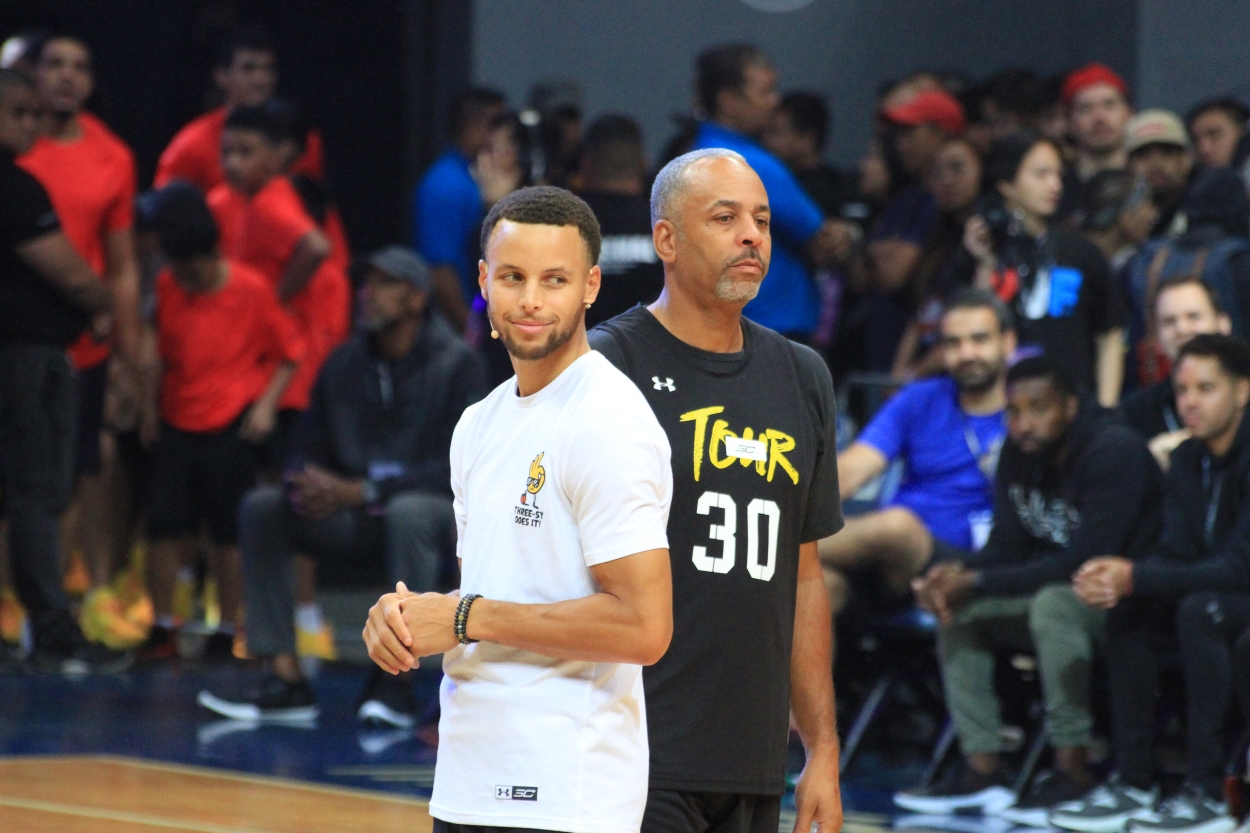 Despite shooting better than 40% from three throughout a 16-year career, Dell doesn't compare to his youngest son.
Via LandofBasketball.com, Steph has the advantage in:
Field-goal percentage (47.6-45.7)
3-point percentage (43.3-40.2)
Free-throw percentage (90.8-84.3)
Points per game (24.3-11.7)
Total points: (19,071 – 12,670)
Dell shot 40.2% for his career on an average of 2.9 triples per game.
Steph is a 43.2% career shooting on an average of 8.7 threes per game.
There are also Steph's two MVPs and three championships. Dell wasn't quite that level of player.
To be fair, had the OG Chef Curry been able to launch almost nine threes a night, he'd probably have accumulated a few more points too.
But there's really no comparison between him and Steph.
Dell shouldn't take it too personally
It has to sting at least a little to watch one of your sons blow by you in terms of skills and stats. But there also has to be some consolation knowing you taught him most of it.
Besides, there's no shame in not being as good as the greatest shooter in basketball history. More than anything, Dell is probably a proud papa.
Like father, like son. Except, in this case, the son has far surpassed the father.