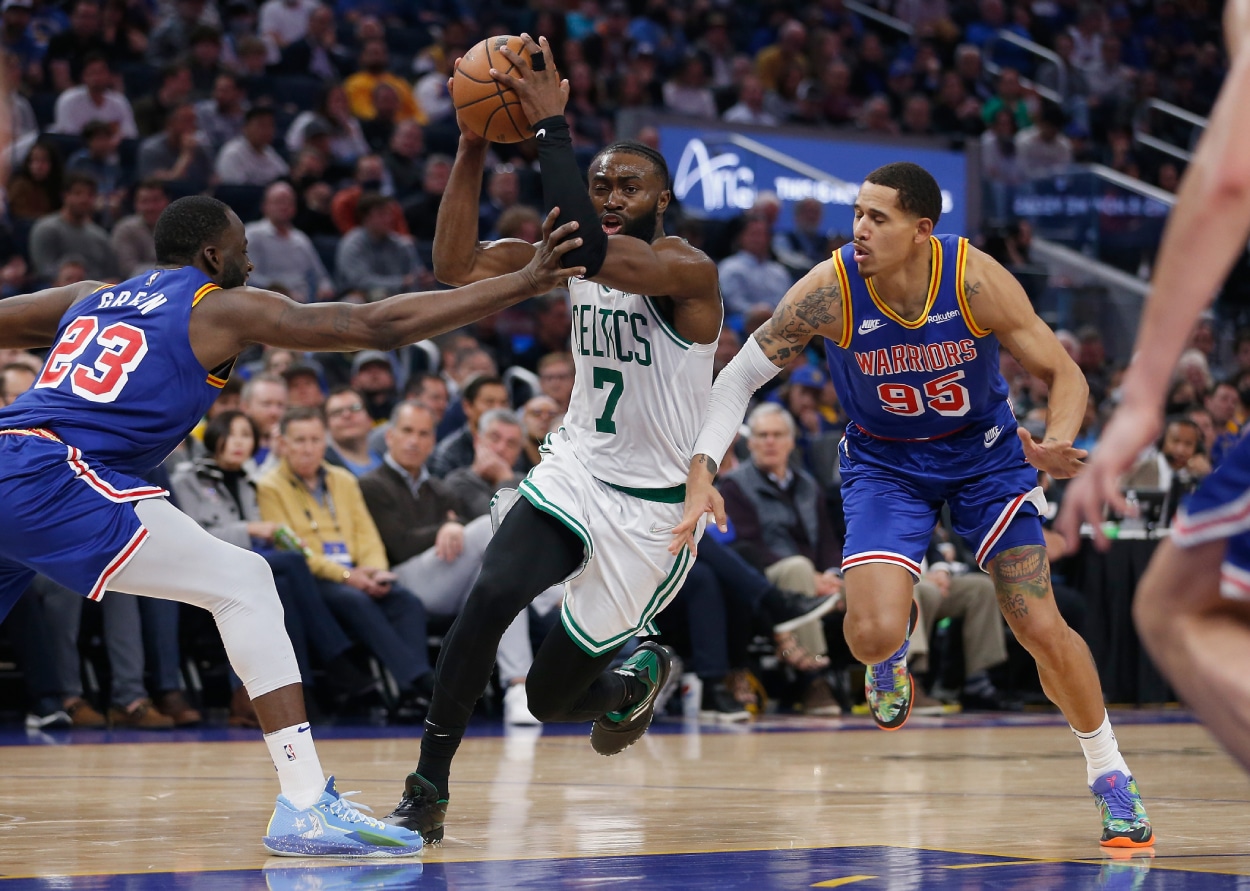 How Did the Boston Celtics and Golden State Warriors Fare Against Each Other This Season?
The Boston Celtics and Golden State Warriors play Game 1 of the 2022 NBA Finals on Thursday.
There's not a large sample size when it comes to head-to-head meetings between the Boston Celtics and the Golden State Warriors in recent years. Outside of their typical two games per season, they haven't squared off against each other since the 1964 NBA Finals.
The Celtics and Warriors took different routes to get to the 2022 NBA Finals. Boston struggled out of the gate and didn't right its ship until January. The Celtics ended the regular season by winning 26 of their final 32 games. They survived the most difficult road in the postseason by knocking off the Brooklyn Nets, the defending champion Milwaukee bucks, and the top-seeded Miami Heat.
The Warriors got off to a lightning-quick start, going 18-2, and were 41-13 at one point. During a 20-game stretch from Feb. 14 to March 30, they went 6-14. Some of that was because their star guard was injured, but they struggled through most of March.
So how did the Celtics and Warriors fare when they faced each other this season?
Dec. 17, 2021: Golden State Warriors 111, Boston Celtics 107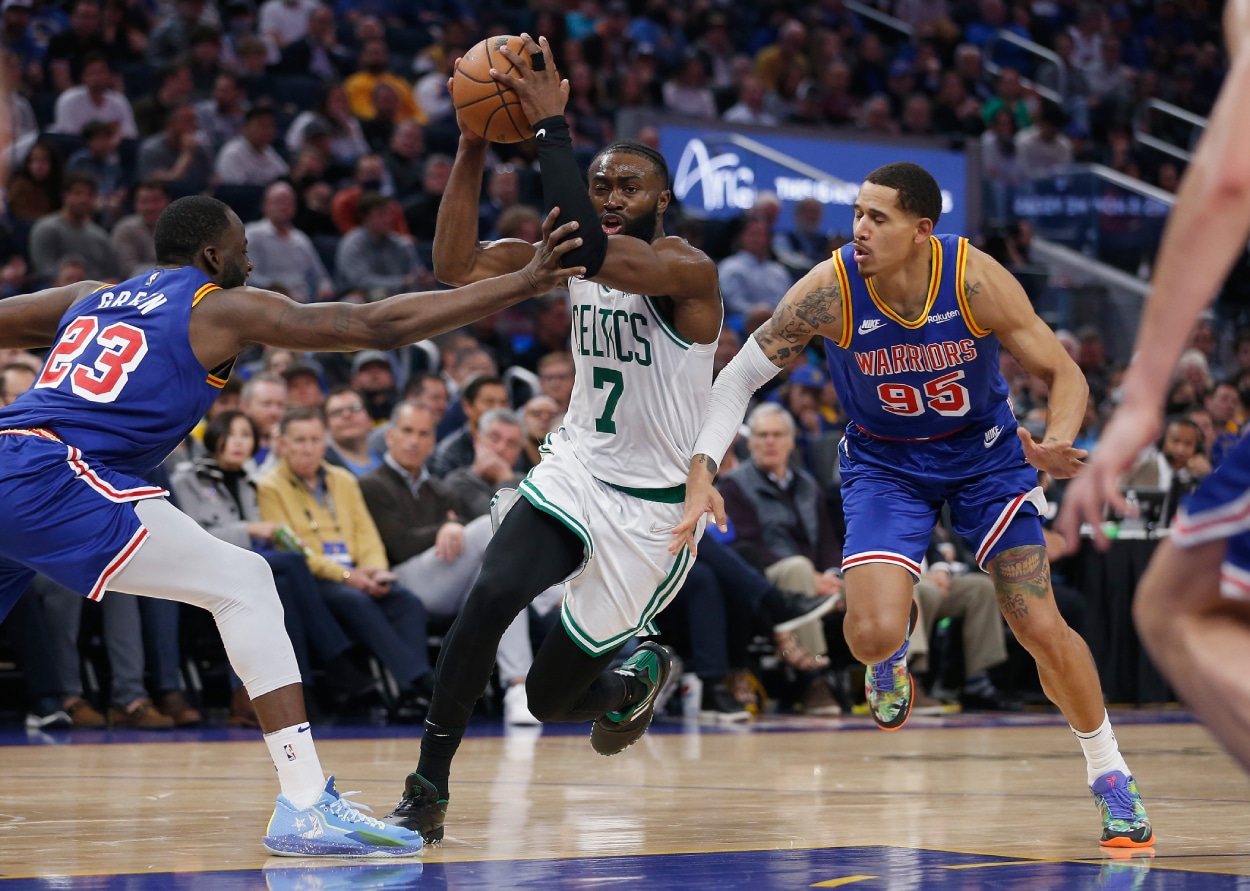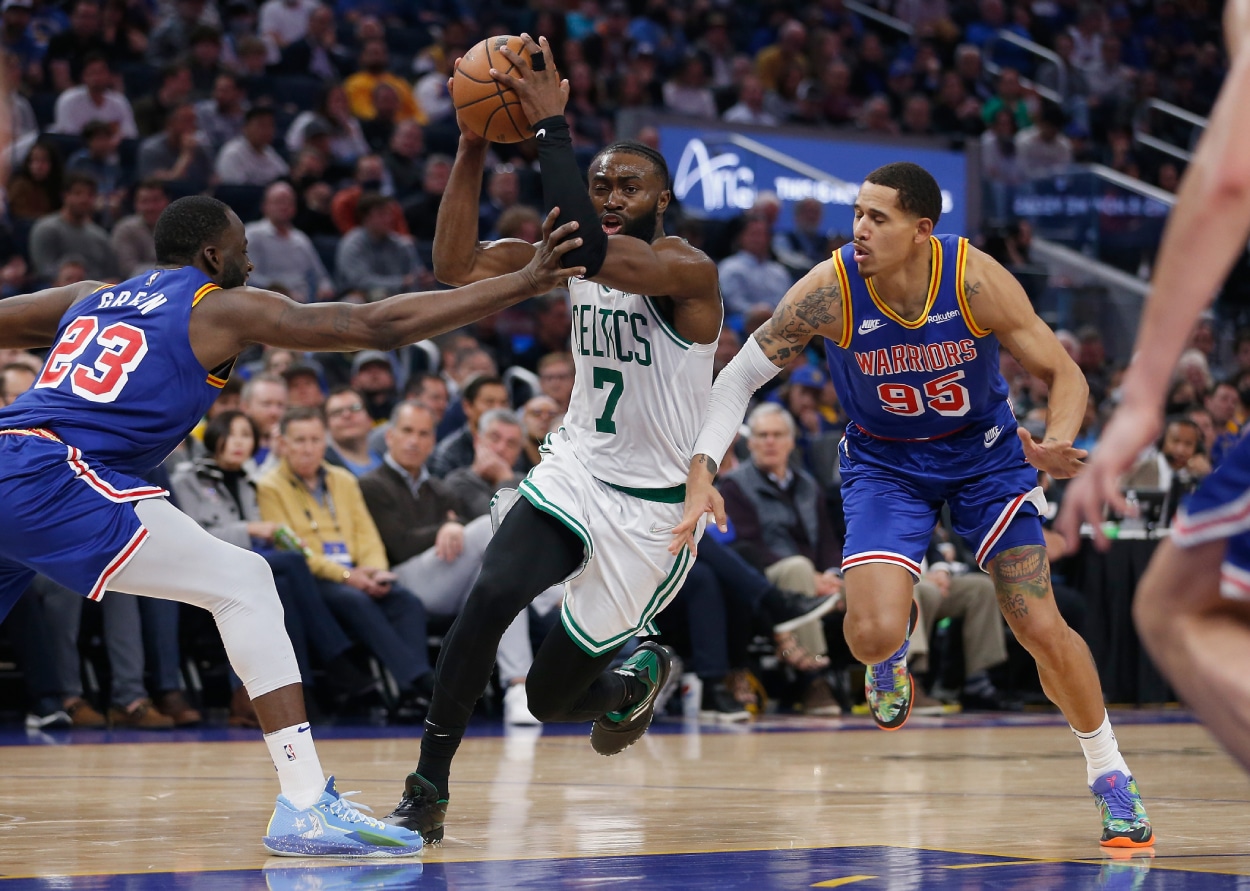 Not a whole lot can be made from this game that took place at TD Garden in Boston as it was greatly affected by COVID-19. The Celtics have five players, including Al Horford and Grant Williams, in health and safety protocols. The Warriors played without Jordan Poole for the same reason.
Klay Thompson hadn't yet returned from injury, but the Warriors still managed to pull out the 111-107 victory. Curry, who had just become the NBA's all-time leader in three-pointers made, finished with five threes and collected 30 points.
Jayson Tatum led the Celtics with 27 points, while Jaylen Brown added 20.
The win was a milestone one for Warriors coach Steve Kerr, who won his 400th career game.
"It means I'm incredibly lucky to coach a bunch of talented guys," said Kerr, per ESPN. "From my first game coaching in the NBA until now, I've had nothing but talented teams."
The victory put the Warriors at 24-5, while the inconsistent Celtics dipped below the .500 mark again at 14-15.
March 16, 2022: Celtics 110, Warriors 88
Late in the first half, Curry left the game with a foot injury when Boston's Marcus Smart dove for a loose ball. He never returned, and the Celtics capitalized in a 110-88 victory.
The play upset Kerr, who stopped short of calling it dirty. He did refer to it as "dangerous."
"I thought it was a dangerous play. I thought Marcus dove into Steph's knee," Kerr said after the game, per ESPN. "That's what I was upset about. Lot of respect for Marcus, he's a hell of a player, gamer, competitor. I coached him in the World Cup a few summers ago. We talked after the game, we're good. I thought it was a dangerous play, just let him know."
Curry was hurt with 4:19 left in the half but was having a quiet game with three points. He missed three of his four shots from the floor.
The Celtics got a balanced effort, with Tatum and Brown each finishing with 26 points. Smart added 20 points. Pooled led Golden State with 29 points.
The win ignited a six-game win streak for the red-hot Celtics. Golden State was the first of four straight on the road. Boston won all four before coming home and beating the Utah Jazz and Minnesota Timberwolves.
Not a whole lot can be deciphered from their two regular-season meetings. Things should be a lot more intense when Game 1 of the 2022 NBA Finals begins Thursday.
Like Sportscasting on Facebook. Follow us on Twitter @sportscasting19 and subscribe to our YouTube channel.