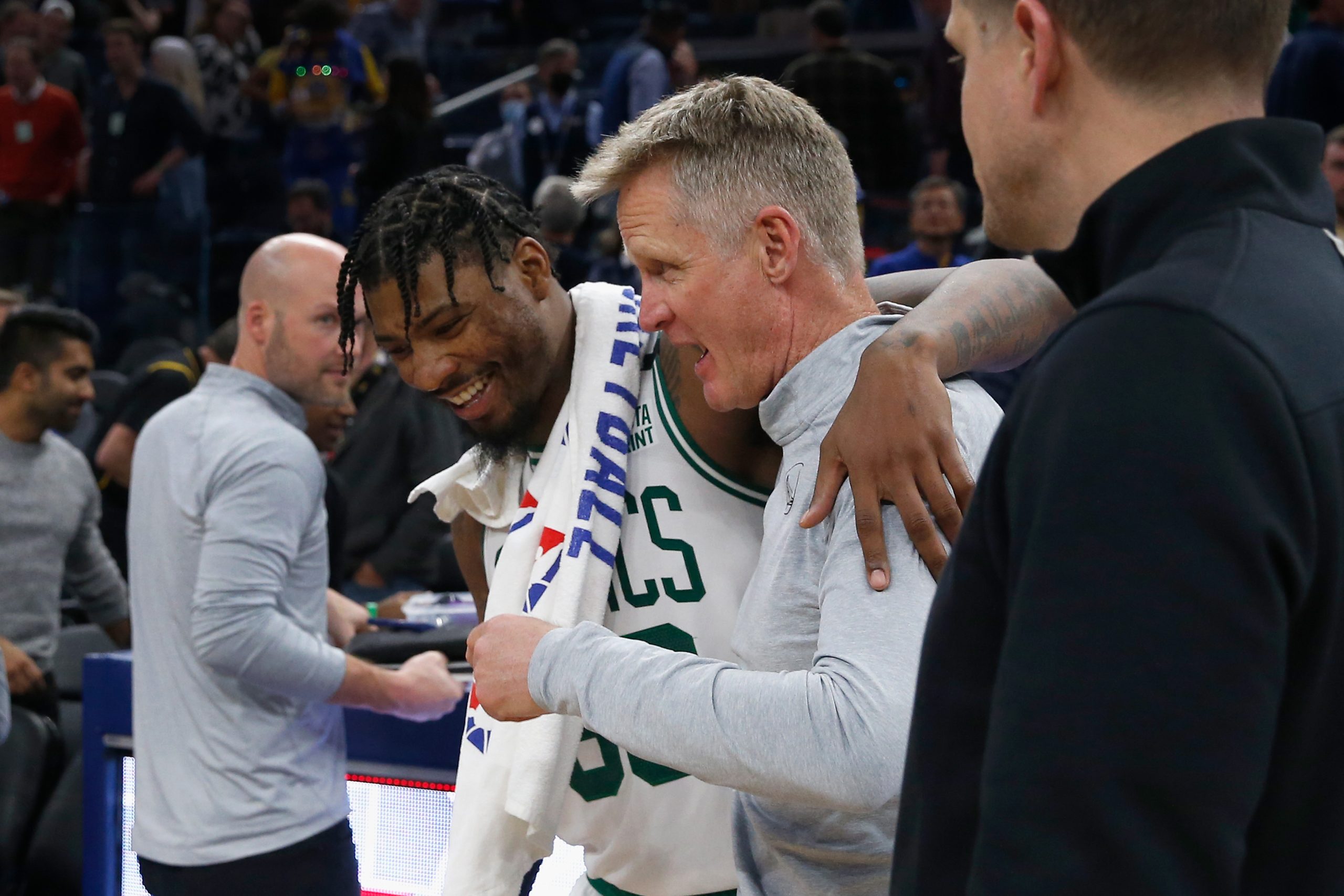 Marcus Smart Responds After Steve Kerr Called Him out for 'Dangerous Play' on Stephen Curry
Marcus Smart got an earful from Warriors coach Steve Kerr during Wednesday night's game.
Marcus Smart is intense. He plays with passion. He's aggressive, and he'll challenge anyone on the court. The Boston Celtics point guard's intensity came into question Wednesday night when he dove for a loose ball, crashing into Golden State Warriors star Stephen Curry.
Curry limped off the court and is expected to miss time. After the play, Warriors coach Steve Kerr had a talk with Smart on the sideline, and he later called the play "dangerous." Smart later gave his take on the situation.
Stephen Curry out indefinitely after collision with Marcus Smart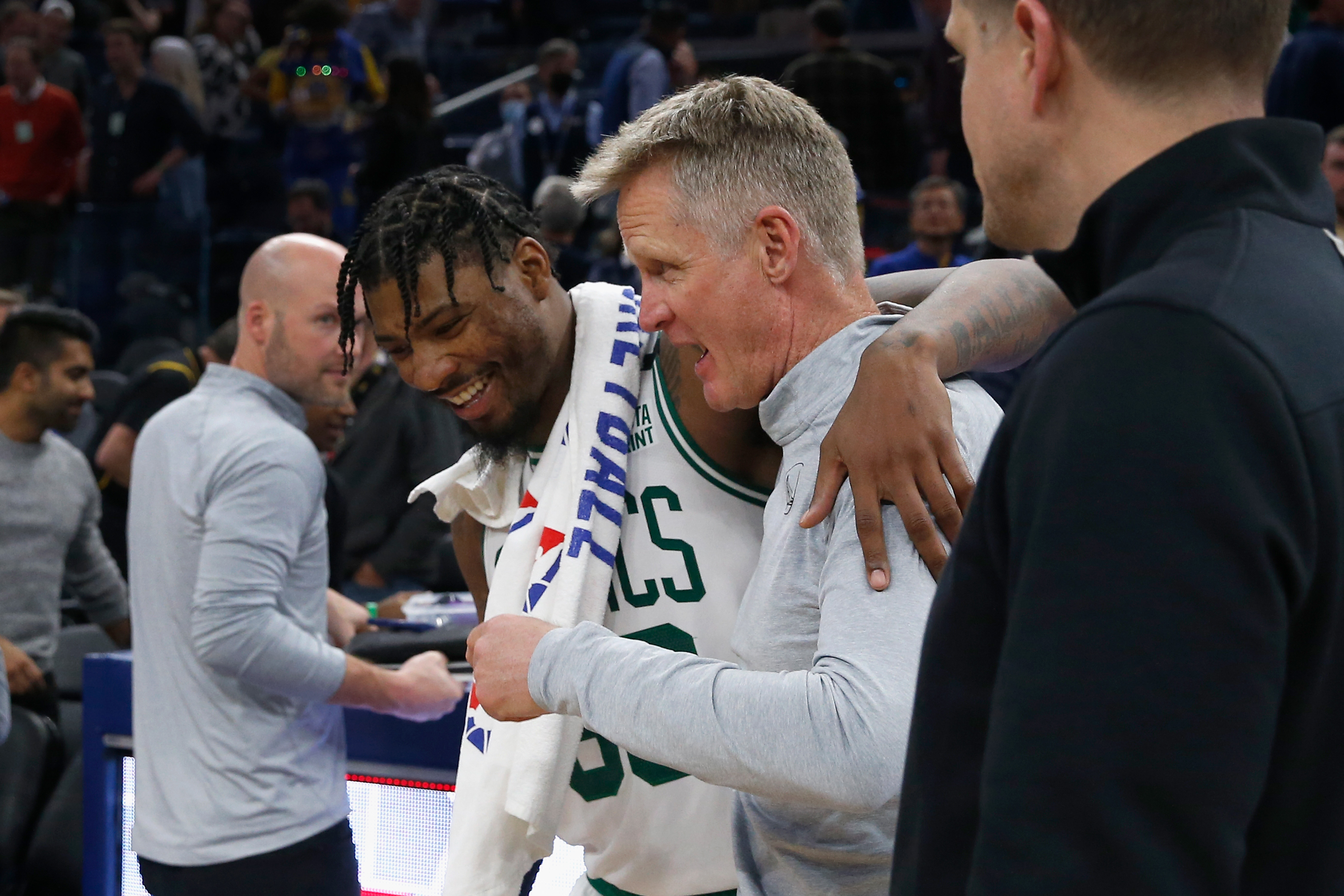 Smart's hustle play drew several reactions Wednesday after the Celtics defeated the Warriors 110-88. Some called it a hustle play, and some called it uncalled for.
It happened during the second quarter of the game as Smart dove for a loose ball in front of Curry. Smart slid into Curry, whose left ankle turned awkwardly.
After hobbling off the court, Curry went in for an MRI. Shams Charania of The Athletic tweeted X-rays were negative, but Curry was diagnosed with a sprained ligament in his left foot. Charania said Curry will be out indefinitely.
ESPN's Adrian Wojnarowski tweeted that there was optimism Curry could return for the playoffs in mid-April. He said Curry is expected to "see specialists soon for further evaluation."
The injury comes with 12 regular-season games left for the Warriors. They have been looking to build chemistry all year after dealing with injuries to Klay Thompson and Draymond Green. According to CBS Sports, the three of them have played a total of 11 minutes together this year.
Steve Kerr said the play by Marcus Smart was 'dangerous,' and Smart responded
When the play happened, Kerr was visibly upset. The Warriors coach and Smart were seen taking — and then yelling — each other on the sideline. When the game ended, Kerr made his feelings known.
"I thought it was a dangerous play," Kerr said, per ESPN. "I thought Marcus dove into Steph, and that's what I was upset about. A lot of respect for Marcus. He's a hell of a player, a gamer, a competitor. I coached him in the World Cup a few summers ago. We talked after the game and we're good. But I thought it was a dangerous play."
Smart saw things differently.
"I saw the ball, I dove for the ball, trying to make a play," Smart said. "Unfortunately, that occurred."
"I'm sure I'm going to get called dirty. But I know who I am. … I play very hard and I leave everything on the court. … My teammates, my colleagues, they know I'm not a dirty player."
When told about Kerr's comments, Smart responded.
"He's doing what any coach, any player, any person would do, and that's backing up his guy," he said, according to Suoichi Terada of Mass Live. "At the end of the conversation, he told me, 'You're one of the guys I want on my team.'"
Draymond Green said Smart's play wasn't dirty
The Warriors certainly weren't happy their star player had to limp off the court. Green said Smart's play might have been unnecessary, but he said he couldn't call it dirty.
"I'd expect Marcus Smart to make that play. He plays hard," Green said. "I can't call that a dirty play. As unfortunate as it is, maybe unnecessary, but that's the most I can call it. Unnecessary. But I can't call it a dirty play.
"The ball is on the floor. At every level of basketball, we are taught to dive on the floor and go after the ball. That's what Marcus did. So I can't call it a dirty play. I will say it was probably an unnecessary dive."
Smart will always be that way. He'll dive for the loose balls. He's what the NBA is lacking. There aren't enough Marcus Smart-type players.
Whether his team is down by two or 20, Smart plays the only way he knows how — and that's all-out.