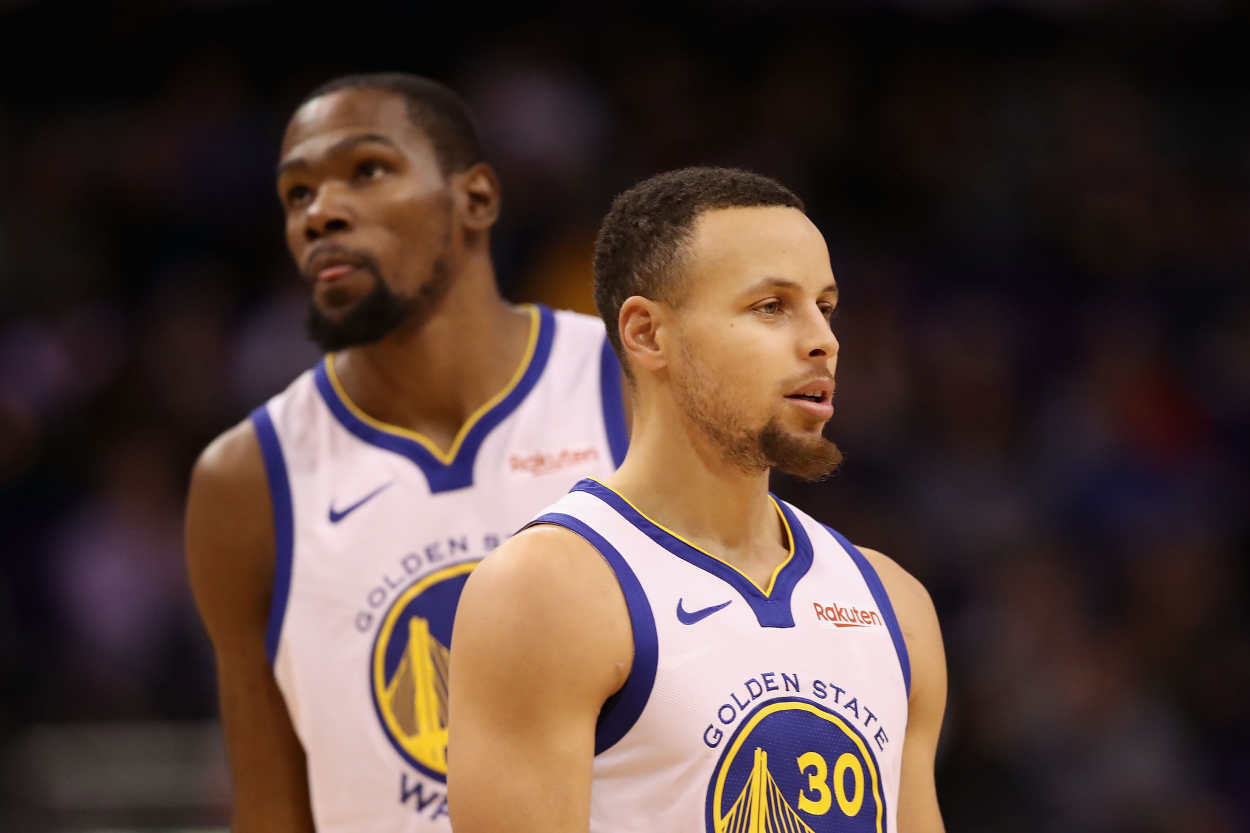 Stephen Curry Admits He Was a Little Insecure When He First Started Playing With Kevin Durant: 'You're Gonna Look Like Some Idiots'
The Golden Warriors won two titles with Kevin Durant, but Stephen Curry felt a little insecure when they first started playing together. He worried about them looking "like some idiots."
In 2016, Stephen Curry had already won two MVPs and had led the Golden State Warriors to two consecutive NBA Finals appearances. He should have had all the confidence in the world, right? 
Wrong.
Kevin Durant joined the Warriors in free agency that same year, creating one of the most talented teams of all time. And while Golden State ended up winning two consecutive championships with KD, the team didn't start off the greatest. Despite being a two-time reigning MVP and the greatest shooter ever, Curry felt a little insecure. 
The Warriors almost had too much talent to handle.
Despite having an excellent record, the Golden State Warriors had a slow start with Kevin Durant
When looking at their record, it appeared Kevin Durant started clicking with the Warriors almost immediately in 2016-17.
Heading into their Christmas Day matchup with LeBron James and the Cleveland Cavaliers, who they had lost to in the 2016 NBA Finals after beating them in 2015, the Warriors had a 27-4 record.
But Stephen Curry recently admitted that things weren't too pretty.
"Game 1 through like Christmas Day game, it was not pretty," Curry said on the Feb. 15 episode of the Knuckleheads podcast. "We were all type of inconsistent. Our record was solid, but it just didn't look like it was supposed to look. … In theory, you shouldn't have to worry about Steph, Klay, or KD getting shots. That shouldn't be an issue, and you shouldn't be worrying about Draymond being able to facilitate and a lot of that. But it wasn't as seamless as people might think."
Due to his responsibility as the team's point guard, it appears Curry may have been in his head.
Stephen Curry admitted he was a little insecure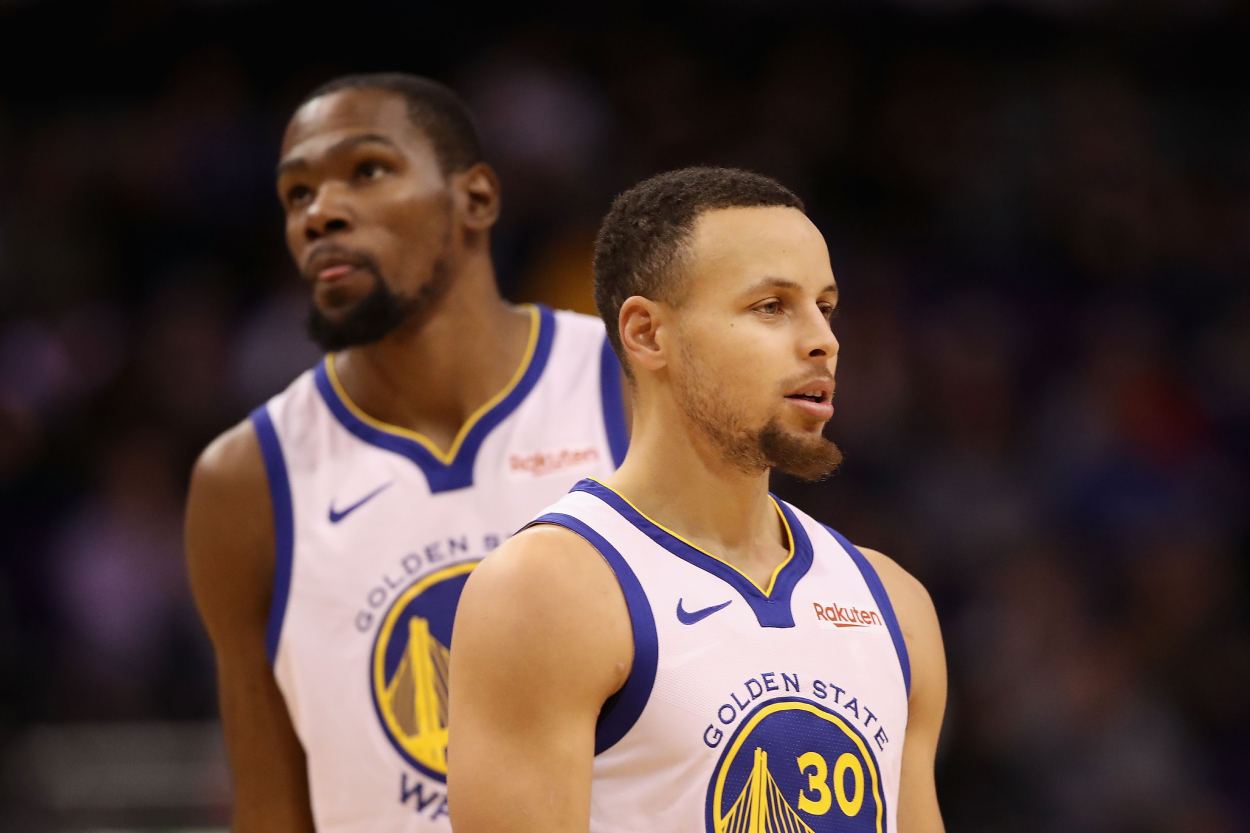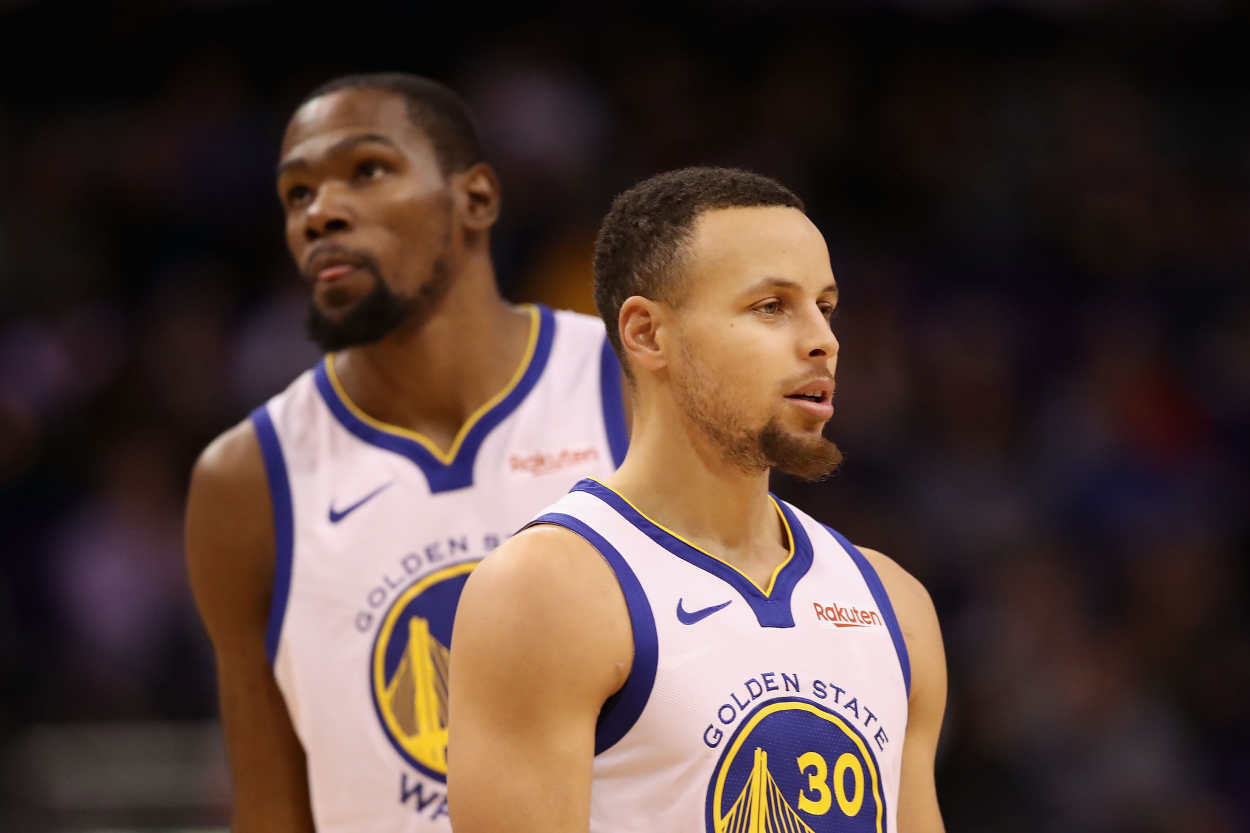 Before adding Kevin Durant, the Warriors won the championship in 2014-15. They also went a record 73-9 in 2015-16 before losing to the Cavs in seven games in the Finals.
They had talent.
But adding Durant gave them an unreal amount of skill.
"I might have just internalized this as the point guard and like the guy that felt like I had to get everybody involved, there's a little insecurity like, 'There's so much talent. Is this going to work?'" Curry said. "I'm starting to count shots like, 'Alright, he gonna get 20. He gonna get [19], alright, [17]. How we gonna do this?' So, those thoughts were starting creep in early in the process."
Despite all the hesitation, the Warriors continued winning games. They were 50-9 toward the end of February. But Durant also went down with a sprained MCL and a tibial bone bruise at that time, and he missed 19 games. KD didn't return until there were just three games left in the regular season.
"KD was rehabbing, trying to get ready for the playoffs, and we kind of had to revert back to the year before and how we played, and then knowing that everything was gonna change again when KD got back right before the playoffs started," he said. "So, it was just a lot of stuff going on, but we knew the talent was there, obviously. And if we show up and do what we're supposed to do, everybody locked in; we should not lose. But it was also six, seven months of that, every day you're trying to make sure it works because if you don't, you're gonna look like some idiots."
Stephen Curry figured out how to mesh with Kevin Durant
Looking at his numbers, it's clear Stephen Curry had to take a step back once Kevin Durant joined the team. He averaged an NBA-leading 30.1 points the year before but only recorded 25.3 per game with Durant in Golden State in 2016-17. His assists also slightly dipped from 6.7 to 6.6, and his field goal percentage decreased from 50.4% to 46.8%
However, once the postseason rolled around, he had everything figured out. Curry's numbers in the 2016-17 playoffs were actually better than his previous postseason stats.
2015-16 playoffs: 25.1 points, 5.2 assists, 5.5 rebounds, and 1.4 steals per game; 43.8% from the field and 40.4% from 3-point range
2016-17 playoffs: 28.1 points, 6.7 assists, 6.2 rebounds, and 2.0 steals per game; 48.4% from the field and 41.9% from 3-point range
Great players adapt to their surroundings. LeBron James has won championships on three different teams, and he even took an injured Cavaliers squad with Matthew Dellavedova and Tristan Thompson to six games with the Warriors in the 2015 Finals. Kobe Bryant also won three championships with Shaquille O'Neal and two more with Pau Gasol.
Curry, on the other hand, won a title and went to two NBA Finals as the Warriors' primary scorer. He then won two more championships with KD, one of the league's greatest players ever, also on his team.
It may have taken time, but Curry figured out how to play with Durant, just like he has figured out how to play with this current version of the Warriors, a team that went from missing the playoffs last year to sitting at 42-17 heading into this season's All-Star break.
Great players are adaptable, and Stephen Curry is just that. He can find a way to win no matter what.
Stats courtesy of Basketball Reference