How Many Times Has Joey Chestnut Won the Nathan's Hot Dog Eating Contest?
Joey Chestnut is the king of the Nathan's Hot Dog Eating Contest. After winning the contest for the first time in 2007, Chestnut has been on a run of dominance ever since, as watching him win on the Fourth of July is an American tradition. So, how many times has he won the big contest?
We have watched a run of sports dominance that has stretched well over a decade. While other athletes hope to be great, this one man is the actual definition of a legend; he is Joey Chestnut, and he's the king of the Nathan's Hot Dog Eating Contest.
Year after year after year, Chestnut puts on a show on the Fourth of July. People literally pause their cornhole games just to watch him scarf down as many hot dogs as possible within 10 minutes. So, since he has become such an unstoppable force, how many times has Chestnut won the Nathan's Hot Dog Eating Contest?
Joey Chestnut is a 13-time Nathan's Hot Dog Eating Contest champion
Back in 2007, Takeru Kobayashi was the king of the Fourth of July hot dog eating contest. He had won six straight competitions from 2001 through 2006.
However, in 2007, Chestnut proved he was the new top dog, winning his first title by eating 66 hot dogs compared to Kobayashi's 63.
That win was the beginning of eight straight for Chestnut; he won every competition from 2007 through 2014. In 2015, though, Chestnut could only get 60 hot dogs (only 60), and Matthew Stonie got the upset, eating 62.
Chestnut, however, reclaimed his crown in 2016, and he has been on top ever since, winning five more consecutive contests from 2016 through 2020.
So, how many times has Chestnut won the contest in total? He has won it a whopping 13 times.
Tom Brady, Michael Jordan, and Bill Russell can't even touch 13 titles.
How many hot dogs does Joey Chestnut eat?
The amount of hot dogs Chestnut eats year to year varies.
As mentioned above, Chestnut ate 66 during his first win in 2007. He then only ate 59 in 2008 before eating 68 in 2009. In 2010, Chestnut ate 54 but then scarfed down 62 in 2011 and 68 in 2012.
Chestnut recorded 69 hot dogs in 2013 and 61 in 2014, but after losing in 2015, he has taken his game to a new level. He has eaten 70 or more hot dogs every year since 2016.
Take a look:
2016: 70 hot dogs
2017: 72 hot dogs
2018: 74 hot dogs
2019: 71 hot dogs
2020: 75 hot dogs
His performance in 2020 actually broke his own record, too, as 75 hot dogs in 10 minutes is currently the world record.
Chestnut is not just great at eating hot dogs, though. The legendary eater holds more than 50 other world-eating records, including 182 chicken wings in 30 minutes and 121 Twinkies in six minutes.
Not everyone plays football; not everyone plays basketball. But everyone eats food, and Chestnut is the best at it. He's the GOAT.
2021 Nathan's Hot Dog Eating Contest information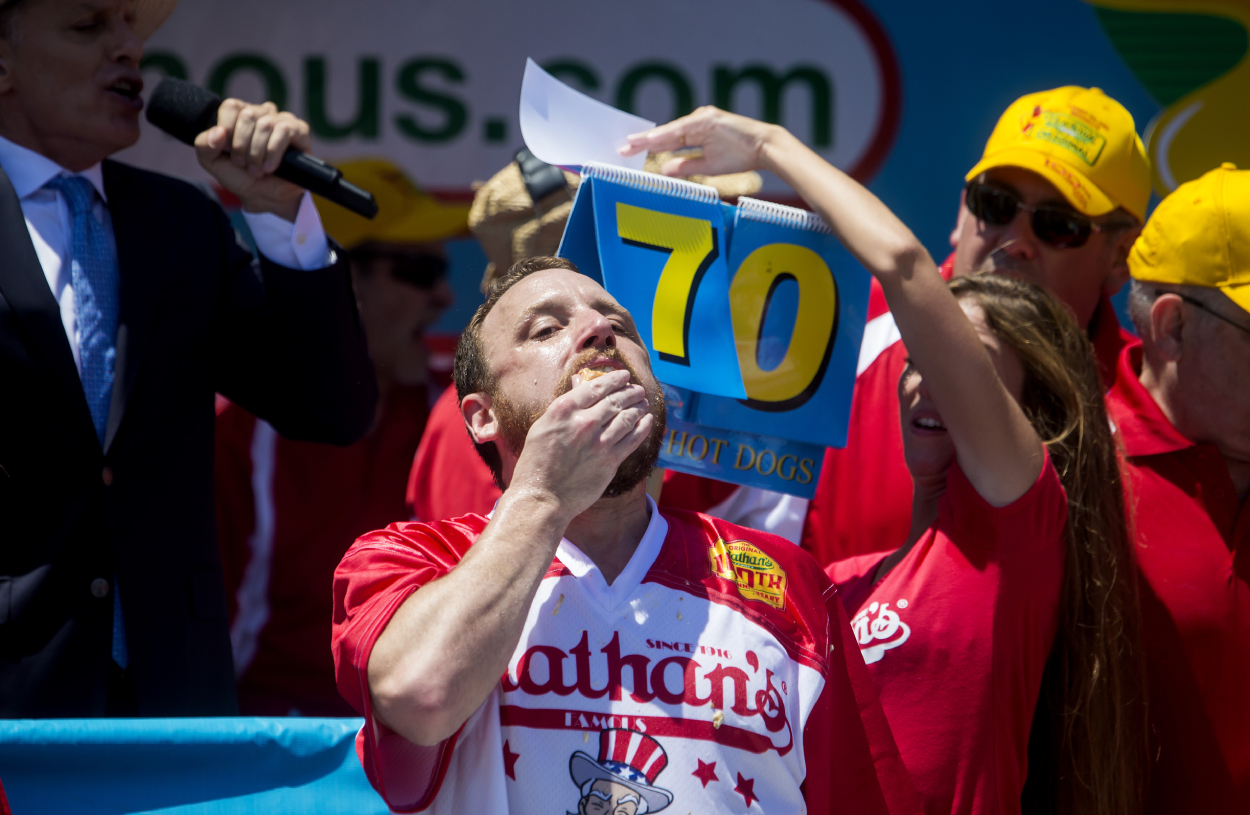 Chestnut will go for his 14th title this Fourth of July when the Nathan's Hot Dog Eating Contest returns to Coney Island. Due to COVID-19, the 2020 contest was held in front of no fans and at a private location, but fans will be in attendance in 2021.
Coverage for the women's contest will begin at 11:30 a.m. Eastern Time on ESPN3. However, the seven-time consecutive champion, Miki Sudo, will not participate this year as she is expecting her first child.
Chestnut will then begin his quest for a 14th Nathan's Hot Dog Eating Contest title when the men's competition starts at noon on ESPN.
Watching Chestnut win on the Fourth of July has become a tradition. We'll see if he can do it again for a 14th time in the 2021 contest on Sunday.
Past competition numbers courtesy of Nathan's Famous; Records and 2021 contest info courtesy of Major League Eating