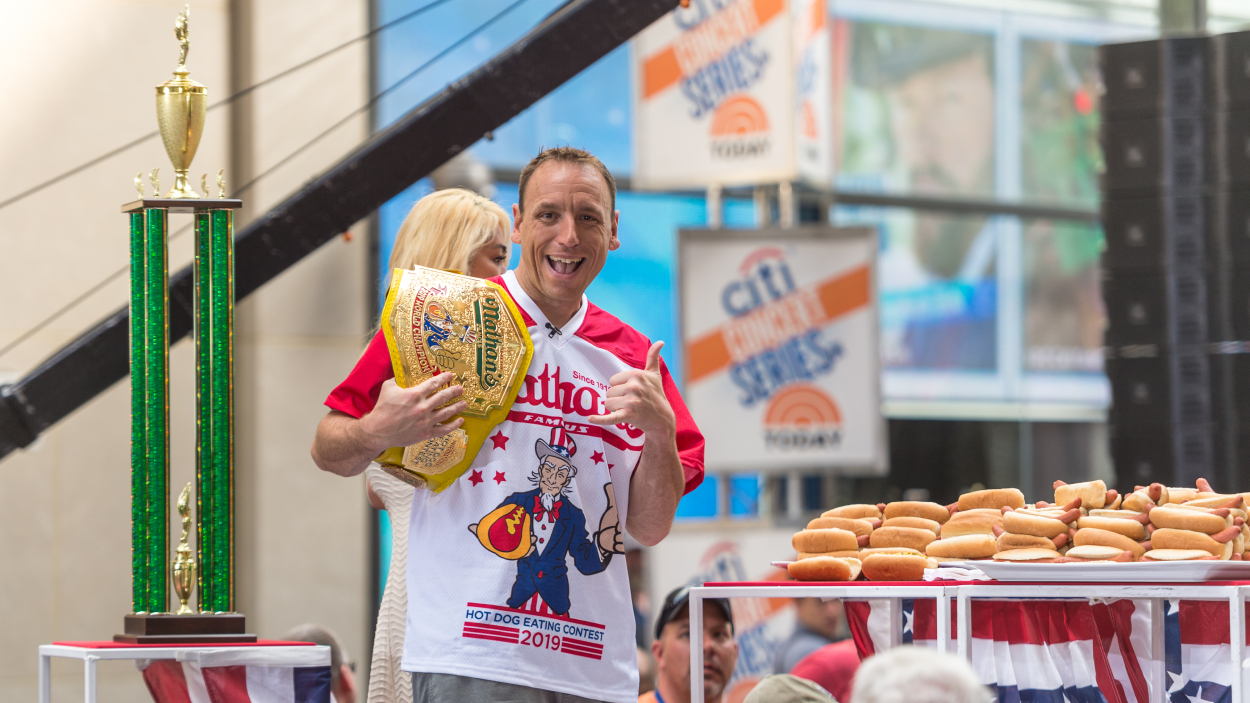 Nick Wehry Explains What It's Like Facing Joey Chestnut in a Hot Dog Eating Contest
Joey Chestnut is like the Michael Jordan of competitive eating. Nick Wehry, ranked sixth in the world, explains what it's like to go up against him.
Nick Wehry is ranked sixth in the world in competitive eating. He finished third in the 2020 Nathan's Hot Dog Eating Contest, missing second place by three hot dogs. Then there's this Joey Chestnut guy. Chestnut is the king of hot dog eating and a 13-time champion of the contest. He defeated second-place finisher Darron Breeden by 33 hot dogs after devouring 75 last year. Wehry explained what it's like going up against a legend like Chestnut.
Nick Wehry likened Joey Chestnut to the New York Yankees of the late 90s
There are hot dog eaters, and then there is Chestnut. Chestnut could be considered the Michael Jordan of competitive eating. Wehry likened him to the New York Yankees of the late 1990s.
"I have a lot of respect for Joey Chestnut," Wehry told Sportscasting. "The one thing he does very well is he makes other eaters believe he is unbeatable in hot dogs. He has real estate in a lot of people's heads. I respect him a lot. He's the greatest to ever do this, but Joey Chestnut puts his pants on one leg at a time – at least I think he does."
For Wehry, his numbers keep improving. The 39.5 hot dogs he finished last year is a personal best at the Nathan's contest. The same can be said for Chestnut, whose 75 last July set a new world record.
"It's like the New York Yankees of the late 90s," Wehry said of Chestnut. "They were already so good, and then they go and bring in David Justice."
Nick Wehry never goes into the contest intimidated by Joey Chestnut
Wehry isn't one of those eaters he spoke about who is intimidated by the champion. He enters every contest, including Nathan's, with the same mindset. He believes he is going to win despite what others believe. The 2021 Nathan's Hot Dog Eating Contest takes place Sunday.
As of this writing, Chestnut is an overwhelming favorite at -5000, according to oddsshark.com. The field is +1000. Those odds don't change Wehry's mindset as he prepares for this year's event.
"You realize who you're going up against, but that doesn't change anything," said Wehry, who got his Nathan's personal best last year despite taking part on three days' notice. "I go there to win. Every contest I enter, I want to win. I don't care if you're my grandmother or Joey Chestnut. I want to beat you."
Wehry said this year's contest will be completely different than a year ago
Last year, Nathan's Hot Dog Eating Contest, like everything else, was affected by the coronavirus (COVID-19) pandemic. The contest was held, but it could only be attended by media members. There was no crowd cheering on those eaters. Wehry said that makes a big difference.
"It one hundred percent makes a difference," he said. "I can't speak for everybody, but last year there was just a room full of cameras and you were just sitting there listening to everybody eat. It's electric when there's a crowd."
Wehry knows much of the crowd is there to watch Chestnut. They are there to see him break records and continue his winning streak. He's fine with all that. In fact, Wehry said he prefers people root against him.
"To be honest, I like it when people are against me," he said. "It's like I can't wait to put a frown on your face."
Beating Chestnut will be tough, and Wehry knows it. He just won't ever be convinced he's going to lose.