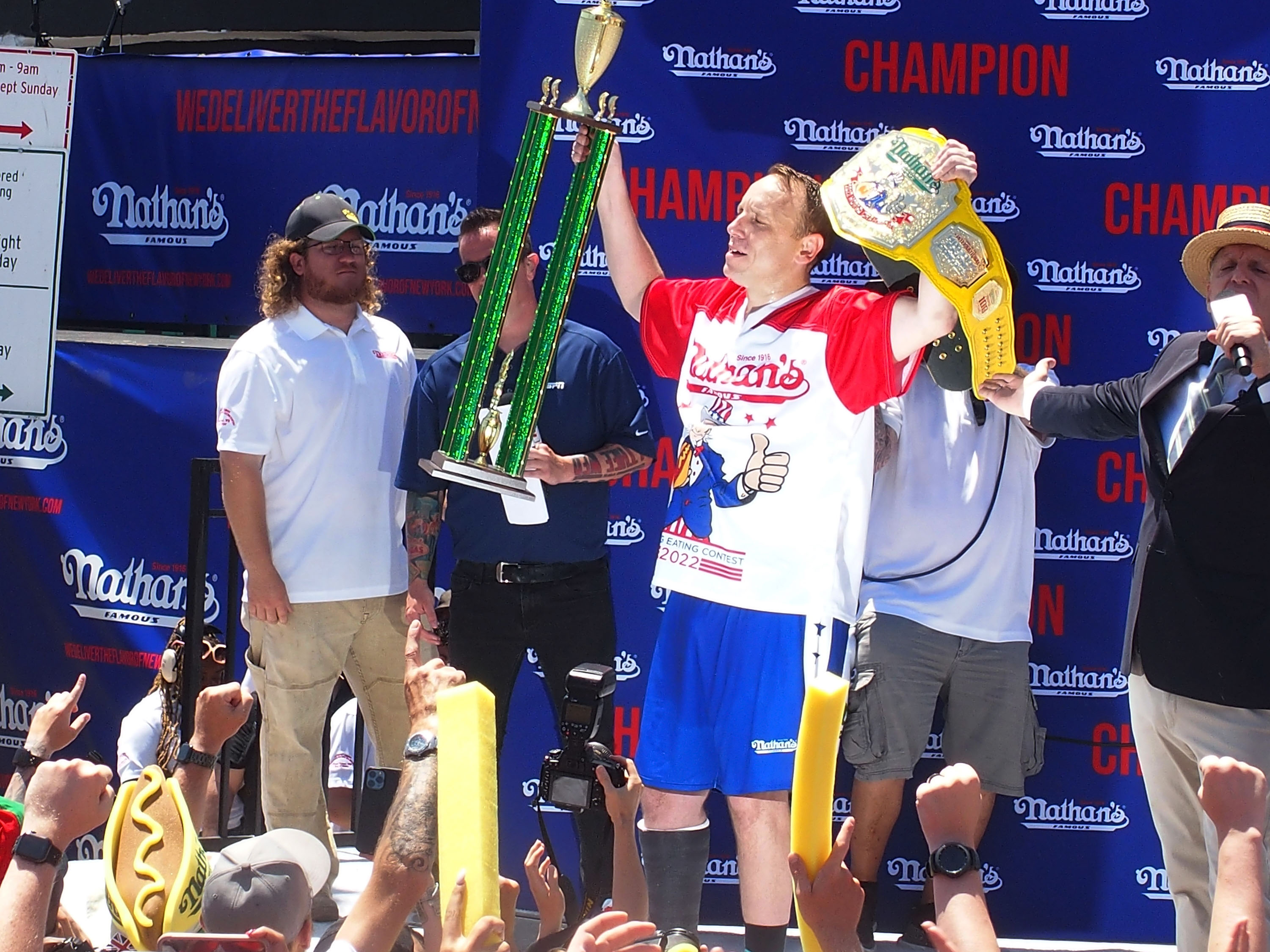 What Is Joey Chestnut's Net Worth?
After winning 15 Nathan's Famous Hot Dog Eating Contests, what is Joey Chestnut's net worth?
Joey Chestnut is an American legend. He has been dominant on the Fourth of July for nearly two decades, winning the Nathan's Famous Hot Dog Eating Contest 15 of the last 16 years. Because Chestnut has been so successful in his competitive eating career, he's made a pretty good living putting down hot dogs. So, what is Joey Chestnut's net worth?
Joey Chestnut continues to dominate the Nathan's Famous Hot Dog Eating Contest
Joey Chestnut has proven to be the greatest competitive eater in the history of competitive eating. His career resume can back that claim up, too. 
Chestnut burst onto the scene in 2007 when he snapped Takeru Kobayashi's string of six straight Nathan's titles by eating 66 hot dogs in 12 minutes. That was the last year the competition was a 12-minute event. Since then, the contest has been a 10-minute affair.
From 2007 to 2014, Chestnut won the event. His best performance during that stretch came in 2013 when he scoffed down 69 dogs.
Chestnut's streak of eight consecutive wins was snapped in 2015 by Matt Stonie. Stonie stunned the field by eating 62 hot dogs to outlast Chestnut. Stonie's run was short-lived, however, as Chestnut bounced back in 2016 by hitting 70 for the first time.
Chestnut hasn't lost the competition since.
Joey Chestnut has a nice net worth
If he doesn't already have the competition riled up, he has to have them even more concerned with his recent performances. Since he reclaimed the title in 2016, he's reached the 70-mark six times. His best total came in 2021, when he consumed 76 hot dogs (and buns).
His streak of six straight 70-plus dogs came to an end last year, but there was a legitimate reason for the lower output. During the event, Chestnut had to put a protester wearing a Darth Vader mask in a brief chokehold before contest officials escorted him away.
Another protester in a white stormtrooper mask made his way behind the contestants and held a sign that read  "Expose Smithfield's Deathstar." Smithfield manufactures Nathan's famous hot dogs. All this took place during the contest, yet Chestnut still managed to eat 63 and come away with his seventh straight victory.
If we're going to call the hot dog contest a sport, then Chestnut dominates his sport more than any other. He capitalizes on endorsements just like any athlete. He's been able to make quite a living by eating and has racked up an estimated $2.5 million net worth, according to Celebrity Net Worth.