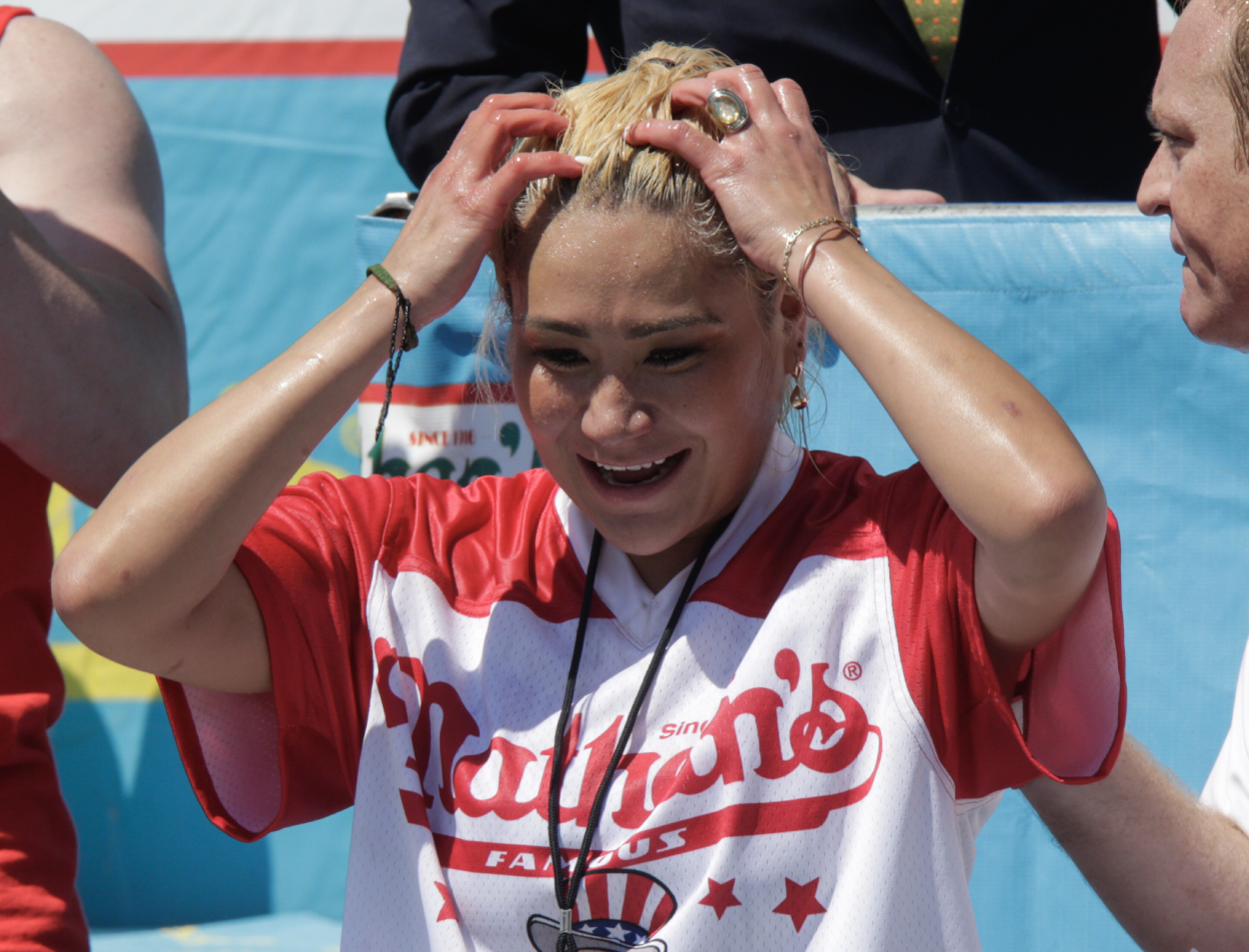 Meet Miki Sudo and Nick Wehry, the Coolest Competitive-Eating Couple Around
Miki Sudo and Nick Wehry were definitely meant to be together.
Last year on the Fourth of July, Miki Sudo and Nick Wehry combined to devour 88 hot dogs. It happened to take place in front of a national television audience as both took part in the annual Nathan's Hot Dog Eating Contest. The two met at a hotel gym in 2018, and it's been love at first bite ever since. Sudo has been crowned the women's champion of Nathan's contest each year since 2014, while Wehry took third place a year ago in the men's division. For the engaged couple, there's more to life than just eating hot dogs.
Miki Sudo is a seven-time champ of Nathan's Hot Dog Eating Contest
Sudo and Joey Chestnut are on a roll. Sudo has won the women's division of the Nathan's Hot Dog Eating Contest for the last seven years. Last year, she finished 48.5 hot dogs (and buns) in 10 minutes, setting a new women's record. She is the top-ranked female competitive eater by Major League Eating, and she's fifth-ranked overall.
The best part of the rankings is that sixth overall is Wehry, Sudo's fiancee. The two are about to head to New York for Sunday's Nathan's Hot Dog Eating Contest. There is one twist, however. Sudo won't be taking part as an eater this year. She is expecting the couple's first child at the end of July. Instead, she'll be in the ESPN booth doing some commentary.
While she won't be competing, Wehry will. She has no problem with him participating while she sits this one out. "People have mixed feelings about him taking part, but I absolutely think he should," Sudo told Sportscasting. "I'm so happy he is. I'll be there to cheer him on."
Nick Wehry is hoping to improve on his third-place finish and personal best from 2020
With Chestnut in the way, it usually means a battle for second place in the men's division. Wehr won't look at it like that. He knows Chestnut ate 35.5 more hot dogs than he did last year, but that doesn't mean he won't go into the event with the mindset he can pull off the upset.
"I go there to win," Wehry told Sportscasting. "Every contest I enter, I want to win. I don't care if you're my grandmother or Joey Chestnut. I want to beat you."
Last year, Wehry finished with his Nathan's personal best 39.5 hot dogs, finishing behind Darron Breeden's 42. Chestnut finished with a world record 75, retaining the Mustard Belt.
Wehry entered competitive eating in 2017 after 11 years of competitive bodybuilding. Despite pounding 39 hot dogs at a time, along with taking part in other various eating contests, Wehry, along with Sudo, remains in great shape. He's still is in the gym five days a week.
"I'm 40 pounds lighter now," Wehry said, comparing himself to his bodybuilding days.
Miki Sudo and Nick Wehry are meant to be together
When they're not competing, Wehry said he and Sudo eat a lot of "boring foods" such as kale and broccoli. When asked if they were healthy eaters, Sudo said she wouldn't go that far. "Well, I have the world record for ice cream, and Nick has the world record for hard-boiled eggs," she said.
The hard-boiled egg story is a good one. On April 25 of this year, Wehry made his mark by eating 50 hard-boiled eggs in 3:02 for his world record. When it was over, he got down on one knee and proposed to Sudo. The two are clearly meant to be together. They have fun together and love being around each other, whether it's in front of hundreds of hot dogs or sitting alone talking about the birth of their first child due at the end of July.
They met at a hotel gym back in 2018. Nick was working out and had a photographer with him as he was doing a photoshoot. "(Sudo) approached me and asked if she could take a picture with me," he said. "She had won four titles so I knew who she was. We stayed in touch. Seven months later, we were in a pretzel-eating contest and I think I wowed her with my pretzel-eating ability."
So what does it feel like physically after a day of taking part in Nathan's Hot Dog Eating Contest? "It's pretty rough," Wehry said. "I'd probably liken it to how people feel after Thanksgiving dinner. On Sunday, we'll probably be walking the same with her ready to give birth and me eating all those hot dogs."