Joey Chestnut Is Risking His Life in the Nathan's Hot Dog Eating Contest
The phrase "competitive eating" used to be associated with having four children and only three ice cream cones. Now, however, it's considered an actual sport, highlighted each July 4 by the Nathan's Hot Dog Eating Contest at Coney Island in Brooklyn and dominated by Joey Chestnut.
The event became an ESPN staple over the years, making stars of Chestnut and Takeru Kobayashi. Dana Hutchings' name probably won't be mentioned in this year's telecast, but it should.
Eating contests are lucrative for Joey Chestnut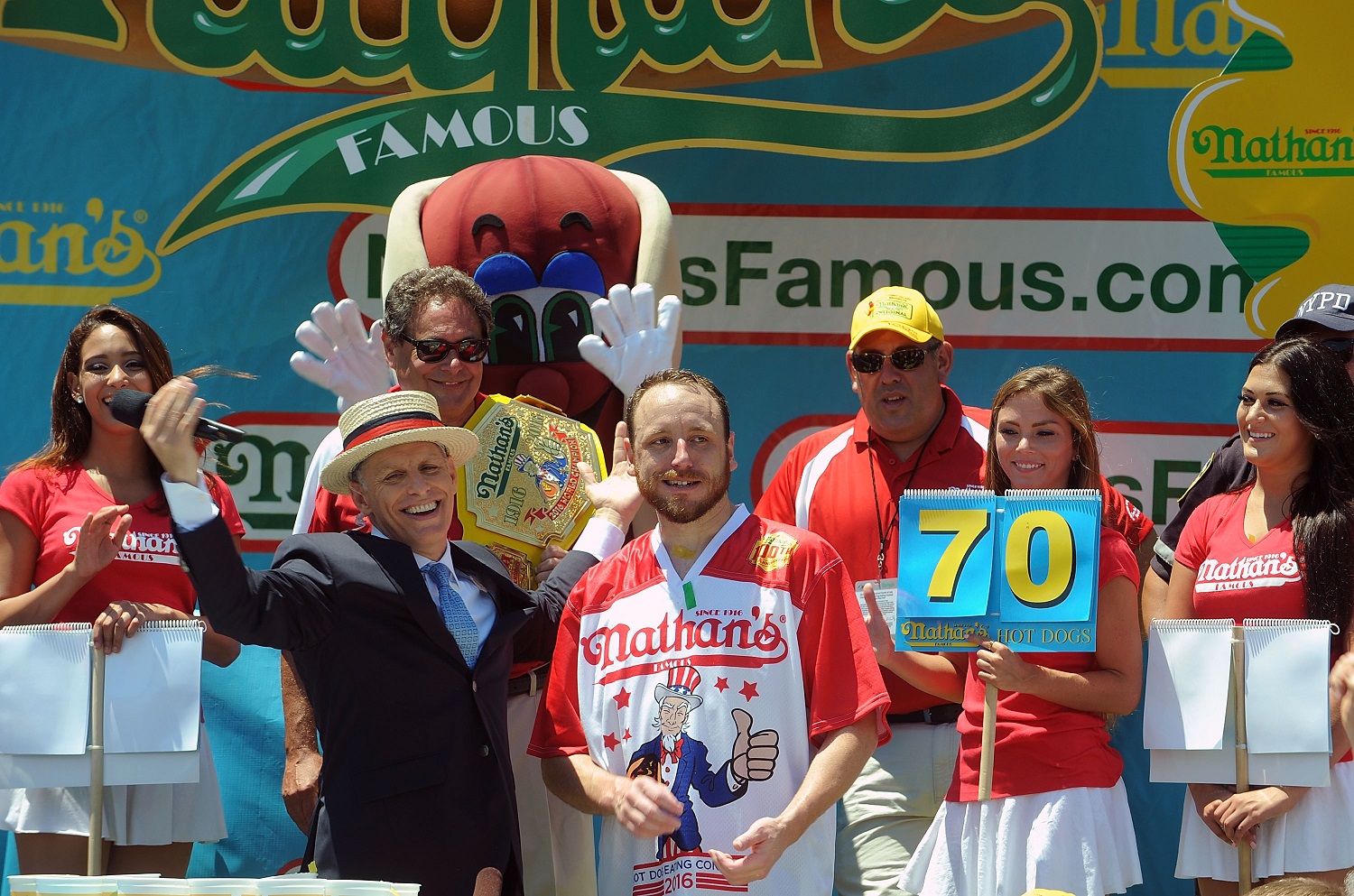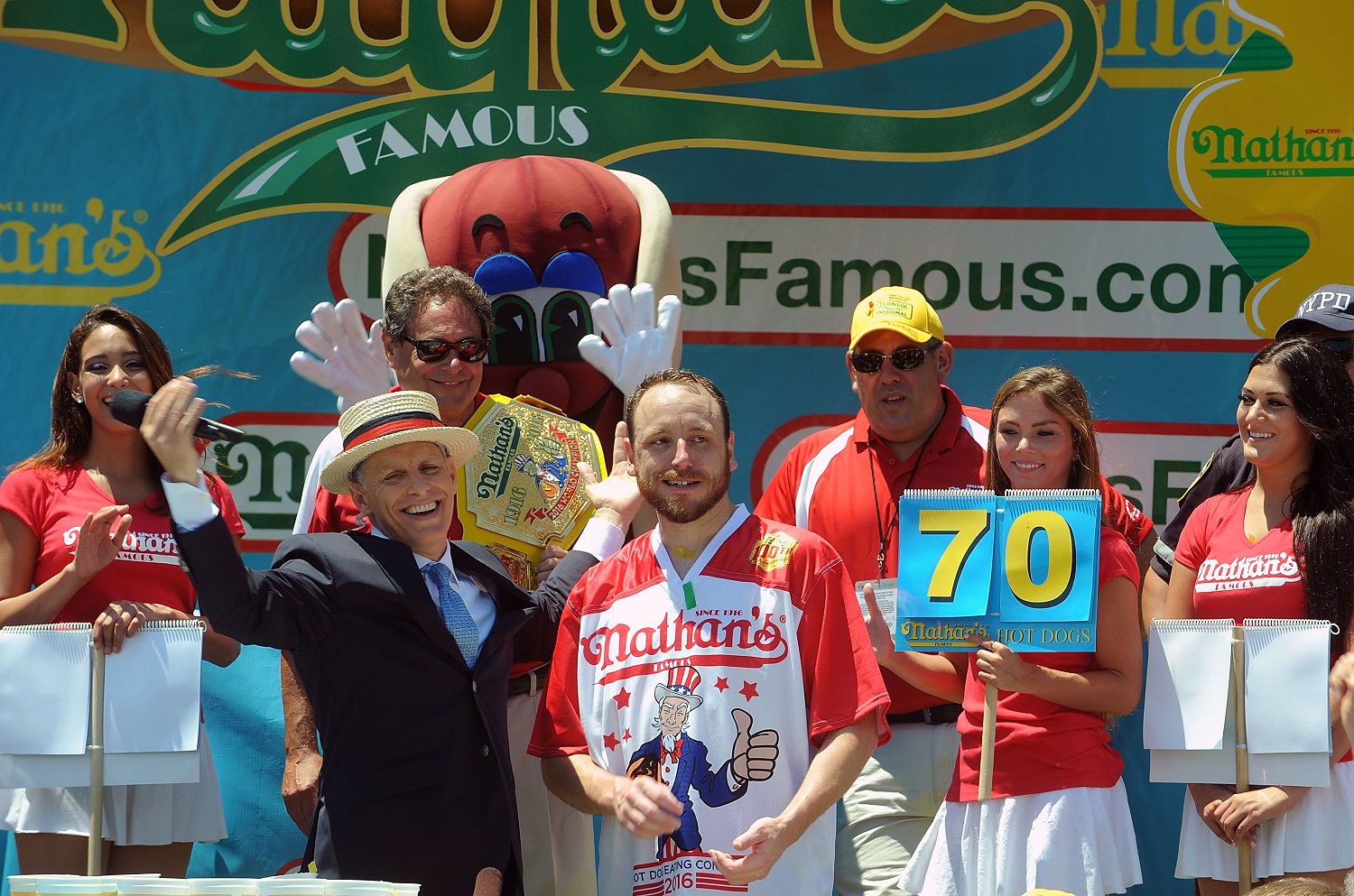 CelebrityNetWorth.com reports that Joey Chestnut has built a net worth of $1.5 million on the strength of winning the annual Nathan's Hot Dog Eating Contest 12 times since 2007. The triumphs have netted him $10,000 apiece and also set up Chestnut, 36, for endorsement opportunities. He markets a line of condiments including mustard and hot sauce that carry his name.
Takeru Kobayashi, a six-time champion before Chestnut's ascension, has been a holdout in recent years due to a dispute with Major League Eating – yes, there really is a sanctioning body for competitive eating — over money.
The work in the Coney Island contest each July 4 since 1916 is brief but intense as contestants have 10 minutes to devour as many hot dogs and buns as they can. Chestnut downed 70 in 2016 to break the event record he had set three years early. His winning totals since have been 72, 74, and 71.
Events like the Nathan's Hot Dog Eating Contest can be fatal
Although people may look at eating contests that feature the likes of Joey Chestnut as harmless, the truth is they can be dangerous for participants. We were reminded so in August 2019 when a man participating in a taco eating contest at a Fresno Grizzlies minor-league baseball game died.
Dana Hutchings, 41, collapsed about seven minutes into the contest and was rushed to an area hospital, where he was pronounced dead. An autopsy determined that Hutchings choked to death. Witnesses said Hutchings had been eating much more quickly than the two other contestants and that emergency personnel at the stadium had administered the Heimlich maneuver and CPR before paramedics arrived.
According to reports, the contest was not sanctioned by Major League Eating, which oversees the Nathan's Hot Dog Eating Contest.
In 2017, a 20-year-old female student at Sacred Heart University in Fairfield, Connecticut, died as a result of choking during a pancake eating contest.
There are other risks in competitive eating as well
Choking to death is only one of the potential hazards of competitive eating. Contestants at the Nathan's Hot Dog Eating Contest like Joey Chestnut and Takeru Kobayashi can do damage to themselves in a variety of other fashions.
The human stomach is capable of expanding to accommodate the ingestion of larger than normal amounts of food. In fact, competitive eaters train in that fashion, intentionally overeating. In doing so, however, they risk literally tearing the stomach and a variety of other issues. They include:
Gastroparesis, which is damage to the nerves controlling stomach muscles.
Mallory-Weiss tears, in which violent vomiting tears the tissue of the lower esophagus.
Boerhaave syndrome, in which the esophagus ruptures, requiring surgical repair.
In addition, burdening the digestive system with large quantities of inadequately chewed food can impair the duodenum. In extreme cases, it can lead to acute pancreatitis and kidney injury. Add to that the possibility of liver damage from processing high volumes of fat and carbohydrates, and competitive eating is suddenly less attractive.
It's a sport that should be left to the experts. Even then, it's value as actual entertainment has to be called into question.