If You Went to the Movies With the Late, Great Pete Maravich, You Better Make Sure He Got the Aisle Seat
Pete Maravich always had a basketball with him growing up, even while taking in a movie.
Pete Maravich was one of the most exciting basketball players to watch in college and in the NBA. At LSU, he averaged 44.2 points in his three years. The flashy passer and tremendous shooter also put up 24.2 points during his 10-year NBA career with the Atlanta Hawks, New Orleans/Utah Jazz, and Boston Celtics.
Maravich was all basketball growing up. His father, Press, introduced him to the game and was his coach at LSU. He admitted to being a gym rat and practicing all the time — often by himself — since he began playing at age 7. Maravich once said he took a basketball wherever he went and that included the movie theater.
Pete Maravich was must-see in college and the NBA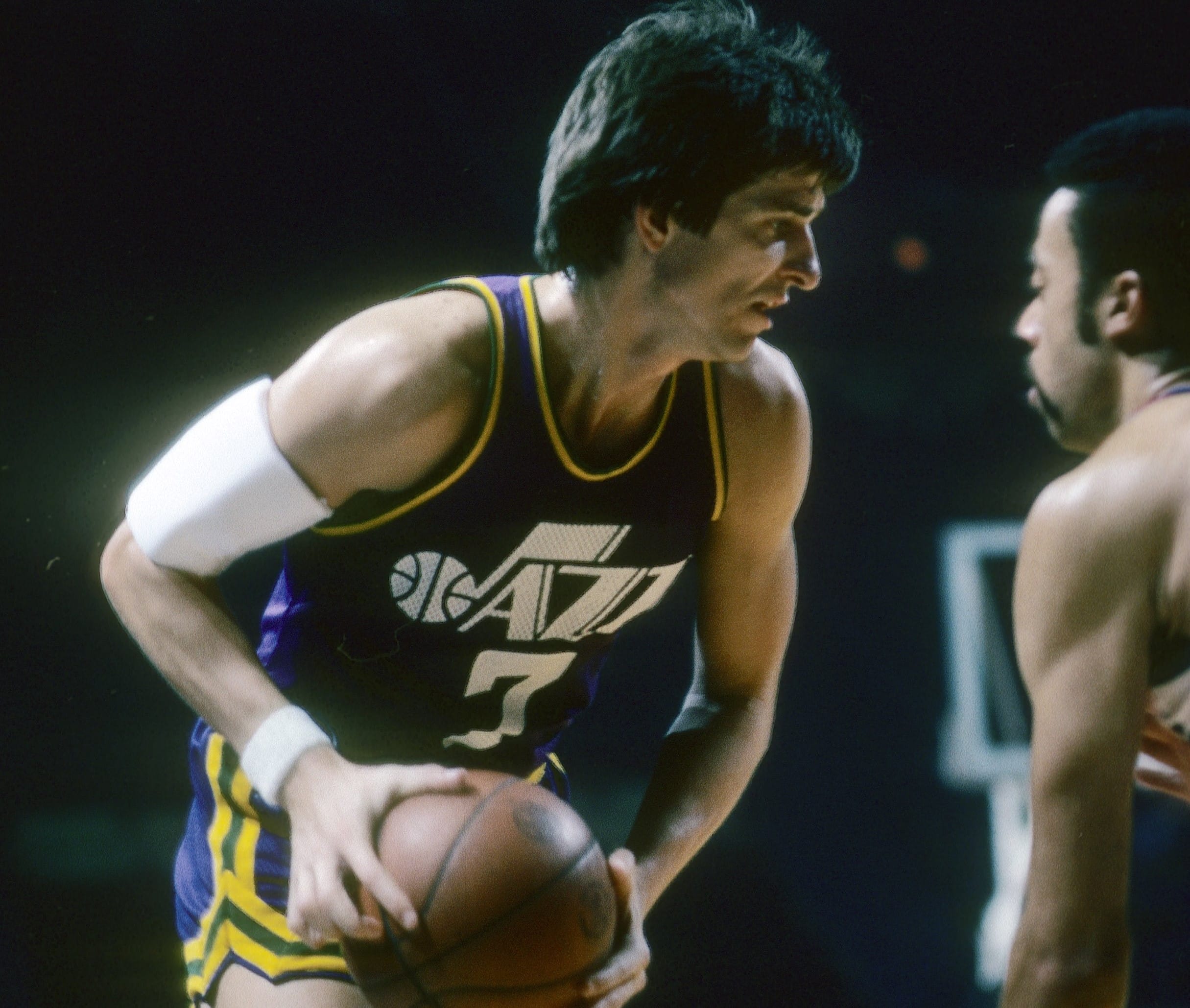 Maravich has to be considered one of the top five college basketball players in history. The 6-foot-5 guard is the NCAA Division I all-time leading scorer, despite playing during an era with no three-point line.
Although he was at LSU for four years, freshmen couldn't play on the varsity. He led the NCAA in scoring in each of his three seasons and was a three-time All-American. A prolific scorer and elite ball-handler, Maravich never reached the NCAA tournament, although he helped turn around a program that had three wins prior to his arrival.
Maravich was the third overall pick in the 1970 NBA Draft, selected by the Atlanta Hawks. He spent the first four years in Atlanta and averaged 24.3 points in his Hawks' career. Maravich was an All-Star in his final two seasons with Atlanta.
The Hawks traded Maravich to the expansion New Orleans Jazz in 1974. The Jazz needed a draw to get some excitement in their first NBA season. What better player than Maravich, who was already established as a star in the area after his college success.
He spent six years with the Jazz and led the NBA in scoring during the 1976-77 season, putting up 31.1 points. He averaged 25.2 points in his six years with the Jazz. The franchise relocated to Utah for the 1979-80 season, and he played in 17 games that year as knee injuries plagued him. The Celtics signed him after he was placed on waivers, and he finished out his career in Boston.
Maravich admitted he was a basketball junkie
Before he began his NBA career, Maravich wrote a first-person article for Sports Illustrated. He spoke about how his father introduced him to the game, but he also added how he took it upon himself to practice for hours every day. Not a day went by whe he didn't have a basketball in his hand.
"Even very early while growing up and playing every day, I felt I would have a future in basketball, if only for the fact that I did practice and work so hard at it," wrote Maravich, who died in 1988 while playing a pickup game.
"I would seclude myself in a gym at the YMCA, or go out in the backyard, playing alone most of the time, and say to myself, 'Well look now, from what I've seen around me, the people in the pros and in college must have worked hard or they wouldn't have earned a scholarship and they wouldn't have been able to make a living at this game. Well, they aren't working any harder than me, because I'm out here four and five hours a day.' And I was."
Maravich admitted that a movie theater in town was a place where he'd practice his ball-handling skills.
"In those days we lived about two miles from town and I'd walk there all the time, dribbling a basketball most of the way, to work out at the Y and go to the movies," he wrote. "Whenever I went to the movies, I'd take my ball with me and be sure to get an end seat so I could dribble in the aisle while the movies were on.
"There were only a few people in the theater then. Clemson, S.C. isn't the biggest metropolis in the world, you know. It isn't Atlanta. These people in the theater were old and tired, and they looked like they'd been sitting there for three years. They didn't mind my dribbling. The floor was carpeted and I had a rubber ball, and I never got thrown out for it or anything."