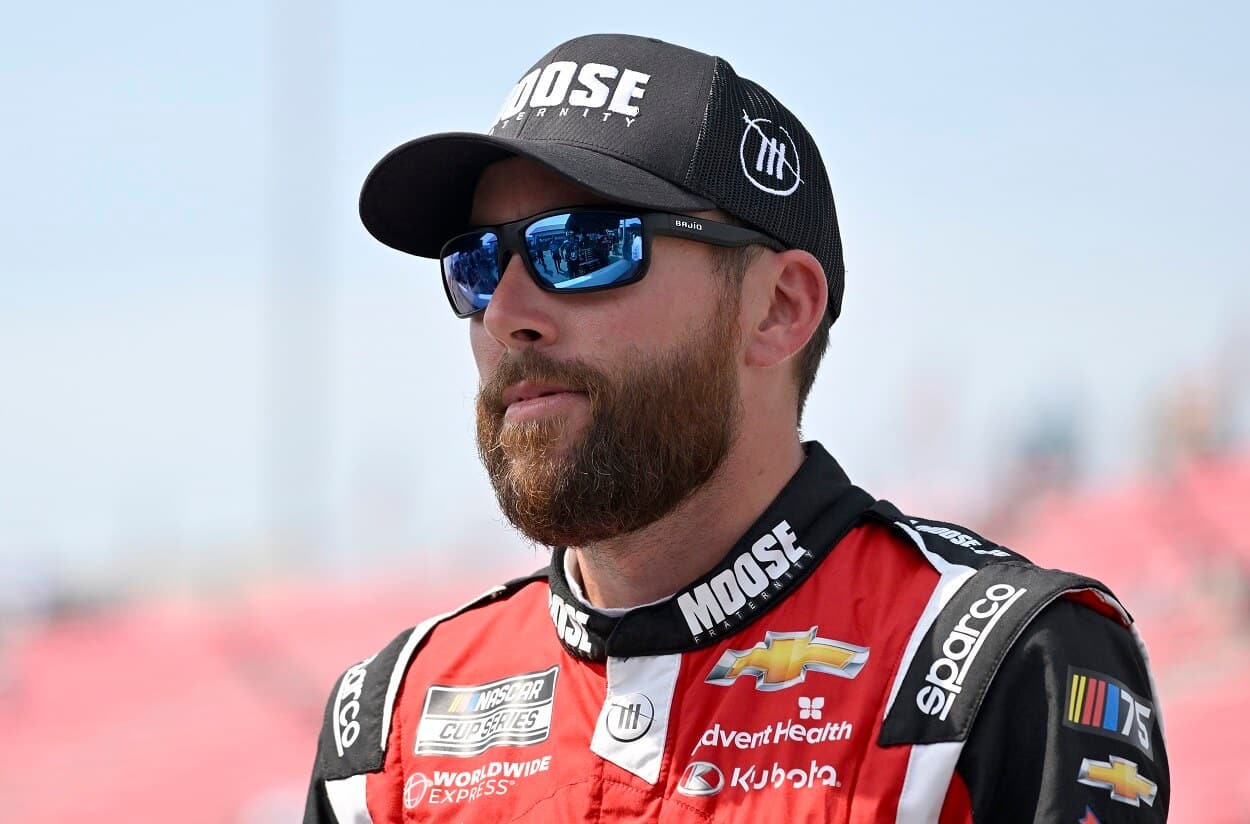 Is It Time to Worry About Ross Chastain?
Ross Chastain has struggled in his last few races. Is it time to be concerned?
This past Sunday's NASCAR Cup Series race at World Wide Technology Raceway near St. Louis began in typical fashion for Ross Chastain, although the ending is suddenly becoming all too familiar.
Chastain finished inside the top 10 in each of the first two stages and yet again caused a caution at the beginning of Stage 2 when he drove underneath Michael McDowell and spun the No. 34 machine out of the way.
McDowell actually went on to finish ninth, but Chastain dropped back through the final stage of the 243-lap event and finished 22nd for the second consecutive week. It was his third straight finish outside of the top 20 and dropped him from first to fifth in the points standings.
So, what has changed for the Trackhouse Racing driver who had consecutive top-five runs to begin May and led the points standings as the Cup Series headed to Darlington Raceway for Mother's Day weekend?
Ross Chastain's Darlington tussle with Kyle Larson brought a strong rebuke from Rick Hendrick
Chastain was again up front late in the May 14 race at Darlington when he and Kyle Larson made contact on a restart. Chastain had restarted on the bottom lane and pushed up into Larson when they got to Turn 1. The wreck ended Chastain's race and prompted strong words from Larson's car owner Rick Hendrick after the race.
"If you wreck us, you're going to get it back," Hendrick said of his Hendrick Motorsports teams. "If you don't do it, they'll run all over you. … He doesn't have to be that aggressive. I guess at this point in the race, maybe you're super aggressive, but you just don't run people up in the fence. He's going to make a lot of enemies. It's hard to win a championship when you've got a lot of paybacks out there."
The Darlington incident was the second time in three weeks that Chastain's aggressive driving had prevented Larson from a chance to win a race. Chastain bumped Brennan Poole early in the May 1 race at Dover Motor Speedway, and Poole spun up into Larson when Larson was inside the top five. Larson finished that race 32nd, while Chastain went on to lead 98 laps and finish second. A week later, Noah Gragson confronted Chastain on pit road after the race at Kansas Speedway, and Chastain responded by punching Gragson in the face.
Trackhouse owner Justin Marks said he had conversations with Chastain after the Darlington weekend to discuss his driving style.
"He's very fast, but he's got some things he's got to clean up," Marks said on SiriusXM Radio. "We today started the process of more aggressively handling that — with our partners, with Ross, and with our team. Not necessarily because we're mad at him, but there's so much opportunity here.
"We're addressing it. I'm going to take a more active role in it. I love the kid. I love the opportunity it's given every single person at Trackhouse to be able to put a championship run together. But there's stuff that has to be cleaned up. It's a process he's going to have to start going through sooner rather than later."
Chastain has been a non-factor in all three races since the Darlington incident
Since those discussions, Chastain was never a factor and finished 11th in a 24-car field for the All-Star Race at North Wilkesboro Speedway. He then ran 22nd the following week in the Coca-Cola 600 at Charlotte Motor Speedway before his 22nd-place result Sunday at WWT Raceway.
Meanwhile, his teammate Daniel Suarez led 55 laps in the All-Star Race before finishing seventh and was seventh again at WWT Raceway after spending much of the race inside the top five.
Trackhouse is still in only its third year of operation and does not yet have the track record of other consistent powerhouse organizations in the sport. Still, Suarez's performance suggests the quality of the cars the organization brings to each race has not significantly changed across the last three weeks.
Has Marks' attempts to rein in Chastain's aggressiveness hurt the performance of the driver of the No. 1 car?
Chastain is still solidly in position to grab one of the 16 playoff spots this season, but Chastain does not yet have a victory this season. The lack of wins and playoff points could severely hamper his chances to get through the early elimination rounds in the postseason, especially if his bosses have told him to dial back his aggressiveness.
Sure, Chastain creates enemies when he makes contact with various drivers, but his hard-charging style is also a factor in his success over the past two seasons. A lengthy list of drivers predicted payback for Chastain last year, and yet nothing happened as he drove to a runner-up finish in the championship standings.
Perhaps Ross Chastain's only way to succeed is to be the most aggressive driver in the series,s despite the possibility someone might actually deliver payback at a crucial point in the season. 
So far, his results suggest he can't compete for wins and a championship otherwise.