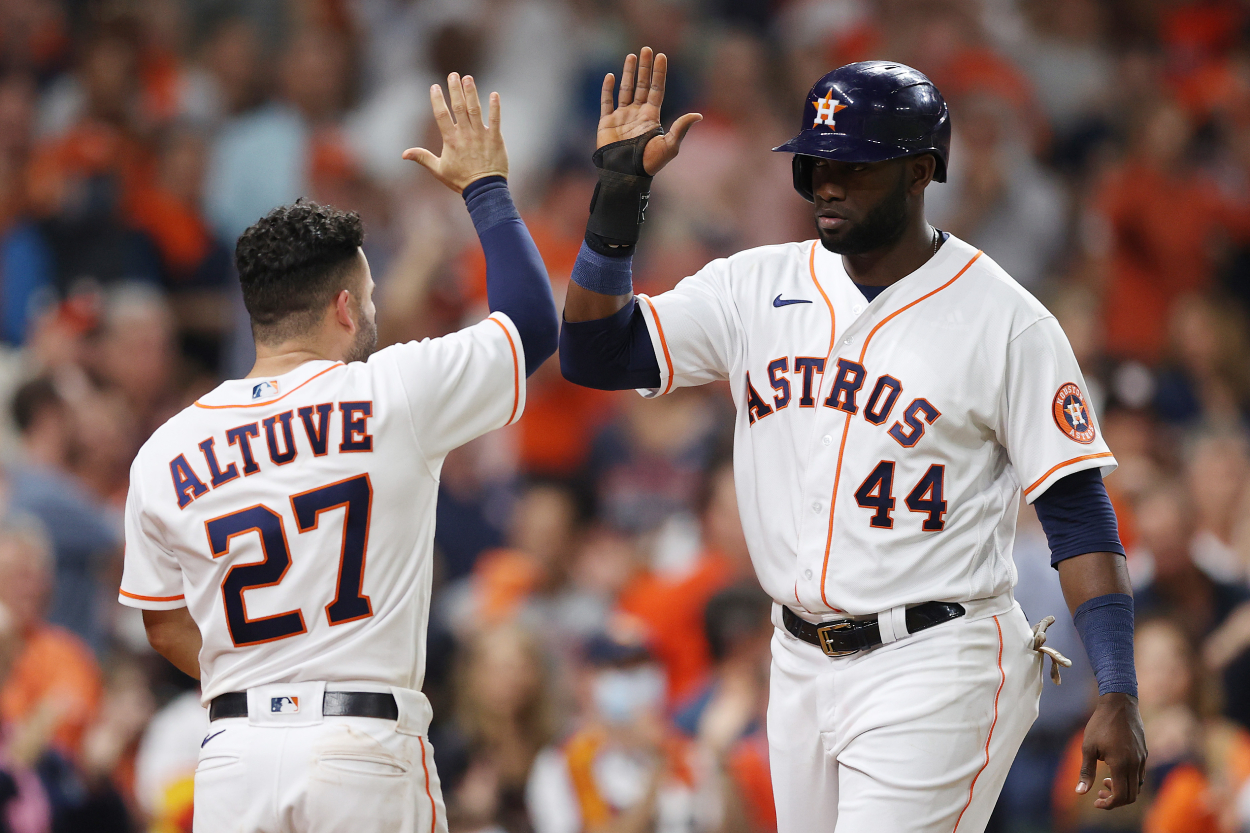 Is Jose Altuve the Shortest Player in Major League Baseball?
Is Houston Astros second baseman Jose Altuve the shortest player in Major League Baseball?
He was once officially listed at 5-foot-7 but word got out. Houston Astros second baseman Jose Altuve is actually 5-foot-6. Despite his size, he's one of Major League Baseball's biggest stars, as his seven MLB All-Star appearances prove. As his Astros battle the Atlanta Braves for the 2021 World Series, Altive will be the shortest player on the field, but is he the shortest player in the big leagues?
Jose Altuve has heard so much talk about his height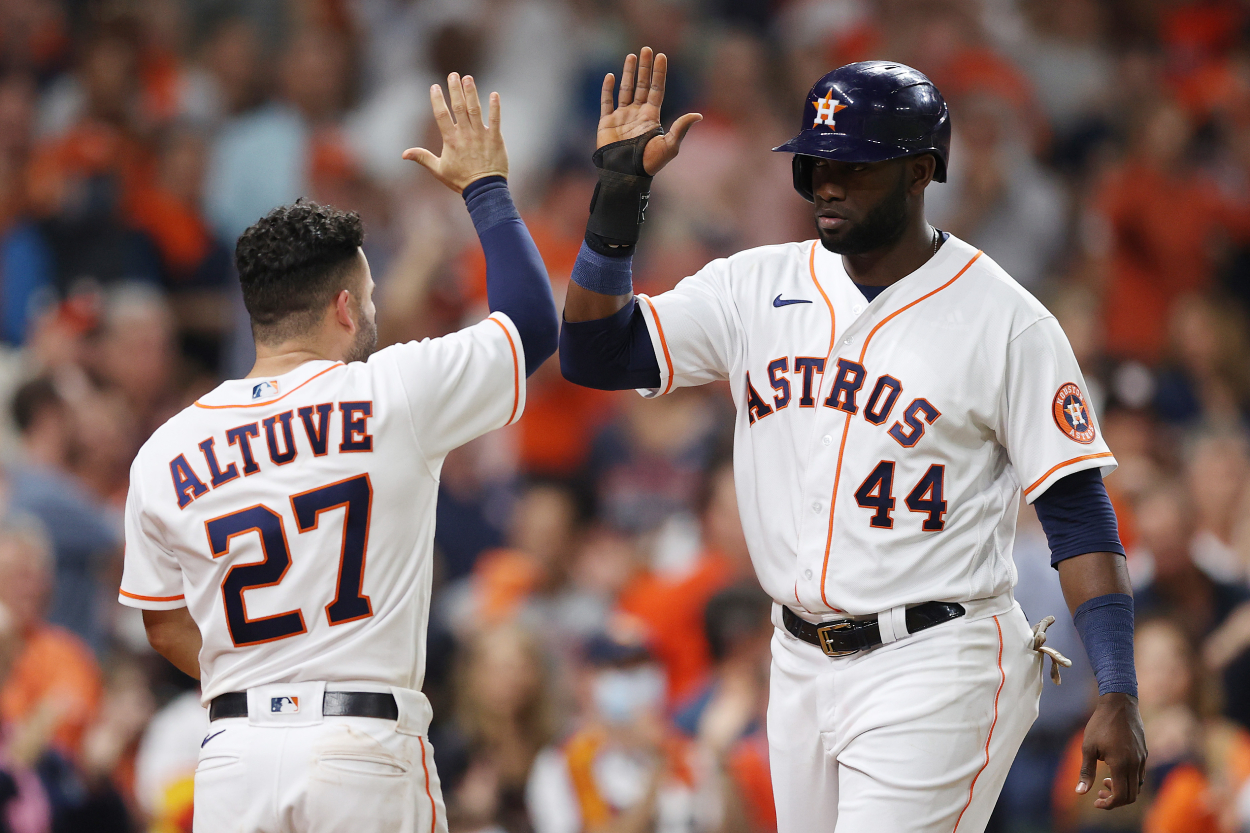 Back in 2011 when Altuve was a rookie with the Astros, much was made of his height. He could hit a baseball with the best of them, and his defense was terrific, but many couldn't see past his size. When he made the leap from Double-A ball to the big leagues, Astros manager Brad Mills contacted Boston Red Sox manager Terry Francona about his new infielder.
"Tell (Dustin) Pedroia he's no longer the smallest guy in major league baseball," Mills said, according to The Houston Chronicle.
According to The Houston Chronicle, Altuve was officially listed at 5-foot-7 then, but at least on one occasion, he admitted to being 5-foot-6. He is now officially listed at 5-foot-6.
"Everywhere I go, people talk about my size," Altuve said back in his rookie year. "I'm OK with that. I just want to show everybody short guys can play in the minor leagues and the big leagues."
He has more than proven he belongs in Major League Baseball. In addition to his seven All-Star appearances, he was the American League MVP in 2017 after hitting .346 and leading the majors with 204 hits. His career batting average is .308, and he is a three-time batting champion.
Jose Altuve is the shortest current player in Major League Baseball
According to The Sporting News, Altuve tied one other player this year as the shortest player to appear in an MLB game. Tony Kemp, an Oakland Athletics second baseman who appeared in 131 games this year, also is listed at 5-foot-6.
Since 2000, Altuve, Kemp, Alexi Amarista, Danny Herrera, David Eckstein, and Donnie Sadler are the only MLB players to suit up in a game at 5-foot-6.
There has only been one player shorter than Altuve to hit a postseason home run. That came in 1978 when Freddie Patek (5-foot-5) of the Kansas City Royals hit a shot off New York Yankees pitcher Dick Tidrow. Patek's homer came in Game 2 of the American League Championship Series. The Yankees knocked off the Royals 3-1 in the best-of-five series.
There have been two players shorter than Patek to get a postseason at-bat. Hugh Nicol, whose last MLB at-bat came in 1890, was 5-foot-4. He had two postseason plate appearances. He was the same height as Billy Gilbert, who last played in 1909.
Eddie Gaedel was the shortest player to ever appear in a game
Seventy years ago, on Aug. 19, 1951, Eddie Gaedel made history as being the shortest player ever to appear in a Major League Baseball game. Gaedel was an actor in the Chicago area, and St. Louis Browns owner Bill Veeck pulled off quite a stunt. It happened during a doubleheader against the Detroit Tigers.
Gaedel was in his early 20s and stood 3-foot-7. The Browns celebrated their 50th anniversary in the American League and Gaedel popped out of an oversized birthday cake between the games. He remained in the Browns dugout wearing a jersey with the number 1/8 on the back.
As the Browns came to bat in the bottom of the first inning of the nightcap, they made history. Frank Saucier was scheduled to lead off for the Browns. To his surprise, he was called back and pinch-hit for by Gaedel.
"I started to lead off and the umpire called time and said, 'There's gonna be a pinch hitter.' And then out of the dugout Eddie Gaedel came trotting with a little bat over his shoulder," Saucier said, according to KSDK.com. Saucier is 95 yers old and living in Texas as of August 2021.
Gaedel walked on four pitches.
"After ball four was called, Eddie started to trot down to first base," Saucier recalled. "And halfway down to first base, Eddie stopped, took his hat off and bowed to the crowd on the first base side, and then bowed to the crowd on the third base side. I said, 'You kind of hammed it up going down to first base.' He said, 'Man… I felt like Babe Ruth.'"