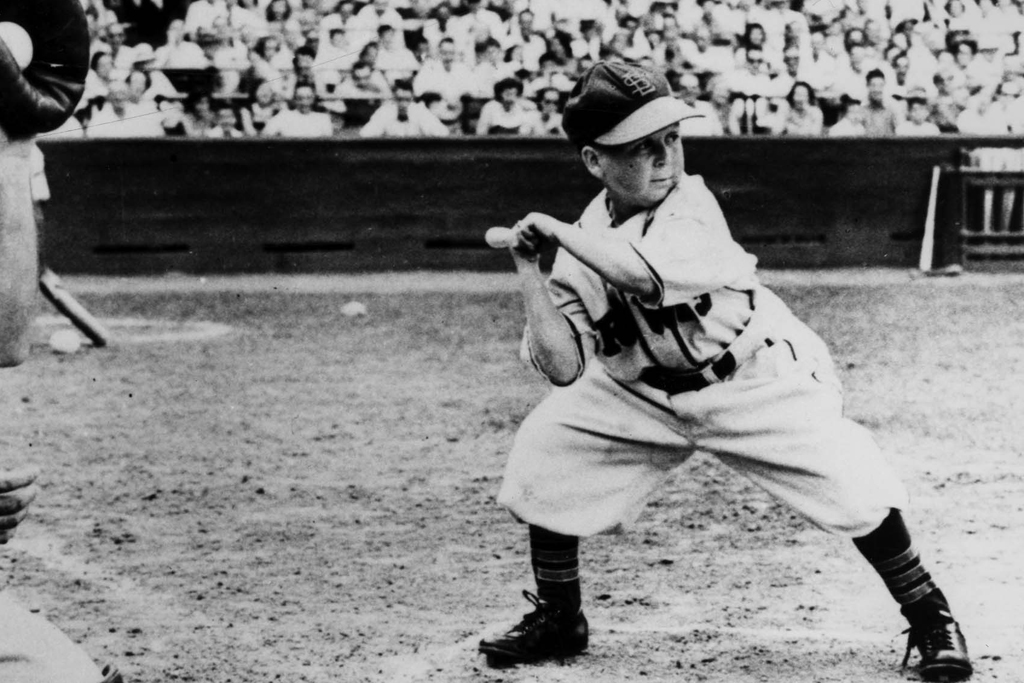 The Shortest Major League Baseball Player Appeared in 1 Game
Eddie Gaedel, was hired by the St. Louis Browns to make a single major-league appearance in 1951.
Eddie Gaedel had a career in Major League Baseball best described as short, which was the whole point for St. Louis Browns owner Bill Veeck in what fans consider the most memorable on-field stunt in the sport's history.
Bill Veeck was a master promoter
Bill Veeck had a long career as the owner of several Major League Baseball teams and was known for his innovative promotions, including Eddie Gaedel's famous four-pitch walk in 1951 as a hitter for the St. Louis Browns.
That same season, Veeck tackled the team's four-game losing streak by promoting "Grandstand Managers Day." Fans were asked to hold up placards to signal their vote on a variety of in-game decisions and the Browns won the contest, 5-3.
Veeck was also more visionary than his counterparts in some respects. As the owner of the Cleveland Indians, he signed Larry Doby in 1947 to ring in the integration of the American League. He was also an early proponent of sharing revenue from local TV and radio rights to level the competitive playing field between large- and small-market teams but could not get a majority of owners to agree.
Eddie Gaedel's memorable plate appearance
Eddie Gaedel stood 3 feet, 7 inches tall when he was sent to the plate to bat for the St. Louis Browns in the first inning against the Detroit Tigers while wearing uniform No. 1/8 on Aug. 19, 1951.
Fans got a hint of what might come when a large cake was wheeled to the infield between games of the doubleheader and Gaedel popped out wearing a Browns uniform. He would soon enter the game as MLB's shortest player ever when St. Louis manager Zack Taylor sent him to the plate as a pinch-hitter in the first inning with instructions not to swing at any pitches.
The umpires tried to intervene, but Taylor showed them Gaedel's contract, which had been filed with the league office late on Friday afternoon so that it wouldn't be scrutinized until Monday. Tigers catcher Bob Swift huddled with pitcher Bob Cain, who subsequently threw high on four consecutive pitches to Gaedel, who had been instructed to crouch to further reduce the strike zone.
Gaedel took first base, where he was replaced by a pinch-runner, and then tipped his cap to the crowd's standing ovation on his way off the field in a game that the Tigers would win, 6-2.
The American League would subsequently void Gaedel's contract and ordered that his appearance be stricken from the boxscore. His name was restored to the official records the following season.
What became of Eddie Gaedel?
When Kevin Melillo of the Oakland A's drew a walk in 2007 in the only plate appearance of his MLB career, he became the first player to do so since Eddie Gaedel.
Gaedel's appearance, for which he was paid $100, ranked No. 1 on the list of unusual moments compiled by The Sporting News in 1999, but it wasn't the last time Bill Veeck used him in a stunt.
At that time the owner of the Chicago White Sox, Veeck rented a helicopter in 1959 to carry Gaedel and three other short men dressed as spacemen into Comiskey Park in an "invasion." Two years later he hired Gaedel and several others as vendors, purportedly to address complaints from fans regarding taller vendors blocking their sightlines.
Gaedel cashed in on his fame with numerous paid television appearances. Tragically, he died from the combination of a heart attack and multiple injuries in 1961 after being assaulted on his way home from a bowling alley.
The one-day major-leaguer's grandnephew, Kyle Gaedele, was drafted out of college by the San Diego Padres and made it as far as the Double-A level in 2015.