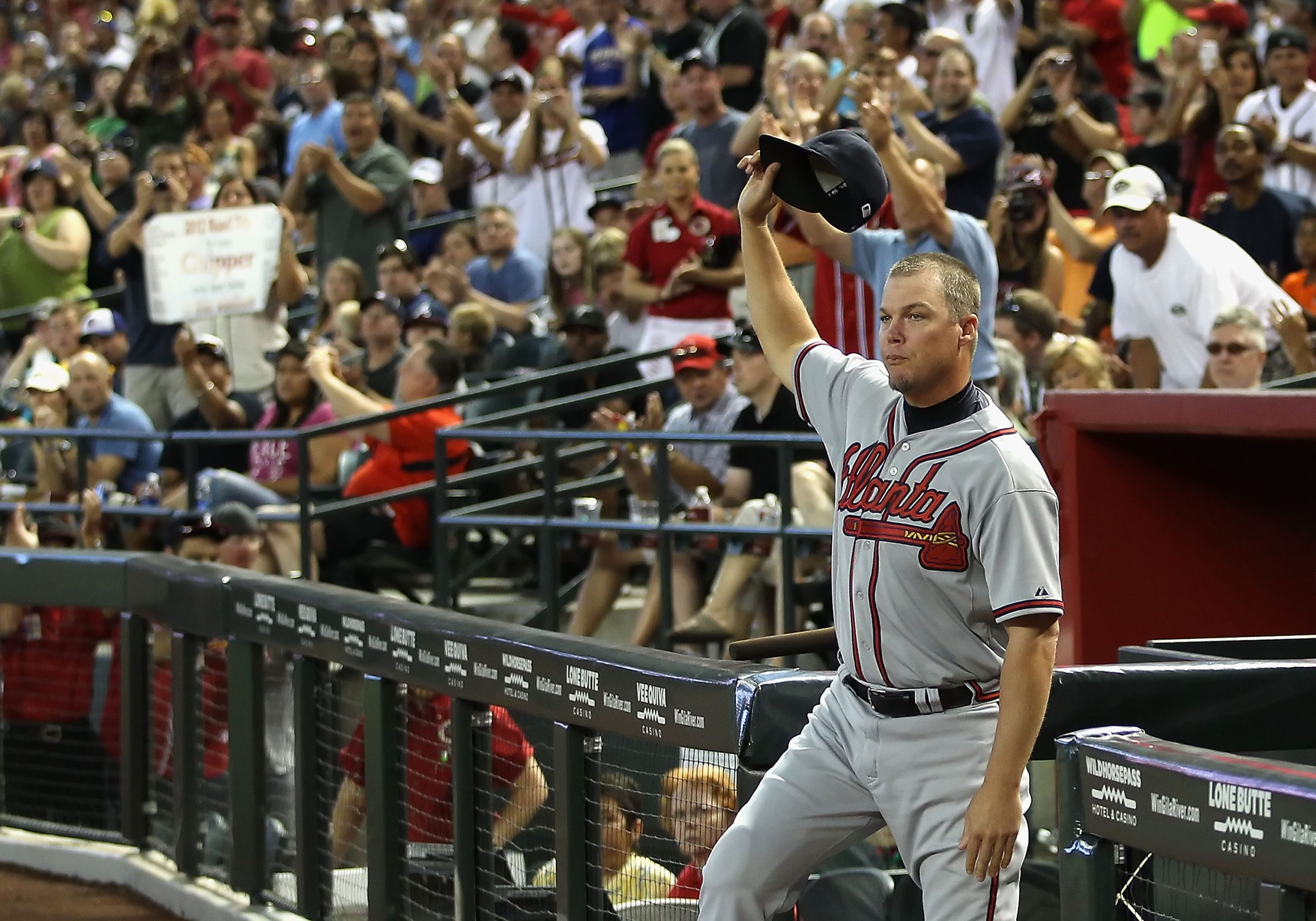 Chipper Jones Reveals to Dale Earnhardt Jr. the Teammate Who Was 'the Grossest Human Being I've Ever Met in My Life'
Chipper Jones had one of the "grossest human beings" he's ever met as a teammate with the Atlanta Braves.
From the early 1990s to 2004, the Atlanta Braves were one of the best franchises in Major League Baseball. They were a close-knit group that put together 14 straight division titles. They may have even been too close. Just ask Chipper Jones.
Jones, an MLB Hall of Famer, was a recent guest on Dale Earnhardt Jr.'s Dale Jr. Download podcast and spoke about some of the behind-the-scenes antics with the Braves. Jones revealed the one teammate who is "the grossest human being I've ever met in my life."
How good were Chipper Jones and the Atlanta Braves?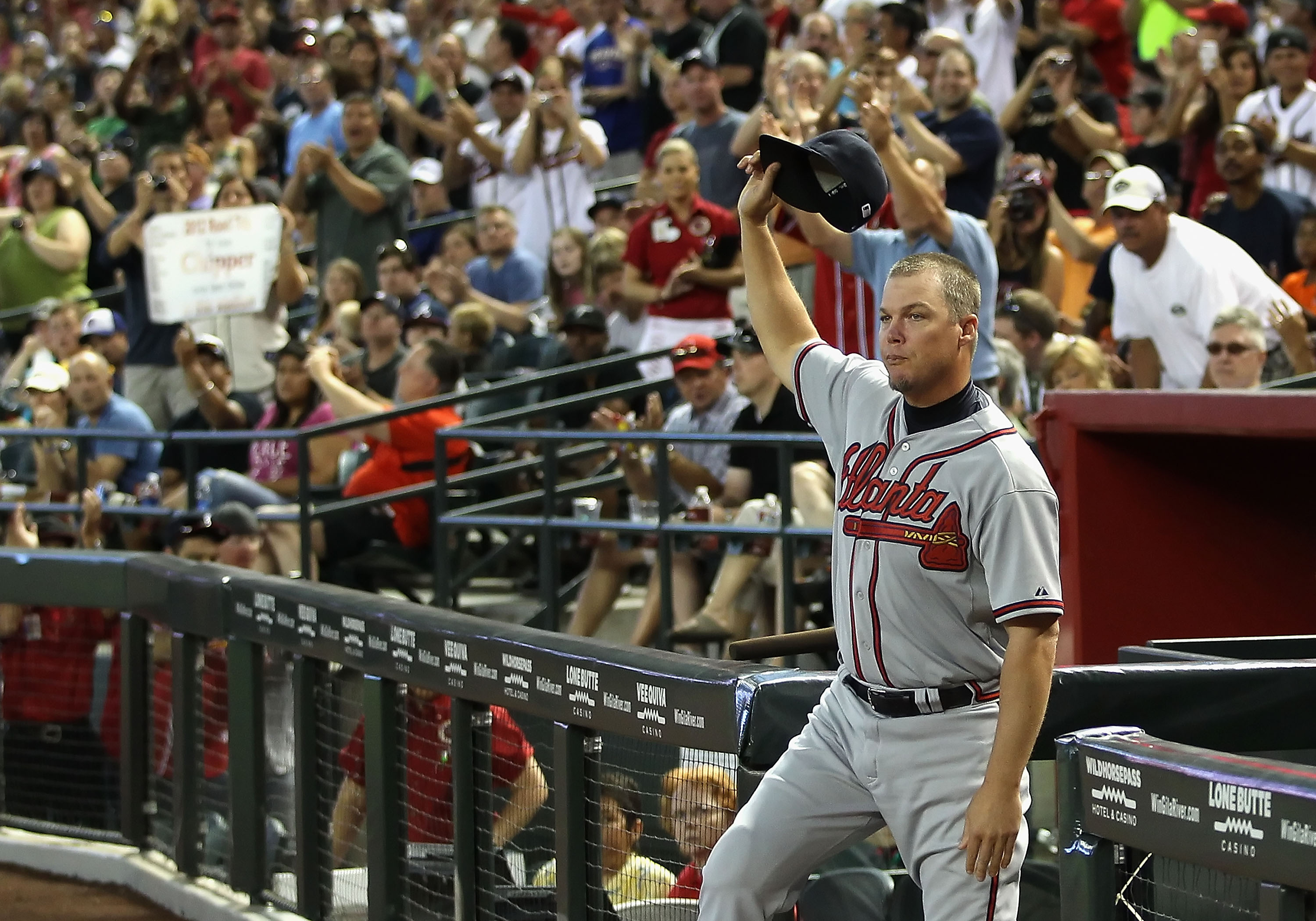 The Atlanta Braves used the No. 1 pick in the 1990 MLB Draft to select Jones, a hot-shot prospect out of the Bolles School in Jacksonville, Florida. Jones was a three-sport athlete and was named the Florida Gatorade Player of the Year in baseball. Jones accepted a scholarship to play baseball at the University of Miami, but he signed with the Braves, netting a $275,000 signing bonus.
While Jones spent the next couple of years getting used to pro ball in the minors, the Braves won their first division title in 1991. After finishing with the worst record in Major League Baseball at 65-97, they turned to their young pitching staff in Tom Glavine, Steve Avery, and John Smoltz, who combined for 52 wins in 1991.
Offensively, David Justice, Ron Gant, and Terry Pendleton led the way, holding down the fort until Jones made his big-league debut in September 1993. The Braves won the first of those 14 straight division titles in 1991. In the '90s, Atlanta won five National League pennants.
The Braves signed pitcher Greg Maddux in 1993, adding to an already dominant staff. Jones was expected to play a key role in 1994 but tore his ACL in spring training and missed the strike-shortened season. In 1995, the Braves won the World Series with Jones finishing second in the Rookie of the Year voting with 23 home runs and 86 RBIs.
Jones went on to become an eight-time MLB All-Star and a batting champ in 2008. He was the league's MVP in 1999 with a career-high 45 home runs and a .319 batting average.
Chipper Jones reveals the teammate who was the grossest human he knew
Not only were the Braves successful, but they were also a group of guys who seemed to enjoy being around each other. During their run of 14 straight division championships, the team had a strong mix of hitting and pitching. Glavine, Maddux, Smoltz, and Avery were close, spending a lot of time on the golf course together. Jones revealed to Earnhardt Jr. there was quite a bit of pranking in the clubhouse, led by Maddux, who made Jones cringe.
"Maddux would come in after playing golf, didn't shower after playing," Jones said on the Dale Jr. Download podcast. "His locker was right next to the sanitary sock bin, the white sox that we wore underneath our stirrups. He would drop trou, take a sanitary sock, (wipe himself), and put it back in the sanitary sock bin. He would sit there and wait for guys to come in and pick up their socks.
"I'm sorry if this is totally gross. One time, it was me. I pulled the sock on and I got this giant bacon strip up my shin. Now, it takes a sick human being to do that, but that's Greg Maddux. He's the grossest human being that I've ever met in my life."
Greg Maddux wasn't finished there
Jones shared another story about Maddux. Had Jones not been so young, he might've taken a swing at the veteran pitcher.
"Another story," Jones said. "In a big-league clubhouse, we have community showers. The shower that I always showered in was the second one on the left. The shower that he always showered in was the third one on the left. Big mistake by me by showering next to this gross human being.
"I got a big base hit to win a baseball game and he's like, 'Man, what a great at-bat. Walk me through what you were thinking.' I'm first or second year in the league. Dumb as hell. I'm thinking to myself that this is pretty cool. Greg Maddux wants to know what I'm thinking. So I go into this whole thing. I'm into it and I can sense that guys over on the other side are snickering and chuckling.
"I look down and he's peeing on me. He's Greg Maddux, so I can't knock him out."
Maddux may have been one of the best pitchers in his day, but it was best to stay far away from him in the clubhouse.