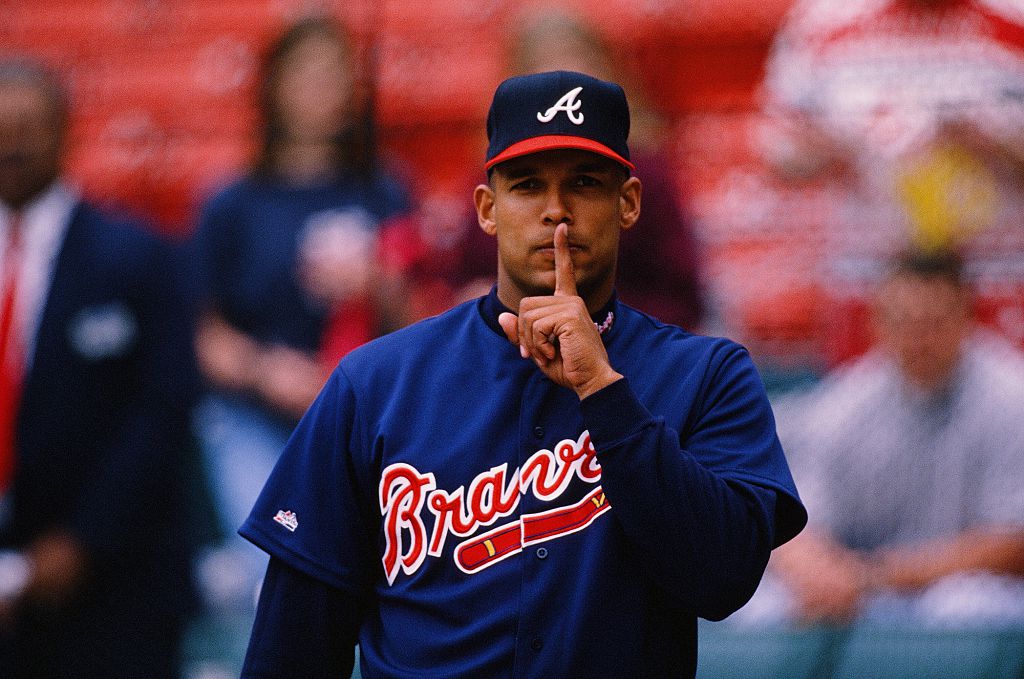 David Justice's Sons Are Making Names for Themselves in Football
Former Atlanta Braves outfielder David Justice's sons are making names for themselves in the world of football.
Former Atlanta Braves outfielder David Justice spent 14 seasons in Major League Baseball. He carved out a healthy baseball career, making three MLB All-Star appearances. Justice's two sons, JR and DJ, are both athletes but aren't quite following in their father's footsteps. Both have veered off the baseball path and are in the process of making names for themselves in the football world.
David Justice's baseball career
David Justice was drafted by the Atlanta Braves in the fourth round of the 1985 MLB draft. He made his Major League Baseball debut on May 24, 1989, against the Pittsburgh Pirates. During that 1989 season, Justice played in just 16 games, collecting 51 at-bats.
In his first full season in 1990, Justice exploded for 28 home runs and drove in 78 runs while hitting .282. Justice played in 127 games and was named the National League's Rookie of the Year. Justice spent the first eight years of his career with the Braves. He was a two-time MLB All-Star while he was in Atlanta. His best season came in 1993 when he hit 40 home runs and drove in 120 runs. He finished third in the MVP voting that season. 
In 1997, Justice was part of a big trade that sent him to the Cleveland Indians in a deal involving Kenny Lofton. In his first season with the Indians, Justice was an MLB All-Star as he hit a career-high .329. He also finished with 33 home runs and 101 RBIs. Justice played four seasons in Cleveland before finishing his career with two years in New York with the Yankees and one with the Oakland Athletics.
Justice's oldest son went to San Diego State for football
While David Justice devoted most of his professional life to Major League Baseball, his sons have taken up a different sport. Justice's oldest son, JR, was highly recruited out of St. Augustine High School in California. According to the San Diego Union-Tribune, JR Justice turned down several Division 1 offers, including Tennesse, USC, and Arizona to play at San Diego State.
JR Justice was listed as a quarterback, wide receiver, and cornerback in high school. He joined the Aztecs in 2018, but a knee injury set him back and he got a slow start to his college career. In October of 2019, the redshirt freshman decided to enter the transfer portal and leave San Diego State.
JR Justice had entered the 2019 season fourth on San Diego State's depth chart at wide receiver. San Diego State coach Rocky Long told the San Diego Union-Tribune that he didn't try to convince Justice to stay. "If a college-age young man comes into your office and says I want to pursue my career someplace else, so I'm going to put my name on the portal, I tell them, 'Good luck.' When they go to college, they're supposed to become men. Men make their own decisions."
DJ Justice commits to UCLA
With one year left of high school, David Justice's younger son, DJ, announced in March that he has committed to playing college football at UCLA in 2021. According to 247 Sports.com, DJ Justice has offers from big-time schools, including Auburn, Miami, Penn State among others. He said he was very comfortable with the school after spending some time there.
"I visited UCLA two weeks ago," Justice said in February. "I'm starting to build a strong relationship with Jimmy Dougherty, the WR coach and that's who offered me. I really like UCLA a lot and I have high interest in their program.
"I really like the coaching staff a lot and had a great time on the visit. I talked briefly with Chip Kelly but spent most of the time with coach Dougherty and some of the other coaches on staff. Location isn't really that big of a deal for me but I do have a strong comfort level with UCLA right now."