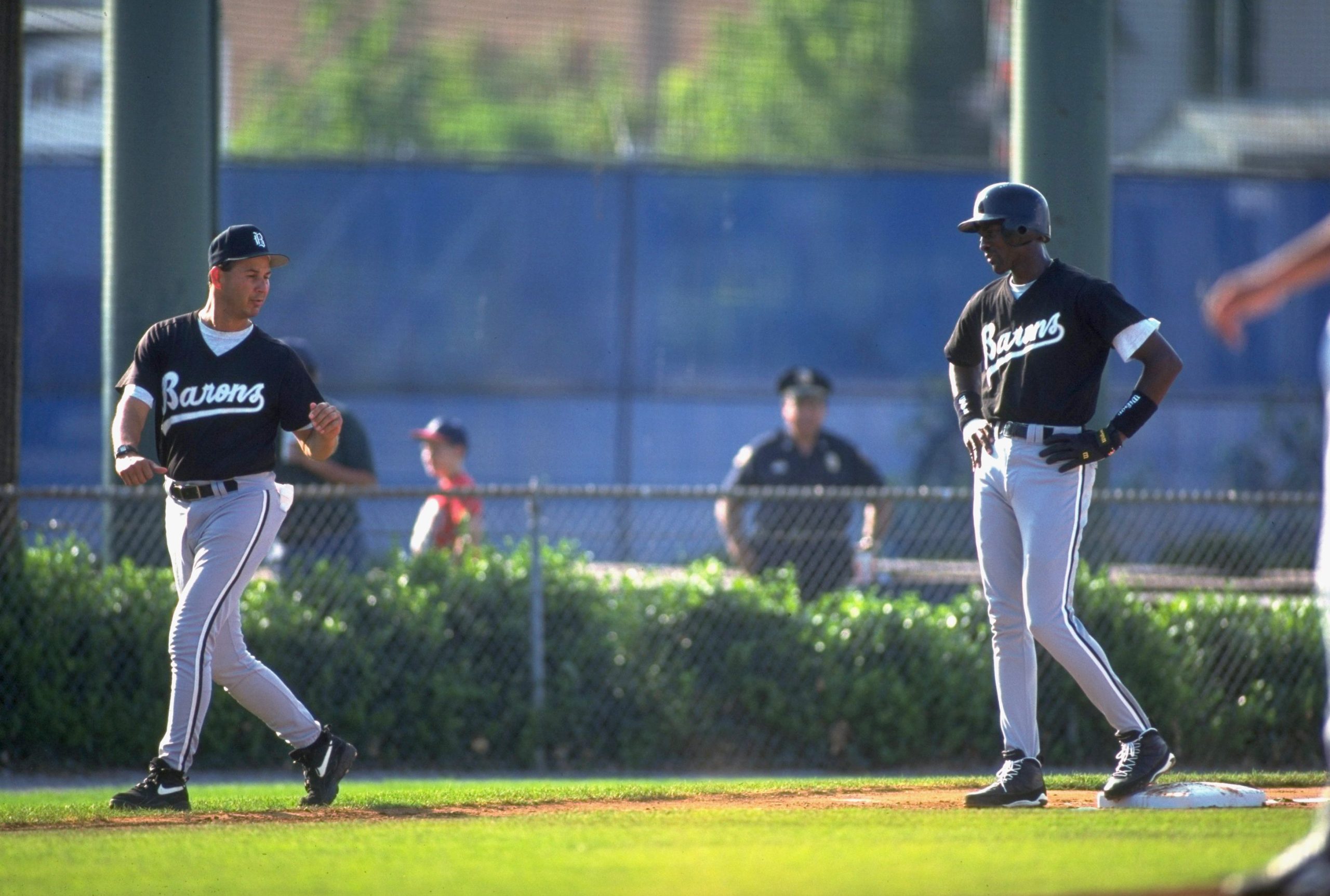 Michael Jordan Has Competition in the Competitive Department, According to His Former Baseball Manager, Terry Francona
Michael Jordan has some competition when it comes to the most competitive athletes, according to Terry Francona.
Michael Jordan being a competitor is no secret. The former Chicago Bulls star wanted to win at all costs, no matter what he was doing. Whether it was a round of golf or a card game, he wanted to win, and there was usually some money on the line. Jordan's former manager with the Birmingham Barons, Terry Francona, implied he wasn't the clear-cut winner when it comes to competitive athletes.
Michael Jordan simply hated losing
Jordan had that drive. His six championships with the Chicago Bulls only tell part of the story. He not only wanted to be the best, but he also needed to be the best. During his Naismith Memorial Basketball Hall-of-Fame speech, Jordan said that competitive drive started before he touched a basketball. He said it started with his family.
He spoke about his brothers, Larry and James. "They're 5-4 and 5-5 in height," he said as the crowd roared in laughter. "They gave me all I could ask for in terms of competition."
Then he moved on to his younger sister Roslyn. "My sister, who is one year younger than me, Roz, never wanted to be home by herself," he said. "She took classes, extra classes to graduate high school with me, to go to the University of North Carolina with me, and to graduate prior to me. And you guys ask me where my competitive nature came from?"
Jordan also mentioned his older sister and his father, saying his entire family fueled that competitive nature well before he hit the hardwood. "My competitive nature has gone a long way from the first time I picked up any sport," he said. "Baseball, football, ran track, basketball. They started the fire in me. That fire started with my parents. As I moved on in my career, people added wood to that fire."
Michael Jordan might not be alone atop that list of competitive athletes, according to Terry Francona
While Jordan ranks right up there as far as competitive athletes go, Francona rattled off two other athletes that rank right up there with Jordan. Francona was a guest on Boston's sports radio WEEI to comment on his former Red Sox player Dustin Pedroia. The Sox honored their former All-Star second baseman before Friday night's game with "Dustin Pedroia Night."
Francona managed Jordan after MJ retired from the NBA for the first time to pursue a professional baseball career. The two were together with the Chicago White Sox AA affiliate Birmingham Barons in 1994.
"He's off the charts," Francona said regarding Pedroia's competitiveness. "Because I'm old and I've been around, I've been around Pete Rose and Michael Jordan, and I would put Pedey in that class of competitiveness."
When host Glenn Ordway joked that Pedroia said he was better than Jordan at basketball, Francona chimed in. "Pedey thinks he's better than everyone at everything," he said. "That's what makes him so special."
Francona once said Jordan would've made it to the big leagues had he committed himself
Francona admitted he had no clue what to expect when Jordan came over from the Bulls to the Barons. Jordan was a celebrity, but the manager couldn't afford to play favorites. During an interview last May with ESPN, Francona said Jordan respected the game and could have had a big-league career.
"I told him, 'hey, for this to work, you have to respect what we're doing and the game,'" Francona said. "That was important to me. I had 24 other guys who worked very hard to get to the Double-A level. They weren't making very much money. That was important to me.
"That's why it worked so well. His respect for the game and the people in the game was so refreshing. It's probably why I felt the need to be protective of him because a lot of people got on him about playing baseball. He was so respectful about that, and I just really appreciate that.
I think if he had been willing to commit three years, he would have found his way to the major leagues. I really believe that. When you tell Michael no, he finds a way to make the answer yes."
Instead, Jordan decided to return to the NBA and secure three more titles.