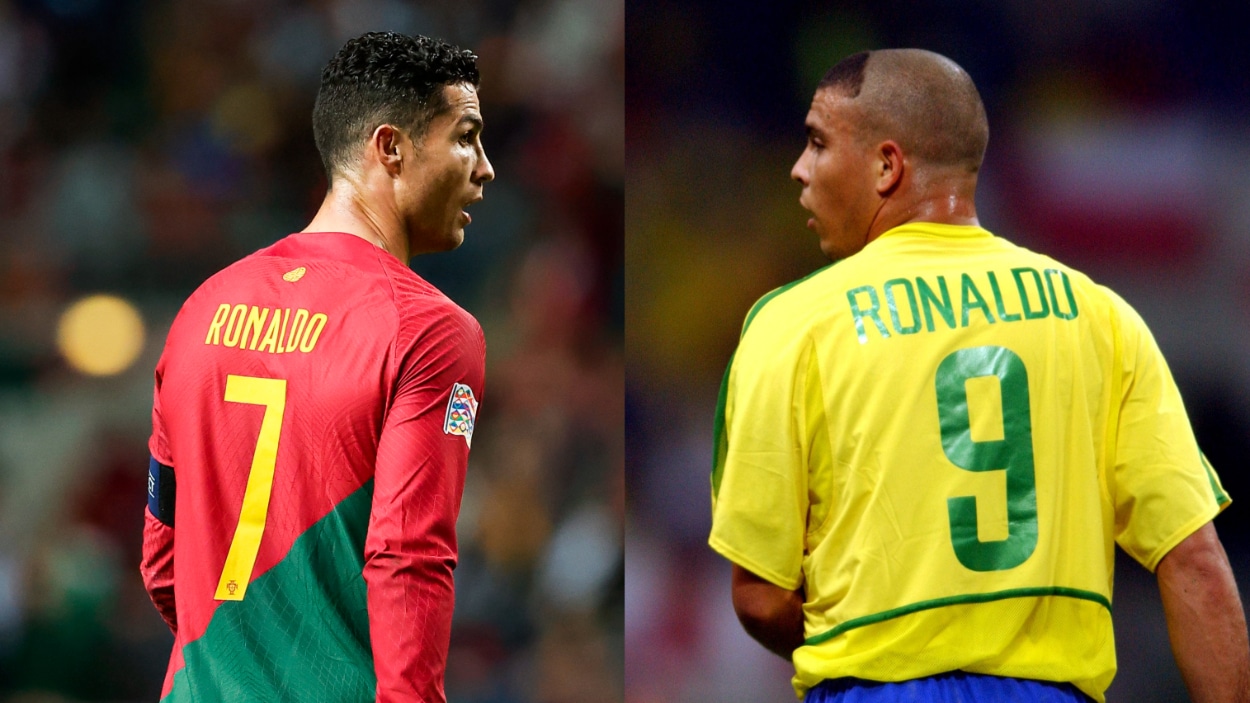 Is Portugal Superstar Cristiano Ronaldo Related to Brazil Legend Ronaldo?
Portugal's Cristiano Ronaldo and Brazil's Ronaldo are two of the greatest soccer players of all time, but are they related?
Portugal and Portuguese-speaking Brazil are two of the greatest soccer nations in the world. That's why it's unsurprising that two of the greatest players from these countries share a common name. International football fans have surely heard both of these names, as they are both in the discussion for greatest of all time, but what you may not know is if Portugal's Cristiano Ronaldo and Brazil's Ronaldo are related.
Are Brazil's Ronaldo and Portugal's Cristiano Ronaldo related?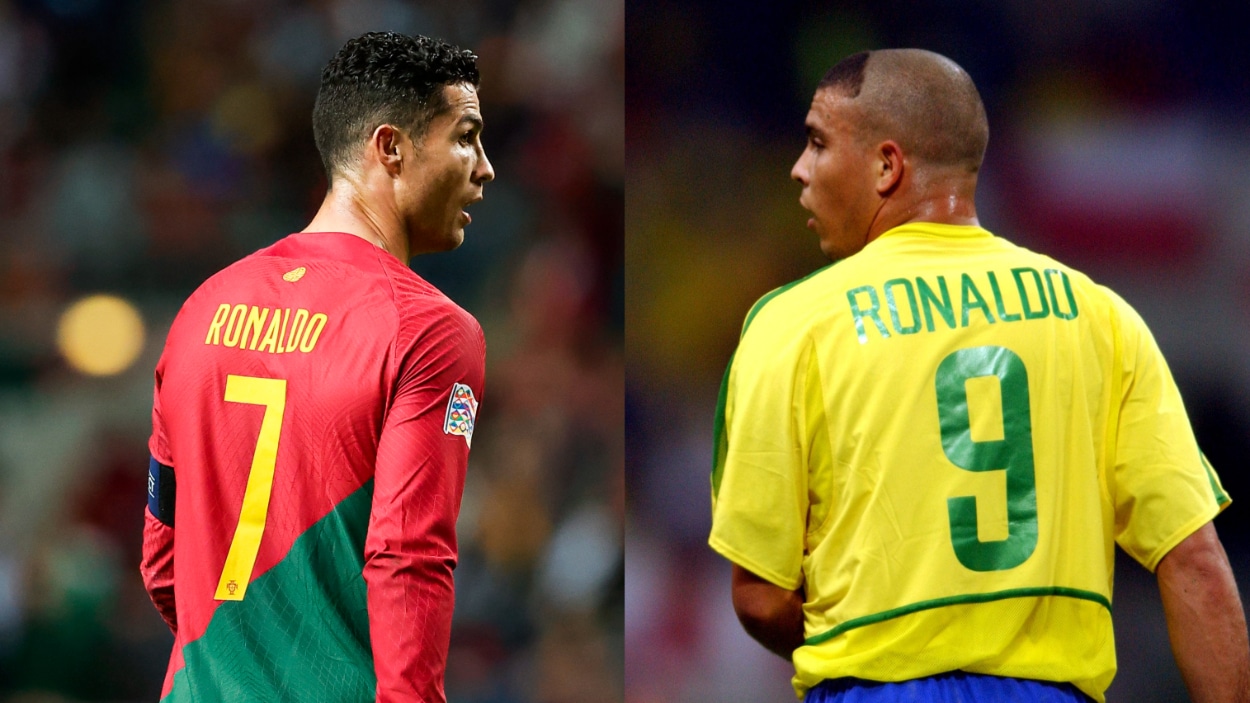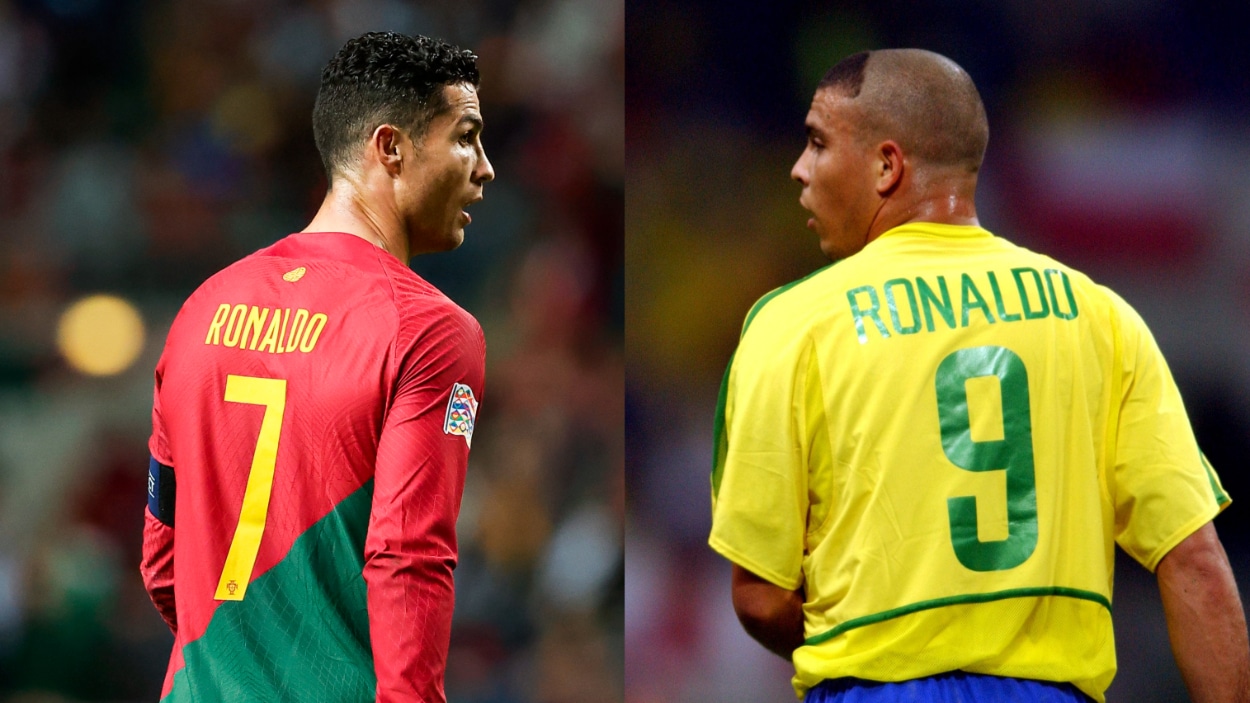 Despite the same name on the back of their jerseys, Portugal forward Cristiano Ronaldo and Brazil striker Ronaldo are not related.
Cristiano Ronaldo dos Santos Aveiro from Funchal, Madeira, Portugal, and Ronaldo Luís Nazário de Lima of Rio de Janeiro, Brazil, don't even share a family name, even though it appears that way in because of their football kits.
Ronaldo is (basically) Cristiano Ronaldo's middle name, while it is the Brazilian Ronaldo's first name. However, they both go by the name on the back of their uniforms.
What the pair do have in common is that they are two of the greatest goal-scorers in soccer history.
Cristiano Ronaldo is Portugal's all-time leading scorer in international competition with 117 goals. And while Ronaldo owns two World Cup winners medals, he is just his country's third-leading scorer. His 62 international goals put him behind Pelé (77) and Neymar (75), per TransferMarkt.
On a professional level, Cristiano Ronaldo also holds a major goal advantage. The Portuguese star has 701 goals for Sporting CP (Portugal), Madchester United (England), Real Madrid (Spain), and Juventus (Italy). Brazil's Ronaldo tallied 295 goals for Cruzeiro (Brazil), PSV Eindhoven (Netherlands), Barcelona (Spain), Inter Milan (Italy), Real Madrid (Spain), AC Milan (Italy), and Corinthians (Brazil).
Despite the goal deficit, Ronaldo was one of the greatest goal-scorers of his generation, just like Cristiano Ronaldo is of his. The main difference in the numbers comes from the fact that Brazil's Ronaldo struggled with injuries and weight issues in the second half of his career.
However, at their height, Ronaldo and Cristiano Ronaldo are in the soccer GOAT conversation alongside Pelé, Lionel Messi, and Diego Maradona.
How Brazil's Ronaldo became Ronaldo
The player we now know as Brazil's Ronaldo didn't go by the name Ronaldo for his entire career with the Brazil National Team.
When the future star striker joined the Brazilian National Team at the age of 17, there was already a Ronaldo on the roster. With defender Ronaldo Rodrigues de Jesus on the squad, the player we now know as Ronaldo initially went by Ronaldinho (little Ronaldo). 
However, it gets more complicated from there. 
As the now-famous Ronaldo became a star and the budding Brazilian that we now know as the former Barcelona forward Ronaldinho (Ronaldo de Assis Moreira) joined the national team, there was a Ronaldo shake-up. 
The 6-foot-2 center-back, who is nine years older than Ronaldo, became Ronaldão (big Ronaldo). Brazil's third-leading scorer became just Ronaldo, and the youngest Ronaldo (now Brazil's eighth-leading goal scorer) became Ronaldinho or Ronaldinho Gaúcho due to his Southern Brazilian upbringing. 
That is the story of the three most famous Brazilian Ronaldos, and — just to be clear — none of them are related to each other or to Cristiano Ronaldo of Portugal.