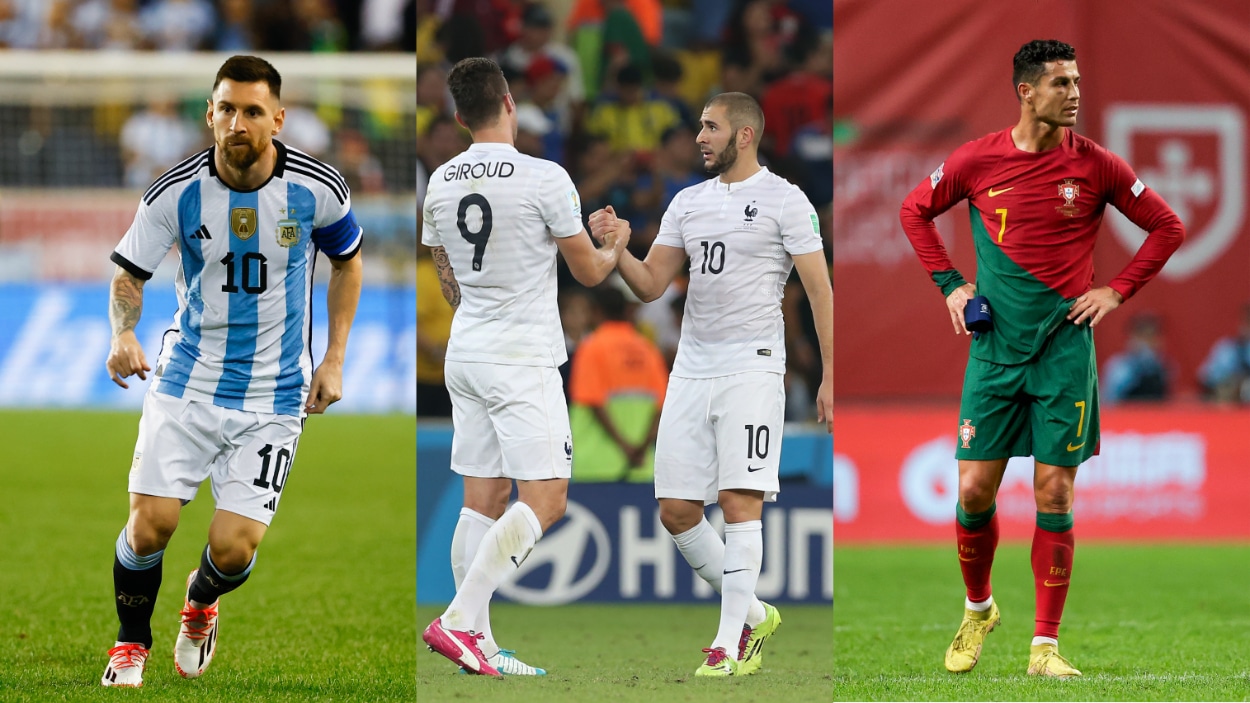 9 World-Class Footballers Playing in Their Final World Cup
Lionel Messi and Cristiano Ronaldo lead a group of 10 legendary players likely appearing in their final World Cup in 2022 in Qatar.
The 2022 World Cup in Qatar runs from November 20 to December 18. Between those dates, we will see some stunning goals, thrilling victories, heartbreaking defeats, and probably way more dubious calls than we'd like. We'll also see some of the biggest names in soccer play in their final World Cup match. 
Jules Rimet Trophy winners like Germany's Thomas Müller and Manuel Neuer, and France's Olivier Giroud and Karim Benzema will likely hang it up after this go-round. As will 2018 runner-up Luka Modrić of Croatia, a World Cup wild card in Uruguay's Luis Suárez, and a legendary scorer without a World Cup goal in Poland's Robert Lewandowski. 
However, the biggest storying in Qatar will be the final World Cup matches for two of the greatest ever to play the game. Portugal's Cristiano Ronaldo and Argentina's Lionel Messi are almost assuredly done after this campaign with their national teams. 
With that in mind, let's take a look at these nine living legends playing in their final World Cup in Qatar. 
Football legends playing in their final World Cup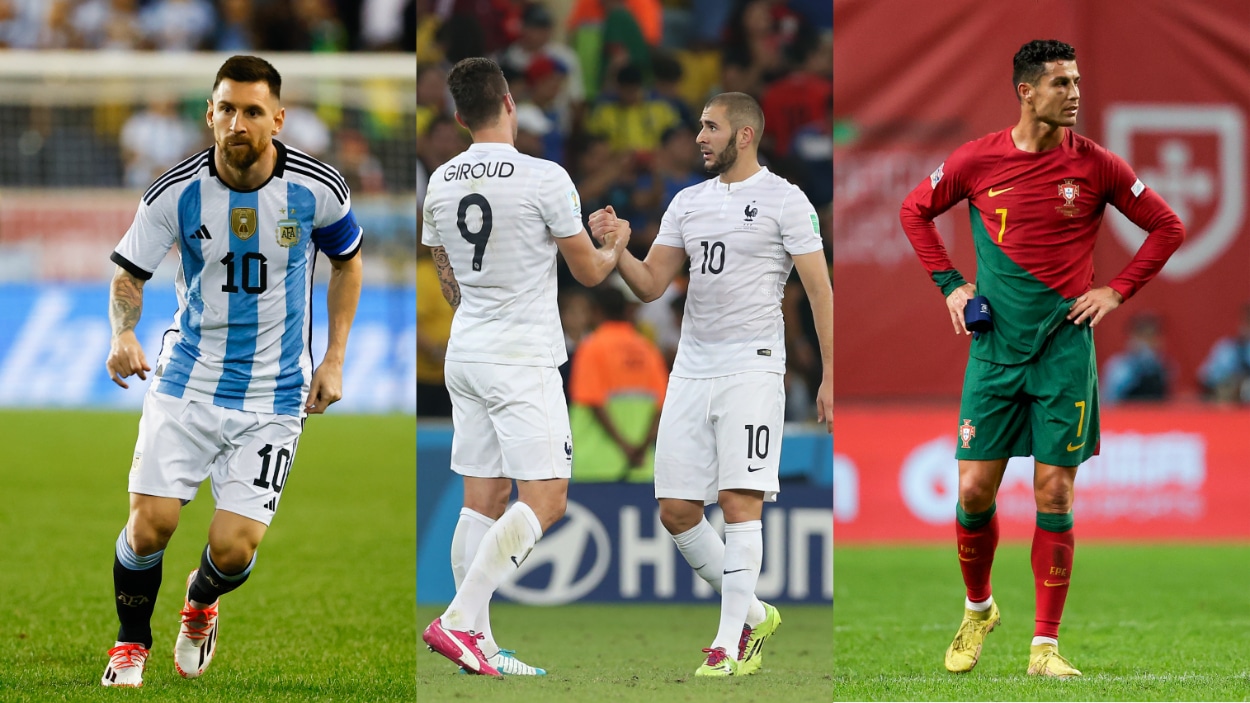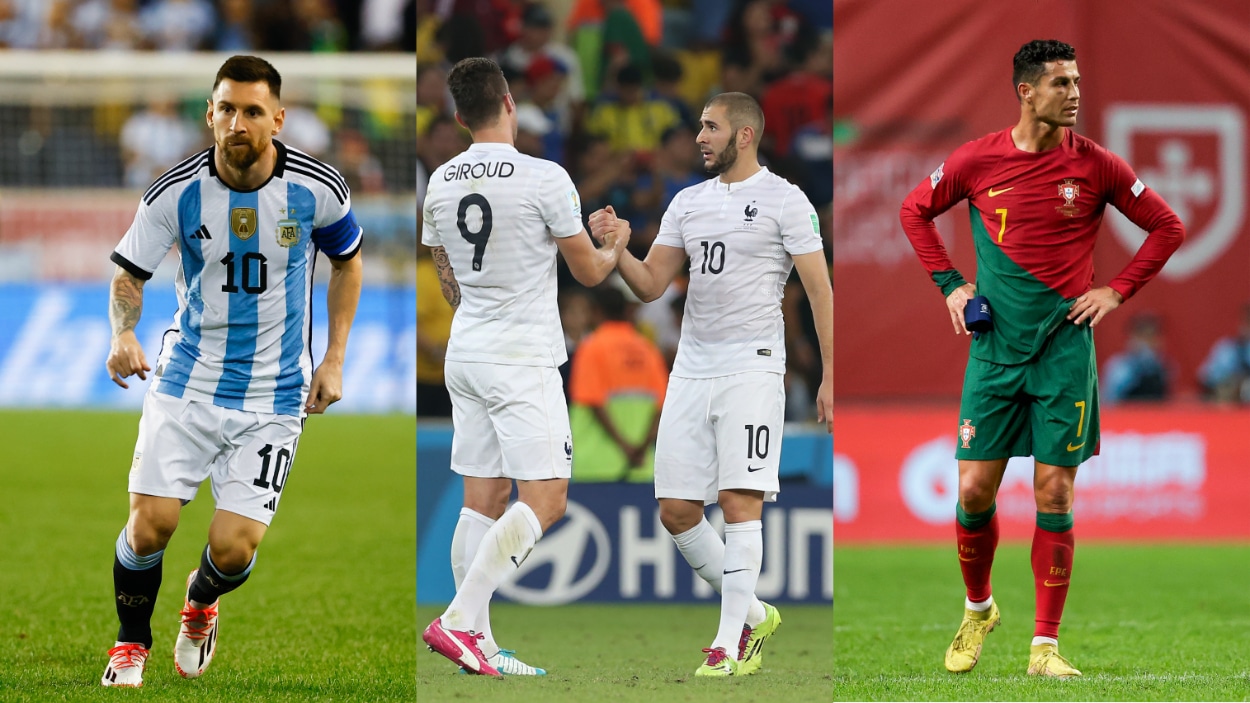 Lionel Messi (35), Argentina 
When it's all said and done, Lionel Messi will likely go down as the greatest professional footballer of all time. What he's done with Barcelona and continues to do with Paris Saint-Germain is nothing short of incredible. 
However, fans of Brazil's Pelé or Ronaldo or Argentina's Diego Maradona will point to the fact that these three GOAT candidates all won World Cup gold. 
Messi got incredibly close in 2014 as Argentina made it to the finals vs. Germany. Unfortunately for the diminutive dribbler, he won the Golden Boot Award as the player of the tournament and actually found the back of the net in the final, only to be called offside. So when German super-sub Mario Götze scored in the 113th minute, Messi's best chance at the trophy went away. 
In what will likely be the 35-year-old's last World Cup, Argentina is the second or third favorite to win it all, behind Brazil and, in some sportsbooks, France. 
As usual, Messi leads a strong Argentina attack with a thin midfield behind it. The defense and goalkeeper situation is better than usual this year, though, even though the always-good-for-a-blunder Nicolás Otamendi will still likely start at center-back. 
In the end, though, for Lionel Messi to finally win a World Cup, Messi needs an otherworldly Messi performance, and if that happens, watch out, world. 
Cristiano Ronaldo (37), Portugal 
As any international football fan knows, you can't mention Lionel Messi without uttering the name Cristiano Ronaldo in the same breath. 
The Portugal legend will not play in North America in 2026 at the age of 41, so this December could be the last time we ever see him in a Portugal jersey. Like his rival, Messi, Ronaldo has as many (or more) of the club goal-scoring and individual accolades that any one player can collect in his career. However, World Cup success has eluded him as well. 
Ronaldo's first World Cup was his most successful. In 2006, Portugal made the semifinals before losing to eventual runners-up France and then to Germany in the third-place match. Since then, Portugal's World Cups have ended in the Round of 16 (2010), Group Stage (2014), and Round of 16 (2018). 
The 2022 edition of Portugal is exciting, with many of the youngsters who won Euro 2016 with Ronaldo coming into their primes. However, the team's campaign is already off to a rocky start, with Ronaldo ripping his club team, Manchester United, seemingly to the dismay of his fellow Red Devil and countryman Bruno Fernandes. 
That makes Cristiano Ronaldo's final World Cup all the more interesting, though. The team could make a run out of Group H or implode before even reaching the knockouts. It's right on-brand for the incredible but polarizing star. 
Karim Benzema (34) and Olivier Giroud (36), France 
After winning the 2018 World Cup, two aging French strikers are back for one last hurrah in Qatar. Karim Benzema and Olivier Giroud both have gripping World Cup histories and will go out on their shields this year, defending France's title and trying to become the first country to repeat since Brazil in the early 1960s. 
Benzema is one of the biggest redemption stories in football history. The brash young striker started his career with France off well in the lead-up to the 2010 World Cup before off-field issues derailed his career with the national team. 
Ahead of the 2010 World Cup, allegations of Benzema soliciting an underage prostitute kept him off that squad, and his alleged involvement in being part of a sex-tape blackmail scandal involving French teammate Mathieu Valbuena kept him off the 2018 team. The Real Madrid hitman of Armenian descent accused French manager Didier Deschamps during that saga. 
Despite all the controversy, Benzema returned to the national squad for Euro 2020 and is now playing some of his best football. He recently won the prestigious Balon d'Or Award for 2021, meaning he is the defending best footballer in the world. 
When Karim Benzema watched France from home in 2018, he saw one of his rivals, Olivier Giroud, in his place.
The big bearded Frenchman didn't score a goal in France's winning campaign and didn't even register a shot on net (0/13). However, his presence in the middle helped open space for Antoine Griezmann and Kylian Mbappé on the wings, and they led the FFF with four goals apiece. 
Now, Benzema and Giroud — who is just five goals short of Thierry Henry's all-time French record — will go to Qatar as teammates one last time and try to work together so their country can repeat as champions. 
Manuel Neuer (36) and Thomas Müller (33), Germany 
As big as the French losses will be after Karim Benzema and Olivier Giroud play in their final World Cup, Die Mannschaft will suffer even bigger losses with goalkeeper Manuel Neuer (36) and forward Thomas Müller playing in their last tournament for Germany. 
These two veteran Germans all came in together in the 2010 World Cup, with Neuer assuming the No. 1 keeper role and Müller winning the Golden Boot Award for the tournament with five goals. The (then) young forward also won Best Young Player of that tournament as Germany reached the semifinals before losing to Spain, finishing third. 
In the 2014 World Cup, the team coalesced and won the tournament, largely on the backs of Neuer and Müller. The duo made the FIFA All-Star team (along with midfielder Toni Kroos, defender Mats Hummels and midfielder Philip Lahm) and were two of three Germans (along with Kroos to make the FIFA Dream Team, voted on by the fans. 
In 2022, Neuer and Müller will try to atone for 2018 in their final World Cup. Last time around, Die Mannschaft lost to Sweden and South Korea in the Group Stage to come in last place in Group F. 
Luis Suárez (35), Uruguay 
As Luis Suárez prepares to play in his final World Cup for Uruguay, we have to take a step back and truly acknowledge that we are seeing the end of one of the wildest international careers of all time. 
The former Ajax, Liverpool, Barcelona, and Atletico Madrid star, who played last season for Nacional in his home country, has 66 goals and 38 assists for Uruguay, with seven goals and four assists coming in his three World Cups. 
Those numbers would likely be higher if not for essentially getting kicked out of the tournament in 2010 and 2014. 
In the 2010 quarterfinals vs. Ghana, Suarez was red-carded after using his hands to stop a sure goal late in stoppage time of a 1-1 match. However, Asamoah Gyan hit the crossbar on the penalty, and Uruguay ultimately won in a shootout. However, without Suárez in the semifinal, the team lost to the Netherlands. 
Four years later, in his team's final Group Stage match vs. Italy, Suárez bit Italian center-back Giorgio Chiellini. It was the third (not a typo) time he'd bitten an opponent, and, even though the referee didn't kick him out of the match (which Uruguay won to move to the knockouts), FIFA suspended him for nine games, ending his 2014 World Cup. 
For the 2022 tournament, Suárez isn't the only great Uruguayan playing in his final World Cup. Goalkeeper Fernando Muslera (36), defenders Diego Godín (36) and Martín Cáceres (35), and fellow forward Edinson Cavani (35) are all likely done when Uruguay's 2022 run concludes. 
Luka Modrić (37), Croatia 
At the tender age of 20, Luka Modrić broke into the Croatian National Team and played in the 2006 World Cup. His team missed the 2010 tournament and didn't get out of their group with Brazil and Mexico in 2014. 
For the 2018 edition, Croatia had its best-ever performance. The team beat England on penalties in the semifinals and lost to France in the finals to finish in second place. Modrić finished the last World Cup with two goals and an assist, but as the driving force behind the Croatia attack, he won the Golden Ball Award as the player of the tournament. 
Now, at 37, Modrić leads an aging team into his final World Cup. Croatia will need another world-class performance from its superstar to even get out of Group F, which includes Belgium, Morocco, and Canada. A return to the finals is quite a longshot for Modrić and company, but he has carried his country on his shoulders before. 
Robert Lewandowski (34), Poland 
One of the greatest goal-scorers of his generation (or any generation), Poland's Robert Lewandowski has the 11th-most goals (563) in professional football history but didn't record a goal in his one World Cup appearance in 2018. 
It's not that "LewanGOALski" hasn't scored for his national team. He is the most capped player in Poland history (134) and leads his country in goals (76) by a wide margin. However, his team only qualified for the big tourney once in his career, and in 2018, Poland managed just two goals total in losses to Senegal and Colombia and a win vs. Japan. 
Playing in his final World Cup, the Barcelona striker has a solid squad, but going up against Argentina, Mexico, and Saudi Arabia in Group C will be no easy task.