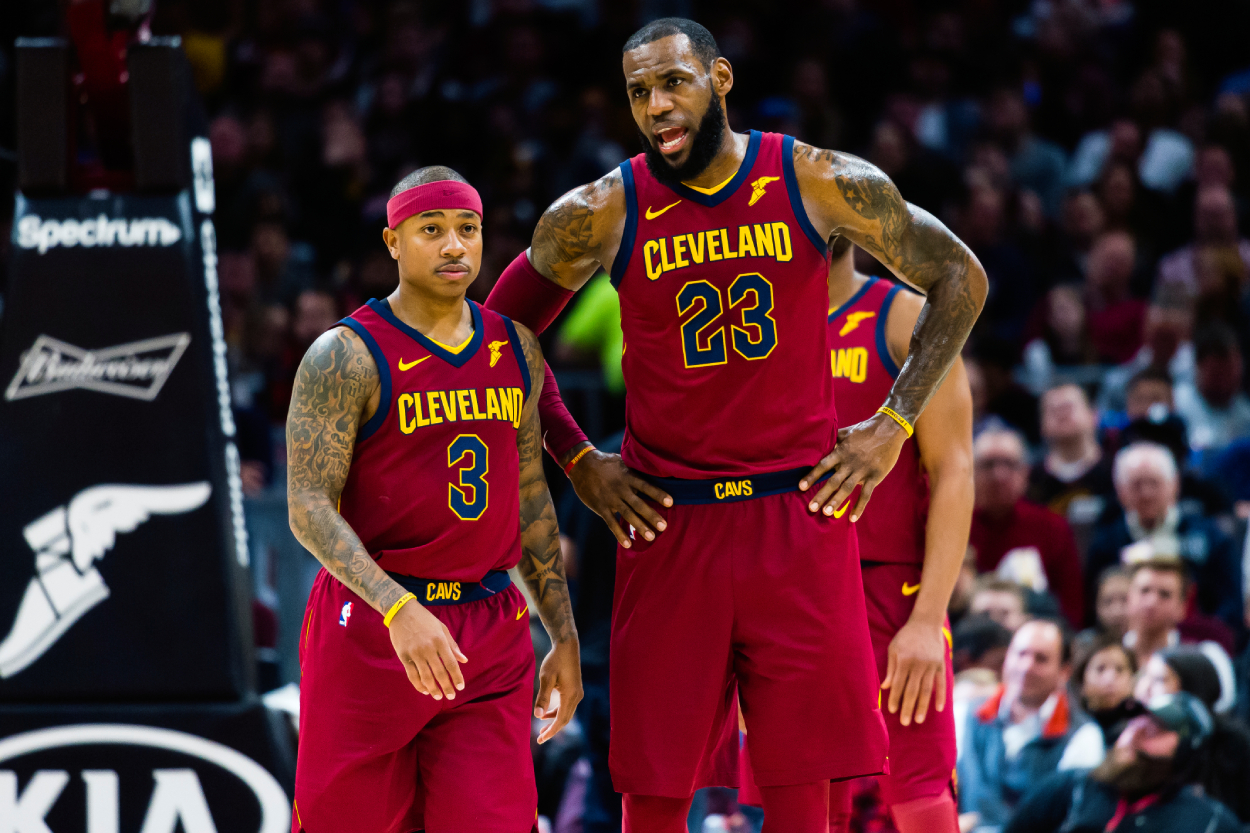 Isaiah Thomas Uses 2 Words to Prove Why His First Stint With LeBron James Was Doomed From the Start
Isaiah Thomas is now on the Los Angeles Lakers, and he recently used two words to prove why his stint with LeBron James in Cleveland was doomed from the start.
The Los Angeles Lakers have reunited LeBron James with one of his old friends, as they signed two-time All-Star Isaiah Thomas to a 10-day contract. Thomas played with James on the Cleveland Cavaliers during the 2017-18 season, but his time in The Land turned out to be a disaster and the team traded him away.
Recently, though, the guard opened up about his current stint with The King and used two words to highlight why his Cavs tenure was doomed from the start.
LeBron James and Isaiah Thomas played together on the Cleveland Cavaliers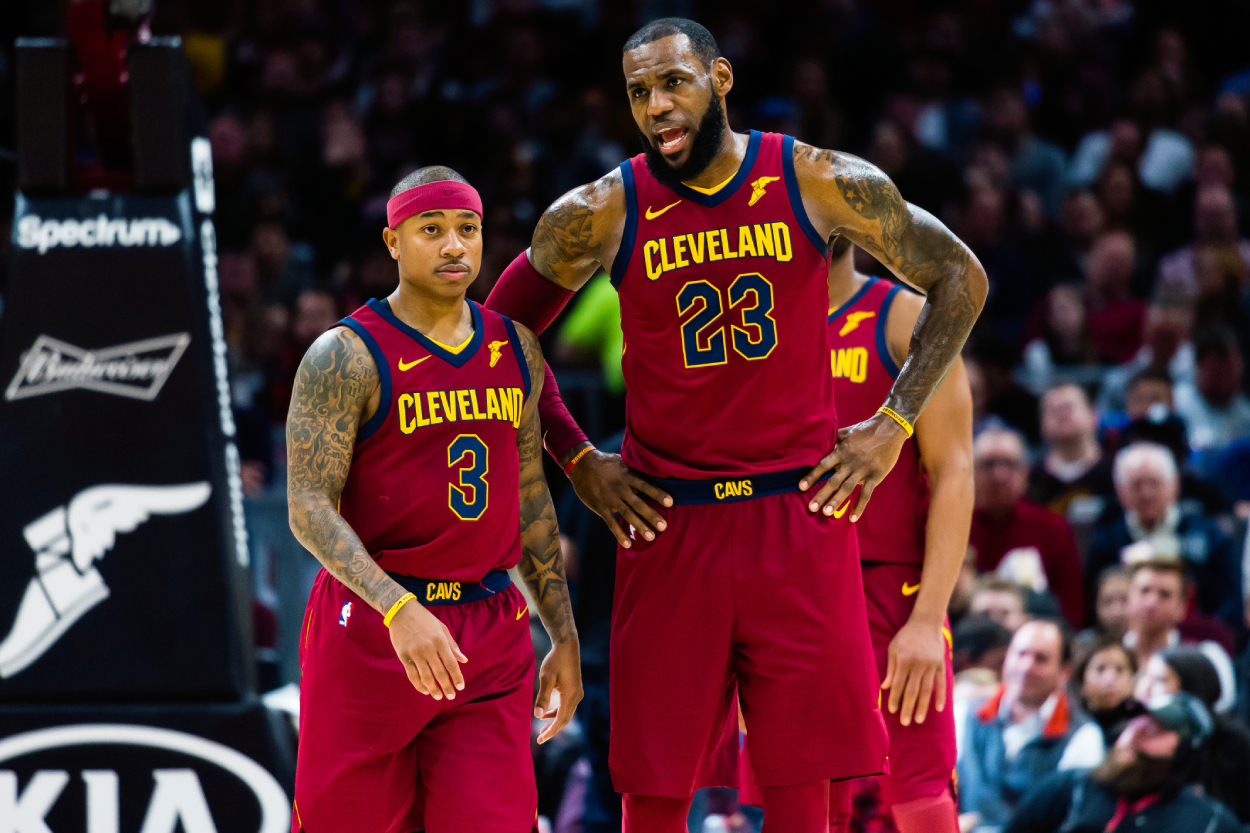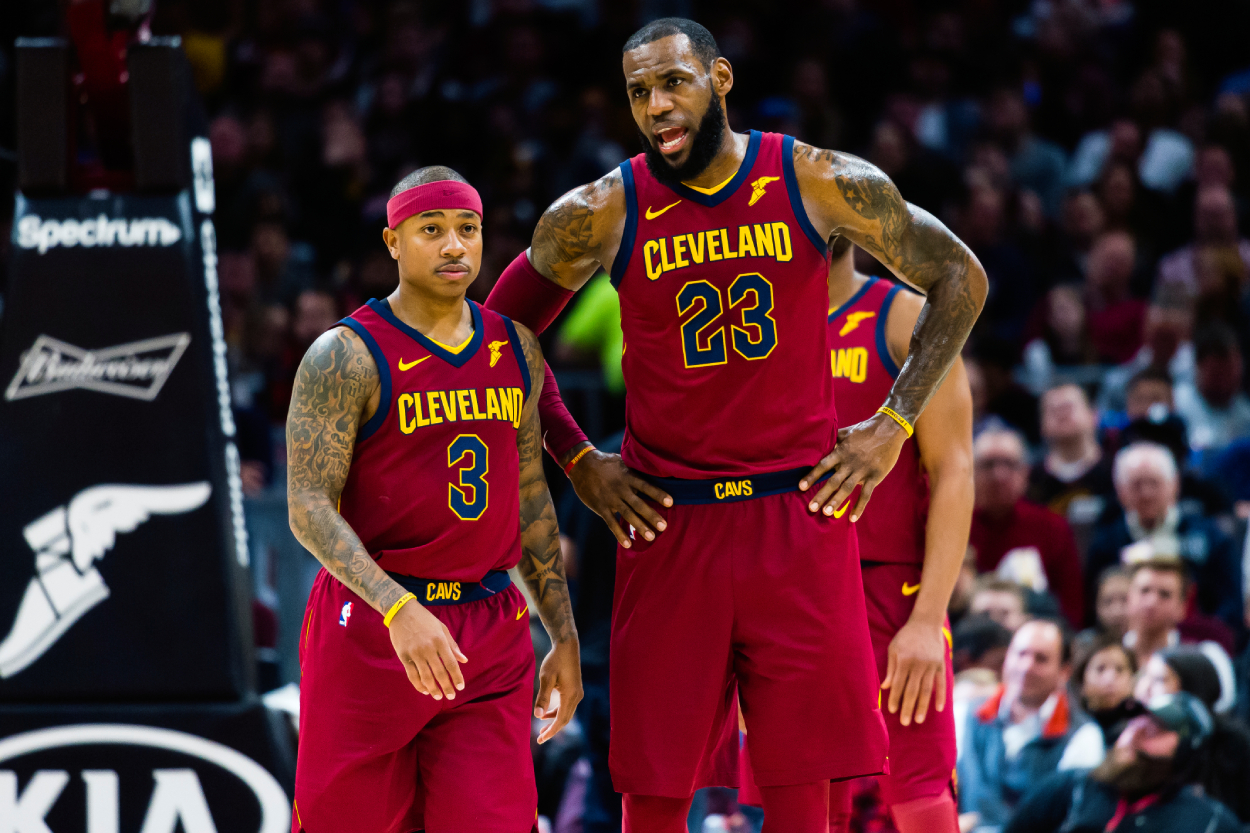 Isaiah Thomas became a superstar for the Boston Celtics during the 2016-17 season. He averaged 28.9 points and 5.9 assists per game, earning All-Star and All-NBA honors. Thomas also led Boston to a 53-29 record and a trip to the Eastern Conference Finals.
However, the 2011 second-round pick suffered a hip injury during that postseason, and the Celtics then traded him to the Cavaliers for Kyrie Irving in the offseason.
Given the success Thomas had in Boston the previous year, there were high expectations for his partnership with LeBron James on the Cavs. But his injury kept him from getting back to the level he had previously been at in Boston.
The Washington product only played in 15 games for Cleveland, scoring 14.7 points per contest on an atrocious 36.1% shooting from the field. The Cavs also got off to a mediocre 31-22 start that season, which led to them pulling off a flurry of deals at the trade deadline, including one that sent Thomas, Channing Frye, and a pick to LA for Jordan Clarkson and Larry Nance Jr.
The 5-foot-9-inch guard has bounced around from team to team ever since, playing in 17 games for the Lakers that year, 12 for the Denver Nuggets in 2018-19, 40 for the Washington Wizards in 2019-20, and just three for the New Orleans Pelicans last season.
However, after scoring 42 points in a G League game last week, the Lakers signed him to a 10-day contract. He then went on to score 19 points in his debut for LA on Dec. 17.
Isaiah Thomas revealed why his first stint with LeBron James was doomed from the start
For the second time in his career, Thomas is now on the same team as LeBron James, and The King needs his help. His Lakers, who have been involved in several trade rumors recently, have had an up-and-down season so far. They are 16-14, and might have to make a splash acquisition to get back on track.
Maybe, Thomas' signing can be that move.
After playing in his first game with James since 2018, IT shared what he believes is the biggest difference between this stint and his last one with LeBron. And he used two specific words to highlight why his time in Cleveland was never going to work: "I'm healthy."
"I'm able to provide for him (now)," he said, per the Lakers' YouTube. "When I was in Cleveland, I was really on one leg, so I couldn't play at the level that not only he but the Cleveland Cavaliers needed me to play at."
When the Cavs traded for Thomas, they essentially received a star that was just a shell of himself. He still had the same talent, but he couldn't reach his full potential because of his injury. So, they then did what was best for the team, and they traded him away for players who could help them at that moment. While it resulted in them reaching another NBA Finals, the Cavaliers organization still has to wonder "What if?" in regards to how far the team could have gone had Thomas been healthy.
But now, he's getting a second chance to make it up to James.
Isaiah Thomas looks healthy enough to help LeBron James and the Lakers
Isaiah Thomas is only on a 10-day contract, so his future with LeBron James and the Lakers isn't a given. But he appears to be the healthiest he has been in years, which could potentially lead to a deal for the rest of the season.
"I can help; I can help in any way, and I think he's seen that, even in the summertime when we worked out a few times," Thomas said. "Guys are surprised that I'm able to move again."
At his best, Thomas shot a solid 37.9% from long range and consistently got to the free-throw line, where he's a career 87.2% shooter. The Lakers are a mediocre shooting team, as they are 12th in the NBA with a 35.4% team 3-point field goal percentage. They are also one of the worst free-throw shooting squads, as they make only 73.1% of their attempts from the line, which is good for 28th in the NBA.
If he does stay in LA, Thomas can give James' team another shooter and someone who can score off the bench. Other than their Big Three, Carmelo Anthony and Talen Horton-Tucker are the only players who average double-digit points for the Lakers.
All in all, it's unclear whether Thomas has a permanent spot in LA, especially since the team has multiple players in health and safety protocol right now. But if he's actually healthy, he can help LeBron James' squad tremendously and make up for his first failed stint with The King.
Stats courtesy of Basketball Reference