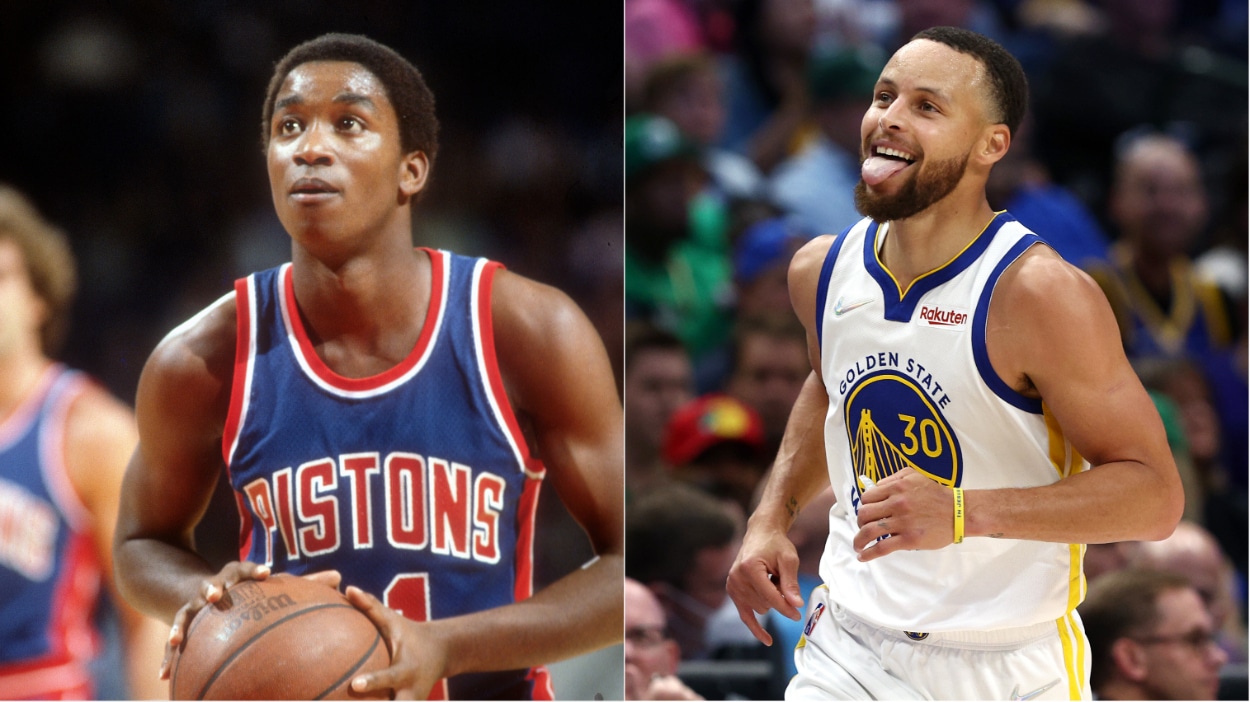 Isiah Thomas Doesn't Like Stephen Curry Comparisons: 'I See Him More Allen Iverson Than Isiah Thomas'
NBA legend Isiah Thomas doesn't like hearing comparisons between himself and Stephen Curry, a player he thinks is more like Allen Iverson.
It doesn't seem like many people compare Golden State Warriors sharpshooter Stephen Curry to Hall of Fame point guard Isiah Thomas. However, for those who do, Thomas had a strong message for you. The former Detroit Piston says that Curry is more like the ball-dominant scorer Allen Iverson than himself and other traditional PGs like Magic Johnson.
Isiah Thomas says Stephen Curry is more like Allen Iverson than himself
As guest host of the Rich Eisen Show, John Salley welcomed his former Detroit Pistons teammate Isiah Thomas ahead of Game 5 of the 2022 NBA Finals.
The former "Bad Boys" briefly discussed the Golden State Warriors vs. Boston Celtics before launching into a conversation about how the game has changed in the last 30-plus years.
Salley and Thomas discussed how the Celtics are playing "old basketball" by playing lockdown defense vs. the Warriors, a team that pioneered the high-volume shooting, pace, and space, analytics-driven style of the modern NBA.
Salley asked Thomas how many points he'd score into today's game, where defenses are much less physical. Thomas responded that he'd also get to take "25-27 shots and dribbled the ball and held it for 18 seconds." He then said of Curry:
When I look at Steph Curry now, I see him more Allan Iverson than the Isiah Thomas conversation. Because Iverson came to the game with one thought in mind. That was to score the basketball. Curry comes to the game with one thought in mind, and that's to score the basketball. And they are great scorers at that position. Magic [Johnson] and I came to the game and had to achieve perfect balance. Where we had to score and assist. We had to have a different mindset other than just being scorers. So, I look at Curry and Iverson basically in the same way.

Isiah Thomas on Stephen Curry
Some of what Thomas says makes sense. Guards did play differently in the 1980s. However, reducing Curry to "just" a scorer is derisive. And, to compare Curry, one of the winningest players of his generation, to the supremely talented but selfish Iverson is disrespectful.
Isiah Thomas vs. Stephen Curry
Isiah Thomas was a 6-foot-1, 180-pound point guard out of Chicago via Indiana. Steph Curry is the 6-foot-2, 185-pound son of a former NBA player who made the league out of Davidson.
The two are similar in size, and while the exact ranks will vary, they are both two of the best five PGs in NBA history and top 20 players of all time.
Stylistically, the two are quite different, though.
Thomas was a gnat of a PG on the 80s and 90 Detroit Pistons. He was the leader of the Bad Boys and played with an aggression fans don't see much from smaller players. In his 13-year career, he averaged 19.2 points, 9.3 assists, 3.6 rebounds, and 1.9 steals per game.
Curry is quite simply the best and most dynamic long-range shooter of all time. He's gotten better defensively and putting the ball on the floor, but shooting has been, and always will be, his calling card. Over 13 seasons, Curry averaged 24.3 points, 6.5 assists, 4.6 rebounds, and 1.7 steals.
The numbers are similar, and as Thomas noted, Curry is more of a scorer, while the Pistons guard had more assists. As far as "dribbling the ball for 18-seconds," Curry does have a high average usage rate of 28.7%. However, Thomas isn't that far behind at 25.3%.
Also, Thomas' critique of Curry as just a scorer doesn't give him enough credit for how his long-distance shooting spaced and NBA floor and gave more opportunities for other players. The simple act of Curry stepping on an NBA court is the biggest assist he'll ever dish out.
Where do the Golden State and Pistons stars rank all-time?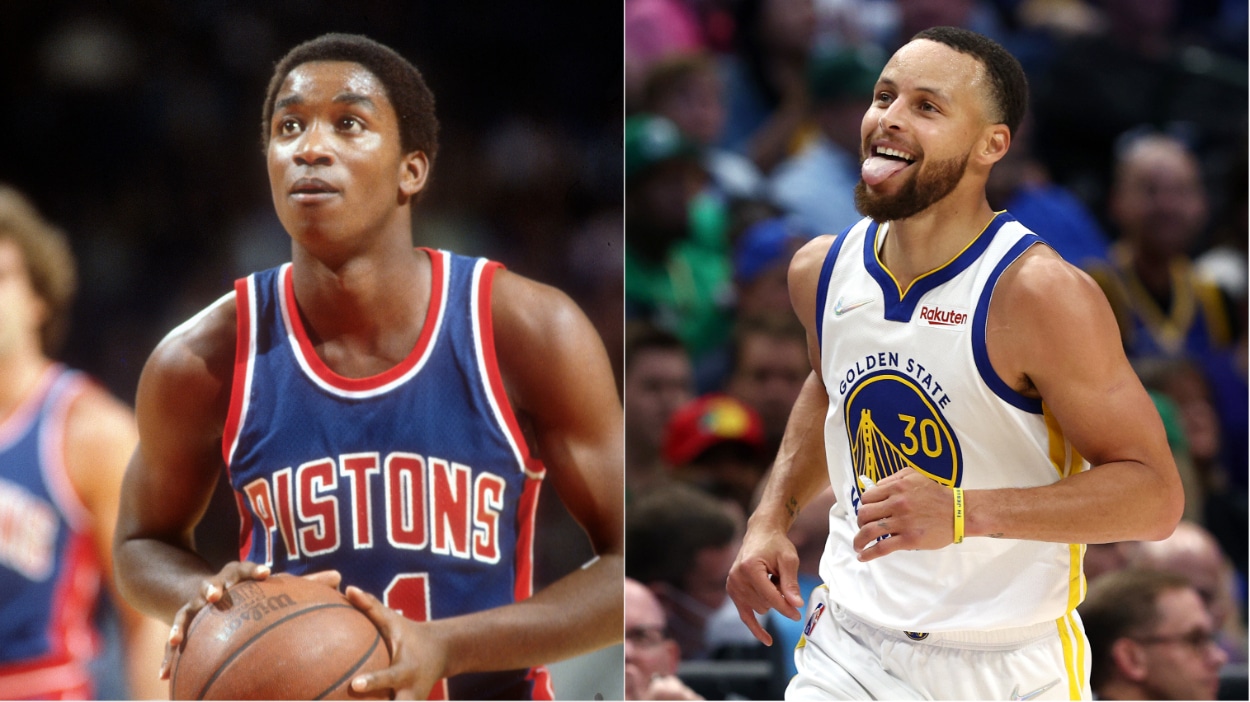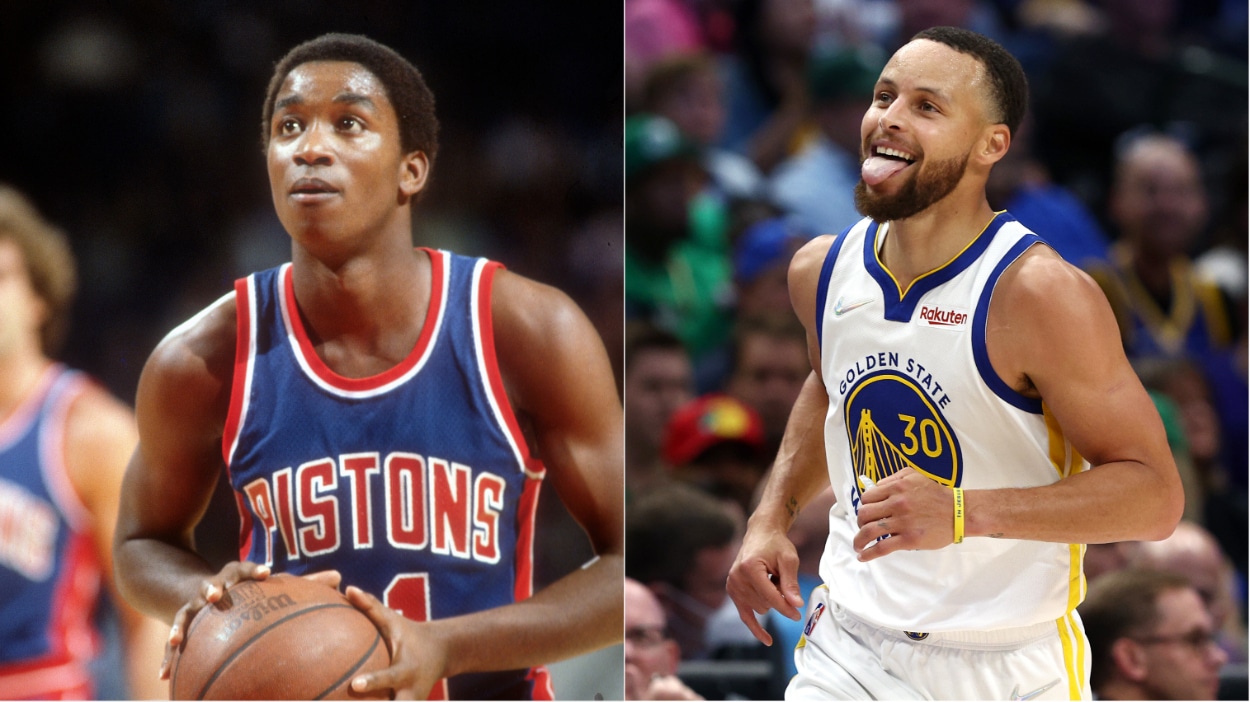 For the NBA's 75th anniversary, the league released its list of the 75 (or really 76) greatest players in NBA history. After the list came out, ESPN took it upon itself to rank the list from best to least best.
On that ranked list, Stephen Curry came in at No. 16, Isiah Thomas was No. 27, and Allen Iverson was No. 31.
The Golden State Warriors guard is an eight-time All-Star, two-time scoring champ, two-time MVP, and three-time (soon to be four?) NBA champion. By comparison, Thomas won two titles, made 12 All-Star teams, and won a Finals MVP.
Not bad at all from Thomas, but Curry is different. Curry changed the game with his shooting and is already the all-time 3-point king, despite having several years left in his career at age 34.
While you can debate Thomas' place on the all-time PG list with the likes of John Stockton, Jason Kidd, Iverson, and others, Curry is in a group that includes Oscar Roberston, Magic Johnson, and other greats like Kobe Bryant, Tim Duncan, and Kevin Durant.
In fact, on that ranked NBA 75 list, Durant is No. 12, four sports ahead of Curry. Right now — and especially if Curry wins another title in 2022 — he and Durant should swap spots on the list.
For context, in my personal rankings, I have Curry at No. 13 and Thomas somewhere in the neighborhood of 25-27.
A big win against the Boston Celtics in the next week could push that number even higher, though.
All stats courtesy of Basketball Reference
Like Sportscasting on Facebook. Follow us on Twitter @sportscasting19 and subscribe to our YouTube channel.