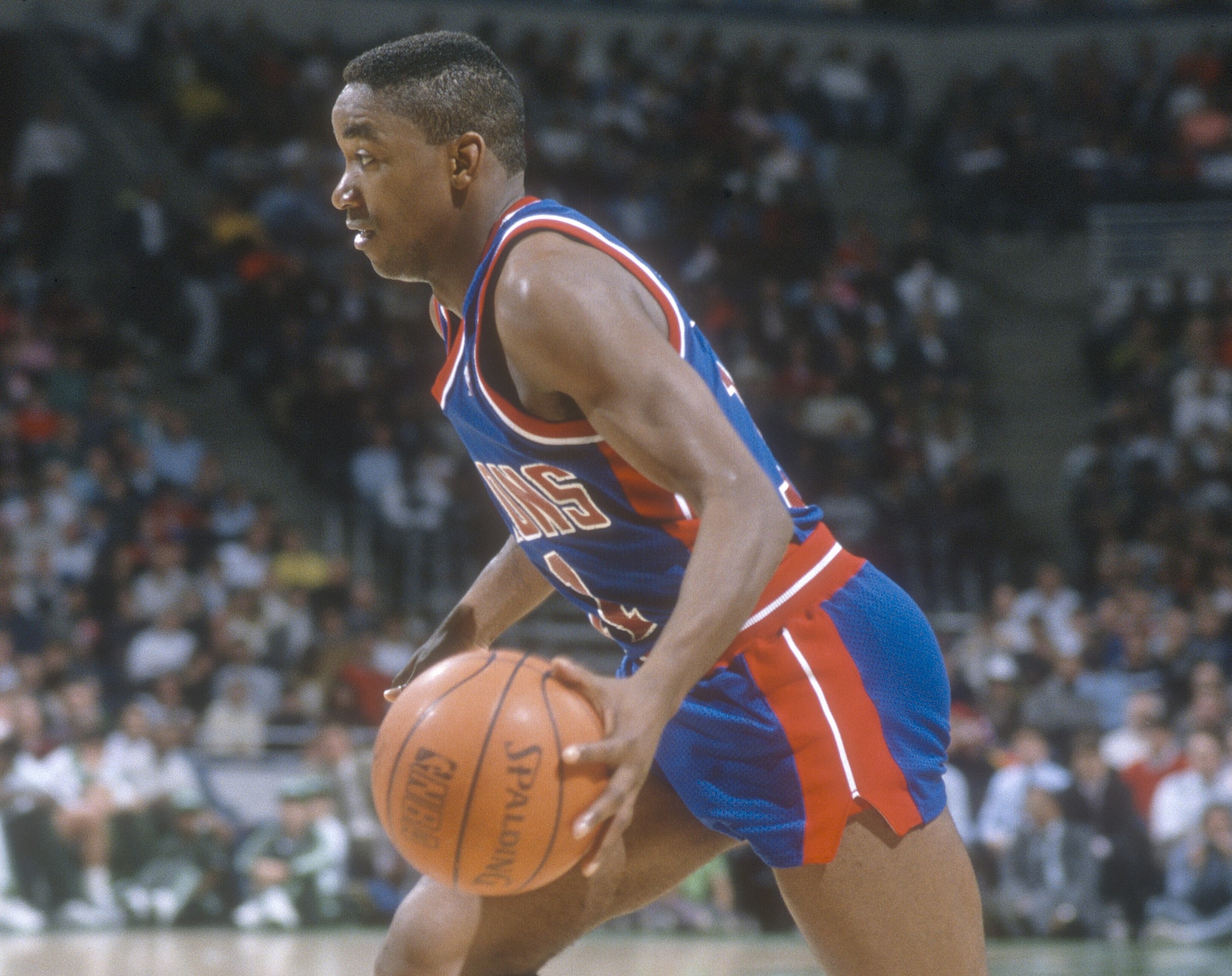 Isiah Thomas Has a Far Different Take Than Dennis Rodman on Larry Bird's Game
Legendary Detroit Pistons guard Isiah Thomas doesn't agree with Dennis Rodman about Larry Bird this time.
Dennis Rodman recently made waves when he said Larry Bird wouldn't cut it in today's NBA. Rodman, a Naismith Memorial Basketball Hall of Famer known for his rebounding and wild antics, wasn't taken seriously by those who know basketball. One of those is his former Detroit Pistons teammate Isiah Thomas.
In 1987, Rodman made a racist comment regarding Bird, saying he only wins MVP because he's white. At that time, Thomas even agreed with Rodman. This time, Thomas has a far different take than Rodman when it comes to the Boston Celtics legend.
Isiah Thomas and Dennis Rodman had some rough outings against Larry Bird and the Boston Celtics
The Boston Celtics were the Eastern Conference team to beat in the 1980s. Just ask Isiah Thomas and the Detroit Pistons. Led by Larry Bird, the Celtics ended Detroit's seasons in 1985 and 1987 before the Pistons finally dethroned the kings in 1988.
The Pistons had the 1987 Eastern Conference Finals all but wrapped up against the Celtics. In Game 5 in Boston, the Pistons held a one-point lead and had possession of the ball with five seconds remaining. That's when Bird literally stole the show.
With the Pistons having possession on the sideline near the Celtics basket, Thomas hurriedly threw a pass intended for center Bill Laimbeer. Bird intercepted the pass and then quickly passed the ball to a cutting Dennis Johnson, who made the game-winning layup. Boston won 108-107, and the series headed back to Detroit with the Celtics up 3-2.
The Pistons took care of business at home in Game 6, but the Celtics closed out the series at him in Game 7. Boston earned a berth in its fourth straight NBA Finals. After the series, Rodman blasted Bird, winner of three straight MVP awards.
"He's not God," Rodman was quoted as saying in The Orlando Sentinel. "He ain't the best player in the NBA, not to me. He's white. That's the reason he gets the MVP award."
Even Thomas agreed.
"I think Larry is a very, very good basketball player," Thomas said of Bird. "He's an exceptional talent. But I have to agree with Rodman. If he were black, he'd be just another good guy."
Thomas doesn't agree with Rodman's latest comments on Bird
Rodman recently made headlines when he said Bird wouldn't be able to play in today's NBA. During an interview with Vlad TV, Rodman said if Bird played today, he'd be playing overseas.
"If Larry Bird played in this era, I think he'd be in Europe," Rodman said. "I'm just letting you know, man.
"He'd be somewhere over there. His game was fit for Boston at that time in the 80s. In today's world, oh hell no, there's no way. I'm not downplaying him because he was a great player at that time — like I was — but I'm saying there's no way."
Thomas was recently asked about Rodman's comments on Bird during an appearance on Sway's Universe. 
"My personal opinion on Larry Bird, if Larry Bird was playing today, he would still be the MVP of the league, and his team would still be winning championships," Thomas said.
Rodman said Denver Nuggets center Nikola Jokic is "way better" than Bird. That Jokic comparison to Bird is why Thomas believes Bird would still thrive today.
"Now, why do I say that?" Thomas asked. "Because we just watched The Joker, who is very similar to Larry Bird, take his Denver Nuggets team and win the championship. So if I look at these two players, and I'm saying that they're similar, then Bird would win two or three championships in this era."