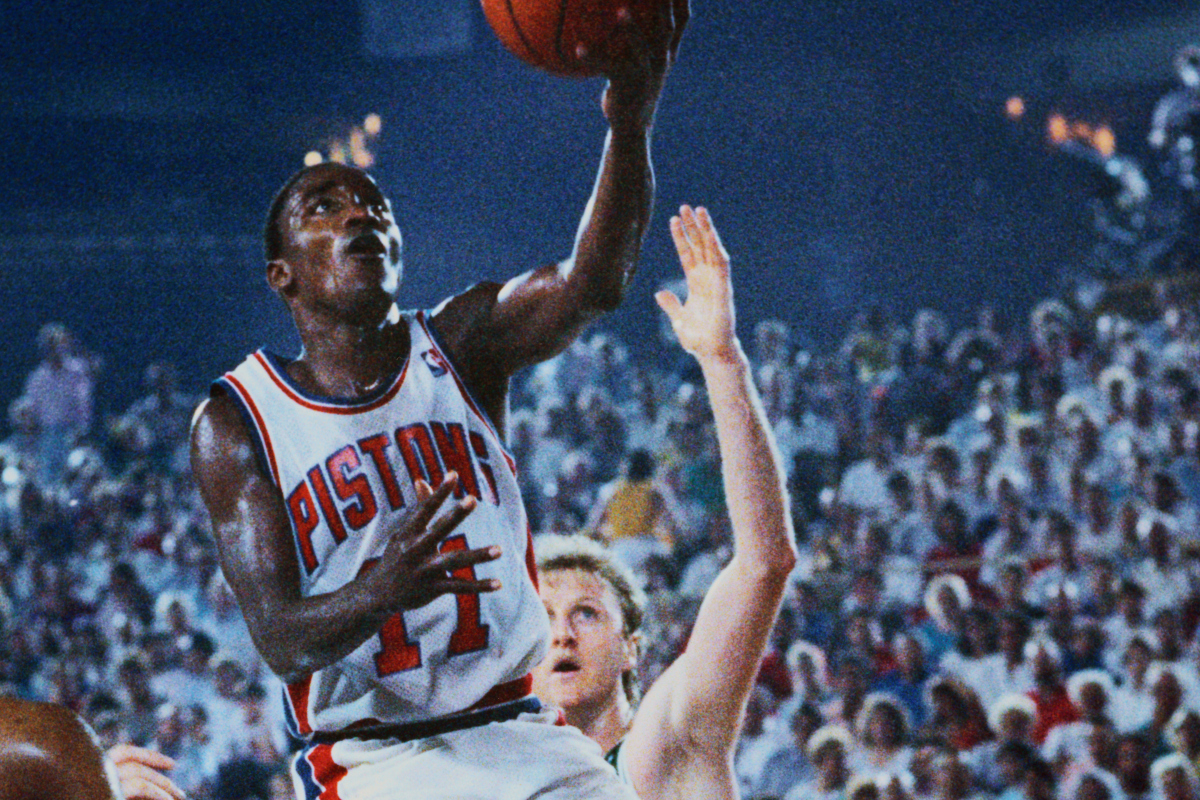 Isiah Thomas Never Gets the Love, but He Took Down Larry Bird, Magic Johnson, and Michael Jordan in Their Primes
Isiah Thomas isn't the most beloved player in NBA history, at least not outside of the fan base of the Detroit Pistons, but he holds a significant bragging chip. He took down Michael Jordan, Larry Bird, and Magic Johnson during the 1980s.
NOTE: Updated on Dec. 23, 2021
Isiah Thomas has a complicated legacy. He was the face of the 1980s Detroit Pistons, the Bad Boys. While the team won two championships, its reputation is more for walking off the court when the dynasty fell to Michael Jordan's Chicago Bulls. The frosty relationship between Thomas and Jordan and a feud with longtime friend Magic Johnson define Thomas's legacy.
On top of that, Thomas has bullet points on his post-playing resume that don't exactly scream, "Hire me!" His accomplishments as a player are outstanding, but his demeanor runs to the caustic side. Sorting out the reality from the legend, the legitimate from the misunderstood is a Herculean task.
Thomas holds impressive bragging rights over the 3 icons of the '80s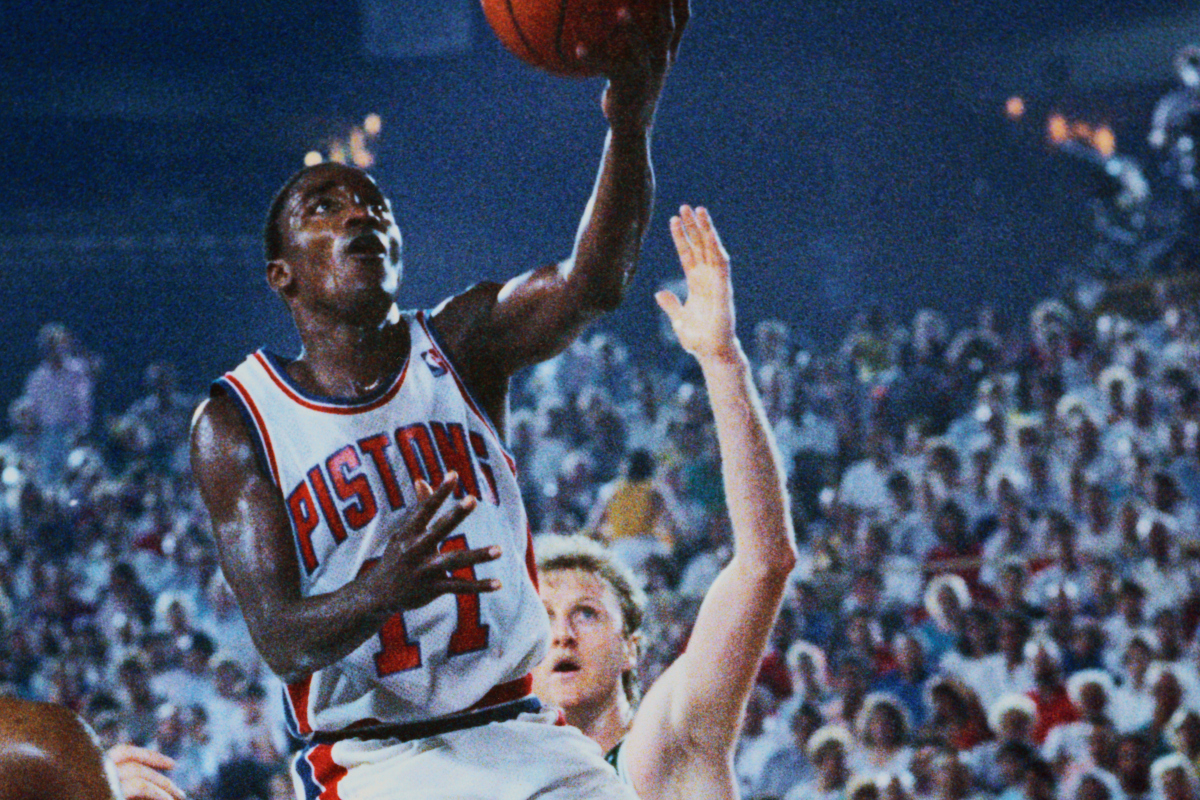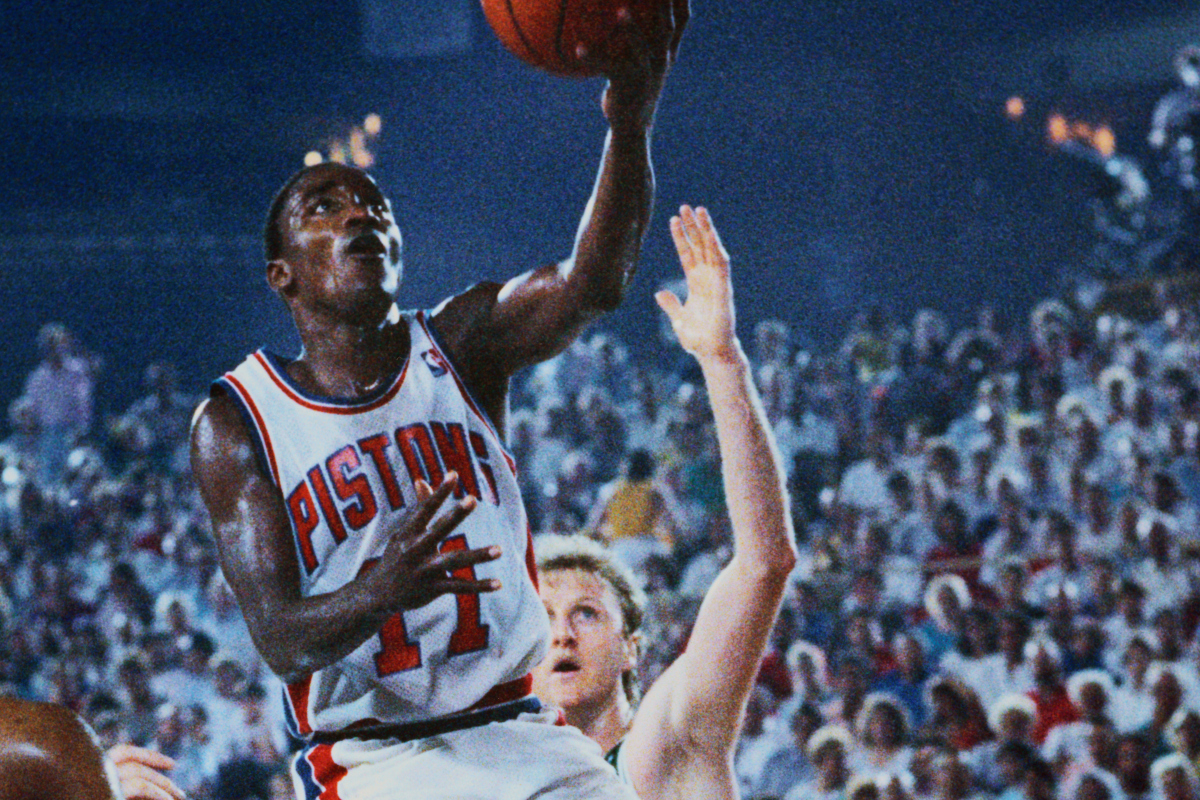 When The Undefeated dropped a tweet about Isiah Thomas' playoff record against Jordan, Johnson, and Larry Bird, the Hall of Fame point guard couldn't help a self-congratulatory retweet.
The numbers don't lie. Head-to-head against Jordan's Bulls, Thomas' Detroit Pistons were 12–10. The tweet even had a typo which didn't give Isiah enough credit. Detroit was 7–4 against Magic and the Lakers, not 6–4. And against Bird's Celtics, it was a flat-footed tie, 11–11.
Thomas beat prime Jordan three times in four series. He split two meetings with Johnson. And Detroit was 2–2 against Larry Legend's Celtics. (Thomas won three series against Boston, but Bird was out for the 1989 first-round sweep.)
In nine playoff runs, the Pistons played in 23 series and won 16 during the Isiah era. Chuck Daly had the right formula as coach in Detroit, and his tenure coincided with Thomas' prime. Sometimes, though, he can't stay out of his own way.
Isiah Thomas proud of what his Detroit Pistons accomplished
Isiah Thomas often rubbed opponents the wrong way while starring for the Detroit Pistons. It's a trait that didn't disappear when he hung up the jersey for the last time.
During an appearance on the Full-Bodied podcast with former NBA champion Channing Frye, Thomas was quick to remind listeners of what the 1980s Pistons did to Bird's Celtics, Magic's Lakers, and MJ's Bulls:
"All them people that they say are the best to ever do it, my teams beat all them. We were probably the best defensive team to ever play in the NBA. … The highest scoring game every in the NBA is held by who? The Detroit Pistons at 186 points."
That is mostly true, but the Pistons didn't rank first in defense during their peak. When the Pistons rose in the mid-1980s, the offensive rating in the NBA was 108.3 in 1986–87, 108.0 in 1987–88, 107.8 in 1988–89, and 107.9 in 1989–90. Detroit's defensive rankings for those seasons: fifth (105.8), second (105.3), third (104.7), and second (103.5).
The scoring record, on the other hand, is legitimate. But there's context to be understood. They were playing the all-offense, no-defense Denver Nuggets at McNichols Arena on Dec. 13, 1983. The 1983–84 Nuggets averaged 123.7 points per game and, not shockingly, led the NBA in pace at 110.3 possessions per game. They led the NBA in scoring and were last in defense, surrendering 124.8 points a night.
The Pistons were a jugger-not defensively at that stage in their development. They were 18th in a 23-team league, allowing 113.5 points a night.
The game between Detroit and Denver went three overtimes before the Pistons grabbed a 186–184 win. So it wasn't a blowout spurred by the Bad Boys defense. Thomas scored 47 points with 17 assists, and John Long added 41 points. Kiki Vandeweghe dropped 51 for Denver. Alex English poured in 47.
Isiah Thomas, the Hall of Fame player, didn't translate to coaching or the front office
After a star-studded 13-year career, Isiah Thomas retired after a 1994 Achilles' tendon injury. He spent his whole career with the Detroit Pistons. Besides his two championship rings, Thomas added a Finals MVP award, five All-NBA berths, and 12 All-Star nods. He also was a two-time All-Star Game MVP and a first-ballot Hall of Famer.
However, with that came the allegations Thomas organized a freeze-out of Jordan at the 1985 All-Star Game. Jordan was a rookie, never forgot the slight, and it ignited one of the most bitter rivalries in NBA annals. There are rivalries, like Larry Bird and Magic Johnson. Then there's the Isiah-MJ type, where there were no bones about it; they did not — and do not — like each other.
After he retired, Thomas' first gig was as general manager of the expansion Toronto Raptors. He made some good moves, such as drafting Damon Stoudamire and Tracy McGrady. But he undermined himself by hiring Bad Boy buddy Brendan Malone as the franchise's first coach. Malone was a great assistant who didn't translate to the lead chair.
Afterward, Thomas demolished the Continental Basketball Association, coached the Indiana Pacers from the NBA Finals directly to a .500 record. He also added three first-round playoff exits in three seasons. Then there are the blast craters that remain visible from running the New York Knicks into the ground (or perhaps the Earth's core).
There is one accomplishment no one can take away from Isiah Thomas, though, as much as it probably annoys Jordan.
Statistics courtesy of Basketball Reference.