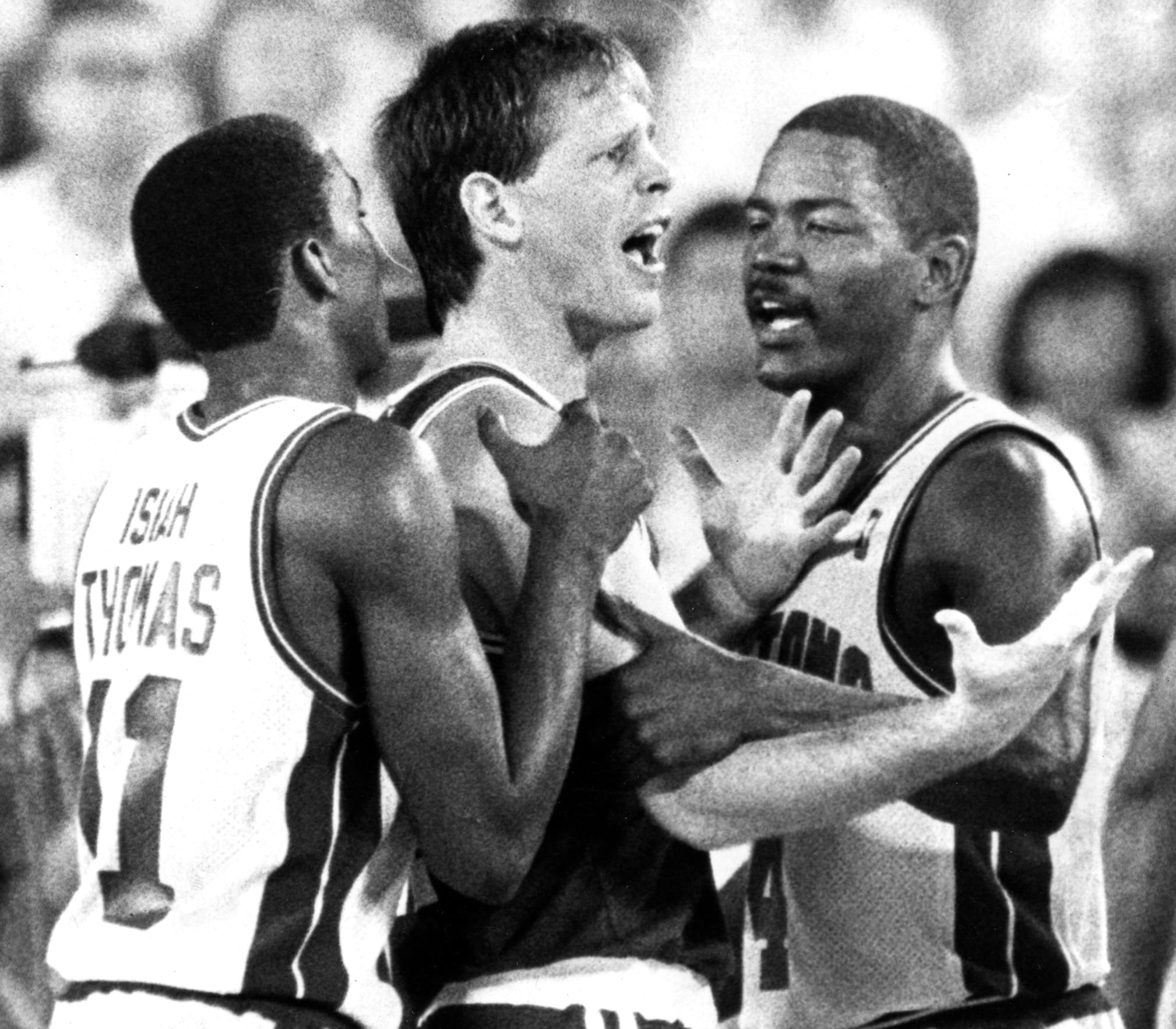 Isiah Thomas Learned How Intense the Boston Celtics vs. Detroit Pistons Rivalry Was From a Simple Elevator Ride
Isiah Thomas realized just how intense the Detroit Pistons vs. Boston Celtics rivalry was just by riding in an elevator.
The Detroit Pistons and Boston Celtics provided NBA fans with some memorable basketball moments in the 1980s. While much of the '80s was centered on the Celtics vs. Los Angeles Lakers rivalry, it was the Pistons the Celtics had to deal with before getting to the Lakers.
Those Celtics vs. Pistons matchups were entertaining, but they were also heated. As the years went by, the teams disliked each other more. Isiah Thomas, the All-Star point guard for the Pistons, realized just how heated that rivalry was during a simple elevator ride with teammate Joe Dumars and general manager Jack McCloskey.
Isiah Thomas and the Detroit Pistons dethroned the Boston Celtics in 1988
Isiah Thomas had some rough postseason moments against the Boston Celtics. Then things finally turned around in 1988.
Thomas' most crushing blow came during Game 5 of the 1987 Eastern Conference Finals. The series was already intense. Bill Laimbeer and Larry Bird were ejected in Game 3 after Laimbeer took down Bird with a hard foul. Bird retaliated by throwing the ball at the Pistons center.
In the early part of Game 5, Celtics center Robert Parish pummeled Laimbeer as they went for a rebound. Parish blindsided him with a couple of punches. Somehow, he wasn't ejected. A foul wasn't even called, although Parish was handed a suspension for Game 6.
With five seconds left in Game 5 and the Pistons holding a one-point lead and the ball in a tied series, Thomas lofted a pass intended for Laimbeer. Celtics star Larry Bird picked off the pass and fired a pass to a cutting Dennis Johnson, who made the game-winning layup. The Celtics went on to win the series in seven games.
The Celtics had now eliminated the Pistons in 1985 and 1987. Boston had been to four straight NBA Finals from 1984 to 1987. Detroit got its revenge in 1988.
Thomas took charge right away, scoring 35 points in Game 1 to snatch homecourt advantage from the Celtics with a 104-96 win. With the series tied at two games apiece, Thomas added another 35-point masterpiece to lead the Pistons to a 102-96 win in Boston to take a 3-2 series lead back to Detroit. In Game 6, the Pistons closed out the series with a 95-90 to earn a berth in the 1988 NBA Finals.
An elevator ride helped Thomas understand how intense the Celtics vs. Pistons rivalry was
With elbows being thrown all over the place and hard fouls being the norm, Thomas knew the rivalry was heated. It became more evident during an elevator ride.
"We're having our battles with Boston," Thomas recalled during a 2021 episode of the Showtime With Coop podcast. "So we go to the All-Star Game — I'm not sure what All-Star Game it was that year. It's me, Joe Dumars, and Jack McCloskey on the elevator. The elevator door opens. Red Auerbach walks in.
"Joe and I are standing in the back thinking that Jack and Red are at least going to say hello, shake hands, whatever. That whole elevator ride, neither one of them looked at each other, acknowledged each other, or said hello.
"They got off the elevator, Joe and I looked at each other, and it was like, OK, we understand how this really is.
"Jack McCloskey, when you talk about the heart and soul of the Detroit Pistons and the toughness — Bad Boys —that came strictly from Jack McCloskey."