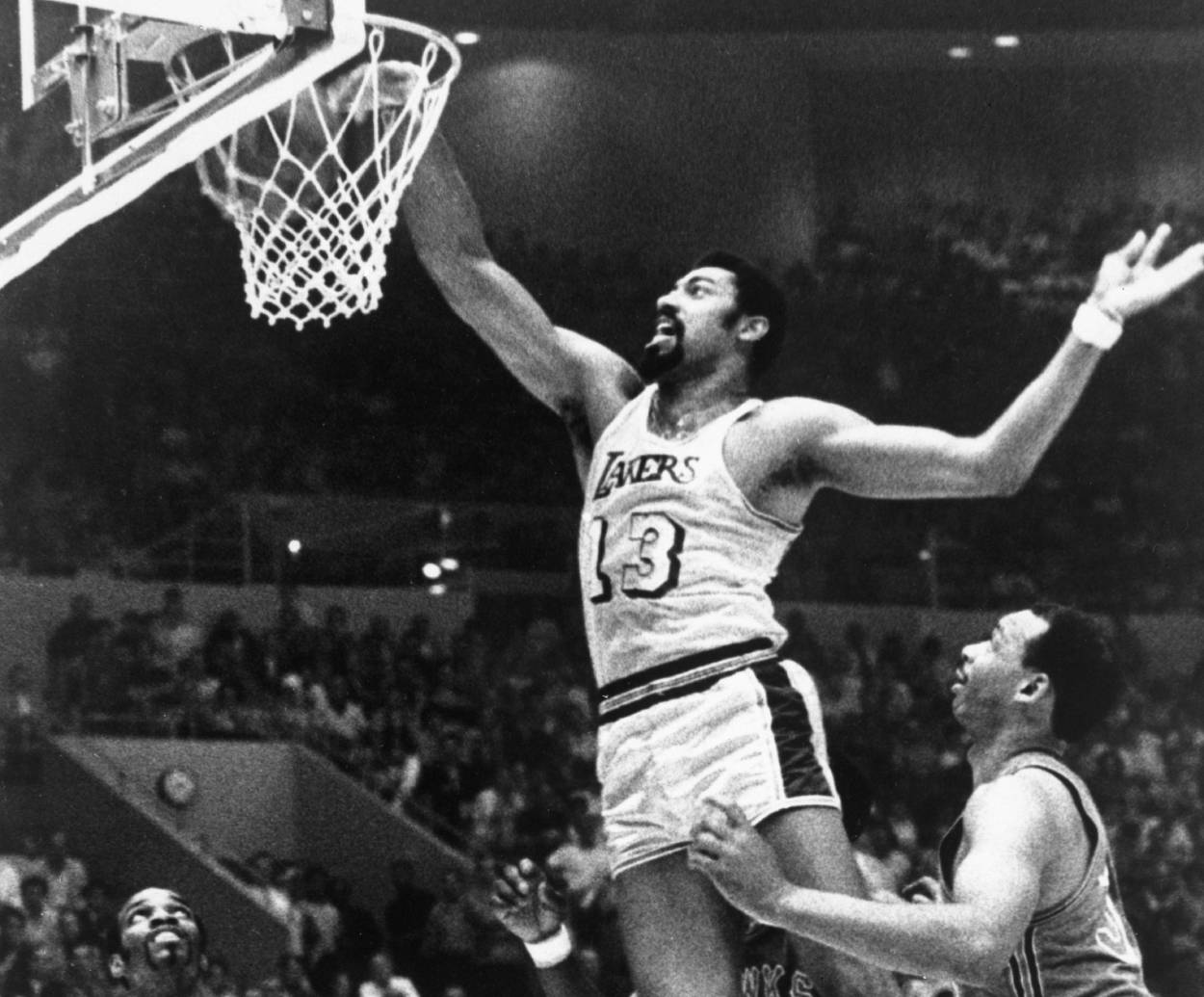 It's Safe to Say Wilt Chamberlain Didn't Take His Lone Year of ABA Coaching Seriously
Wilt Chamberlain experimented with coaching after his NBA days, and let's just say it wasn't his thing.
Nobody put up statistics like Wilt Chamberlain. Some argue the four-time MVP and Naismith Memorial Basketball Hall of Famer was the greatest to ever play the game, while others say he wasn't always considered a team player.
While there's always debate when it comes to Chamberlain's playing ability, there isn't a whole lot of disagreement about the one year he was a head coach for the ABA's San Diego Conquistadors.
Wilt Chamberlain left the LA Lakers to coach in the ABA
Wilt Chamberlain played his final NBA game as a member of the Los Angeles Lakers during the 1972-73 season. He left the NBA with an option year left on his LA deal to make his coaching debut in the rival ABA with the Conquistadors.
According to San Diego owner Leonard Bloom, the plan was to have Chamberlain be a player/coach. Bloom enticed Chamberlain with a one-year deal worth $600,000 to coach the team. The Lakers hit the Conquistadors with a lawsuit, stating Chamberlain still was under contract with the Lakers and couldn't play for anyone else.
"The Lakers hit us with a lawsuit, and it became a political thing," Bloom said, per Terry Pluto's book Loose Balls. "LA said they had an option clause in his contract, so if he was going to play with anyone, it had to be them. The NBA and the Lakers put a lot of pressure on the courts, and the courts bought their argument. But the option clause didn't cover coaching, so he could coach."
Chamberlain was brought in to bring some life into the ABA.
"In 1973, the merger (with the NBA) was supposed to be near, and the NBA was encouraging teams to go out, be aggressive, and do something dramatic," Bloom said. "I figured, why not get Wilt?
"The other ABA owners laughed at me when I said I wanted Wilt, but after I signed him, the owners gave me a plaque because it was such a coup for the league."
It's clear Chamberlain didn't take coaching seriously
Bloom paired Chamberlain with assistant coach Stan Albeck on the bench, and it was Albeck who pretty much ran the show, according to several involved with the ABA.
"Let's just say it seemed like Stan Albeck had a lot of input, an awful lot," said Van Vance, former announcer for the Kentucky Colonels, per Pluto. "People around the league said it was really Stan's team."
How could it not be? There were games where Chamberlain wouldn't show up or would pop in around halftime.
"Wilt did show up occasionally and pretended to be coach, but it was really Stan's team," said Alex Hannum, former ABA Coach of the Year with the ABA's Oakland Oaks. "It wasn't that Wilt couldn't do it or that he wasn't smart enough, just the opposite. I've coached Wilt, and I can tell you that he has a great feel for the game. He understands pro basketball. But the day-to-day things that are an important part of coaching just bored him. He didn't have the patience or desire to coach."
"Even as a coach, Wilt was a draw," said former ABA player Gene Littles. "When San Diego came into Greensboro to play the Cougars, we sold out. People just wanted to see the guy. But Wilt didn't show up for some reason. Stan Albeck coached the team, and a lot of people were really upset because there was no Wilt."
"Wilt just wasn't very reliable," said Carl Scheer, former ABA GM. "He showed up at halftime during a game at Charlotte. We tried to capitalize on his name, but Wilt didn't help because he didn't like to make appearances deal with the media."
Chamberlain went 37-47 in his lone season with San Diego. He went 2-4 in the playoffs.