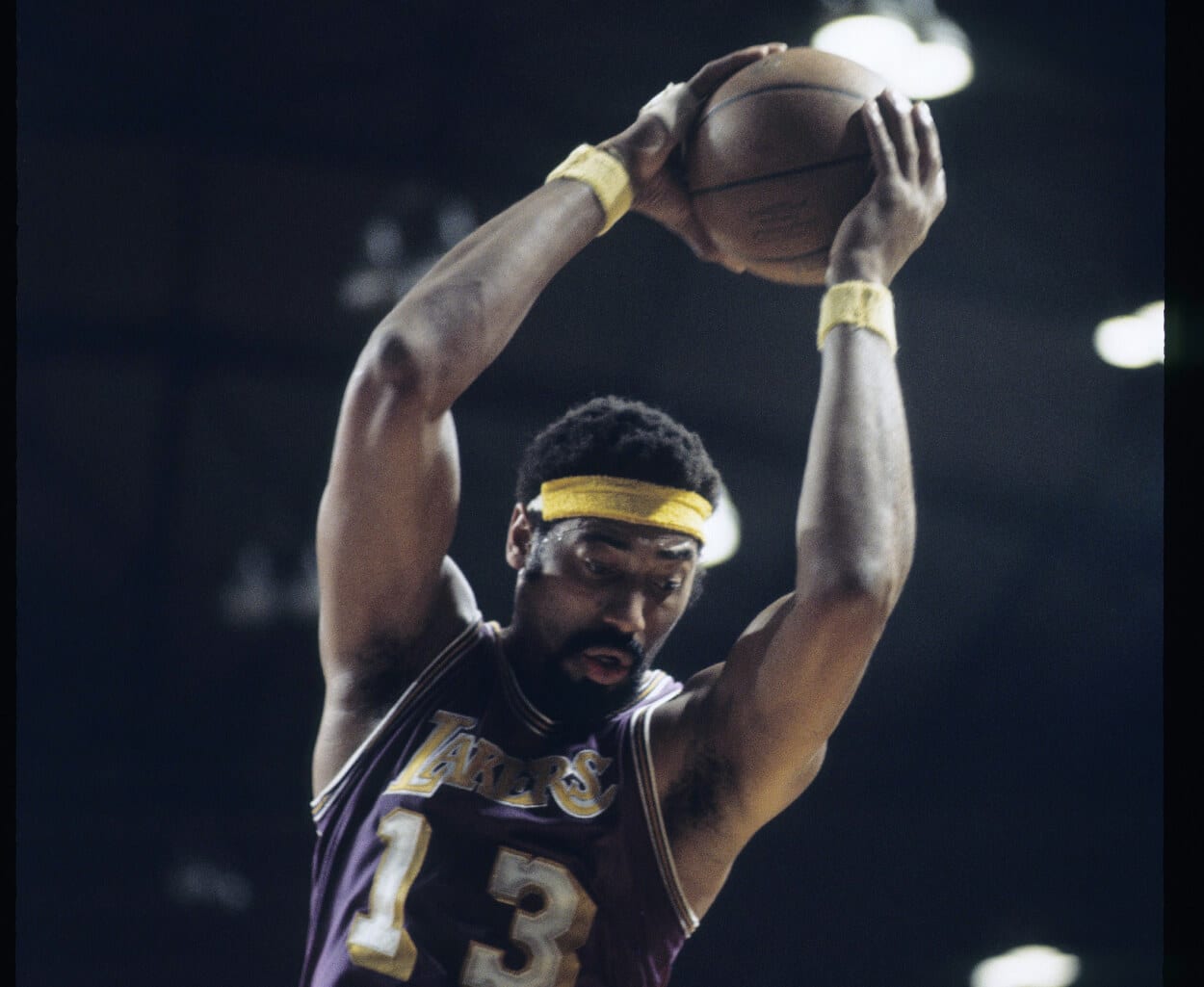 Playing Though a Secretly Broken Wrist Led to Wilt Chamberlain's 2nd Title After Bill Russell Questioned His Toughness
Wilt Chamberlain led the LA Lakers to a championship in 1972, playing the series-clinching Game 5 with a broken wrist.
Only Wilt Chamberlain and the doctor knew. In Game 4 of the 1972 NBA Finals between Chamberlain's Los Angeles Lakers and the New York Knicks, LA's talented center took a spill on the floor and injured his wrist. He still played all 53 minutes of his team's 116-111 overtime win that put them one victory away from a championship.
Diagnosed as a sprained wrist, Chamberlain knew better. X-rays proved it. He remembered something Boston Celtics center and rival Bill Russell said three years before, so he suited up with a broken wrist in Game 5 and led the Lakers to a championship.
Wilt Chamberlain and the Lakers took a lot of heat against Bill Russell and the Celtics in the 1969 NBA Finals
In the 1969 NBA Finals, the Lakers had a golden opportunity to knock off the Celtics, who had claimed nine of the last 10 NBA championships. It all came down to Game 7. The Lakers had the Celtics right where they wanted them, playing a winner-take-all game at home. They were confident. Perhaps, they were too confident, giving the Celtics some bulletin-board material before the game by lining the arena with celebratory balloons.
"I noticed them when I walked in," Auerbach said in 1987, according to United Press International. "I was doing the color (commentary on television). After we won, I asked, 'What is Jack Kent Cooke going to do with all those damn balloons?' What they did was make the biggest mistake you could make in sports."
It also didn't help the Lakers that Chamberlain went to the bench late in the game with a knee injury. At the time, he had 18 points and 27 rebounds, but the Celtics held a seven-point lead. With their star center on the bench, the Lakers made a comeback, pulling within two points. According to Robert Cherry's book, Wilt: Larger than Life, Chamberlain iced the knee and told coach Butch van Breda Kolff he was ready to return. He never did. The Celtics won 108-106.
Chamberlain fumed he wasn't allowed to go back in. Many hinted that van Breda Kolff wanted to prove he could win without his stud center.
Cherry wrote: Someone once said to van Breda Kolff that two careers had been ruined by the 1969 Finals: Wilt's because he wouldn't take over and van Breda Kolff's because he wouldn't give in. "That's probably true," van Breda Kolff declared to the author.
Chamberlain toughed it out in 1972 after what happened in 1969
After Chamberlain hurt his wrist in Game 4 of the 1972 NBA Finals against the Knicks, he knew for sure it was broken the following day.
"I knew it was broken on Saturday when I saw the X-rays, but no one else really knew it except the doctor and me," he said, per The New York Times in May 1972. "At that time, I honestly felt that couldn't play on Sunday, couldn't bend it. But with an anti‐inflammatory injection and ice packs, it improved.
"The fracture apparently occurred when I fell Friday night in the fourth game at New York. I felt a little pain in my wrist, not a great pain. But by the next day, when we returned to Los Angeles, it had swollen so much that X‐rays were needed."
Then he reflected back to 1969 and made sure he played in Game 5. He finished with 24 points and 29 rebounds in a 114-100 win that clinched the championship. He remembered Bill Russell calling him out after that '69 series.
"Three years ago, Bill Russell (ripped) me for not coming back into the final game of the playoffs when I was hurt," Chamberlain said. "I had a torn ligament in my knee, but Russell said that nothing less than a broken back would've kept him from going back into a big game."
With that added motivation, courtesy of Russell, Chamberlain led the Lakers to their first title in Los Angeles.