Jadeveon Clowney's Brutally Honest Comments Should Inspire Both Fear and Excitement For Browns Fans About His Future in Cleveland
The Cleveland Browns made a no-brainer decision at the top of the 2017 NFL Draft to take Myles Garrett with the No. 1 overall pick. Outside of his helmet-swinging incident against the Pittsburgh Steelers, the physically gifted defensive end has been a home-run selection by a franchise that's known for making major mistakes on draft day. Of course, the Browns added a second athletic, big-name pass rusher to their roster by signing Jadeveon Clowney to a one-year contract this offseason.
Unlike Garrett, Clowney hasn't developed into a top-flight sack artist since he became the No. 1 overall pick in 2014. Obviously, though, the Browns believe the 6-foot-5, 255-pounder has what it takes to transform their defense into an elite unit.
For Cleveland fans, Clowney's recent comments should inspire both fear and excitement about his future with the AFC North franchise. By delivering a brutally honest self-assessment, the 28-year-old showed some surprising humility. At the same time, Clowney highlighted how risky it is for the Browns to bet on a player who has a reputation for falling short of expectations throughout his NFL career.
Jadeveon Clowney has a golden opportunity to resurrect his career Cleveland
Clowney entered the NFL in 2014 as one the most hyped defensive prospects of all time. A long-limbed, explosive defensive end with receiver-like speed and a penchant for making highlight-reel plays, he only appeared in four games as a rookie before a torn meniscus ended his season. After undergoing microfracture surgery, he went on to start 53 games across the next four years for a Houston team that routinely fell short in the playoffs. Although Clowney earned Pro Bowl honors in each of his final three seasons with the Texans, he only recorded 29 sacks in 62 games.
With Houston refusing to meet his asking price, the talented edge defender got traded to the Seattle Seahawks. Clowney's move to the NFC West put him in a position to play on a much better team. While he did make some impact plays — including four forced fumbles, two fumble recoveries, and a pick-six — the former SEC star only recorded three sacks and 13 quarterback hits. (Not exactly impressive totals for someone who's been billed as a top pass rusher.)
Then again, Clowney missed three games due to hip and core injuries.
Following his one-year stint with the Seahawks, he signed a free-agent contract with the Tennessee Titans. However, Clowney didn't come close to earning the $11.5 million guaranteed he received on his one-year deal. He didn't record a single sack in the eight games he played before he landed on injured reserve because of his knee.
To no surprise, Clowney didn't have a particularly robust free-agent market this spring. However, Cleveland took a leap of faith (for $7 million guaranteed) on the veteran defensive end. Expected to line up opposite Garrett, the eighth-year pro has a terrific opportunity to put up big numbers. After all, with offenses focused on stopping his All-Pro teammate, Clowney should get plenty of one-on-one pass-rush opportunities. And with his financial future on the line, he has plenty of motivation to remind everyone why he went No. 1 overall in the 2014 draft.
The three-time Pro Bowler made some brutally honest comments during his most recent press conference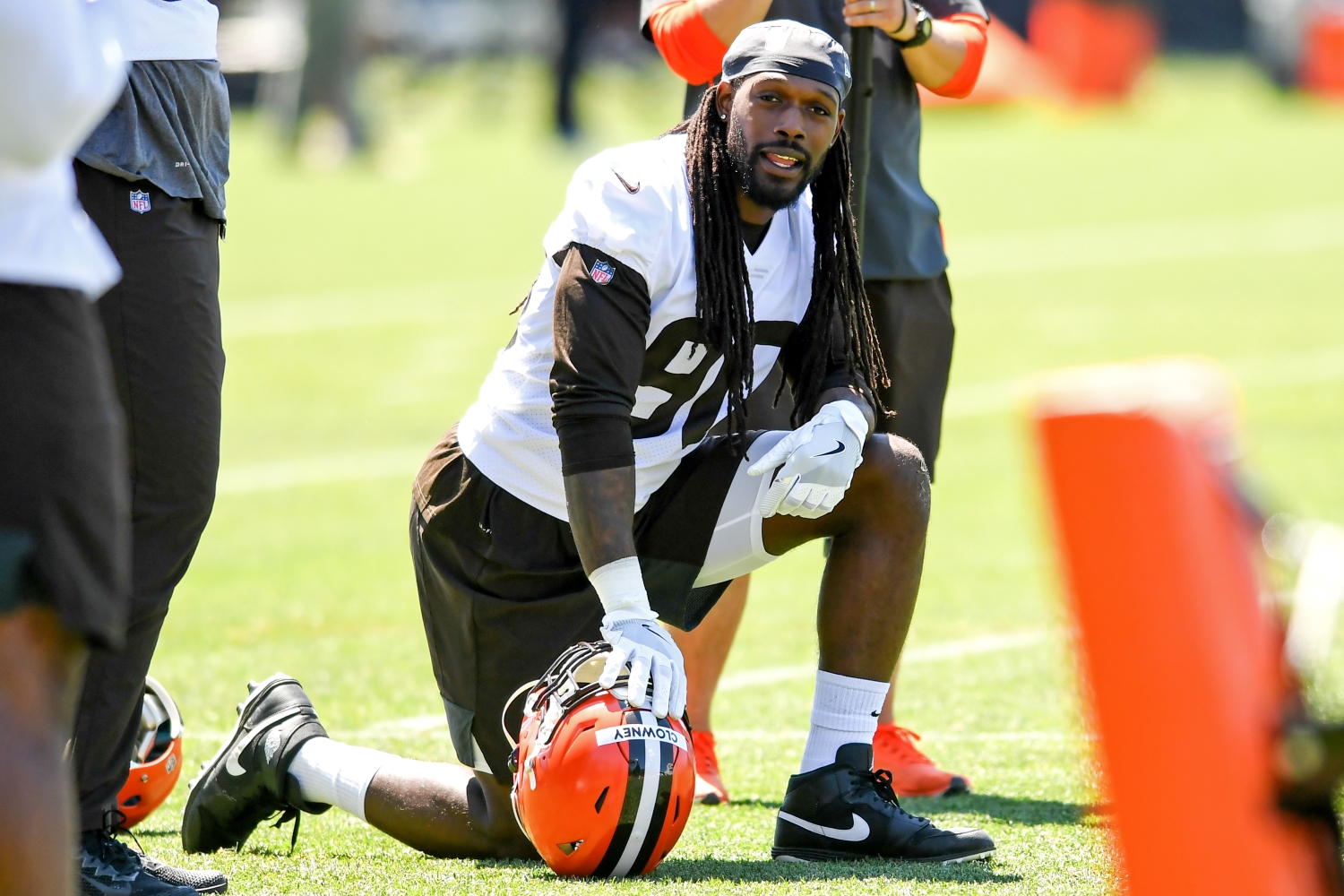 Browns fans probably had mixed reviews when the team announced the Clowney signing. On one hand, it's easy to get excited about the potential of a Garrett-Clowney duo. However, given his durability concerns and less-than-impressive pass-rush statistics, it's fair to view the move as one that's destined to disappoint.
Ironically, Clowney made some comments at his Wednesday press conference that should make Browns fans feel both excited and fearful of what his future holds.
"I don't think I've reached my potential," he told reporters. "Every time I get going, I get hurt and something happens. I've fallen back and taken time off. Hopefully, this year I just keep going up and getting better."
Clowney further added, "I'm just trying to make plays, be flashy. Show those guys I'm still me."
The fact he doesn't think he's reached his potential is obviously a good thing if you're Cleveland. After all, he's never recorded a double-digit sack season during his NFL career. To his credit, though, Clowney exceled at setting the edge and making plays against the run with the Texans. And he has shown flashes of pass-rush spark, along with the ability to be disruptive. His desire to "make plays" and "be flashy" represents a positive sign for a Browns defense that's teeming with potential.
However, Cleveland fans should also feel some fear about what lies ahead based on what else Clowney had to say.
Clowney's comments should also raise concerns about the situation working out for the Browns
Injuries have played a significant role in Clowney's career. So, when it came to the topic of staying healthy, he spoke from experience.
"When you are healthy, you have a lot of fun," Clowney explained. "When you have been playing for seven years, and I have been dealing with injuries seven years, it is kind of not fun being out there, but when you are taking care of your body, you are in good health and you know what you love."
While Clowney acknowledged he's feeling good at the moment, his open admission about not having fun should raise concerns. After all, he essentially gets hurt on an annual basis — Clowney has played all 16 games just once — so the odds of him making it through the season without a setback seem slim.
And that might be putting it generously.
If he gets banged up, will he suddenly become a problem? Should an injury arise, will that affect the way he handles himself on the field and in practice? Given his propensity to games and not get after the quarterback like he did in college, Clowney seems like a poor bet to work out for the Browns.
Perhaps he'll prove everyone wrong by remaining healthy and becoming a dominant force next to arguably the game's best pass rusher. If so, Cleveland will have a championship-caliber defense to go along with what should be a dynamic offense.
However, the odds of that happening seem about as good as Baker Mayfield keeping his mouth shut on the field.
All statistics courtesy of Pro Football Reference.