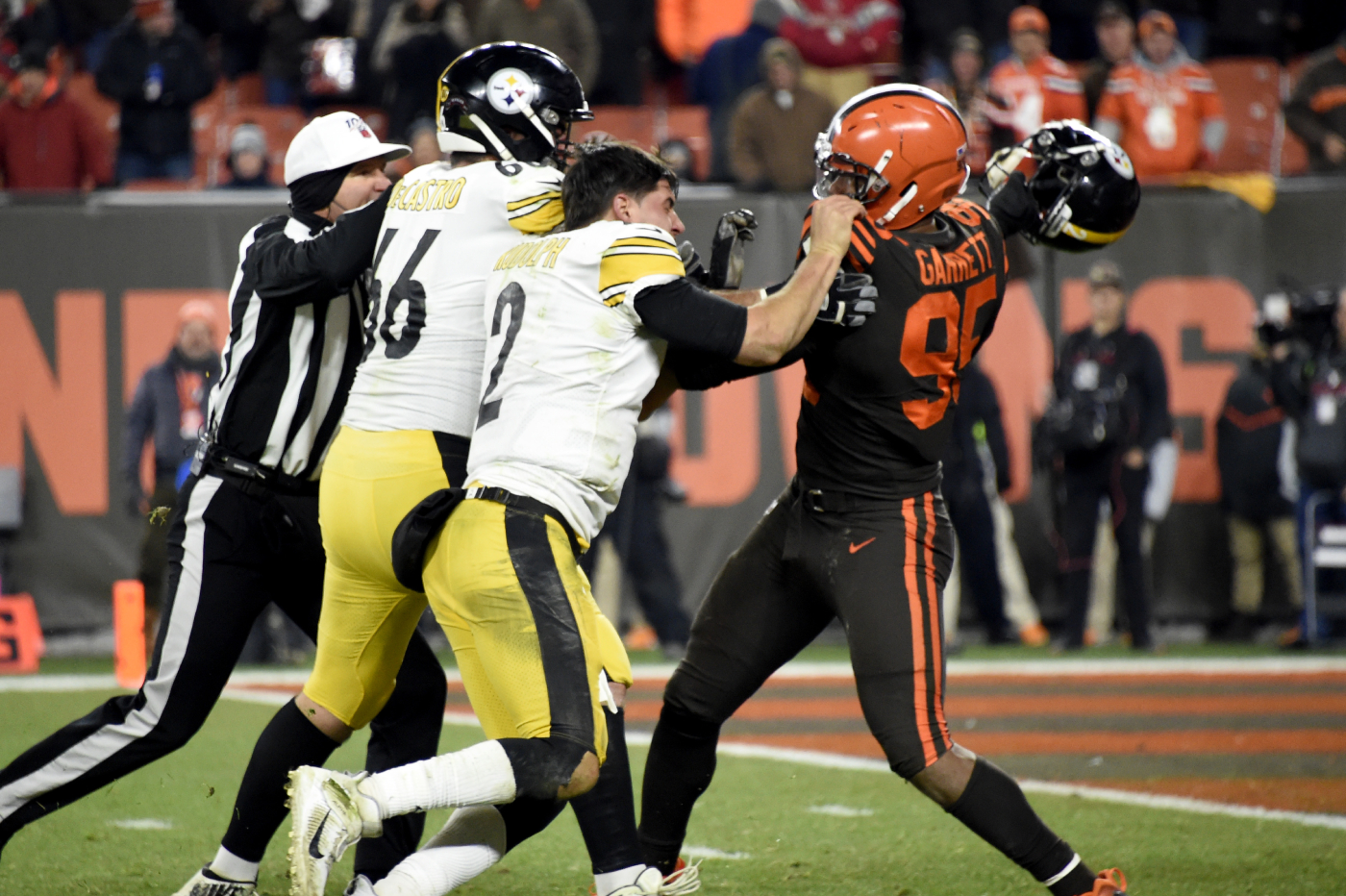 Myles Garrett Honored Ahead of Rematch With Mason Rudolph and the Steelers
Cleveland Browns defensive end Myles Garrett is honored ahead of his team's rematch with Mason Rudolph and the Pittsburgh Steelers.
Nearly 14 months ago, things got ugly in Cleveland. The game was nearly over, yet tempers flared as the Pittsburgh Steelers were trying to score a touchdown that wouldn't have impacted the outcome of the game. With eight seconds left, Steelers quarterback Mason Rudolph threw a pass and was sacked late by Cleveland Browns defensive end Myles Garrett. Chaos ensued. Rudolph and the Steelers meet the Browns on Sunday and Garrett has been honored by his team as the Browns seek a rare playoff berth.
The Browns and Steelers brawl in 2019
The game was out of hand and then it got well out of hand. There were eight seconds left in the game and the Cleveland Browns were defeating the Pittsburgh Steelers 21-7 in November of 2019. Cleveland's Myles Garrett hit Pittsburgh quarterback Mason Rudolph late and the two got into a wrestling match that wound up with Garrett hitting Rudolph over the head with Rudolph's helmet.
Garrett was suspended for the remainder of the season. He said the incident happened because Rudolph hurled a racial slur at him. The NFL investigated and didn't find any evidence of Rudolph using a slur.
Rudolph was playing in 2019 because Pittsburgh starting quarterback Ben Roethlisberger was out for the season with an elbow injury. Rudolph and Devlin Hodges shared time as the starter. Roethlisberger returned this season and Rudolph has attempted just four passes this season.
Garrett to face Rudolph again
The Pittsburgh Steelers are already headed to the playoffs. The Cleveland Browns are seeking a rare playoff berth. Pittsburgh is resting quarterback Ben Roethlisberger for Sunday's game against the Browns, meaning backup Mason Rudolph will make his first start of the season.
This will mark the first time the Browns and Steelers meet since the brawl with Rudolph at quarterback. The teams, however, aren't looking back. Garrett knows it's a big game regardless of who's playing quarterback. "He'll get hit just like everybody else, I'm not going to put a pillow underneath his head before I take him to the ground," Garrett said of Rudolph, according to ESPN. "But I'm not going to do anything extra. It's just a game, it's a Steelers game. It's a divisional game and it's an important game."
Rudolph knows he'll be going up against a tough defense Sunday. He knows Garrett is a major reason why that defense is tough. "He's a great player, and they are playing well as a defense," Rudolph said of Garrett. "He's a menace in the backfield and he's very disruptive. When they are playing at their best, he's sack-fumbling and he's getting to the quarterback. Obviously, you are very aware of that, and you treat him with great respect."
Myles Garrett named captain for Sunday's game
Cleveland Browns head coach Kevin Stefanski has named Myles Garrett a captain for Sunday's game against the Pittsburgh Steelers. Stefanski stressed it had nothing to do with their meeting in 2019. "It's a big game, so I'm sending the big guy out there," Stefanski said Friday, according to ESPN. "But it's in no way a callback to anything previously."
Garrett and Rudolph appear to have put the incident behind them. Rudolph said he'd be willing to talk to Garrett. "I'm happy to hear Myles out with whatever he would — if he wants to approach me, if he wants to talk," Rudolph said Friday, according to ESPN. 
Garrett said he'd talk as well, but wouldn't force the issue. "If he wants to talk after the game or before the game, let it come naturally," he said.