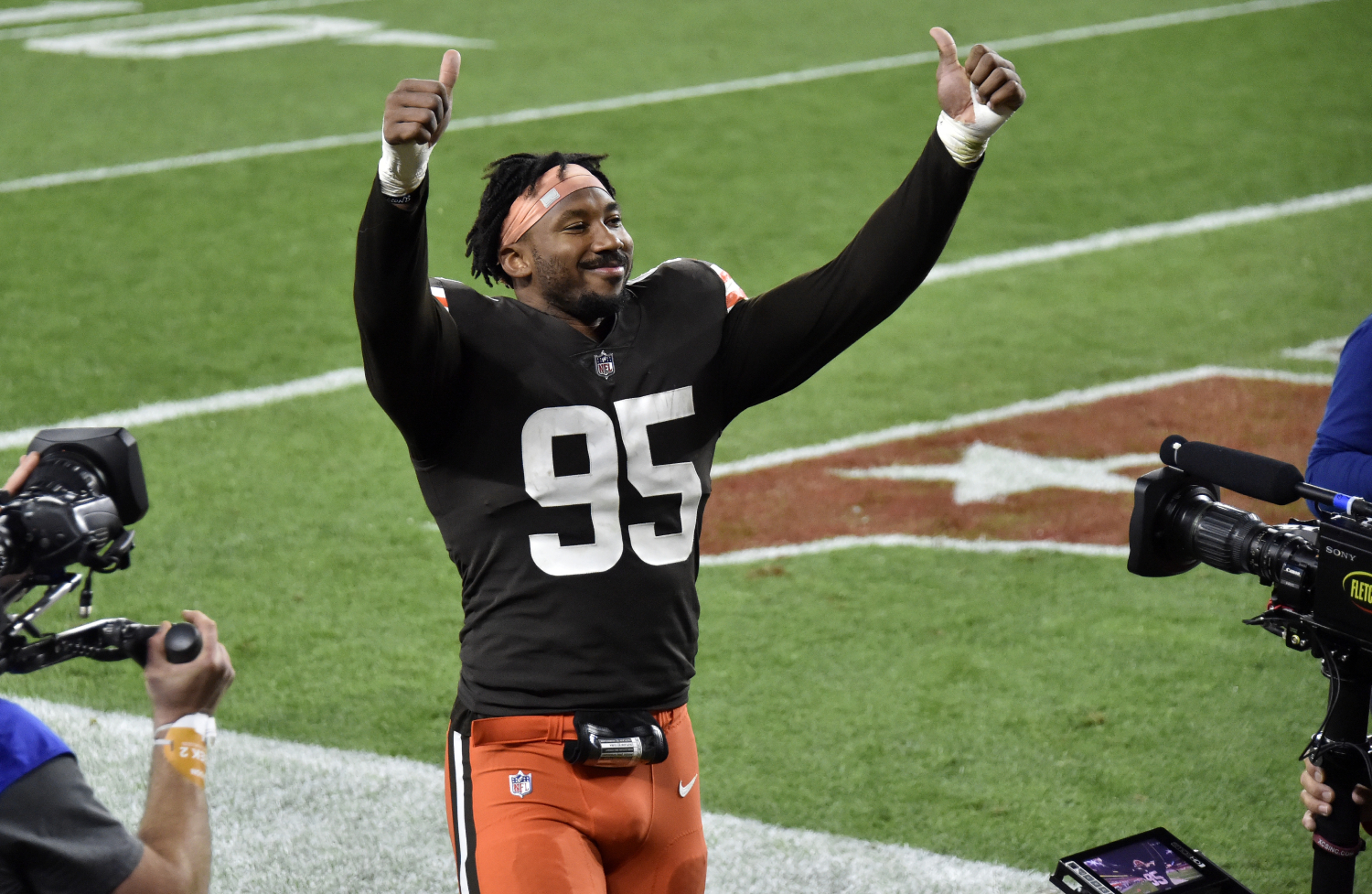 Myles Garrett the Center of Attention as Browns Face Steelers in Brawl Rematch
Cleveland Browns defensive end Myles Garrett is the center of attention once again for Sunday's game against the Pittsburgh Steelers.
Last year when the Cleveland Browns hosted the Pittsburgh Steelers, Myles Garrett was the talk of the town. It had nothing to do with his football play on the field, but all to do with his actions with eight seconds remaining in his team's win over the Steelers. Garrett and Steelers quarterback Mason Rudolph got into a fight, igniting a brawl that will surely trigger talk ahead of Sunday's rematch.
Myles Garrett was the top pick in 2017
Myles Garrett played his college football at Texas A&M and became the top pick in the entire 2017 NFL draft. He played three seasons with the Aggies and decided to forgo his senior year and enter the NFL draft. The Cleveland Browns took the 6-foot-4, 272-pound defensive end at No. 1.
Right before the season opener, Garrett suffered a high ankle sprain in practice and missed the first four games of the season. He played in 11 games his rookie season, starting nine of them. Garrett finished the year with seven sacks and 31 combined tackles.
The following season was Garrett's best. He was healthy the entire season, starting all 16 games. Garrett collected a career-high 13.5 sacks and had 44 combined tackles. He also forced three fumbles and was a Pro-Bowl selection. In 2019, Garrett played in 10 games. He was suspended indefinitely for his role in a fight with Pittsburgh Steelers quarterback Mason Rudolph.
Garrett's role in his team's brawl with the Steelers
With eight seconds remaining in last year's Pittsburgh Steelers at Cleveland Browns game, things got ugly. With the Steelers trailing by two scores, quarterback Mason Rudolph went to throw a pass and was hit by Garrett. The two fought while on the ground. As they got up, Garrett pulled off Rudolph's helmet and hit him over the head with it.
Garrett was eventually suspended indefinitely. He said his actions were a result of Rudolph using a racial slur during the initial skirmish. The NFL investigated and found no evidence a slur was used. Garrett missed the remainder of the season and was fined more than $45,000.
Garrett later apologized for his actions, but still insisted it was triggered by a racial slur. In an interview with ESPN, Garrett said his behavior was "idiotic" and "foolish." "It was childish on both parts, but it was childish of me and I apologize for attempting to injure him because I would never in my right mind try to so something like that."
Kareem Hunt wants to win Sunday's game for Garrett
Myles Garrett missed last season's rematch with the Pittsburgh Steelers because of his suspension. Sunday will be his first game against them since the incident. Browns running back Kareem Hunt, who had one of his seasons cut short because of a violent attack off the field, said Sunday's game is for Garrett and the Browns fans.
"Nobody likes having their season cut short, I know I didn't and I'm almost positive I know Myles wasn't, either," Hunt said Wednesday, according to USA Today. "Myles is a great person and a great player and a great teammate. He learned a lot from going through situations like that. He's got to come ready and forget about all that stuff and do whatever he can. This one's for Myles, this one's for Cleveland Browns fans, this one's for a lot of things."
Browns head coach Kevin Stefanski, who wasn't with the organization last season, knows the Steelers might be out to bait Garrett. Stefanski believes Garrett had grown from the incident. "I think Myles has addressed it, I feel like it's something that he's definitely put in the past, he's definitely learned from, has grown from," Stefanski said on Zoom. "I know the focus for our team and for Myles is on this game. But I trust that he's grown a lot in the (past) year."