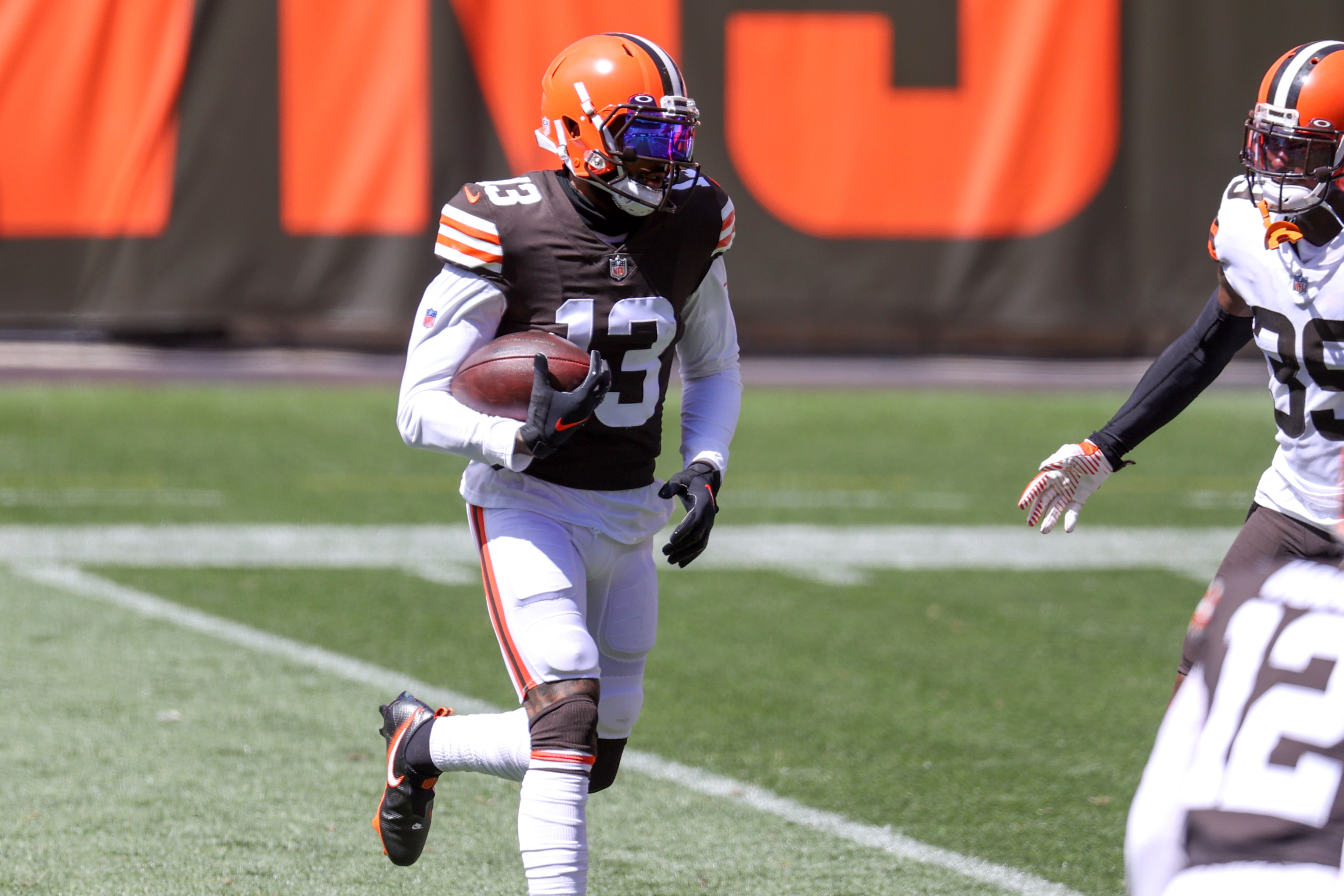 Odell Beckham Jr. Trying to Take a Page out of Kobe Bryant's Book
Cleveland Browns talented wide receiver Odell Beckham Jr. is trying to take a page out of Kobe Bryant's book.
Odell Beckham Jr. has proven to be one of the NFL's most talented receivers. He desperately wants to win but has struggled trying to do so. After playing five years with the New York Giants and growing frustrated with the direction of the team, he got a new lease on life when he was traded to the Cleveland Browns in 2019. Things haven't gotten much better for Beckham with the Browns. Beckham said 2020 had changed him and it all began with the passing of Kobe Bryant.
Odell Beckham Jr.'s football career
He stands just 5-foot-11, but he plays big. Odell Beckham Jr. is one of the flashiest and most talented wide receivers in the NFL. He played his college football at LSU, playing three years with the Tigers. He teamed with Jarvis Landry to form one of the nation's top wide-receiver tandems.
Beckham racked up 1,152 receiving yards and eight touchdowns in his final college season. He decided to forego his senior year of eligibility and enter the 2014 NFL draft. The New York Giants selected Beckham with the 12th overall pick.
Beckham spent five seasons with the Giants, earning Pro-Bowl honors in his first three seasons with the team. He combined for 35 touchdowns in his first three seasons and never had a year where he had fewer than 1,300 receiving yards in that stretch. In 2017, he was limited to four games with a fractured ankle, and then had just six touchdowns in 13 games in 2018. He was traded to the Cleveland Browns prior to the 2019 season and teamed up again with Landry. In 17 games with the Browns, he's' caught four touchdowns.
Is Beckham Jr. on the trading block again?
Odell Beckham Jr.'s first season in Cleveland was like a roller-coaster. He surpassed the 1,000-yard receiving mark for the fourth time in his career but was viewed as somewhat of a distraction. He was fined for throwing a punch during a game against the Baltimore Ravens. Beckham also was fined for a uniform violation later in the season.
Beckham Jr. and the Browns struggled through a 6-10 season. Quarterback Baker Mayfield and Beckham had a tough time getting on the same page. He caught just four touchdown passes as the offense sputtered under first-year head coach Freddie Kitchens. After the season, Beckham underwent surgery after it was revealed he had played part of the season with a sports hernia.
After Sunday's 38-6 loss to the Baltimore Ravens where Beckham had three catches for 32 yards, New York radio personality Mike Francesa said he heard Beckham Jr. was on the trading block once again. According to NFL reporter Benjamin Allbright, that rumor was false.
Beckham Jr. hopes to take a page out of Kobe Bryant's book
During an interview with Maverick Carter on "Uninterrupted," Odell Beckham Jr. said 2020 has been a rough year, but it has left him with a sense of peace. He said he has learned a lot this year. Beckham said it all began with the passing of NBA legend Kobe Bryant.
"I'm in a mind, like, if anything I've learned from this year with Kobe passing it was just how he approached and what he did every day," Beckham said. "I feel that building within me and I want it."
Beckham has always had the desire to win. He's always been hungry. If he can use Bryant's mentality and combine it with his talents, he could be in for a big season, no matter what team he's playing for.