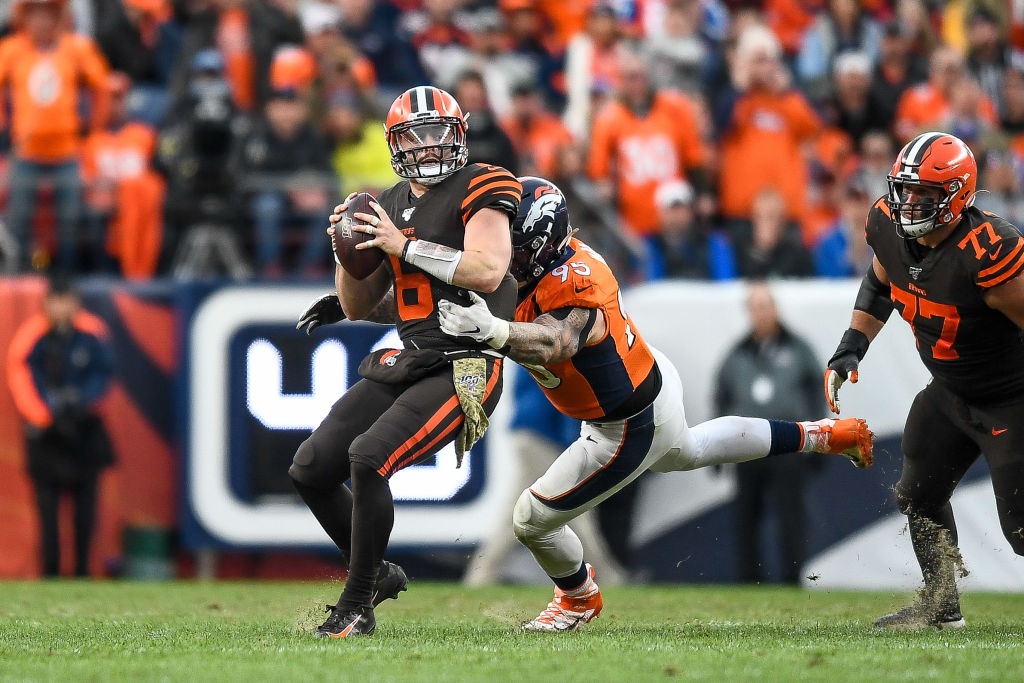 Why NFL Fans Don't Love Baker Mayfield Anymore
Last year, Baker Mayfield looked like the quarterback who could save the Cleveland Browns. This season, however, thing are a bit different.
Everyone dreams of being an NFL quarterback and leading their team down the field for a game-winning touchdown. Not too many people, however, would dream of playing quarterback for the Cleveland Browns. The team has famously struggled to find consistency under center; Baker Mayfield looks like he might be the latest addition to the franchise's list of quarterback busts.
While Mayfield started out as a promising NFL talent, the luster has started to wear off. Life as a pro quarterback isn't all glory and glamor.
Baker Mayfield's road to the NFL
After a strong high school football career, Baker Mayfield enrolled at Texas Tech. While he walked onto the football team, the quarterback didn't have to wait too long for his chance; Michael Brewer suffered an injury, making Mayfield the opening day starter. He would start a total of five games that season, earning Big 12 Conference Freshman Offensive Player of the Year honors.
After that season, however, Mayfield transferred to Oklahoma. He walked onto the Sooners squad but had to sit out a season due to NCAA regulations. When he returned to the field, however, he made up for lost time. The quarterback put up bigger and bigger numbers each season, culminating in a 4,627 yard, 43 touchdown, Heisman Trophy-winning senior campaign.
Inspired by that collegiate success, the Cleveland Browns made Mayfield the first overall pick of the 2018 NFL draft. While he didn't start the year under center, he took over the starting role once Tyrod Taylor went down injured.
The Cleveland Browns' 2019 struggles
Despite their historic struggles, the Cleveland Browns started the season as a trendy pick to come out of the AFC North. Baker Mayfield was coming off an impressive rookie year and would have even more talent around him; general manager John Dorsey added wide receiver Odell Beckham, Jr. during the offseason.
All of that optimism vanished once the season started, however. The Browns were blown out in Week 1, before scraping their way to a 2-2 record. The club dropped the next two games before going into their bye; after their week off, they lost two more.
The offense, which looked so promising entering the season, has sputtered. While fans might have imagined Mayfield and Beckham linking up with regularity, that hasn't happened.
"People had this picture-perfect thing where it was going to be sunshine and rainbows, and he was going to have a whole lot of one-on-ones," the quarterback explained. "It's Odell Beckham. He's going to have double coverage. We have to find ways to format things to get him the ball and force-feed him early on to where he can make an impact before we can have the perfect to-give-him-a-shot play. And I think that's something we learned the hard way."
Do Browns fans still trust Baker Mayfield?
The Browns, more than any other franchise in recent memory, have been unable to find a starting quarterback. You've undoubtedly seen the jerseys with names of countless failed signal-callers stretching down the back; could Mayfield be another player doomed to join that inglorious list?
Mayfield clearly has the talent to succeed, but this season seems to be wearing on him. He called out a local reporter earlier this year and famously changed facial hair three times last Sunday. The quarterback was always known for being a bit outspoken but, when things aren't going your way, those comments play differently. What could have been seen as confidence or bravado can now seem like whining. Last year, he was the shiny new toy; this year, he's looking like the next addition to a long line of Cleveland Browns busts.
This afternoon's game against the Buffalo Bills will be a big test for Mayfield. Odell Beckham, Jr. has publically backed him. Head coach Freddie Kitchens thinks he's tough enough to battle through this difficult stretch. The young quarterback clearly has the talent; today, he has to step up and play like an NFL starter.