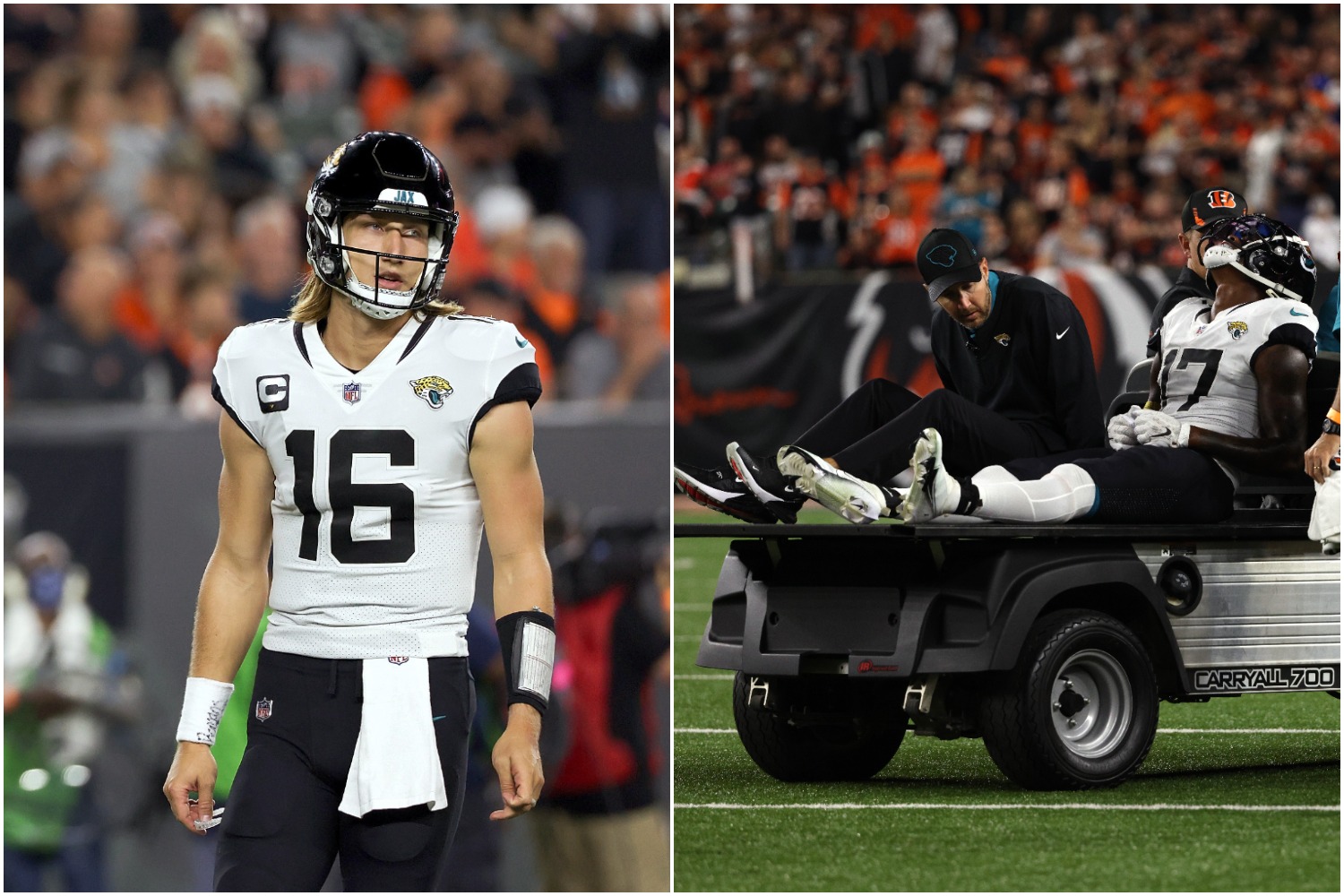 Jaguars Suffer Brutal Injury Blow That Has Costly Consequences for Trevor Lawrence and His Most Talented Weapon
The Jaguars suffered a brutal injury blow against the Bengals that has costly consequences for both Trevor Lawrence and his top weapon.
Trevor Lawrence won't live up to the hype if he doesn't have adequate talent around him. And based on his team's 0-4 record, the Jacksonville Jaguars obviously have a lot of work to do before they can call themselves a playoff-caliber team. 
Unfortunately for Lawrence, he will have to find a way to win without one of his top weapons. 
Worst of all? 
DJ Chark's brutal setback carries costly consequences on multiple levels. 
Trevor Lawrence won't have one of his best receivers available moving forward
The Jaguars didn't just lose a football game Thursday. They also lost one of their most talented players to a gruesome-looking injury. 
It didn't take long to happen, either. 
On the third play of the game, fourth-year wideout DJ Chark got rolled up on and immediately went down in obvious pain. He got carted off the field, and after initially being listed as questionable to return, he quickly got ruled out for the remainder of the game.
And it will be quite some time before the explosive wideout catches another pass. 
According to a tweet from Ian Rapoport, Chark suffered a fractured ankle that will sideline him indefinitely. The NFL Network reporter provided more information about the receiver's recovery timeline during a Friday morning appearance on Good Morning Football.
"He is expected to be now out for the season," Rapoport said. "My understanding is surgery is the most likely option for Chark. That should happen sooner rather than later, then out indefinitely."
The injury has massive ramifications not only for Lawrence and the offense, but also for Chark's bank account. 
DJ Chark's injury has costly consequences on several levels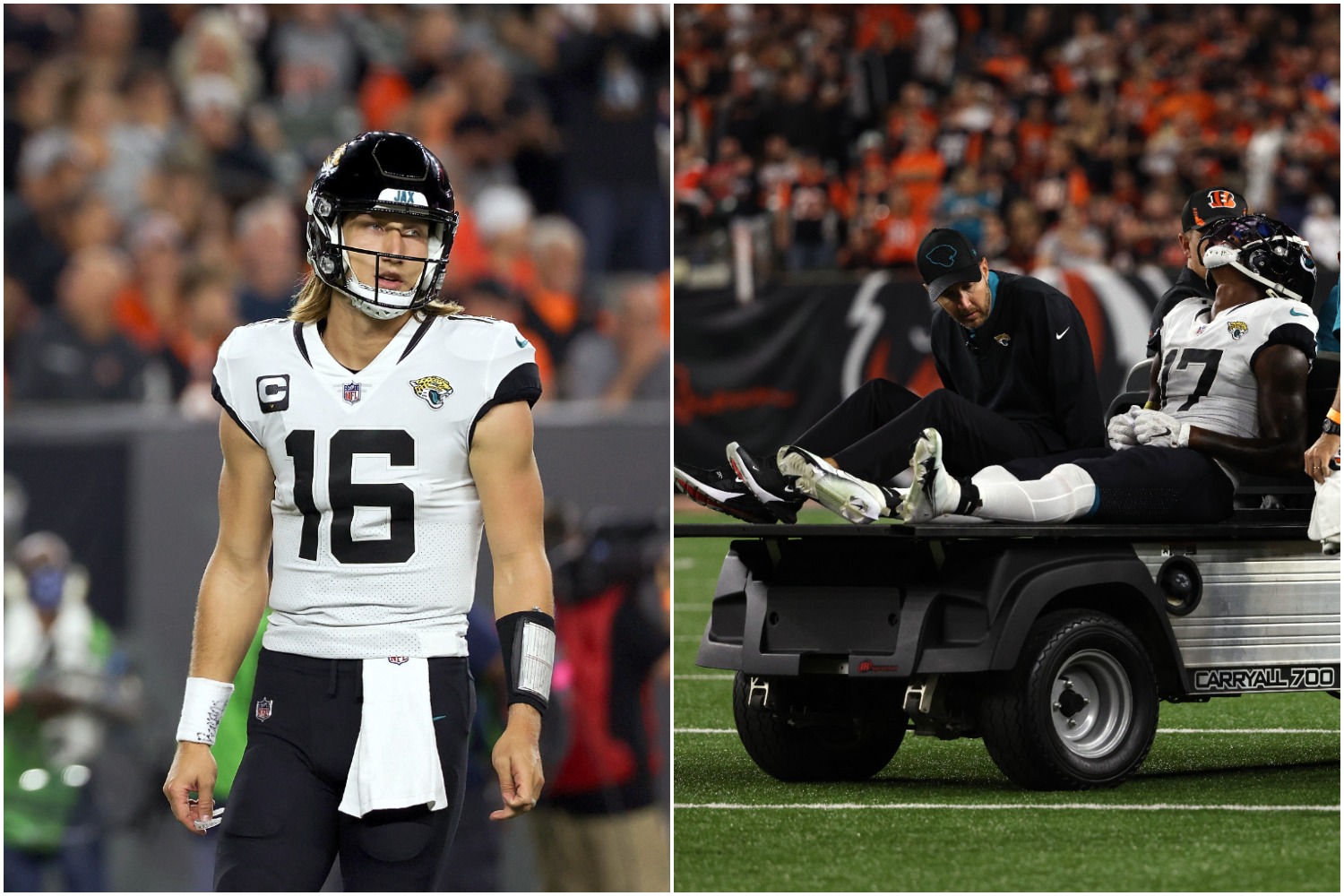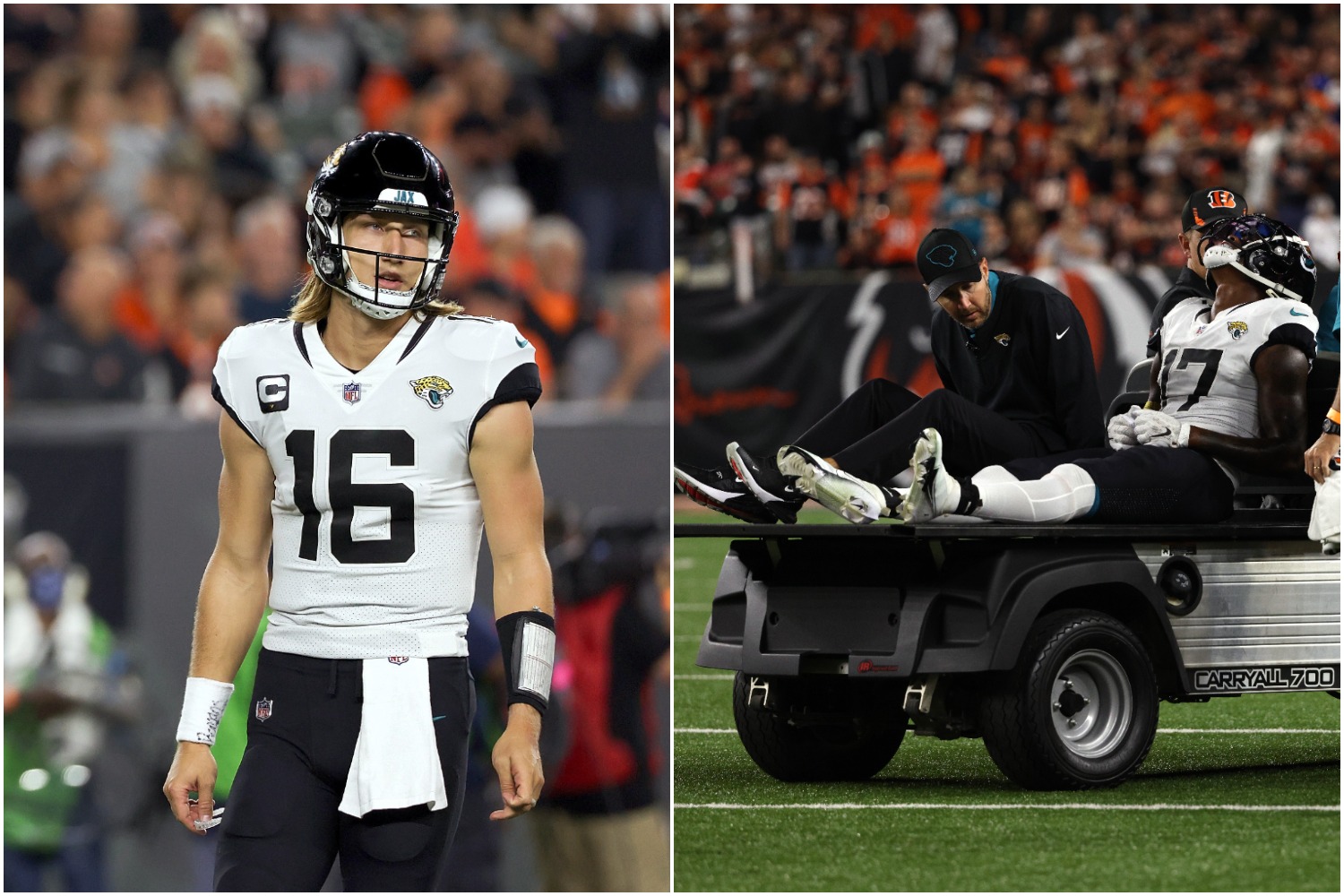 For the Jaguars, losing Chark for an indefinite period of time adds another challenge to Lawrence's plate. The first-year quarterback already has to deal with the pressure of being the guy in Jacksonville, and he faces an uphill battle to figure out how to win without an elite supporting cast. With Chark sidelined, Lawrence will have to rely upon other receivers who don't have nearly the same upside. 
Plus, if opposing secondaries don't have to worry about stopping the 6-foot-4, 198-pound wideout, it will be interesting to see if defensive coordinators turn up the heat and try to force Lawrence into making bad decisions. Considering he threw seven interceptions in his first three NFL games, it wouldn't be a surprise if turnovers become an issue as a result of more pressure.
Unfortunately for Chark, his setback couldn't have come at a worse time. He will become a free agent after the season, so he needed to put together a solid wall-to-wall effort to prove he deserves a lucrative long-term deal. But after posting a disappointing final stat line of 53 catches for 706 yards and five touchdowns in 13 games a year ago, will teams get scared off about paying Chark big money? 
Considering he's basically been a one-year wonder (he broke out with 73/1,008/7 in 2019), it wouldn't be a surprise if his value takes a sizable dip as a result of his ankle injury. Once viewed as an up-and-coming star, the 2018 second-round pick doesn't have that same appeal anymore. 
Ultimately, his durability concerns (he's never played all 16 games) and inconsistent production could force Chark to settle for a one-year, prove-it deal. Needless to say, his chances of securing an extension with significant guaranteed money went down significantly once he fractured his ankle in the Jaguars' latest loss. 
What does the future hold for the Jaguars on offense?
Expect Jacksonville to pile up more losses as the season progresses. This team lacks high-end talent on both sides of the ball, and Chark's injury will only make it more difficult for Lawrence to live up to expectations as a rookie.
At this point, the Jaguars need to start planning for 2022. They need to continue to overhaul a roster that simply isn't good enough to compete for a playoff spot, let alone a Super Bowl title. In particular, the offense needs some serious work.
Marvin Jones is a rock-solid veteran, but he's by no means an elite receiver. Laviska Shenault Jr. also profiles as more of a complementary piece. And with Chark potentially leaving in free agency, Jacksonville looks bound to pick a receiver early in the 2022 NFL Draft. After all, Lawrence could use a true No. 1 wideout who he can depend on in crunch time and key situations.
Plus, the Jaguars have to improve at tight end and along the offensive line. Both position groups are razor-thin, so building quality depth will be vital to their young quarterback's success.
Lawrence certainly has the tools to become a superstar. But until the front office does its job and builds a complete team around him, he better get used to losing.
That's the unfortunate reality of joining the worst-run franchise in the NFL.
All statistics courtesy of Pro Football Reference.