Jalen Hurts Contract Extension: A.J. Brown Slaps the Eagles With a Treacherous Ultimatum
The Philadelphia Eagles are about to enter a crucial offseason for the future of the franchise. Not only do they have 19 free agents set to hit the open market, but they also have to decide whether or not to sign star quarterback Jalen Hurts to a long-term contract extension.
Based on his MVP runner-up season and his brilliant performance in Super Bowl 57, there doesn't seem to be much of a decision at all. At least, that's what wide receiver A.J. Brown believes.
This week, Brown sent the Eagles a stern message by giving general manager Howie Roseman an ultimatum if Hurts isn't signed this offseason.
Jalen Hurts contract extension: A.J. Brown slaps the Eagles with an ultimatum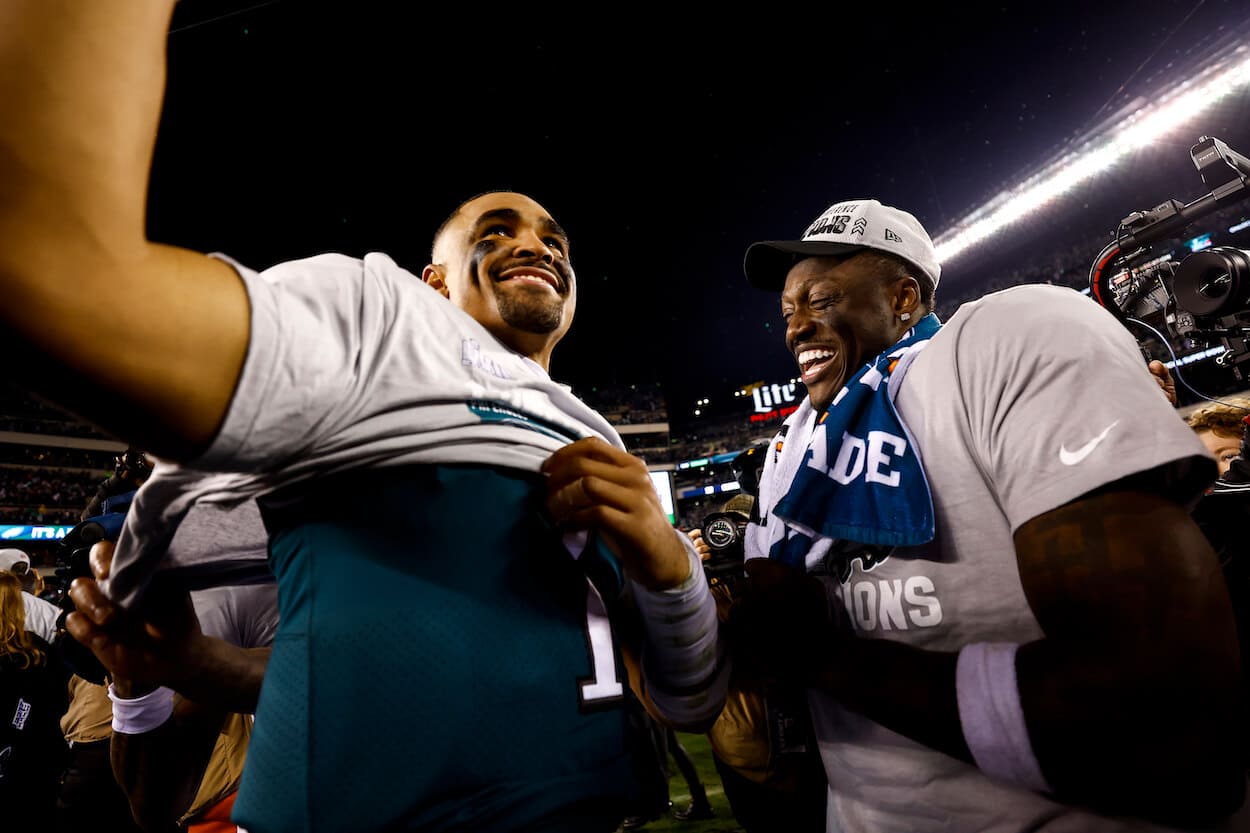 Jalen Hurts is eligible to sign a contract extension this offseason, and after watching him nearly win the MVP award and the Super Bowl in just his second year as the starter, Eagles fans are begging the front office to pull the trigger on a deal as soon as possible.
Brown, who just enjoyed the best season of his young career with Hurts under center, is also in that camp. The Pro Bowl WR doesn't want to catch passes from anyone else for the remainder of his four-year deal, so he gave the Eagles an ultimatum if they don't sign Hurts to a contract extension this summer.
"Listen, I love Philly," Brown said in a recent appearance on the Raw Room podcast with Jalen Collins and Daren Bates. "You do not pay this man (Hurts), just ship me off wherever he's fixing to go. I'm telling you. Listen, so you talk about pressure — Howie (Roseman), get it done."
You heard the man, Howie.
Jalen Hurts' contract extension could be worth $50 million per year
The quarterback market in the NFL has exploded in recent years. It started with the Kansas City Chiefs giving Patrick Mahomes $450 million over 10 years, and now second-tier QBs such as Kyler Murray are getting nearly $50 million per year.
According to Dan Graziano of ESPN, Hurts' price tag has likely risen to "$50 million a year or more." That number could inflate even more if Joe Burrow, Justin Herbert, and Lamar Jackson all sign lucrative contract extensions this offseason. That's why the Eagles must act fast to sign Hurts before the market spirals out of control.
Roseman knows this better than anyone. The longtime GM signed Carson Wentz to a contract extension as soon as he could, and although that didn't exactly work out, it was still the right move at the time. Hurts has become a borderline top-five quarterback in the NFL, and the 24-year-old is only going to keep improving in the coming years.
A.J. Brown, DeVonta Smith, and Dallas Goedert are going to be around for at least the next few seasons, and it's time to officially make Hurts the franchise quarterback.