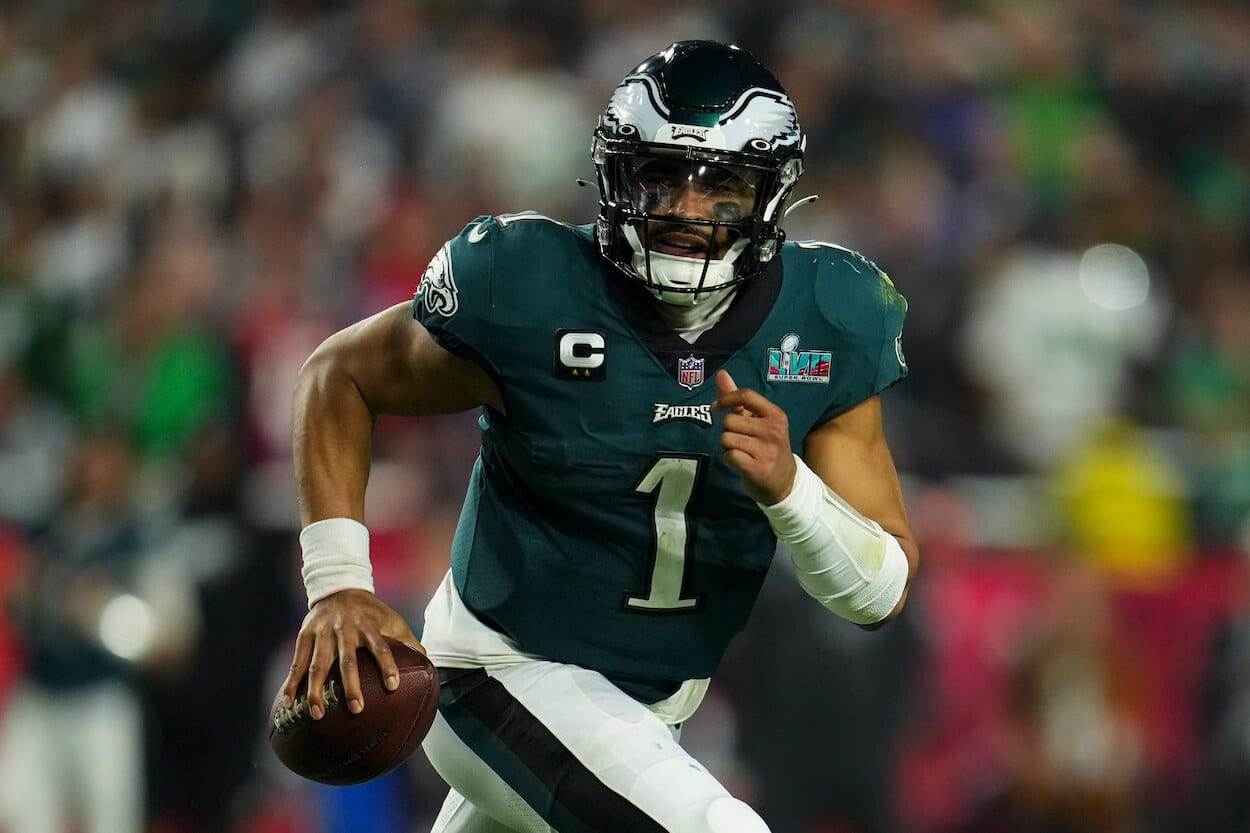 Jalen Hurts Contract Extension: The Eagles Just Shortened Their Super Bowl Window With a $255 Million Move They Needed to Make
Jalen Hurts is now the highest-paid player in NFL history (for now), but that's not all good news for the Eagles.
Jalen Hurts is now the highest-paid player in NFL history. Yes, you read that right.
On Monday morning, the Philadelphia Eagles signed Hurts to a five-year contract extension worth $255 million. The deal includes a $23.3 million signing bonus, nearly $180 million in total guarantees, and the first no-trade clause in Eagles history.
Philadelphia had no choice but to get this deal done as soon as possible, and it will set the team up to contend for another Super Bowl in the short term. But in a few years, when Hurts starts to eat up a large chunk of the Eagles' cap space, it will be much harder for general manager Howie Roseman to build a roster as deep and as talented as the 2022 squad.
Eagles make Jalen Hurts the highest-paid player in NFL history with $255 million contract extension
The city of Philadelphia is buzzing on this fine morning, and there's a good reason why.
On Monday, the Eagles and quarterback Jalen Hurts agreed to terms on a five-year contract extension worth $255 million, as first reported by Ian Rapoport and Tom Pelissero of NFL.com. The $51 million in average annual salary is the richest mark in NFL history.
According to NFL.com, Hurts' historic contract extension includes $179.304 million in guaranteed money, including $110 million fully guaranteed at signing and $126.5 million fully guaranteed by March 2024. The QB can also earn an extra $15 million in incentives, giving him an opportunity to make as much as $274.304 in total.
To double down on their faith in Hurts as a franchise quarterback, the Eagles also gave him the first no-trade clause in team history. Hurts is now under contract with the Eagles through 2028, but Philly's Super Bowl window might be shorter than that.
The Eagles shortened their Super Bowl window with a move they needed to make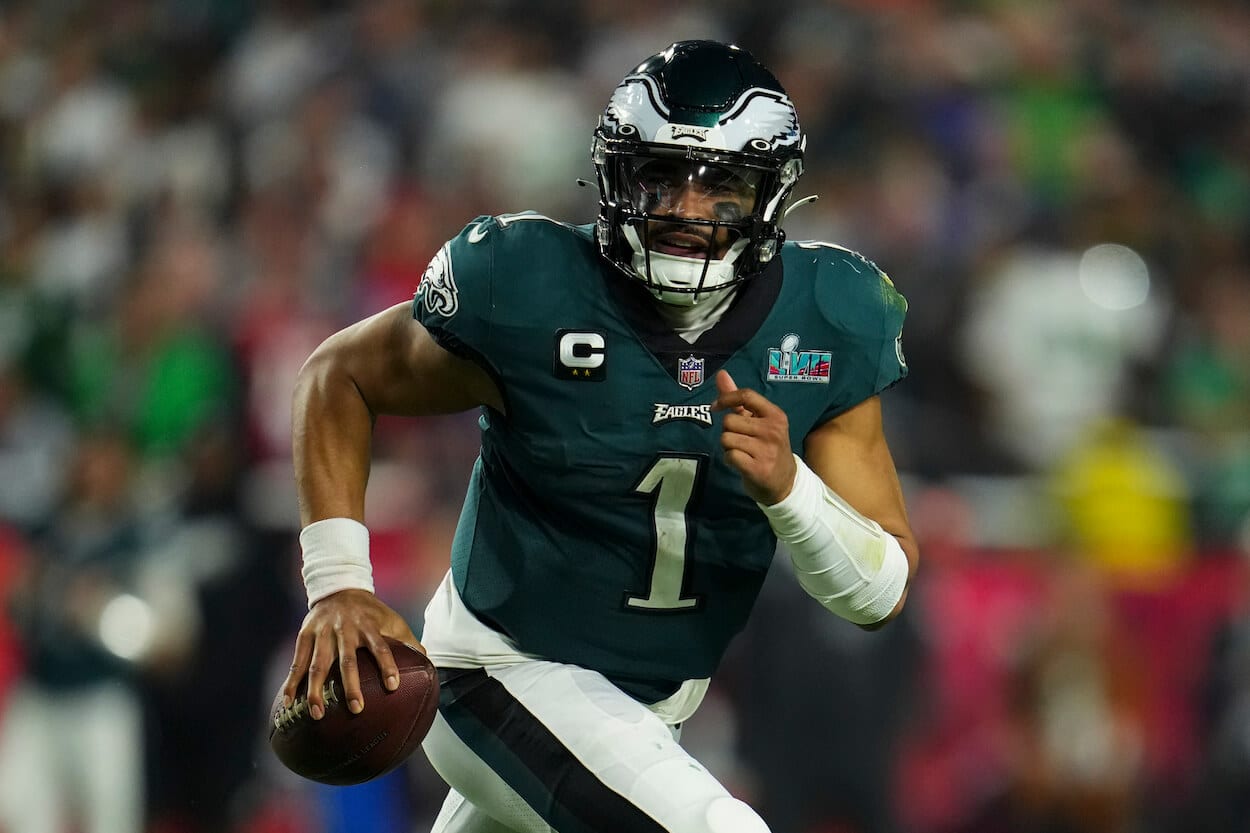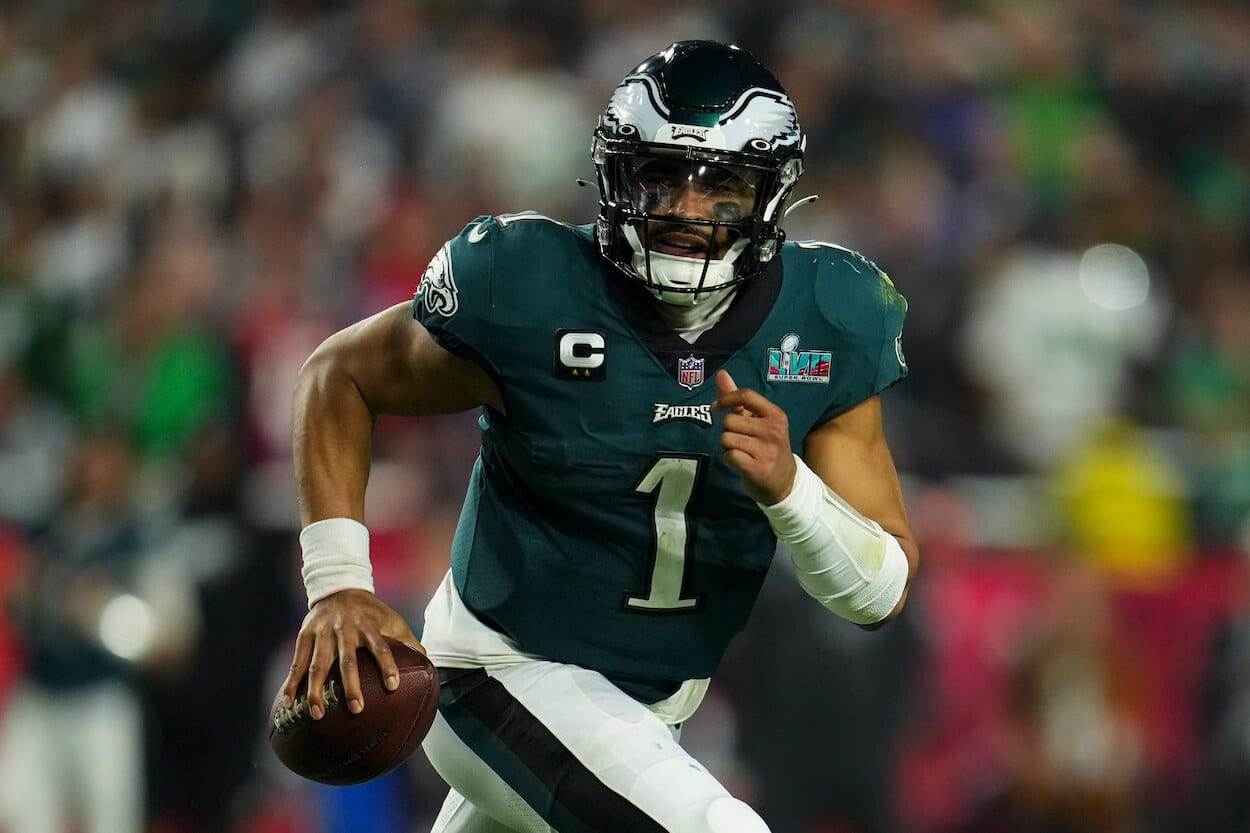 For starters, the Eagles needed to get this deal done as quickly as they did. Elite franchise quarterbacks are becoming a rare commodity in the NFL, and Hurts proved he deserves to be on that list when he totaled 374 yards and four touchdowns in Super Bowl 57. Additionally, quarterbacks such as Lamar Jackson, Joe Burrow, and Justin Herbert are also due for contract extensions this offseason. Locking Hurts into a contract first to set the market likely saved the Eagles a few million per year.
But that loaded roster Philadelphia built last season? That becomes impossible to replicate once Hurts' extension kicks in. The star QB currently carries a cap hit of just $4.8 million, which allowed Howie Roseman to throw money at A.J. Brown, James Bradberry, and Haason Reddick — three crucial pieces to Philly's recent Super Bowl run.
Those luxuries won't be available once Hurts' cap hit reaches $50 million. And yes, the cap will continue to rise year after year, but building a Super Bowl roster becomes much more difficult once teams pay their quarterbacks. That's why the New England Patriots' two-decade-long run of success was so unprecedented, and Tom Brady helped the cause by signing team-friendly deals that never surpassed $23 million in annual earnings.
The Eagles still have a Super Bowl-caliber roster, but it won't be at the peak of its powers for long.