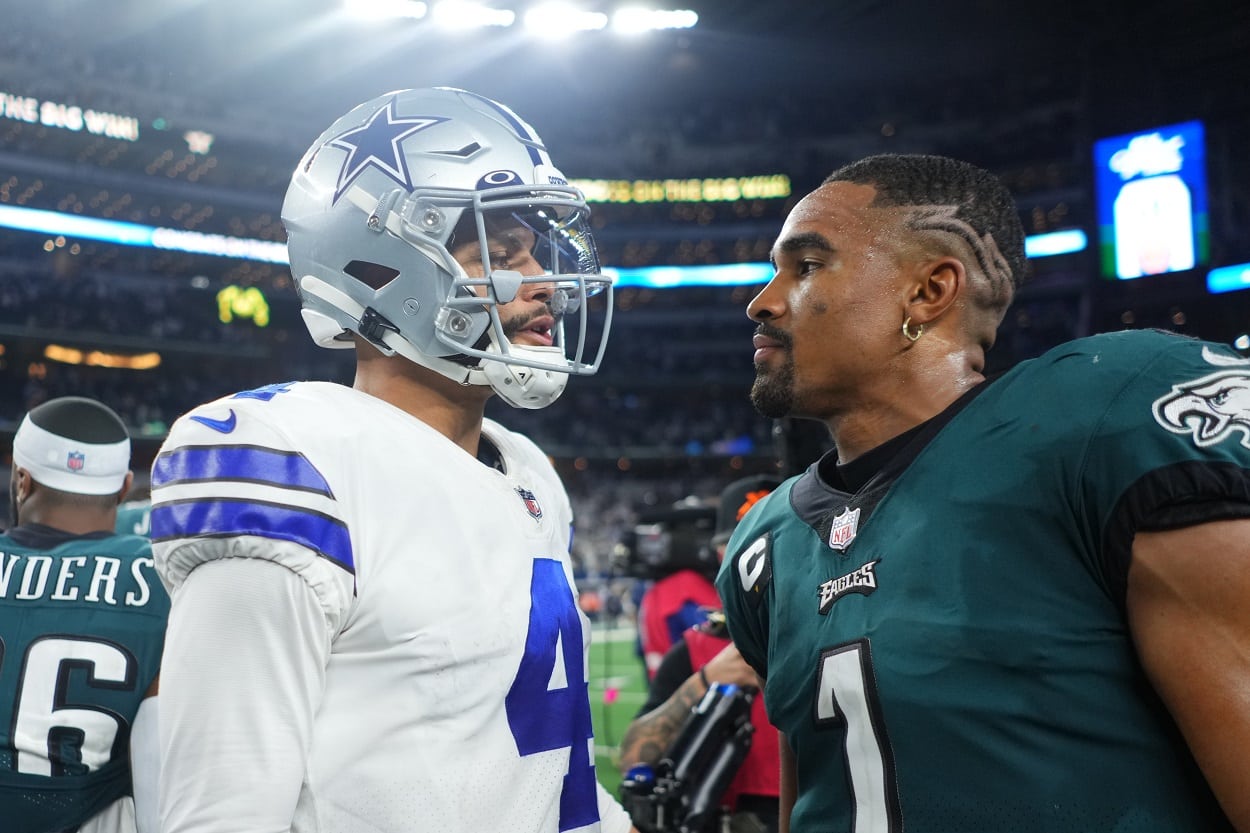 Jalen Hurts' MVP-Caliber Season Makes Dak Prescott's $160 Million Deal Look Even Worse for the Cowboys
While Jalen Hurts has looked like the best player in the NFL during the 2022 season, Dak Prescott hasn't played up to the standard that helped him land a $160 million contract extension.
​​While Jalen Hurts has often looked like the best player in the NFL during the 2022 season, Dak Prescott hasn't played up to the standard that helped him land a $160 million contract extension. And despite having already clinched a playoff berth, the Dallas Cowboys could suffer a premature postseason exit if their highly paid signal-caller's penchant for turning the ball over rears its ugly head in January.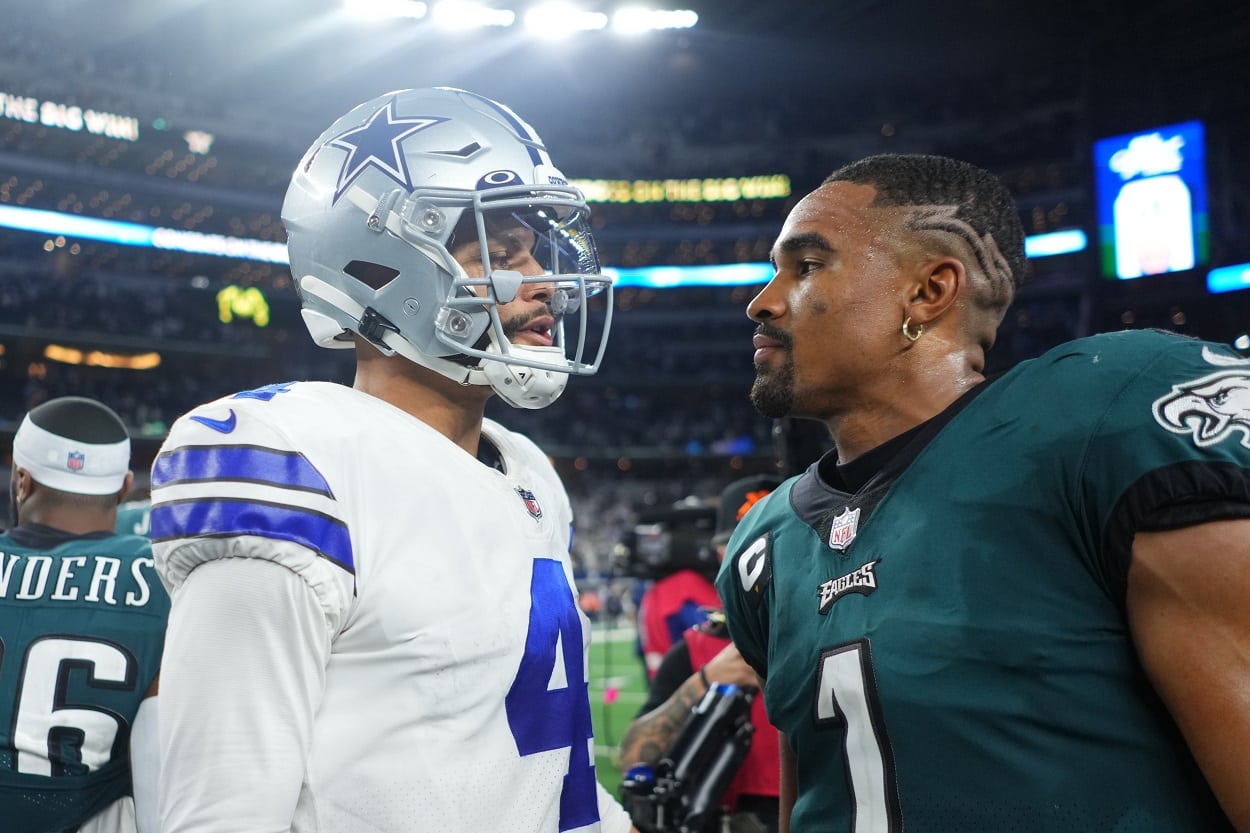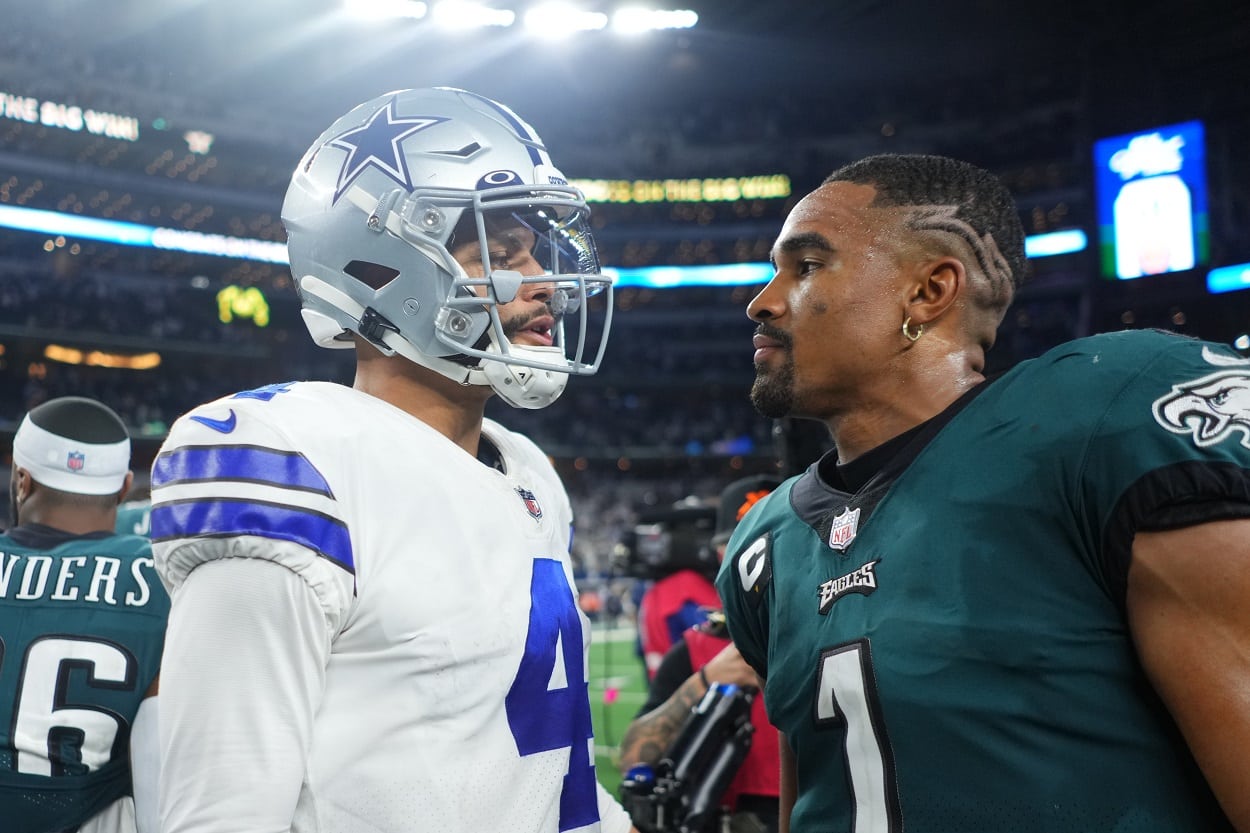 On the other hand, the Philadelphia Eagles look primed to represent the NFC in Super Bowl 57 thanks to having a dual-threat star who also happens to be one of the biggest bargains in football. In fact, when you compare Hurts' MVP-worthy campaign to Prescott's lackluster one, it's obvious Jerry Jones hasn't gotten anything close to a worthy return on his franchise-altering investment.
Jalen Hurts has provided MVP-level play at a fraction of the cost for the Eagles
Jalen Hurts entered the season with a 9-10 career record and little certainty about his future in Philadelphia. 
But as December draws to a close, it's clear the league's biggest breakout star belongs in an Eagles uniform for years to come. 
Hurts' second season as the team's full-time starter has been a resounding success. With a stellar 22:5 touchdown-to-interception ratio, a career-high 67.3% completion rate, and 747 yards and 13 touchdowns as a runner, the third-year pro has put himself in the mix to win MVP honors as the face of a 13-1 Eagles team that looks destined for a deep playoff run. 
Best of all?
Thanks to being a second-round pick, Hurts' production has come at a discount rate. Philadelphia general manager Howie Roseman has been able to fortify a talented roster with veterans like Robert Quinn and Ndamukong Suh due largely to the financial flexibility from his franchise quarterback. 
Hurts' cap hit of $1.643 million puts him in long-snapper territory, a reality that certainly helped the Eagles fit A.J. Brown's four-year, $100 million contract extension into their budget.  
On the other hand, Philadelphia's division rival spends top dollar on the position–without anything close to MVP-level results.
Dak Prescott's $160 million deal looks like a potential miscalculation by the Cowboys
Although the Cowboys enter Week 16 with a rock-solid 10-4 record, there's no doubt they need a strong finish to the regular season to fully convince everyone that they're legitimate Super Bowl contenders. 
After all, how can you have complete confidence in a team that's turned the ball over eight times in its last four games, barely edged out the lowly Houston Texans, and lost to the Jacksonville Jaguars in overtime on a pick-six?
Dak Prescott's 11th interception brought a disappointing end to his ninth start of the season. Coming off a fantastic campaign that included career-highs in completion percentage (68.8) and passing touchdowns (37), the two-time Pro Bowler has averaged just 233.7 passing yards per game–a mark that would be his lowest since 2017. 
Plus, unlike early in his career, Prescott has not made a significant impact with his legs. After averaging a career-low 3.0 yards per carry in 2021, he's averaged 3.8 yards on 30 carries. And after scoring six rushing touchdowns in his first three NFL seasons, Prescott has followed up a one-TD season by plunging across the goal line just once. 
Considering the Cowboys made him one of the highest-paid players at his position, the fact Prescott has taken a step back in year two of his $160 million extension should at least raise a few eyebrows. 
And in some circles, the star signal-caller's less-than-stellar season could cause more serious concern. 
The Cowboys are going to feel the financial impact of Prescott's deal next season when his cap hit more than doubles from $19.73 million to a whopping $49.13 million. 
Will he justify that figure? 
That remains to be seen based on his up-and-down play this season. And with many of his prominent (and highest-paid) teammates on the back end of their careers (Tyron Smith, Ezekiel Elliott, Zack Martin, and DeMarcus Lawrence), it's fair to wonder whether Prescott will have the supporting pieces to compete with Hurts and the Eagles for the NFC East crown in 2023.
Hurts should soon go from the NFL's biggest bargain to one of the league's highest-paid players
If the Eagles go on to win their first Super Bowl title since 2017, they'll be the latest example of a team that's benefitted from having a high-level quarterback on a rookie contract. 
However, even if Hurts doesn't surpass Patrick Mahomes' deal, he will join the Kansas City Chiefs star in securing a well-earned extension from the team that drafted him. 
At this point, the question is: Just how much does Jalen Hurts believe he's worth?
Given his unconventional build and playing style, it's difficult to compare him to Mahomes or Josh Allen, who both have bigger frames and stronger arms. From a stylistic standpoint, Lamar Jackson is the closest comp to Hurts, but the Baltimore Ravens star has yet to sign an extension. 
Ultimately, though, the Eagles will have to pay up to keep one of the league's most exciting players in Philadelphia for the foreseeable future. 
And if he follows in Nick Foles' footsteps, Jalen Hurts will be able to name whatever price he wants.