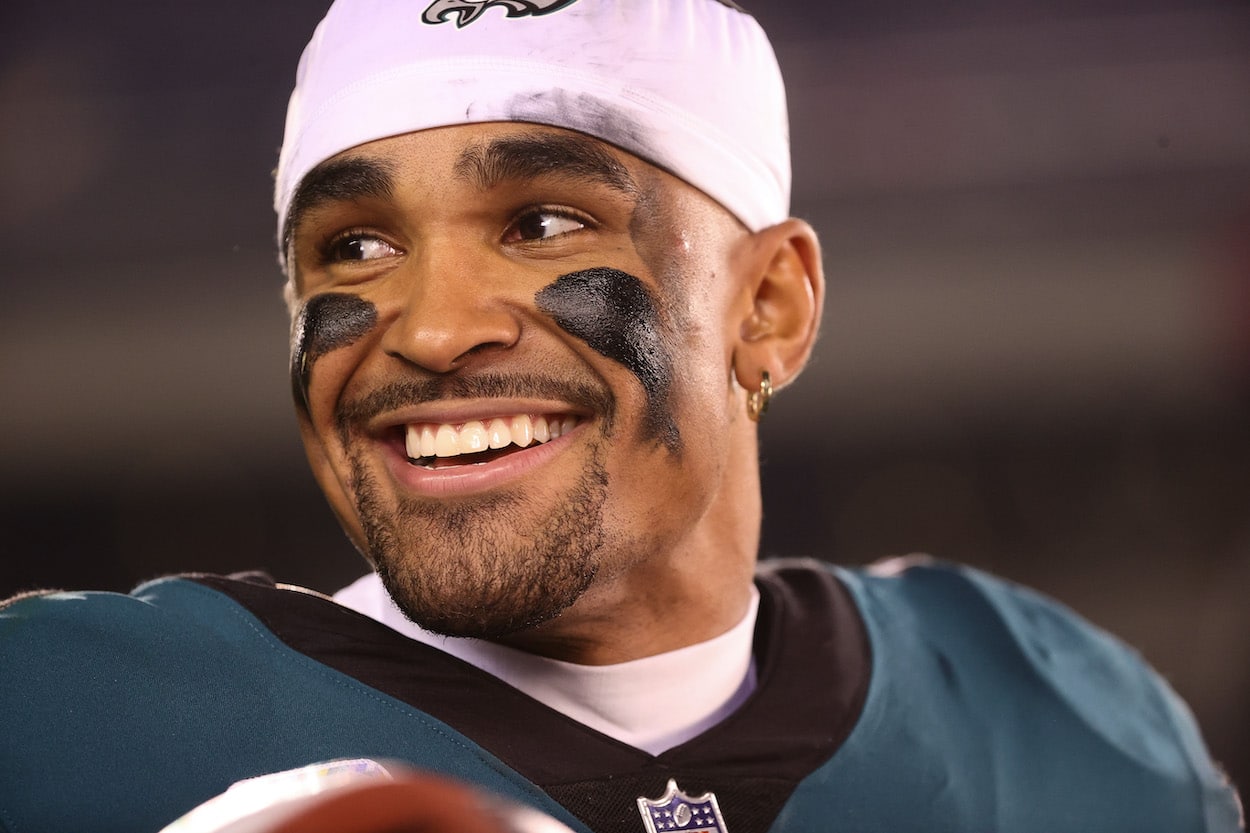 Jalen Hurts Just Became Public Enemy No. 1 in the City of Philadelphia
Jalen Hurts may have lost some support from the Philly faithful.
Philadelphia fans couldn't love Jalen Hurts more right now.
The star quarterback has their beloved Philadelphia Eagles on top of the NFL standings at 6-0, he's a top-three contender to win the MVP award, and he embodies every trait Philly fans always admire in their athletes. But for the next week or so, Hurts will be public enemy No. 1 in the city of Philadelphia because of his allegiance to the Houston Astros.
Jalen Hurts is a lifelong Houston Astros fan
Hurts has been able to call Philadelphia home for more than two years now, but he hasn't been as eager as Eagles head coach Nick Sirianni to adopt the Philly fandom.
During a press conference before his first career start against the New Orleans Saints two years ago, Hurts showed up wearing an Astros hat and sweatshirt. The QB grew up in Houston, Texas, so he's been an Astros fan his entire life.
"I got my Phillies stuff now. I got my Phillies jacket, I got my Sixers jacket, my hats, so I'm a little diverse. I can't forget where I come from, though," Hurts told reporters in 2020.
Hurts was also a Texans fan growing up because they were his hometown team, and his godfather also worked for the team.
"I did support the Texans," Hurts told reporters last year. "Obviously, my godfather was working there, and always being around the complex and that being my city and where I'm from, I supported the Texans. We always used to cook food on Sundays and watch the Texans play."
There's nothing wrong with a professional athlete supporting his hometown team despite playing for a new one, but Hurts' allegiance to Houston might cause a few problems over the next week or so.
Jalen Hurts just became public enemy No. 1 in Philly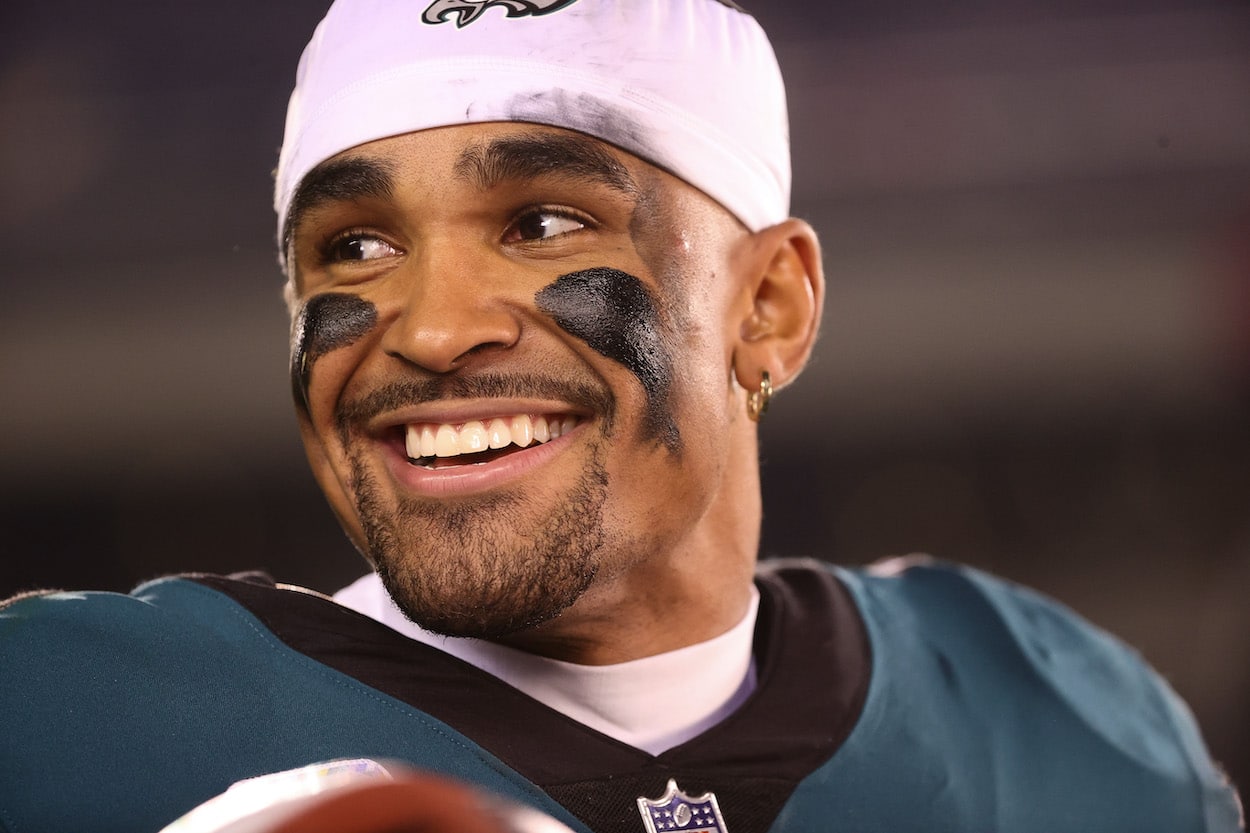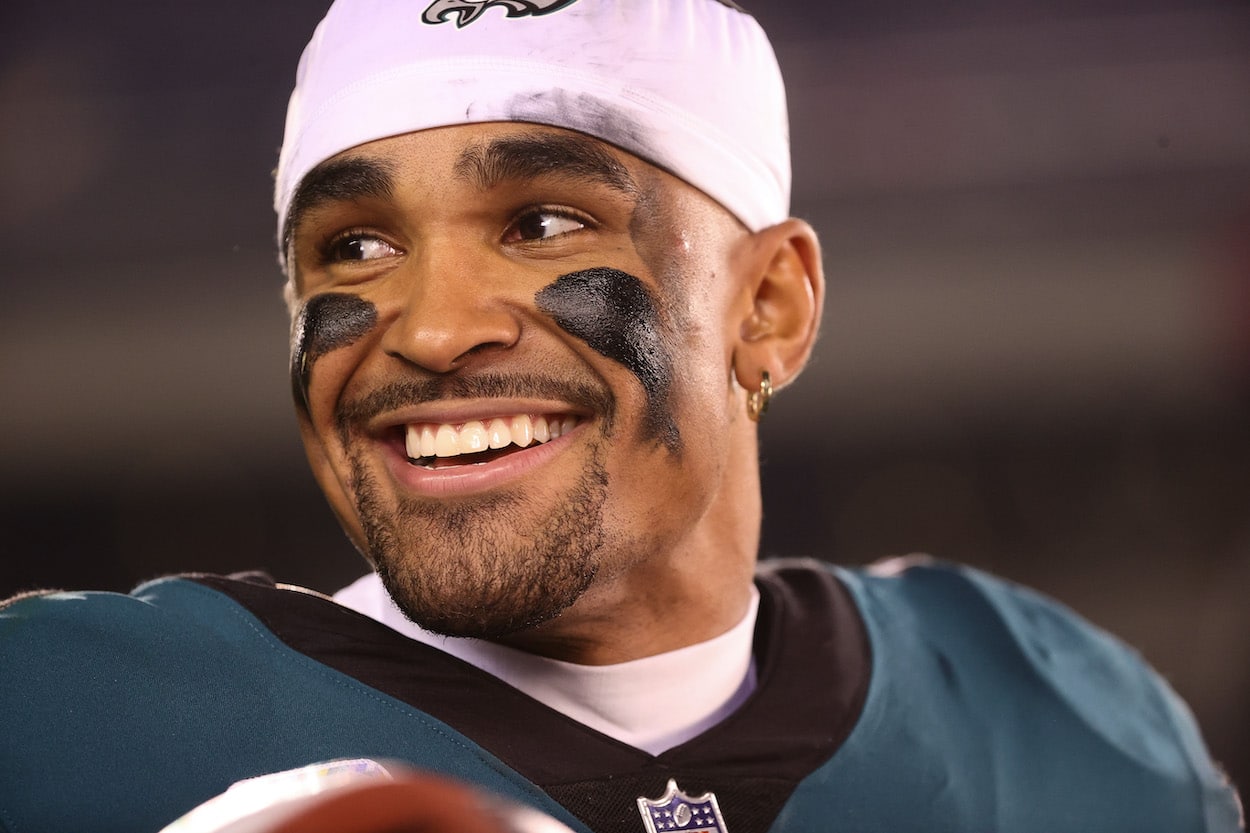 Hurts hasn't been shy to rep his Astros while playing for the Eagles, but that may cause a divide between him and the Philly faithful this week. The Phillies are set to begin the World Series against none other than the Astros this Friday night. We know which team Hurts will be pulling for in that matchup.
Coincidentally, the Eagles are also scheduled to play the Texans on Thursday Night Football next week. That game will be in Houston, and Game 6 of the World Series would be right down the street the following night.
It's possible Hurts shows up at Minute Maid Park next weekend decked out in Astros gear and rooting against the very fans who've come to love him as their quarterback. If we get that visual during the television broadcast, all hell might break loose in the streets of downtown Philly.
Have thoughts on this topic? Keep the conversation rolling in our comments section below.