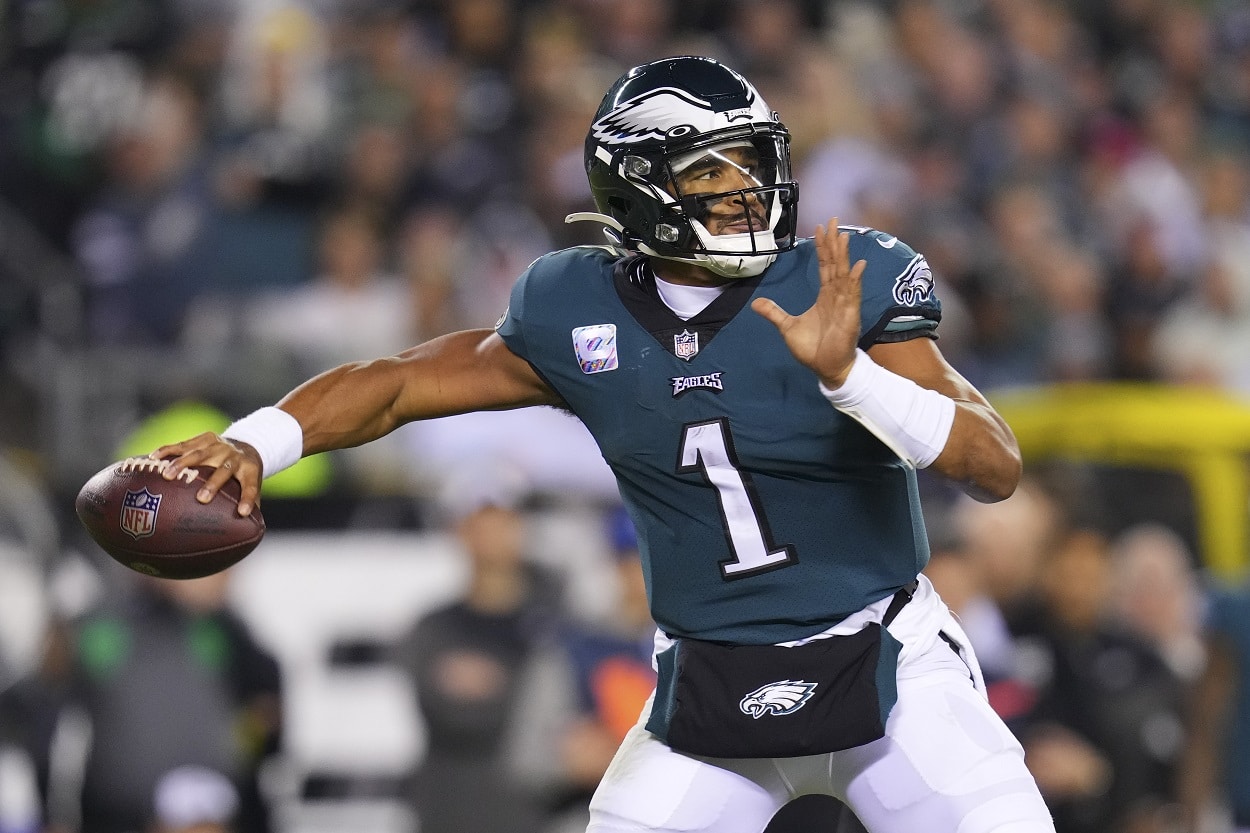 Jalen Hurts' Shaky 2021 Put the Eagles in Prime Position to Go Undefeated in 2022
Jalen Hurts' 2021 season could have been a blessing in disguise for the Philadelphia Eagles.
Despite leading his team to the playoffs, Jalen Hurts' second NFL season still left valid concerns about his future. After all, the Philadelphia Eagles only finished one game above .500 before they got trounced by the Tampa Bay Buccaneers in the Wild Card Round.
And with Hurts not exactly cementing his case as the guy to lead Nick Sirianni's squad, the Eagles could have easily pursued a big-name quarterback to replace their incumbent starter. 
However, sticking by the 2020 second-round pick clearly looks like a wise decision by general manager Howie Roseman. Hurts has undeniably been one of the best players at his position through six games, a testament to both his hard work and good coaching. 
Of course, with the third-year pro making a substantial leap, the Eagles have taken a step forward as a whole. In fact, as the lone undefeated team in the league, they could make a run at 17-0. 
Ironically, though, the Eagles' hot start and pathway to potentially winning every regular-season game are tied not only to Hurts' success but also his struggles.
Jalen Hurts' ascension has been one of the major early storylines of the 2022 NFL season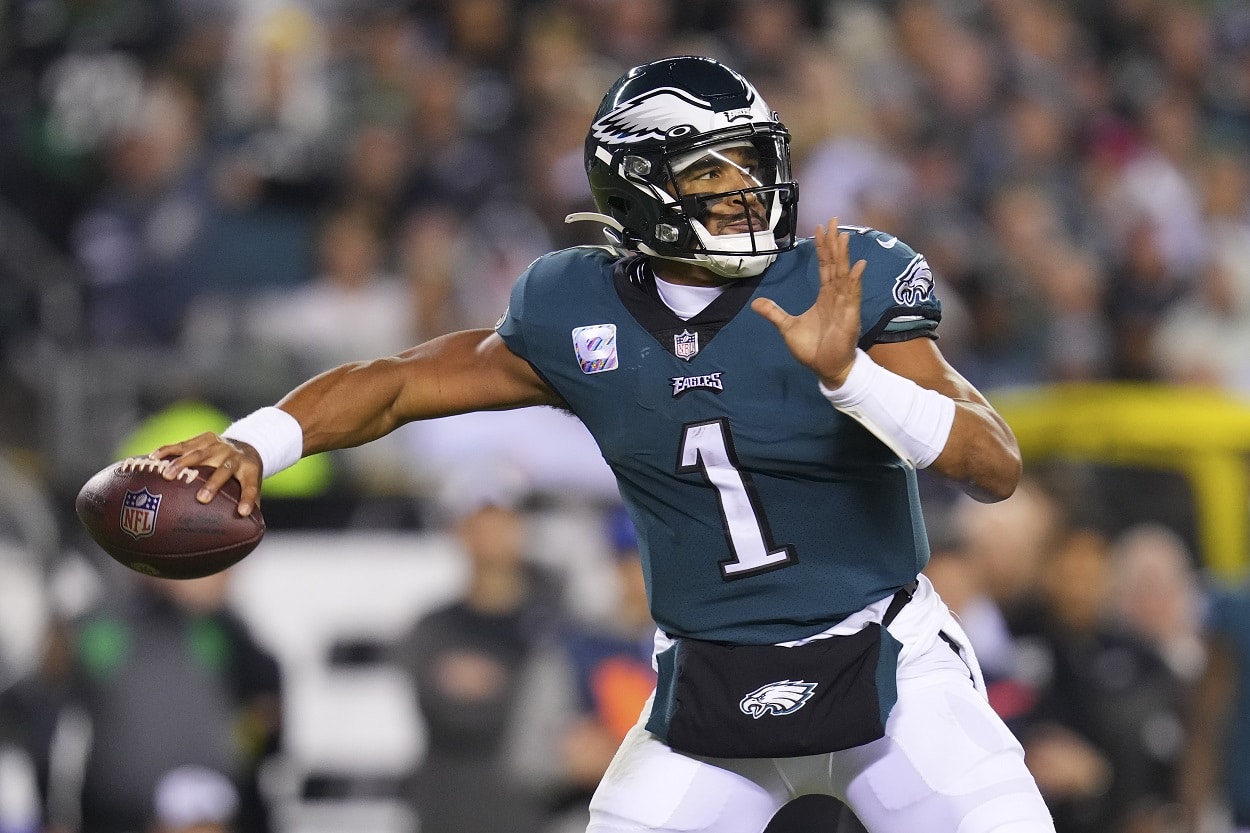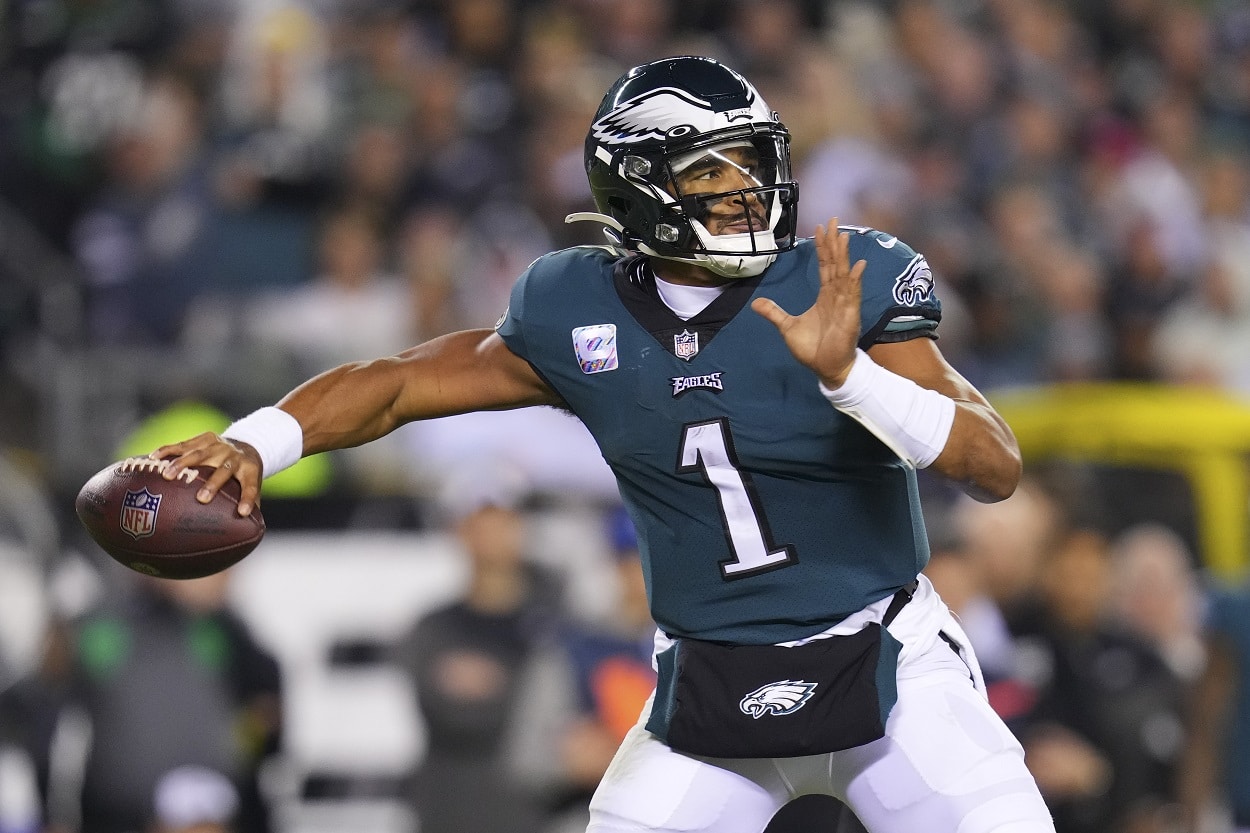 Six months ago, you would have been hard-pressed to find many people backing Jalen Hurts as the Eagles' unquestioned franchise quarterback. Then again, considering his up-and-down 2021 campaign, it made sense for Philadelphia to consider upgrading the position. 
Coming off a year in which he threw just 16 touchdowns and posted an 87.2 quarterback rating in 15 starts, Hurts is on pace to set personal bests across the board. Not only has he increased his completion percentage from 61.3 to 66.8, but he's averaged 252.3 passing yards and a career-high 8.2 yards per attempt while accumulating a 98.4 rating. 
Oh, the athletic signal-caller has also shined as a runner, racking up 293 yards and six touchdowns on the ground. Thanks to his diverse skill set, Hurts ranks fifth among 36 quarterbacks in Pro Football Focus' grading system. 
To be fair, he's certainly benefited from playing with a strong supporting cast that includes Pro Bowl receiver A.J. Brown, budding star DeVonta Smith, and talented tight end Dallas Goedert. Plus, Philadelphia boasts a strong offensive line anchored by longtime center Jason Kelce and perennial All-Pro right tackle Lane Johnson. 
Overall, there's no denying that Hurts is a better player than he was in 2021. At the same time, though, it's fair to say that less-than-stellar season made it much easier for the 2022 version of the Eagles to become a threat to go undefeated.
Hurts' rocky 2021 set the Eagles up to have a realistic shot at going 17-0 in 2022
Besides having an abundance of talent on both sides of the ball, one of the principal reasons the Eagles remain the only team without a loss on their record has to do with what happened a year ago. 
Because Hurts and Co. went 9-8 and experienced a first-round playoff defeat, that actually helped them for 2022 as the Eagles entered the season with the second-easiest strength of schedule.
Rather than having to play a first-place schedule, the franchise lucked out by getting a slate of winnable matchups against the lackluster AFC South, as well as an NFC North division that features two of the worst teams in football and a Green Bay Packers squad that's not close to elite. 
Ultimately, Hurts' inconsistency and inability to win close games (Philadelphia suffered four regular-season losses by six points or less) led to plenty of disappointment–and an easier path in 2022. 
Obviously, the Eagles have taken advantage of a favorable schedule by taking down the likes of the Detroit Lions, Washington Commanders, Jacksonville Jaguars, and a Dak Prescott-less Dallas Cowboys team that's experienced injury issues.
And as much as the odds may be stacked against them, it's not entirely out of the realm of possibilities for Sirianni and Hurts to go 17-0 in year two of their partnership.
Don't discount the idea of Philadelphia running the table
The last time the Eagles won at least 10 games, they hoisted the Lombardi Trophy. 
Wouldn't it be ironic if Philadelphia's first double-digit win campaign since 2017 includes not only another Super Bowl parade but a celebration of being the first team to go 17-0 during the regular season? 
Don't sleep on that happening just yet. 
After all, Hurts and Co. should be favored in a majority (if not all) of their matchups as the season goes along.
In Week 8, the Eagles host a Pittsburgh Steelers team that's clearly not playoff-caliber. Then, they have two easy matchups against the lowly Houston Texans and rudderless Commanders. 
Things get a little more challenging in Week 11 on the road against the Indianapolis Colts and Week 12 against the Packers, but the Tennessee Titans, New Orleans Saints, and Chicago Bears are all beatable opponents. 
The true test for the Eagles will come when they play the New York Giants, who've gotten off to a shockingly impressive start under first-year head coach Brian Daboll. 
Then again, maybe that shouldn't be such a surprise. 
After all, the one team with an easier strength of schedule than the undefeated Eagles? 
The 5-1 Giants.
Have thoughts on this topic? Keep the conversation rolling in our comments section below.