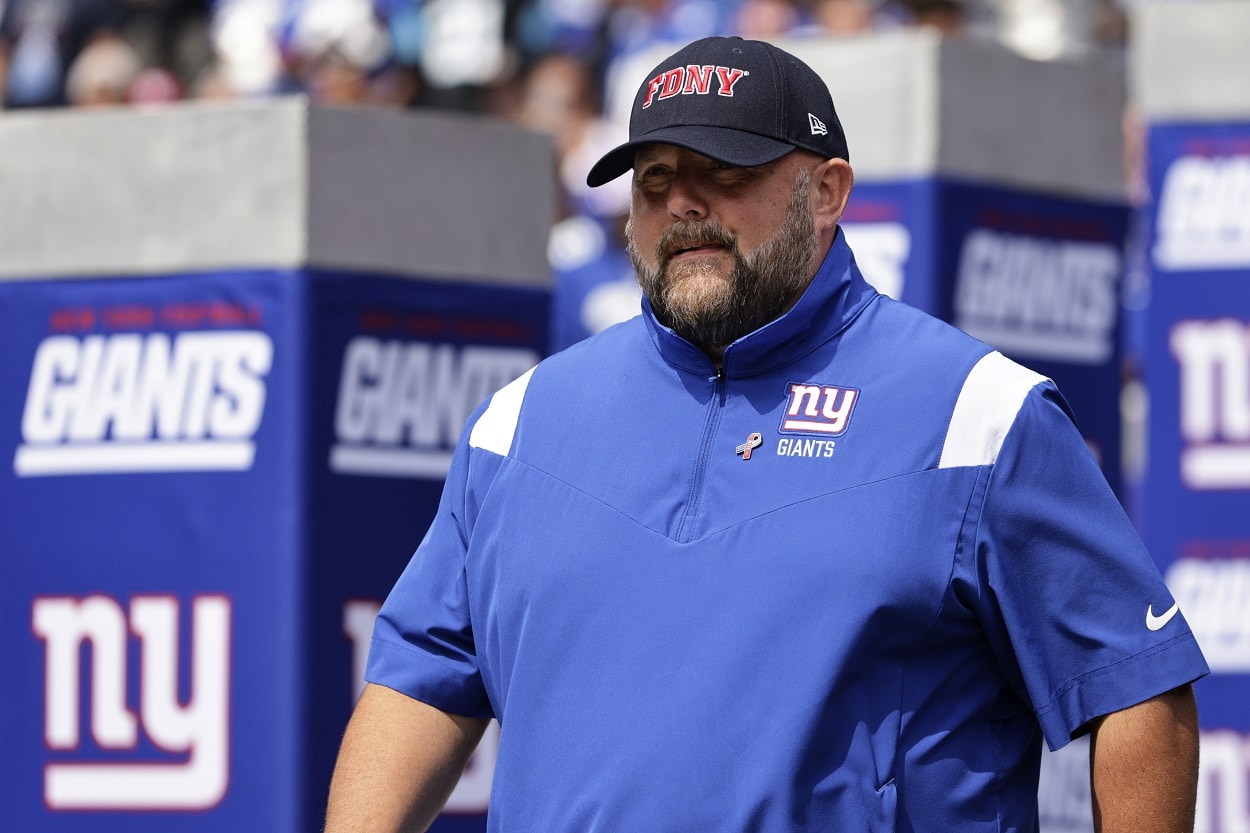 A Single Decision Has Transformed the New York Giants From a Fluttering Franchise to a Potential Contender
The Brian Daboll hire is already paying off for the New York Giants.
Since Eli Manning and Tom Coughlin took down Tom Brady and Bill Belichick for the second time, the New York Giants have made the playoffs just once. 
Think about that for a second. 
One of the most decorated teams in NFL history went from winning two Super Bowl titles in five years to missing the postseason in nine of the next 10 seasons. 
Of course, plenty of culpable parties deserve blame for the Giants' regression over the last decade. From overmatched head coaches (Ben McAdoo, Pat Shurmur, and Joe Judge) to erratic quarterback play from an over-the-hill Manning and a disappointing Daniel Jones to poor roster management by former general manager Dave Gettleman, there's no shortage of candidates who've contributed to the team's struggles. 
Luckily, though, after years of making poor hiring and personnel decisions, the Giants finally hit a home run. And while it's obviously too early to anoint Brian Daboll the next Bill Belichick, there's no doubt the first-year head coach deserves the lion's share of the credit for turning a perennial loser into a playoff contender in almost no time at all.
A surprisingly hot start has made the Giants relevant again
Coming off five straight losing seasons that gave fans little reason for optimism, the Giants have quickly thrust themselves back into the national spotlight by matching their win total from a year ago by mid-October. 
With four victories and just a single loss by a mere seven points, Brian Daboll's squad has made preseason predictions of another lackluster campaign look foolish. In fact, you'd be hard-pressed to find a team that's surpassed expectations as much as the Giants. 
While two of their wins came against the Carolina Panthers (who recently fired head coach Matt Rhule) and the Chicago Bears (who own the 27th-ranked scoring offense), the Giants raised eyebrows by defeating the Green Bay Packers at Lambeau Field.
On a day when Saquon Barkley looked like his collegiate self, Don Martindale's defense came up with back-to-back pass breakups to hold Aaron Rodgers and Co. out of the end zone. 
Just how monumental was that victory? 
The legendary Bill Parcells told NFL writer Gary Myers that Sunday's win was the Giants' best in five years.
The decision to hire Brian Daboll looks like the best move of the 2022 offseason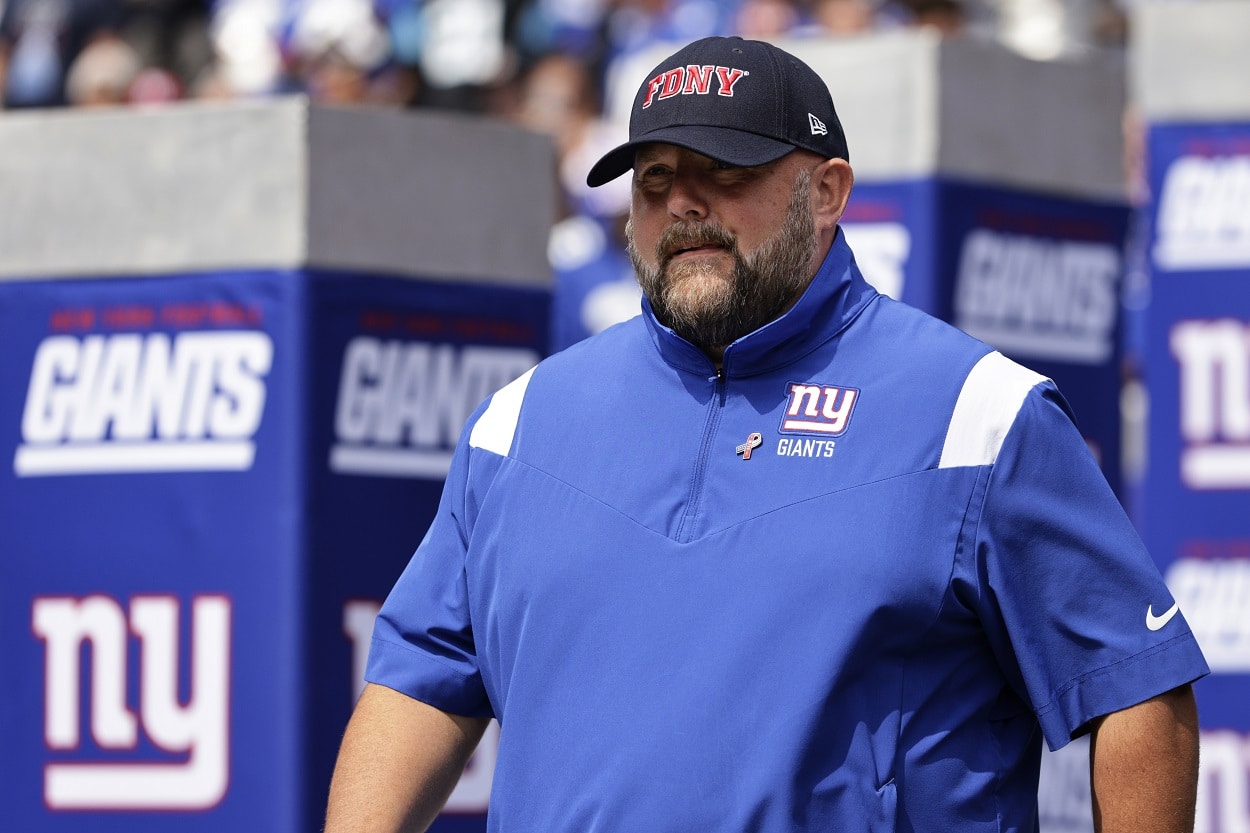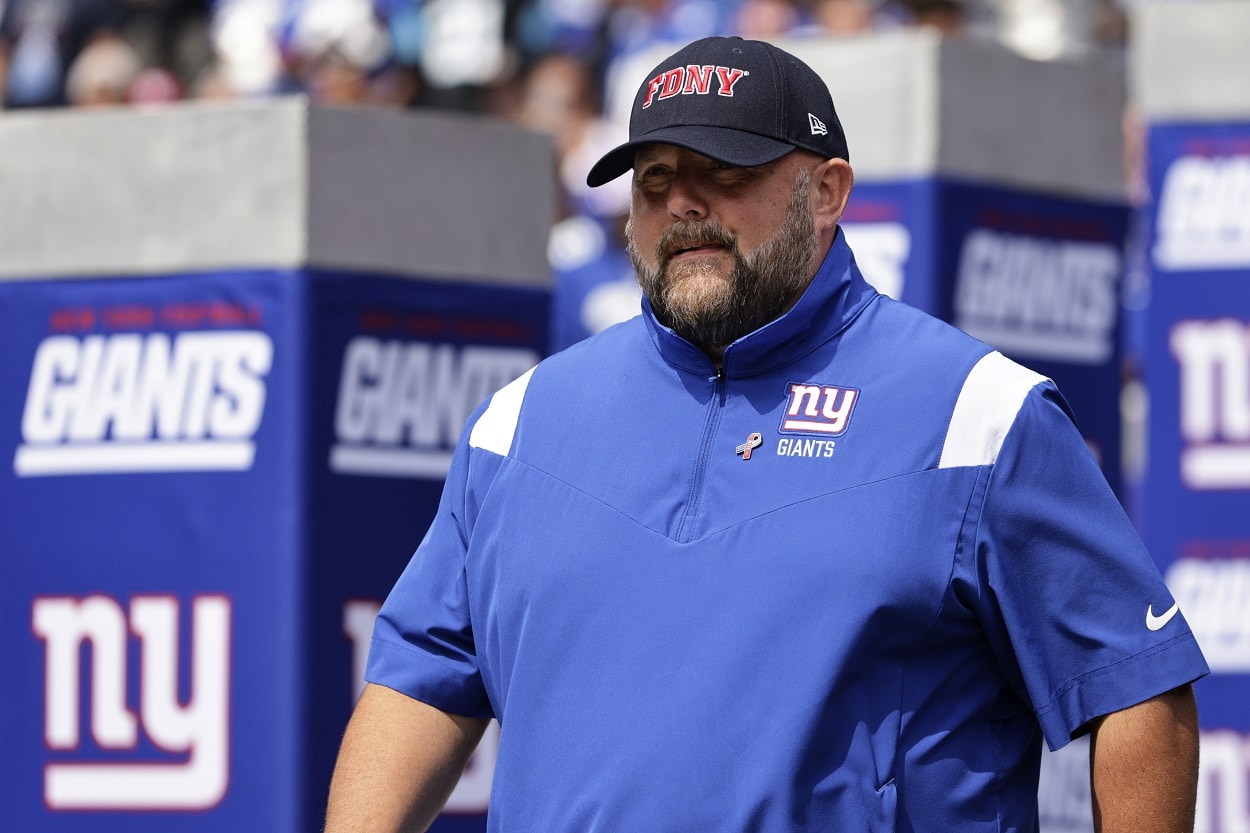 In most cases, it would be unwise to judge whether a coaching hire was a success through five games. 
But make no mistake about it: The Giants knocked it out of the park by placing the franchise in the hands of someone who's spent years working alongside some of the biggest names in the business. 
In a hiring cycle that included recognizable names like longtime New England Patriots offensive coordinator Josh McDaniels, Super Bowl winner Doug Pederson, and Kyle Shanahan's right-hand man, Mike McDaniel, the Giants didn't necessarily go for the splashy move. 
Instead, they simply made the right one. 
Rather than going with someone with previous head coaching experience, the team entrusted a candidate who called both Bill Belichick and Nick Saban his boss at one time. Needless to say, Brian Daboll has done his mentors proud by experiencing success in such short order. 
Then again, should anyone be surprised, given his resume? 
Daboll gained a thorough understanding of a championship culture when he coached wide receivers from 2002-06 with the Patriots. Stints as an OC in Cleveland, Miami, and Kansas City provided him with valuable play-calling experience. Then, he got a chance to work directly with the greatest tight end of all time from 2013-16 during his second stint in New England. 
Daboll then spent a year at Alabama as Saban's OC and quarterbacks coach before he returned to the NFL. And by helping transform Josh Allen from a raw prospect into an MVP-caliber signal-caller as the Buffalo Bills' offensive coordinator the last four seasons, he set himself up to take over his own NFL team. 
Ultimately, putting a well-respected, well-traveled offensive-minded coach in charge has allowed the Giants' most talented player to perform at his best. It's changed the environment of the locker room, which has unsurprisingly led to much different results. Plus, it's reinvigorated a fan base that hasn't had much to cheer about for a decade.
Will the Giants make the playoffs with a rookie head coach?
Moving forward, it'll be interesting to see if the Giants can sustain success. After all, their most critical offensive player has a history of missing time. If Barkley remains injury-free, he should be a legitimate MVP favorite. However, if he gets hurt again, it'll be difficult for Daboll to maintain such a strong winning percentage. 
Of course, whether the rookie head coach finds himself on the sidelines in January hinges heavily on what type of play the Giants get out of the most critical position on the field. 
Can Daniel Jones cut down on the mental mistakes and turnovers that have plagued him throughout his rocky NFL career? With a head coach who understands how to maximize players' strengths, Giants fans should feel some semblance of confidence that Jones will provide at least average play throughout the season. 
At the same time, it's fair to take the glass-half-empty view of a quarterback who still hasn't shown enough consistency to cement his case as the long-term answer. As an impending free agent, Jones needs to put together his best campaign to give himself a shot at earning a multi-year contract.
Yet, with only 848 passing yards and an uninspiring 3:2 touchdown-to-interception ratio through five games, it's difficult to get excited about his future prospects. 
Maybe, though, the fourth-year pro will showcase improvement over the course of the season and do just enough to lead the Giants back to the playoffs for the first time since 2016. 
And if that happens, all credit should go to their brilliant first-year head coach.
Stats courtesy of Pro Football Reference
Like Sportscasting on Facebook. Follow us on Twitter @sportscasting19 and subscribe to our YouTube channel.