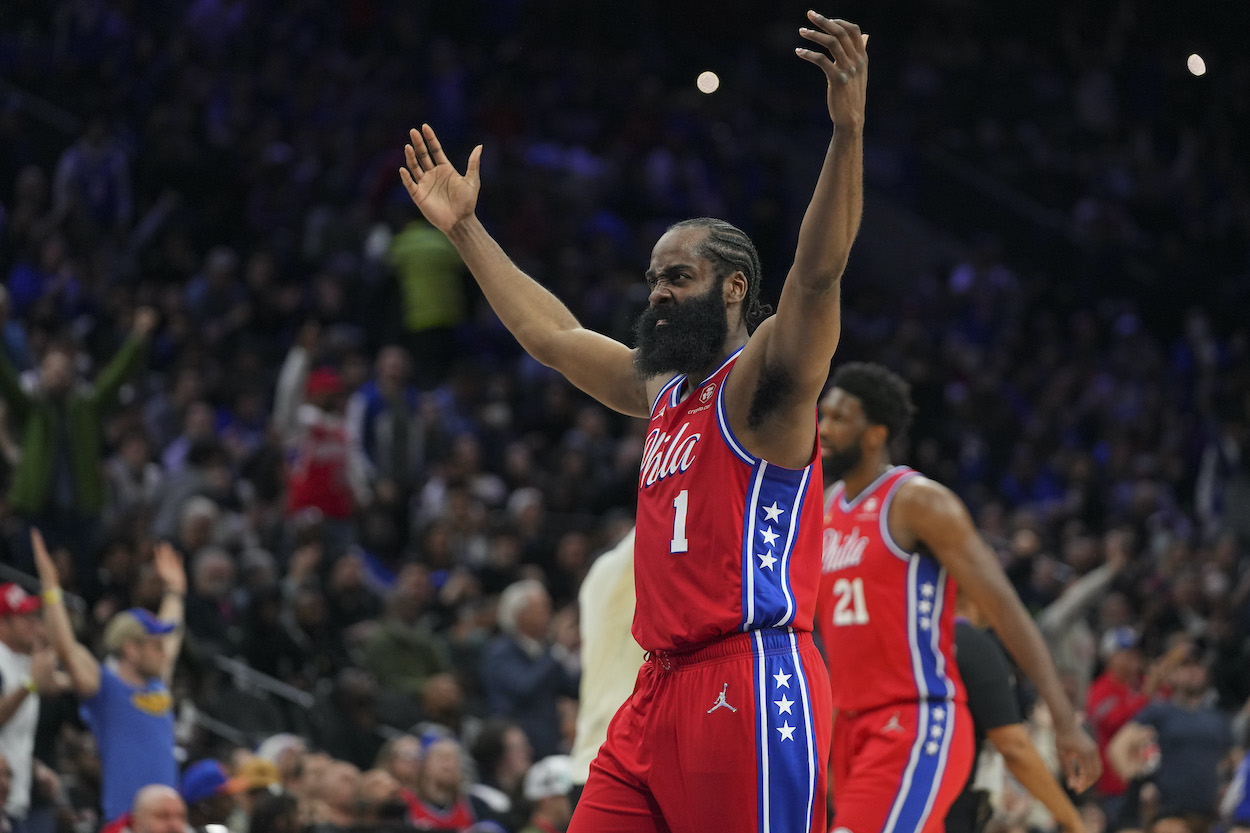 James Harden Is Embracing Exactly What Sent Ben Simmons Running From the 76ers
James Harden is already feeling right at home behind Philadelphia's die-hard fan base.
James Harden wasn't having too much fun playing with a Brooklyn Nets uniform on his back this season, but it's taken him just one home game in the 2-1-5 to feel right at home with the Philadelphia 76ers.
After leading the Sixers to their third straight win out of the All-Star break, Harden gushed about his new city and the fans that gave him a warm reception on Wednesday night. It just goes to show the Philly faithful can make or break you as an athlete. They eventually broke Ben Simmons, but Harden couldn't be happier playing for such a passionate fan base.
James Harden continues his scorching start with the 76ers
Well, that didn't take long. Just three games into his tenure with the 76ers, Harden is averaging 27.3 points, 12.3 assists, and 9.0 rebounds while shooting 59% from the field. Philadelphia is 3-0 in those games and outscoring its opponents by more than 20 points per contest.
The Harden-Joel Embiid duo looks even more dangerous than we could've expected. Tyrese Maxey has thrived as the second perimeter option. Shooters are getting more consistent open looks thanks to Harden's presence than they have all season, and the Sixers look like the championship contenders many thought they would become with their new-look core.
In his home debut on Wednesday night, Harden dropped 26 points on 8-for-13 shooting to go along with nine assists and nine rebounds. He was feeding off the raucous crowd all night, and he's excited to continue doing just that.
Harden is already inspired by Philadelphia's passionate fans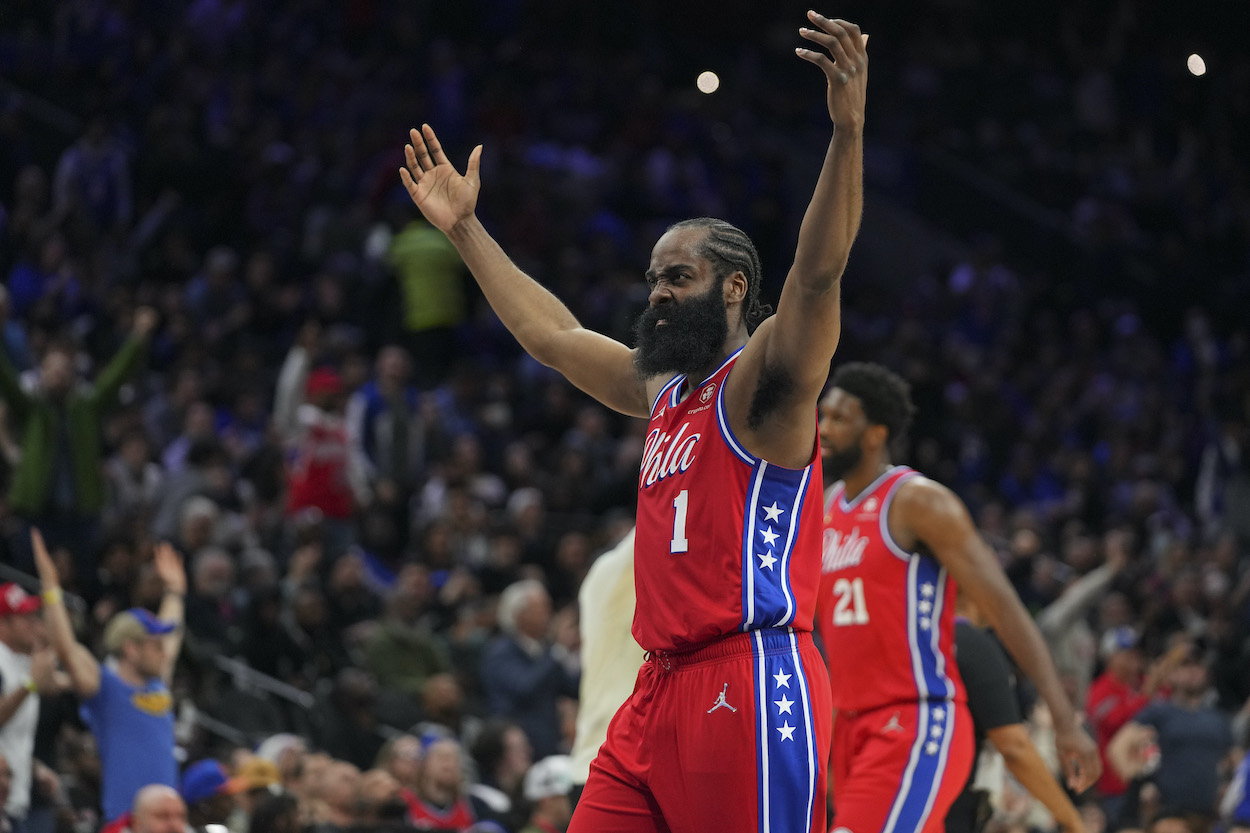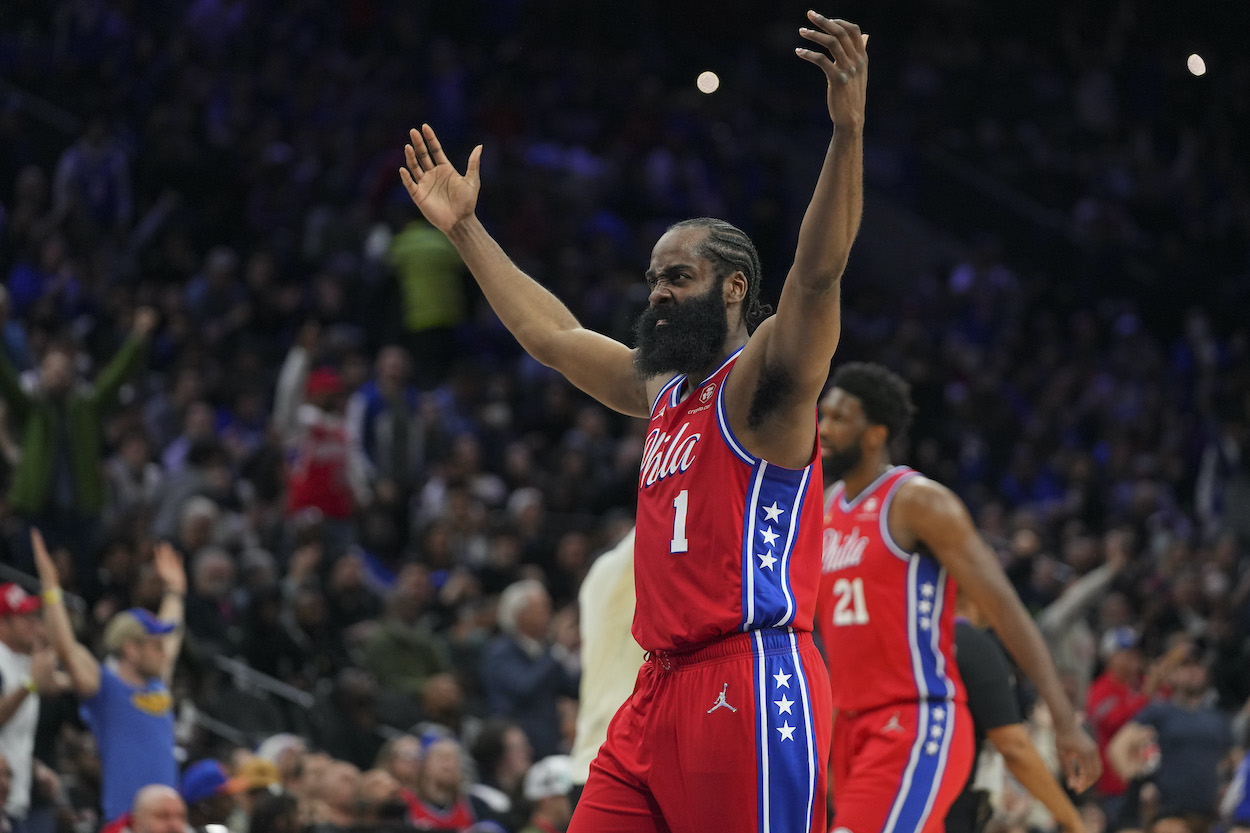 More than 21,000 rowdy fans packed the Wells Fargo Center on Wednesday night for Harden's highly anticipated home debut. The arena was buzzing from the opening tip-off until the final buzzer, and Harden could feel it.
"Just exciting," Harden told reporters after the game. "The love, the fans, it feels like home. Just the love, the support, man, from looking around, hearing, 'We love you, James.'
"That right there makes me go out and play harder, and I just wanted to do whatever it takes to get the win."
That's just what Harden did with his near-triple-double in the 123-108 win over the New York Knicks. His attitude early on is exactly what Philly fans love to see from their athletes. As long as Harden competes with a fiery passion and doesn't make excuses, the fans will show him more love than he's ever felt from another city.
Harden is embracing exactly what drove Ben Simmons away
The first step for athletes moving to Philadelphia is to ingratiate themselves with the fans. If you can't get on the Philly faithful's good side, things can go south quickly. Just ask Ben Simmons.
Sixers fans loved and supported Simmons for years, but many turned on him after his abysmal performance in the 2021 playoff series against the Atlanta Hawks. Once Simmons gave up on the team and blamed the fans for his poor play, his fate was sealed. We can debate for hours whether Simmons' attitude or the treatment he received from fans led to his eventual departure, but it's fair to say both factors played a part.
Harden is seeing the good side of Philly right now. He's playing exceptionally well, the Sixers are winning, and the fans have legitimate expectations of an NBA title. But when a few losses pile up and the boo birds come out to play, Harden's reaction will be crucial to his continued success.
Like Sportscasting on Facebook. Follow us on Twitter @sportscasting19.