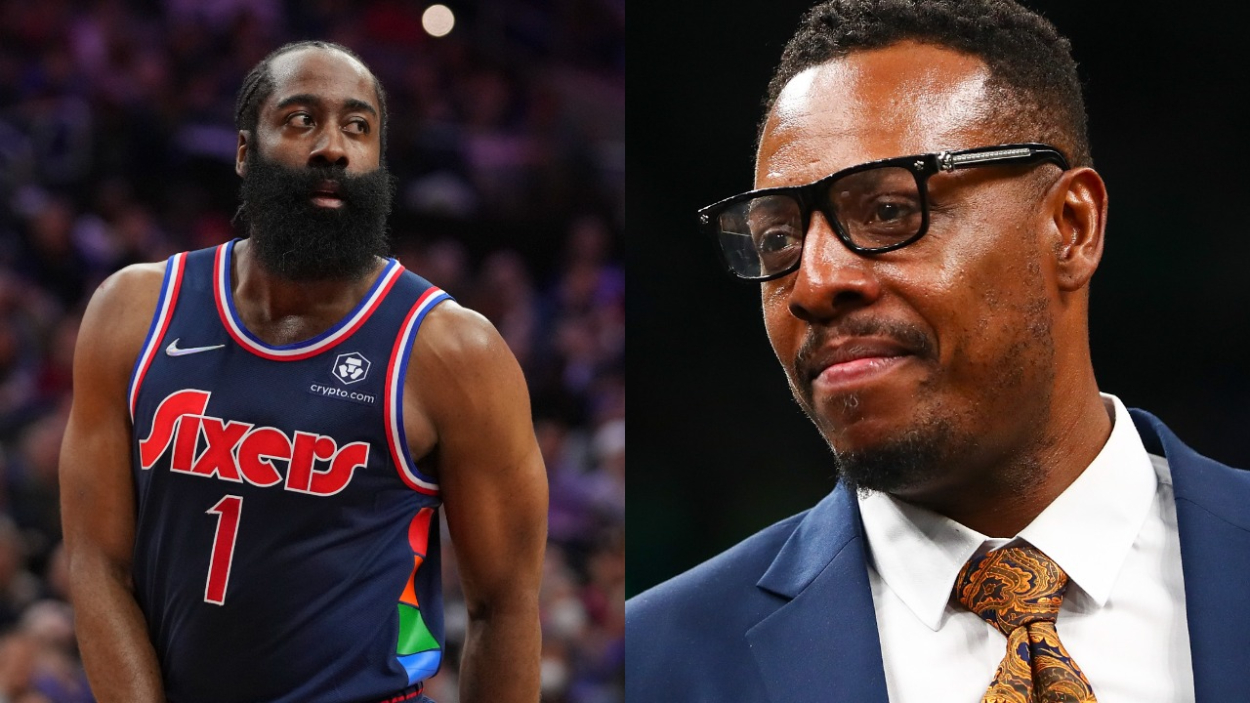 James Harden's Greatness Questioned by Paul Pierce: 'You Played With All Hall of Famers'
James Harden has yet to win a championship despite playing with numerous superstars in his career. So, Hall of Famer Paul Pierce just essentially questioned his greatness.
Another franchise, another superstar teammate for James Harden.
The Beard got his way at the NBA trade deadline and is now on the Philadelphia 76ers with big man Joel Embiid following a failed stint with Kevin Durant and Kyrie Irving on the Brooklyn Nets. The deal put the 76ers in a championship or bust situation, but Harden has been in that position for years. It has just been a "bust" every season, given that he has yet to win a championship in his career.
NBA legend Paul Pierce wasn't too kind to Harden when assessing the recent move, either. Pierce essentially questioned the guard's greatness, while Gilbert Arenas wondered if the Harden-Embiid partnership will even work.
Paul Pierce thinks James Harden has played with too much talent not to have a title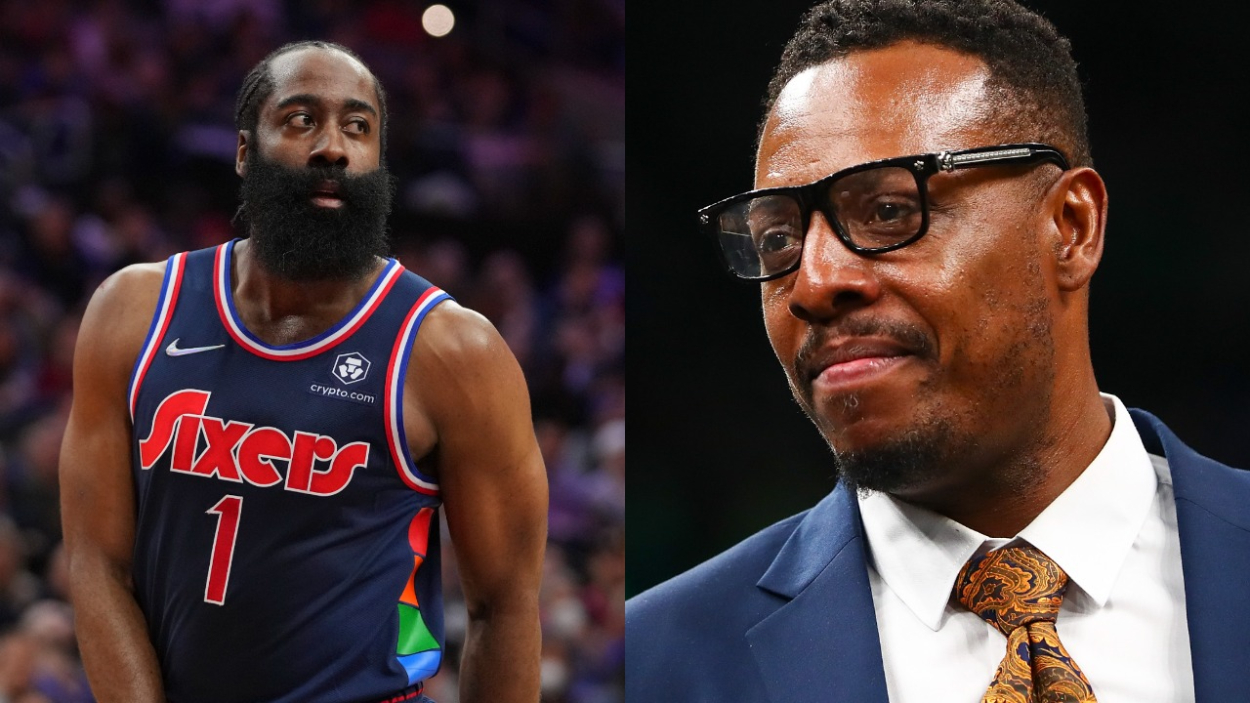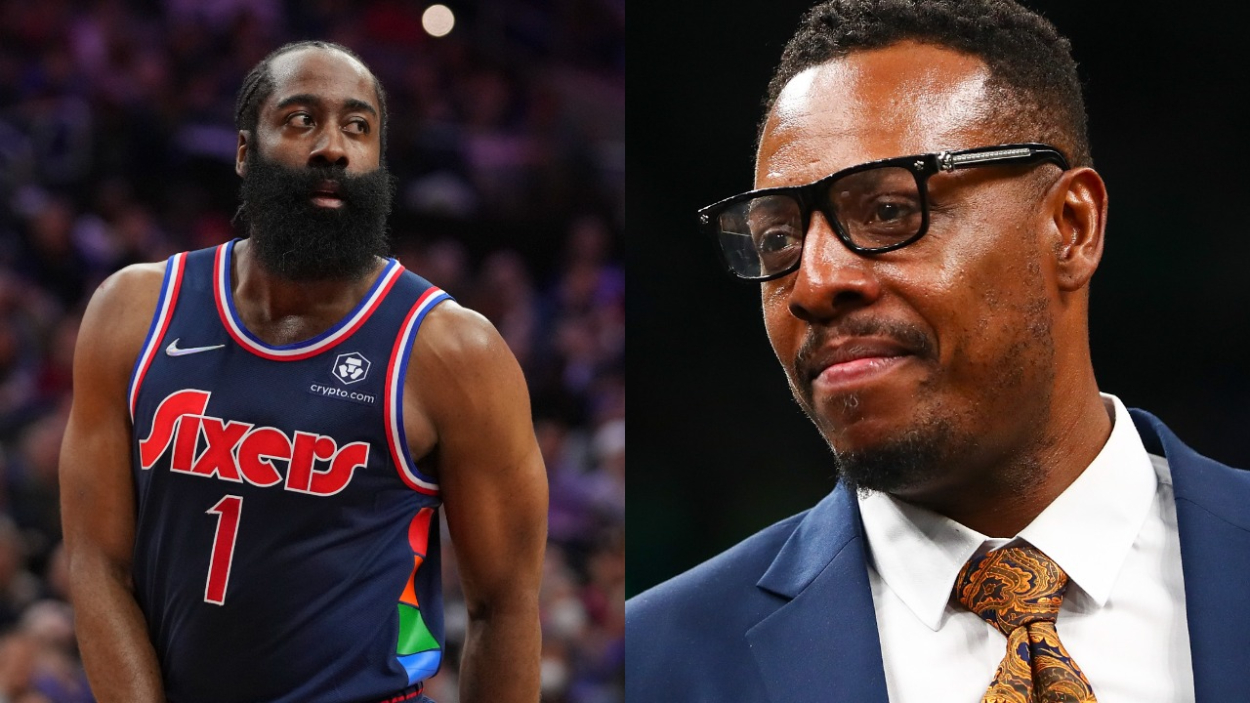 Basketball Hall of Famer Paul Pierce recently appeared on the No Chill With Gilbert Arenas podcast, and he discussed James Harden's trade to the 76ers. Harden is now playing for Pierce's old coach, Doc Rivers.
"I truly think he respects Doc; I don't think he respects (Nets coach) Steve Nash," Pierce said on the March 14 episode. "…Doc is gonna do everything in his power to try to make them two work. But my thing is, when I look at that, Embiid right now is the best big in the game, but I'm like, if I had a chance to play with the talent that Harden played with, I'd probably be walking out of here with five championships."
Pierce makes an excellent point. How has Harden not won a title?
Here are some of the players he has played with:
Russell Westbrook and Kevin Durant
Dwight Howard
Chris Paul
Russell Westbrook (again)
Kevin Durant (again) and Kyrie Irving
Joel Embiid
"You played with all Hall of Famers, and it ain't worked yet," Pierce said.
Gilbert Arenas and Paul Pierce questioned whether the 76ers can work
When discussing the reasons why James Harden hasn't won a title yet, Gilbert Arenas said the three-time NBA scoring champ hasn't had to adapt to new offenses in his career. So, Harden essentially doesn't know how to play off the ball to help his team have a more effective flow.
"He has the play, 'Give me the ball at the top of the key, I'm gonna play the iso ball, I'm gonna do that.' That's his scoring 99.9% of the time," Arenas said. "… He don't have off-the-ball scoring and don't know how to do it, so if the offense isn't ran like that, I don't think he can actually play. So, he's gonna always be unhappy. … I don't know if he's ready to compromise his game and say, 'You know what, let me learn how to backdoor, and come off down screens.'"
Pierce agreed with the former guard's sentiment, and he said it's too late in Harden's career for him to learn how to play like that. They both then wondered whether the 2017-18 MVP will be able to successfully share the court with a dominant big man like Joel Embiid.
"Say they lose, they gonna come back, 'Alright, this is gonna be the adjustment this year.' If that s*** don't start working the following year, you'll see James probably going somewhere else," Pierce said.
Harden and Embiid have worked well together so far. They are 6-1 in games they have played with each other. But whether you agree with Pierce and Arenas or not, one thing is clear: It's time for Harden to win a championship.
James Harden needs to prove everyone wrong
Paul Pierce and Gilbert Arenas just further proved that James Harden needs to win a championship one of these next two seasons.
His legacy is on the line.
"When the lights are the brightest, he has played awful," Charles Barkley said about the 10-time All-Star last week while appearing on Inside the NBA.
Harden has choked in the playoffs numerous times, which has forced many to question his greatness. He averaged just 8.5 points on 20.0% shooting in Games 3 and 4 of his only NBA Finals appearance with the Oklahoma City Thunder in 2012. During a Game 5 loss in the 2015 Western Conference Finals, he scored just 14 on 18.2% shooting.
Harden also dropped just 10 points and shot 18.2% from the field during a loss in Game 6 of the 2017 Western Conference semifinals. He and the Houston Rockets then later squandered a 3-2 lead to the Golden State Warriors in the 2018 Western Conference Finals. Harden committed 14 turnovers in Games 6 and 7 of that series.
All in all, Joel Embiid and James Harden seem excited to play together, but they need to win a championship. Harden's legacy depends on it.
Stats courtesy of Basketball Reference