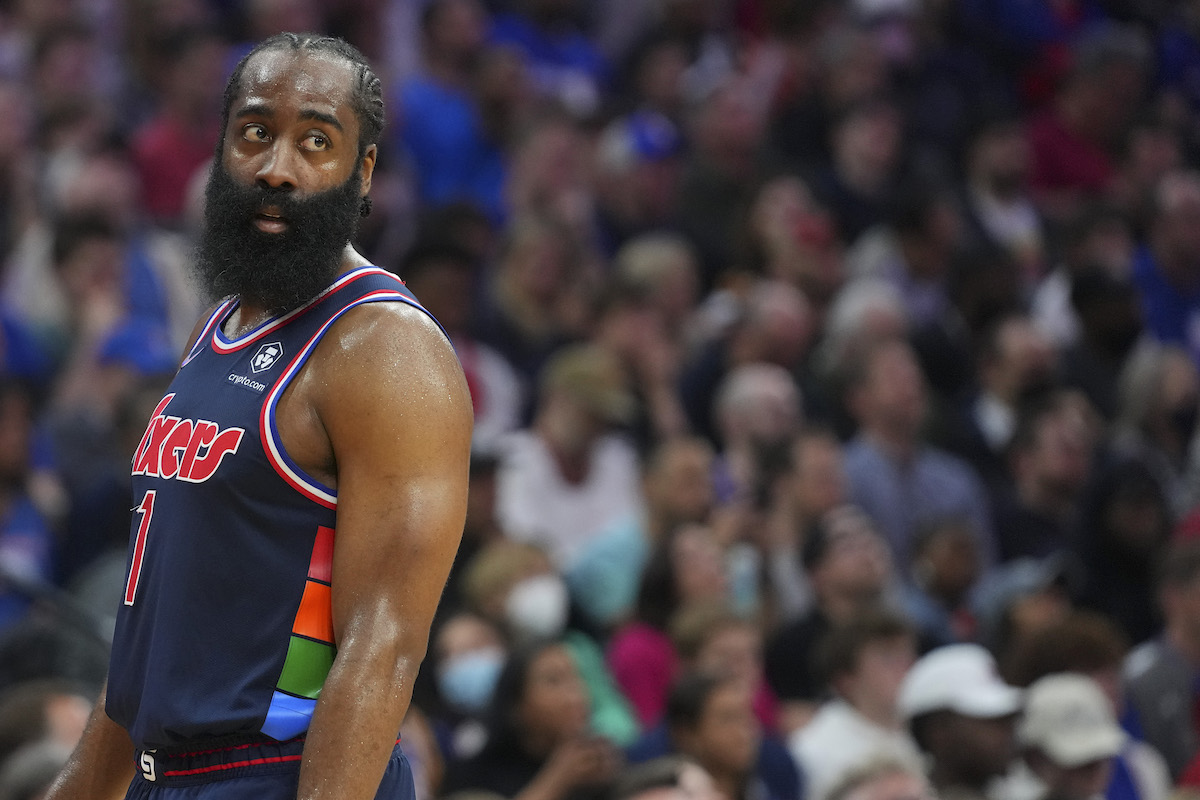 Philadelphia 76ers Setting James Harden up to Avoid Pattern of NBA Playoffs Shortcomings
James Harden has come up short time and time again in the playoffs, but the Philadelphia 76ers are already taking steps to help ensure that won't happen again.
Dominant as James Harden has been regular season after regular season after regular season, his playoff legacy hasn't matched his level of performance in the first 82 games of each campaign. The Philadelphia 76ers, however, already seem to be taking steps to ensure that pattern is discontinued in the 2022 NBA Playoffs by integrating him into the offense a bit more slowly and letting Joel Embiid continue to take center stage.
A five-game sample is inherently flawed, and that's all we have heading into a marquee Thursday night matchup with the Brooklyn Nets that may feature a Doc Rivers-supported video tribute for former Sixer Ben Simmons. But even that literal handful of outings has already been telling, and Philly fans should be pleased with what they're seeing.
If regular-season Harden supersedes postseason Harden, the Larry O'Brien Trophy could very well return to the City of Brotherly Love for the first time since Moses Malone's "Fo', fo,' fo'" prediction missed the mark by only a single contest in 1983.
James Harden has a history of playoff shortcomings
When rotations shrink, referees swallow their whistles a bit more frequently, and the intensity is turned up to 11 in best-of-seven series that feature game-to-game adjustments designed to frustrate stars, James Harden hasn't been able to match his regular-season performances.
Of course, that's a rather lofty standard. The bearded shooting guard won MVP in 2017-18, earned three consecutive scoring titles with averages north of 30 points per game, and has established himself as one of the most fearsome offensive players in NBA history, thanks largely to his jaw-dropping combination of three-point prowess and free-throw-line efficacy.
But that doesn't mask the fact that he's come up short again and again in the games that matter most.
Since Harden vacated his sixth-man role with the Oklahoma City Thunder and became a celestial figure with the Houston Rockets in 2012-13, his playoff numbers have paled in comparison to his regular-season marks:
| | | |
| --- | --- | --- |
| Stat | Regular Season | Playoffs |
| PPG | 28.8 | 27.6 |
| RPG | 6.3 | 5.7 |
| APG | 8.1 | 7.2 |
| FG%/3P%/FT% | 44.3/36.1/86.2 | 42.4/32.7/87.4 |
| TS% | 61.1 | 58.4 |
| WS/48 | 0.233 | 0.182 |
| BPM | 7.8 | 7.7 |
By the standards of a normal human being who doesn't frequently take the form of a basketball deity on the offensive end, Harden has still been excellent in the playoffs. But the decline from his personal standard has been palpable, as evidenced by numbers that are less impressive across the board.
Plus, Harden has given his critics plenty of anecdotal ammunition:
In 2012, he averaged only 12.4 points while slashing 37.5/31.8/79.2 in the Finals loss to the Miami Heat
In 2013, he shot 7-of-22 at home in Game 6 to lose a first-round matchup against a Russell Westbrook-less Oklahoma City Thunder
In 2015, he committed 12 turnovers in Game 5 of the Western Conference Finals to lose to the Golden State Warriors
In 2017, he went 2-of-11 from the field in the final loss of a second-round series with the San Antonio Spurs, prompting accusations that he had quit on his team
In 2018, he missed 22 straight three-point attempts against the Golden State Warriors in the Western Conference Finals
In 2021, injuries prevented him from gaining a rhythm against the Milwaukee Bucks
And those are but a few of the examples; this is by no means meant to be a comprehensive list of Harden's playoff shortcomings.
Since the Arizona State product made his star turn by joining the Rockets, he's played in 17 potential elimination games. His teams have gone 8-9, and he's averaged 26.1 points, 5.8 rebounds, 6.1 assists, 2.4 steals, 0.9 blocks, and 5.2 turnovers while slashing 41.2/31.9/84.8.
But lately, the picture isn't even that rosy.
A Game 7 victory over the Thunder in the first round of the 2020 playoffs is Harden's only successful showing in his last eight potential elimination games, which date back to the 2015 Western Conference Finals against the Warriors. During that 1-7 stretch, he's averaged 24.4 points, 5.9 rebounds, 6.5 assists, 2.3 steals, 0.9 blocks, and 6.3 turnovers while slashing — hold your nose for your own safety — 39.7/23.7/80.3.
The Philadelphia 76ers already seem to be recognizing what held James Harden back in the past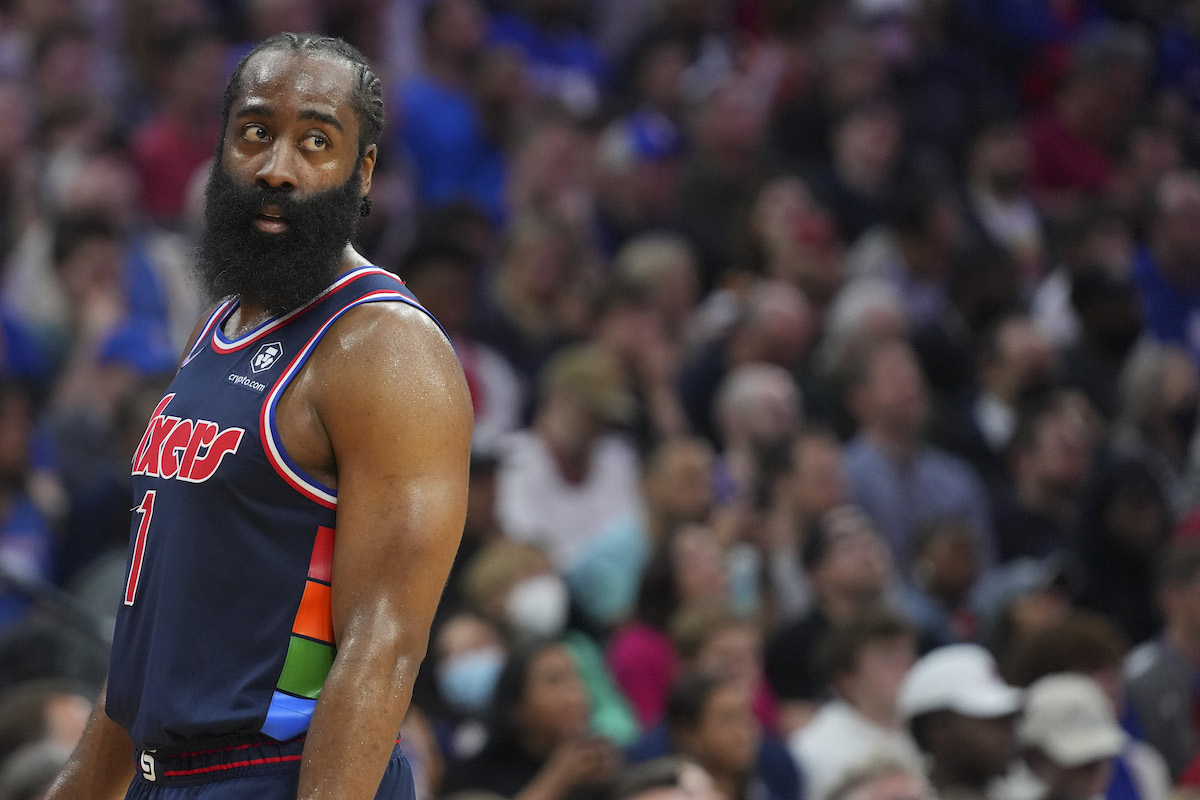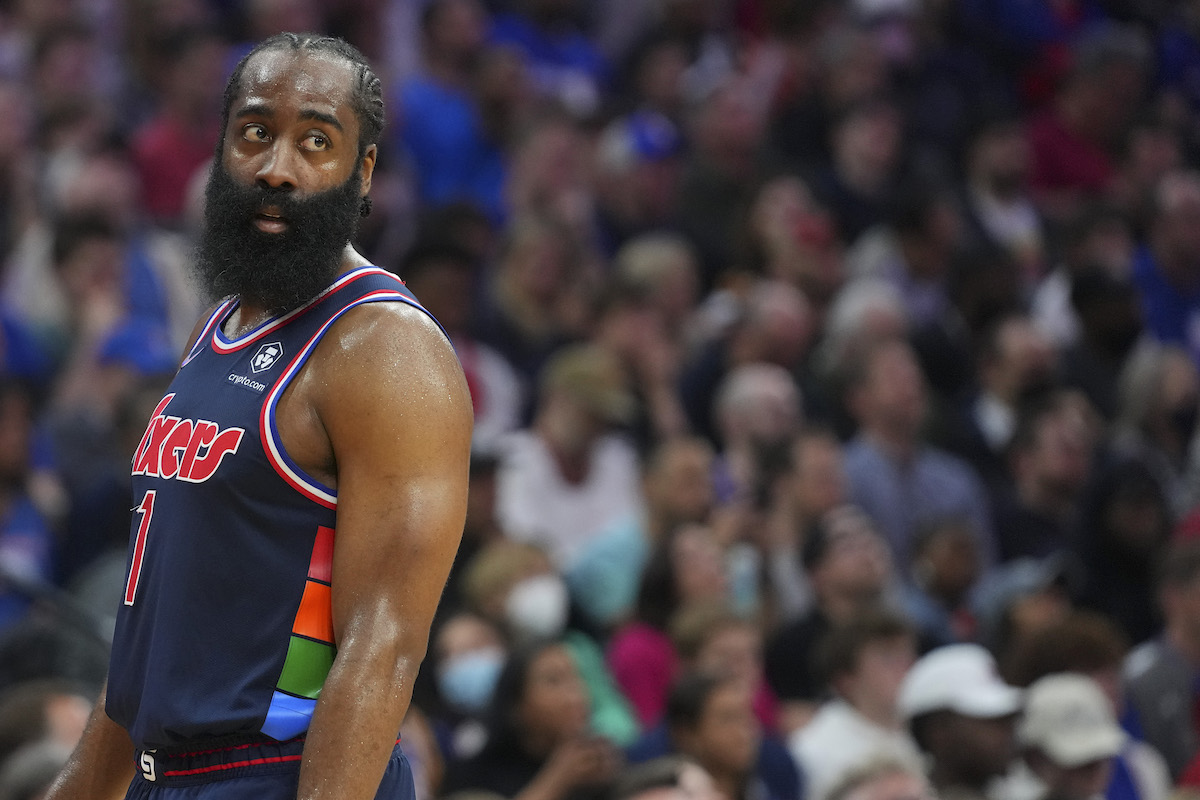 None of this is to say James Harden isn't "clutch."
A few of the downturns have featured unfortunate timing, but a combination of injuries, ineffective teammates, effective opposing schemes, and — here's the big one — fatigue has reared its ugly head. Harden is routinely tasked with such a monumental workload during the regular season that he can run out of steam during the high-intensity series that take center stage after Game 82.
His style, after all, depends heavily on dribbling exhibitions, step-back threes, and physical bursts to the basket, all of which require significant energy expenditures. The toll of operating in such fashion throughout a regular season is only magnified when he's subjected to even more schematic and defensive attention against the same opponent while working with a more sporadic whistle.
The Sixers, to their credit, already seem to be recognizing as much.
They're letting him take maintenance days to rehabilitate a balky hamstring, and head coach Doc Rivers acknowledge the importance of letting him get to 100% even before the All-Star break. As he explained after a mid-February practice and before Harden missed a handful of games prior to the midseason pause, per ESPN's Tim Bontemps, "I think it's more to make sure he's right, healthy, and ready to go."
Philadelphia is also practicing what it preaches even when its newest star is active. It hasn't foisted too much responsibility upon his shoulders, instead letting him run comfortable sets while integrating him into an offense that continues to run plenty of action through Joel Embiid.
Harden's five-game rolling averages in usage rate and assist percentage (the percentage of shots made by teammates while he's on the floor that come off his assists) indicate as much:
Only the final set of data points look solely at his Philadelphia tenure, and it's no coincidence they feature his assist percentage near its 2021-22 zenith and his usage rate at its 2021-22 nadir.
But will the pattern continue? That's still yet to be determined.
Harden has immediately looked comfortable showcasing more pass-first instincts while deferring touches to the man chasing after the first scoring title by a center since Shaquille O'Neal, and it's working. That might be the only impetus needed for a continuation of this experiment, especially given all the history that should be scaring the Sixers away from overworking their 32-year-old southpaw.
Philadelphia is firmly in the mix of legitimate Eastern Conference title contenders, brushing shoulders with the Miami Heat and Milwaukee Bucks while staving off the surging Boston Celtics and upstart Chicago Bulls. It's undefeated with Harden in the lineup.
Ultimately, president of basketball operations Daryl Morey didn't acquire Harden just to make more noise in the regular season so much as to earn the franchise's first Eastern Conference Finals appearance since 2001 and first title since 1983.
Keeping Harden both healthy and fresh for the postseason while still integrating him into Rivers' schemes is exactly how that can happen.
All stats, unless otherwise indicated, courtesy of Basketball Reference and accurate heading into games on March 9.