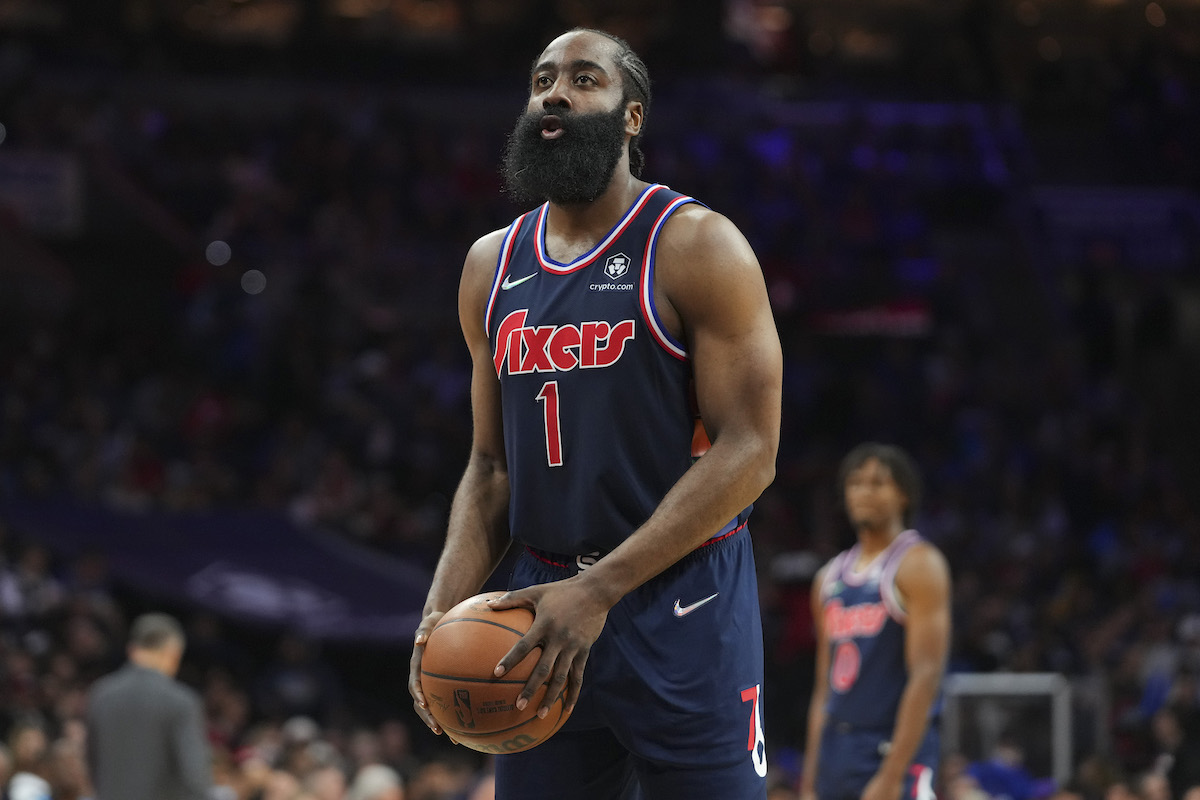 James Harden Makes Free Throws and 3-Pointers Like No One Else in NBA History
Literally no one in NBA history has combined free-throw and three-point excellence quite like Philadelphia 76ers guard James Harden, who is in the top 10 for both categories.
Though Joel Embiid kept taking center stage for the Philadelphia 76ers, continuing his MVP and scoring-title quests during a 121-106 victory over the Chicago Bulls on March 7, James Harden kept taking the shots at which he's thrived like no other.
The bearded shooting guard, acquired from the Brooklyn Nets midway through the 2021-22 NBA campaign in a blockbuster trade just prior to the Feb. 10 trade deadline, put up a strong, albeit unspectacular, stat line of his own: 16 points, eight rebounds, 14 assists, and just three turnovers.
Harden's individual performance against the Bulls isn't worthy of praise in and of itself. Instead, what the game represented — coming in the form of two spots on all-time leaderboards — helps show how he's grown into such a uniquely dominant force in historical debates.
He's an isolation wizard, but his true prowess stems from his unmatchable combination of threes and freebies.
James Harden made history for both free throws and three-pointers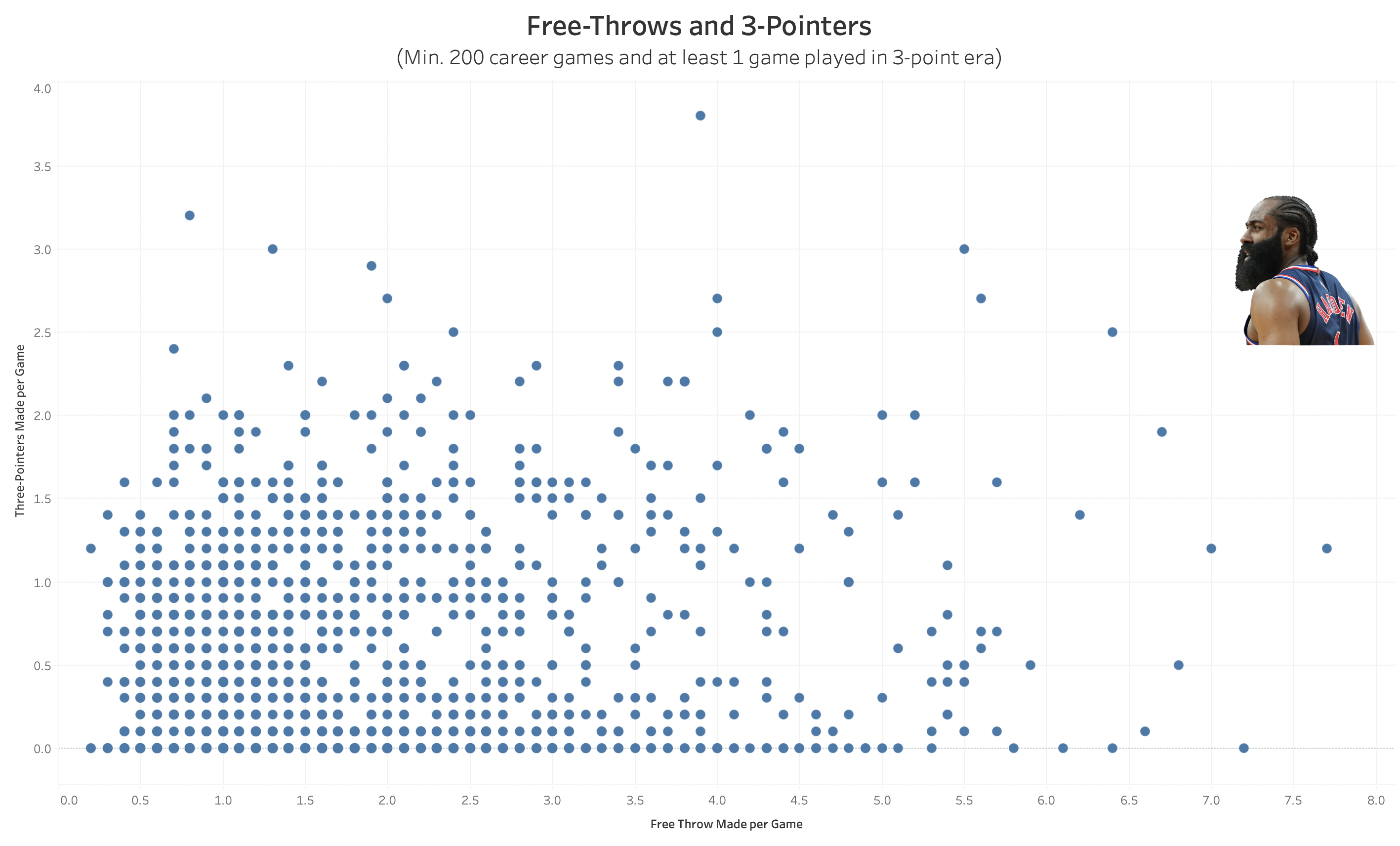 Harden's whistle-drawing habits have made him the subject of much criticism over the years. At this point, it's undeniable that he has a certain knack for exploiting the rule book with rip-through motions, landing in spots that make it impossible for defenders to avoid contact, and driving to the hoop while baiting physicality from backpedaling adversaries who have to do, well, something.
But exploiting the rule book is part of the game. Though some modern-day fans might not like to admit it, actions like flopping have been around since the advent of the NBA and even highlighted in Sports Illustrated profiles — one, penned by long-retired Boston Celtics legend Frank Ramsey, was literally titled "Smart Moves by a Master of Deception."
Harden's style of play might not be aesthetically pleasing and might prompt further rule changes, but it's effective. And it's also telling that no one has been able to replicate it — attempt to, sure (see: Young, Trae), but not actually create that sought-after carbon copy.
By going 5-of-6 at the stripe against Chicago, which doesn't exactly count as even a typical performance by his lofty standards, the 32-year-old moved past Paul Pierce and into ninth place on the all-time leaderboard for most free throws made.
Any movement within the top 10 should be notable. Just look at the names featured in the above tweet from the NBA's official account. But when paired with Harden's other March 7 accomplishment, it becomes that much more extraordinary.
He only went 1-of-5 from downtown in the 15-point victory, but that was enough to tie Reggie Miller for third place on the all-time three-point leaderboard:
Pierce is the only other player who sits within the top 10 in both categories, though he'll soon lose that spot within the three-point hierarchy to an ageless LeBron James.
Harden's three-point shooting doesn't garner as much praise due to the attention generated by his free-throw habits, but he's among the greatest of all time in that category, as well. His step-back jumper, which often borders on traveling, has been unstoppable for years, and that smooth lefty stroke has frustrated countless opponents.
Damian Lillard (5.5 free throws made and 3.0 three-pointers made per game), Luka Doncic (5.6 and 2.7), Trae Young (6.4 and 2.5), and Kevin Durant (6.7 and 1.9) are the only players within shouting distance of his unique placement as a free-throw aficionado and three-point maestro. But they still can't touch his 7.5 and 2.8 makes per game, respectively.
Harden is a three-point and free-throw juggernaut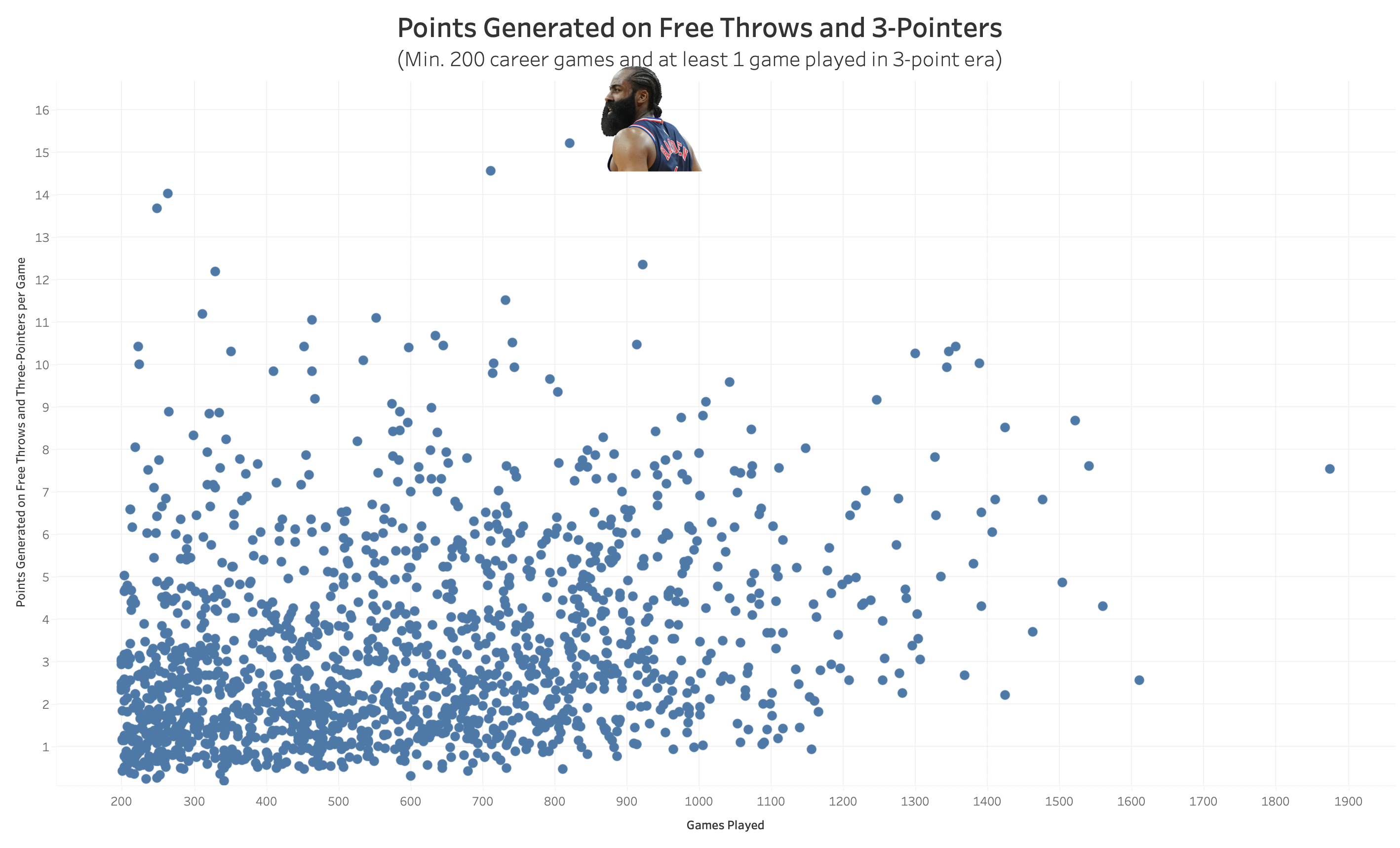 Among players with at least 200 appearances in the NBA and at least one game played in the three-point era, only Joel Embiid (7.7) has outdone James Harden (7.5) in free throws made per game. Simultaneously, the bearded wonder has made more three-pointers per game (2.8) than everyone but Klay Thompson (2.9), Damian Lillard (3.0), Buddy Hield (3.0), Duncan Robinson (3.2), and Stephen Curry (3.8).
Let's combine those together and look instead at points generated per game off free throws and three-pointers:
James Harden: 15.77
Stephen Curry: 15.2
Damian Lillard: 14.55
Trae Young: 14.02
Luka Doncic: 13.67
Kevin Durant: 12.34
Donovan Mitchell: 12.18
Paul George: 11.5
Joel Embiid: 11.17
Gilbert Arenas: 11.08
It's telling that every name on the list is still active with the exception of Arenas, an ahead-of-his-era guard who might have been that much more dominant in today's NBA. Players such as Young and Doncic, in particular, have a chance to keep carving out more responsibility in the respective offenses of the Atlanta Hawks and Dallas Mavericks and could continue their ascensions.
But for now, Harden is on a tier of his own.
And considering he's put up 16.2 relevant points per game during his first five appearances with the Sixers, thriving even as he integrates himself into Doc Rivers' offense and learns how to operate alongside a ball-dominant center in Embiid, he might not be done with his own climb.
All stats, unless otherwise indicated, courtesy of Basketball Reference and current heading into games on March 8.