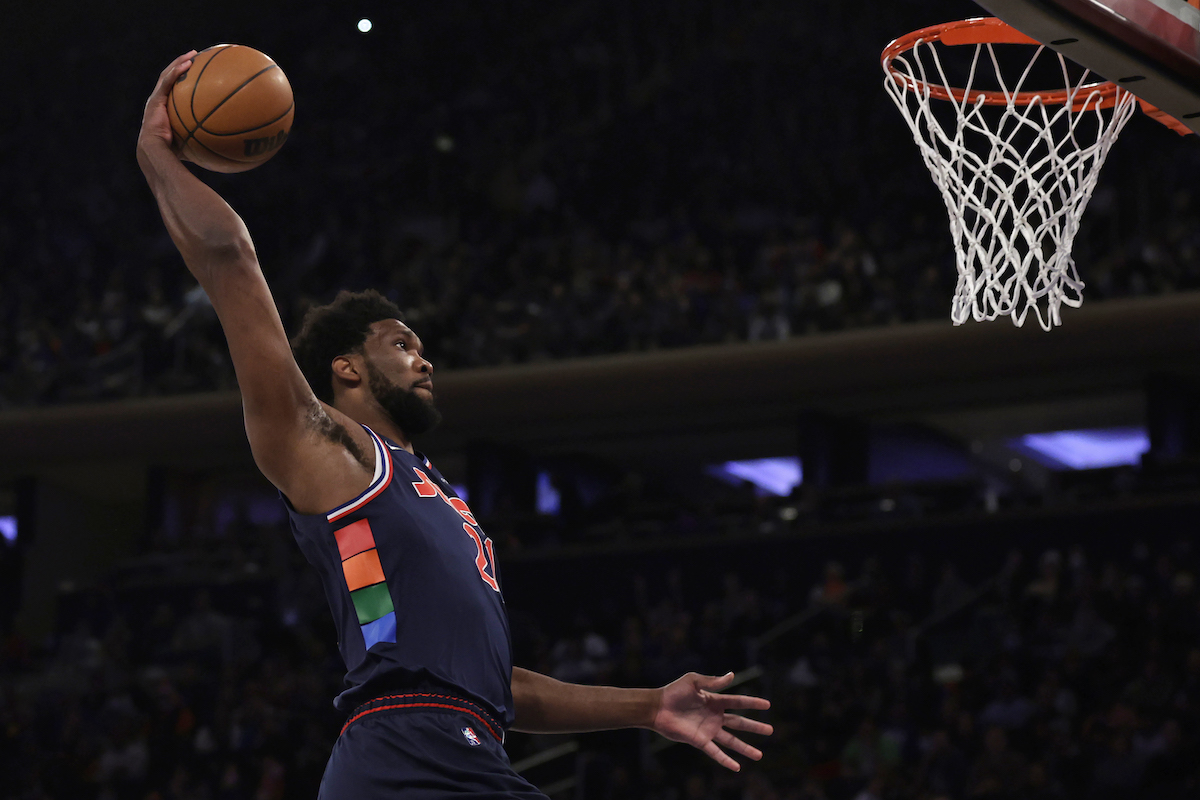 Joel Embiid Aiming to Become 1st Center to Win NBA Scoring Title Since Shaquille O'Neal
No center has won an NBA scoring title since Shaquille O'Neal in 1999-00. Joel Embiid is trying to change that for the Philadelphia 76ers.
While large sections of the basketball-watching population focus on the NBA MVP battle with Nikola Jokic and Giannis Antetokounmpo and the constant marches to the free-throw stripe (a trend only drawing more focus after the addition of fellow whistle-drawer James Harden), Philadelphia 76ers center Joel Embiid is just going to continue racking up points.
After scoring 32.5 points per game in February amid constant rumors about his teammates prior to the Feb. 10 trade deadline and through the integration of new running mates following it, the 27-year-old big man has risen above the field in the race for the coveted scoring title. In doing so, he's put himself in territory unknown to true centers during the modern, three-point-happy era of the Association.
A few centers have come close, but none have been able to take home the points-per-game crown since Shaquille O'Neal did so for the Los Angeles Lakers during the 1999-00 campaign.
The NBA has shifted away from high-scoring centers
NBA basketball has changed rather substantially in the last few decades. Whether that's a positive development is a debate for another time (and one that should include the idea that homogeneity in outcome is not akin to homogeneity in process), but the very fact that shifts have occurred is indisputable.
Whereas many offenses in the late 1990s — and some in the early 2000s — relied upon post-up possessions from dominant paint-bound players to generate buckets, everything has shifted to the perimeter.
The three-pointer, buoyed even more in recent years by the unfathomable rise of Stephen Curry, has altered the traditional thinking and made schemes prioritize shooting efficiency in a new way. Players have also become more versatile, which has led to men with frames that would have limited them to the paint 20 years ago operating around the three-point arc as spot-up shooters and on-ball playmakers. Even lead guards have begun to display a shifting mentality as score-first 1s have become commonplace rather than standout aberrations.
The details, much like the value debate, are a topic for another time. And just as is the case with the presence of the shifts itself, the decline of centers challenging for scoring titles is likewise indisputable.
During the '90s, Patrick Ewing, Hakeem Olajuwon, David Robinson, and Shaquille O'Neal, among others, established themselves as threats to lead the league in points per game. O'Neal (1994-95 and 1999-00) and Robinson (1993-94) actually did take home scoring titles, with Michael Jordan and Allen Iverson claiming all other opportunities.
But since the turn of the new millennium, precious few challengers have emerged.
Scoring-title challengers from the frontcourt in the 2000s
O'Neal continued to make his presence felt in the early 2000s, operating with an unbelievable degree of physicality and pairing it with deft touch around the hoop. Tim Duncan, who was always listed at power forward but operated as more of a center following Robinson's retirement, finished in the top 10 of the scoring race three times: No. 4 in 2001-02, No. 7 in 2002-03, and No. 8 in 2003-04.
Beyond that? Basically nothing.
A few other true frontcourt players have emerged as legitimate candidates for the scoring title, but few of them would qualify as true centers:
Kevin Garnett (two top-10 finishes, peaking at No. 3 in 2003-04)
Dirk Nowitzki (10 top-10 finishes, peaking at No. 4 in 2004-05 and 2008-09)
Amar'e Stoudemire (four top-10 finishes, peaking at No. 5 in 2004-05 and 2007-08)
Chris Bosh (three top-10 finishes, peaking at No. 9 in 2008-09 and 2009-10)
Blake Griffin (three top-10 finishes, peaking at No. 6 in 2013-14)
LaMarcus Aldridge (five top-10 finishes, peaking at No. 7 in 2011-12 and 2014-15)
Kevin Love (two top-10 finishes, peaking at No. 4 in 2011-12 and 2013-14)
Brook Lopez (No. 10 in 2012-13)
DeMarcus Cousins (four top-10 finishes, peaking at No. 4 in 2015-16)
Anthony Davis (four top-10 finishes, peaking at No. 2 in 2017-18)
Brook Lopez qualified as a legitimate 5 in 2012-13, and that was still during the portion of his career in which he'd yet to hit a single three-pointer. DeMarcus Cousins falls into the same category, though his game, much as it depended on his bruising nature around the basket, still often took him out to the perimeter.
The rest were more 4s than 5s, including Anthony Davis, who has always been resistant to the idea of playing as a true center and enduring the physical toll of that role on the defensive end.
Then came Embiid.
Joel Embiid could become the first true center since Shaquille O'Neal to win the scoring title
The actual winners of the scoring race since O'Neal earned his second and final crown during the 1999-00 season? Allen Iverson (three times), Tracy McGrady (twice), Kobe Bryant (twice), LeBron James, Dwayne Wade, Kevin Durant (four times), Carmelo Anthony, Russell Westbrook (twice), Stephen Curry (twice), and James Harden (three times).
That's a whole bunch of guards and a few wing-dwelling forwards with nary a player who spends most of his time on the interior. But Embiid could change the narrative in 2021-22 now that he's averaging a league-best 29.8 points per game.
The Kansas product first broke into the top 10 of the scoring race in 2018-19 when he averaged 27.5 points for the Philadelphia 76ers to trail only Harden (36.1), Paul George (28.0), and Giannis Antetokounmpo (27.7). After falling out of the pack in 2019-20, he earned another No. 4 placement in 2020-21, scoring 28.5 points per game to sit behind only Curry (32.0), Bradley Beal (31.3), and Damian Lillard (28.8).
This year, he trails no one.
Embiid has thrived in virtually every area as a scorer, brutalizing opponents on the interior with his dynamic combination of physicality and finesse when he's not showing off his skill around the arc. He's knocking down 36.7% of his 3.7 three-point attempts per game, connecting on 44.0% of his two-point jumpers from at least 10 feet, and finishing 76.1% of his shots from within three feet. That combination isn't supposed to be possible from anyone, much less a man listed at 7-foot-0, 280 pounds.
Of course, Embiid is undeniably (and, in some circles, controversially) benefiting from his constant parade to the charity stripe. He's taking a career-high 11.6 attempts per game from the foul line and converting at an 81.5% clip, which has certainly bolstered his chances in the scoring race.
Even if that rubs some the wrong way, it's hard to fault the officials for not swallowing their whistles more frequently. Embiid is such a dominant physical presence that he's impossible to slow down without defenders using their own physicality in response, and he's attacked the basket with relentless aggression in 2021-22. Plus, he knows how to work the rule book to his advantage, much as Harden, Trae Young, and others have in years past to get cheap calls.
If anything, you can make a valid argument that officials could reasonably send Embiid to the stripe more frequently but instead have to let him play through increased physicality as a result of his own frame and playing style — a case similar to the one that could be made for peak Shaquille O'Neal, who drew plenty of uncalled hacks on adversaries desperate for some way to slow him on the interior.
The club of centers to win the scoring title might soon include Joel Embiid
The 2021-22 NBA season still has plenty of juice left to squeeze, and any number of contenders could surpass Embiid and deny him in his quest to become the first true center since Shaquille O'Neal to lead the league in points per game.
Giannis Antetokounmpo (29.4), LeBron James (28.9), DeMar DeRozan (28.2), Trae Young (27.9), Ja Morant (27.6), Luka Doncic (27.5), Donovan Mitchell (25.9), Jayson Tatum (25.9), and Stephen Curry (25.8) are all within four points per game of his 29.8, and they're all capable of going on scoring binges. That, coupled with fewer touches if James Harden takes more control of the Philadelphia offense as he gains comfort, could do the trick.
It's also telling that no other centers are in that group. The next true 5s on the list are Nikola Jokic (No. 12 at 25.5 points per game), Karl-Anthony Towns (No. 14 at 24.5), Domantas Sabonis (No. 32 at 18.9), and Jonas Valanciunas (No. 38 at 18.0).
But if Embiid does break the mold, he'd join a list of centers to win the scoring title that's lengthier than expected given the dearth of modern-era representatives:
Kareem Abdul-Jabbar (1970-71 and 1971-72)
Wilt Chamberlain (1959-60, 1960-61, 1961-62, 1962-63, 1963-64, 1964-65, 1965-66)
Elvin Hayes (1968-69)
Neil Johnston (1952-53, 1953-54, 1954-55)
Bob McAdoo (1973-74, 1974-75, 1975-76)
George Mikan (1948-49, 1948-50, and 1950-51)
Shaquille O'Neal (1994-95 and 1999-00)
David Robinson (1993-94)
The NBA has changed a lot over the years. Embiid is doing his darnedest to make sure that not everything is different.
"It is possible," he said in mid-February about the possibility of earning the first scoring title by a center since O'Neal, per Keith Pompey of The Philadelphia Inquirer. "But you have to play, you have to do whatever it takes to win. … I know my role, and it's to go out there and dominate. I'm going to get the ball a lot, and I'm going to make things happen."
One of those things he makes happen might end up being historic.
All stats, unless otherwise indicated, courtesy of NBA.com or Basketball Reference and accurate through games on March 1.