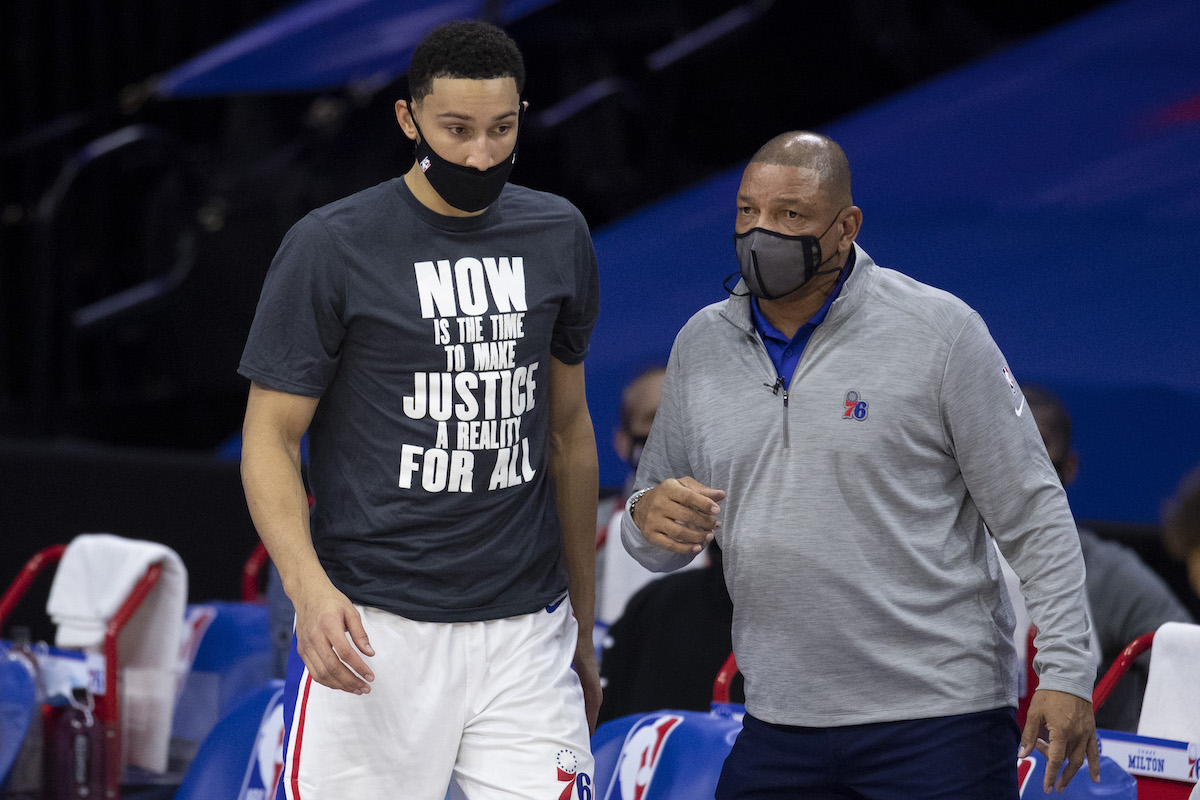 Doc Rivers Is Right: Ben Simmons Should Receive Video Tribute From Philadelphia 76ers
Doc Rivers is correct when he says Ben Simmons should receive a video tribute from the Philadelphia 76ers, even if that may rub some disgruntled fans the wrong way.
Ben Simmons didn't exactly ingratiate himself to a Philadelphia 76ers fan base known for turning on its own and bringing out the boo-birds. Not when he followed up a disappointing performance against the Atlanta Hawks in the Eastern Conference semifinals with a prolonged holdout, and certainly not after the organization traded him to the Brooklyn Nets midway through the 2021-22 NBA season.
Relitigating all the steps that took Simmons from franchise centerpiece to Philadelphia pariah is unnecessary, if only because the sequence is so ingrained in the mind of every Sixers supporter. Now, we can shift the focus to the present and future.
Philadelphia head coach Doc Rivers thinks Simmons should receive a video tribute when he returns to the City of Brotherly Love for a clash between the Nets and Sixers on Thursday, March 10.
He's right.
Doc Rivers' rationale for a Ben Simmons tribute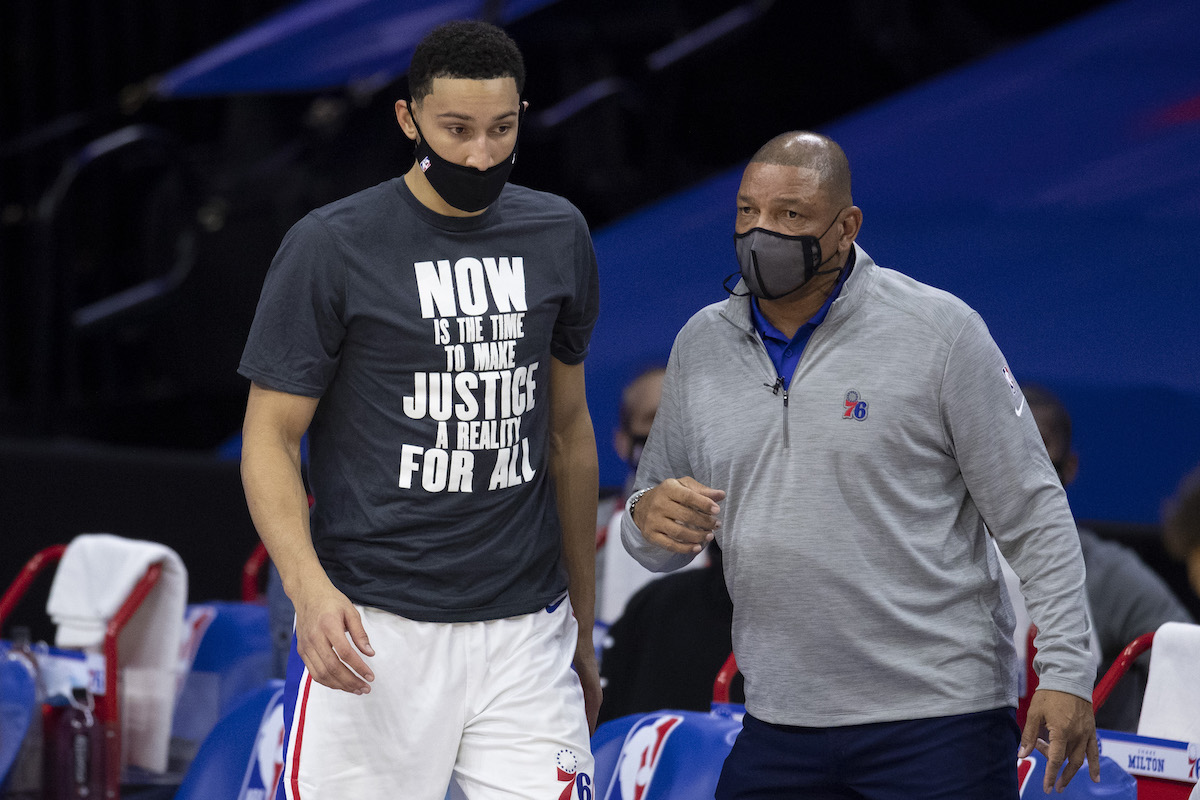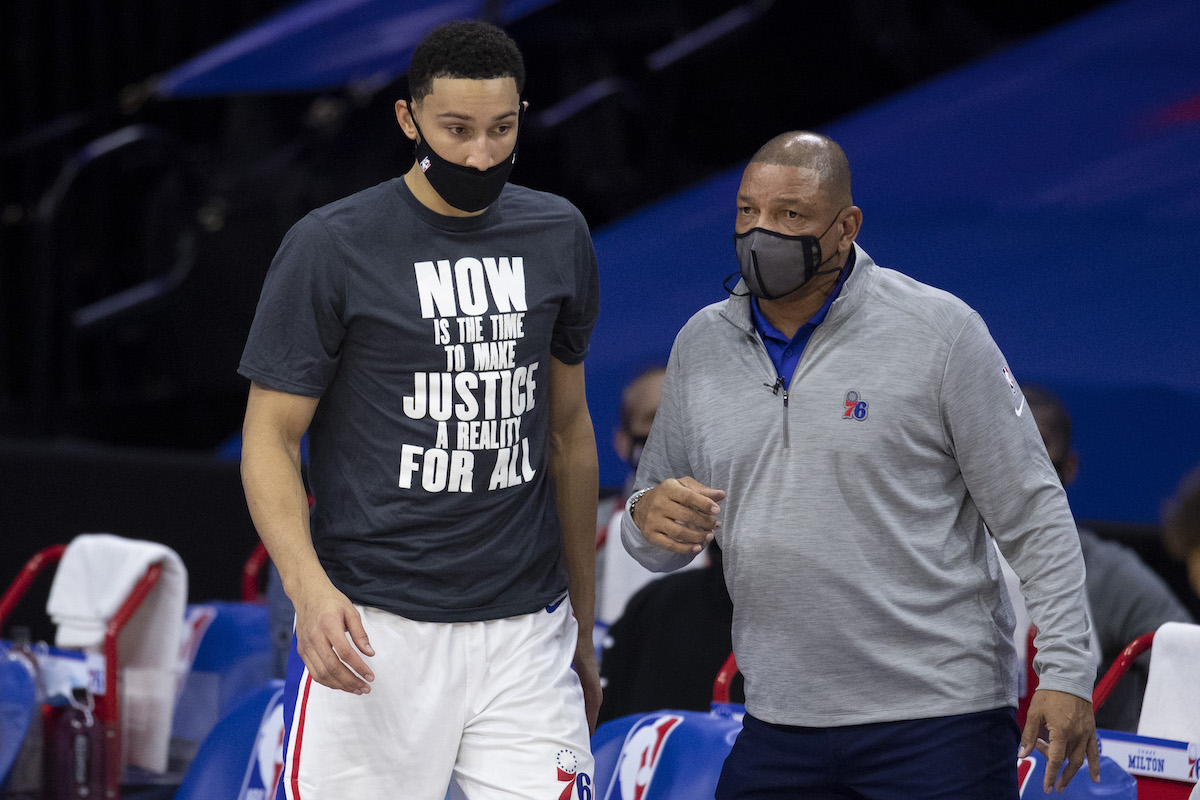 After Monday's victory over the Chicago Bulls, in which Joel Embiid continued his quest for the first scoring title by a center since Shaquille O'Neal and midseason arrival James Harden moved up the all-time free-throw and three-point leaderboards, Doc Rivers had to broach a tricky topic.
Does he think Ben Simmons, who will not play but will reportedly be in attendance, should be on the receiving end of a video tribute in his return to Philadelphia?
"Yeah, I do, actually," he said, per Gina Mizell of The Philadelphia Inquirer. "Ben did a lot of good things here, you know? It didn't end well, right? Just like marriages and all kinds of other things don't end well."
As Mizell astutely noted, plenty of teams in recent years have dedicated jumbotron time to appreciate the efforts of their former players. Recipients have ranged from superstars for whom time had run its course to role players who curried favor from the fans due to their hard work and willingness to contribute in ways that didn't show up in the box score.
Simmons falls somewhere in the middle.
He performed more like a superstar than a role player, but his lack of development as an offensive weapon negated much of his defensive prowess and left him unable to fully ingratiate himself with those in attendance at the Wells Fargo Center. And then came the ugly ending, which might take front-and-center placement but shouldn't cancel out everything he contributed before things went south and he went north.
The ugliness of the ending in Philly doesn't negate the prior success
Put aside everything that happened throughout the 2021-22 campaign, during the 2021 offseason, and at the back end of the 2020-21 season, including the dunk that wasn't against the Hawks to bring the postseason to a bitter conclusion.
Simmons still registered as a legitimate star for the 76ers, and players of that caliber almost universally receive recognition from their former teams when they first return.
After entering the league as the No. 1 overall pick of the 2016 NBA Draft, Simmons spent what should've been his rookie season rehabbing a knee injury and then thrived from the moment he stepped onto the floor.
His lack of three-point ability was a persistent wart, as was some of his trepidation about driving to the hoop and exposing himself as a poor free-throw shooter, but that didn't stop him from becoming a generational talent as a distributor and one of the league's best, most versatile defenders. The 25-year-old still has three All-Star selections, two All-Defensive nods, and one All-NBA honor on his resume, not to mention a delayed Rookie of the Year accolade.
Beyond his own individual success, he also helped turn the Philadelphia franchise around from the dark years of The Process to seasons spent competing for glory within the Eastern Conference. Remember that he first played in 2017-18 and then take a gander at the team's progression:
2013-14: 19-63
2014-15: 18-64
2015-16: 10-72
2016-17: 28-54
2017-18: 52-30 (lost in Eastern Conference semifinals)
2018-19: 51-31 (lost in Eastern Conference semifinals)
2019-20: 43-30 (lost in Eastern Confernece first round)
2020-21: 49-23 (lost in Eastern Conference semifinals)
Were Joel Embiid and the franchise's newfound ability to bring in high-caliber players on the free-agent market major parts of the growth? Of course. Were the early playoff exits disappointing? Without a doubt.
But without Simmons pestering opposing ball-handlers, switching onto every type of player imaginable, setting up his teammates with on-target passes, and posting per-game averages of 15.9 points, 8.1 rebounds, 7.7 assists, 1.7 steals, and 0.7 blocks, Philadelphia might still be floundering.
If nothing else, it's a chance for booing from the fanatical Philly faithful
Even if that doesn't sway you — and you're well within your rights as a supporter of the Sixers to feel that way — consider that Simmons was so good that even the disgruntled version, with his stock driven down by both his playoff shortcomings and the manner in which he handled his exit from Philadelphia, helped bring back James Harden in a blockbuster swap with the Brooklyn Nets.
Even if that doesn't sway you — and you're still well within your rights as a supporter of the Sixers to feel that way — also consider the opportunity.
Simmons isn't going to be playing against the Sixers Thursday night, and it's tough to imagine him taking the court in the Wells Fargo Center at any point in the foreseeable future. A video tribute is perhaps the only chance to shine the spotlight directly on him in a way that allows for the jeers to rain down from the sure-to-be-packed rafters.
"Our fans are so silent, so I can't imagine anything happening," Rivers joked with his tongue pressed firmly to his cheek.
Everyone from the most tepid anti-Simmons fans in attendance to the most vociferous in their vitriol should still be respectful of the mental health challenges that plagued the oversized point guard during his time in Philly — ones he's reportedly continuing to work through even in Brooklyn.
But isn't that chance to boo him what such a large percentage of fans in a sports ecosystem known for booing has wanted from the start anyway?