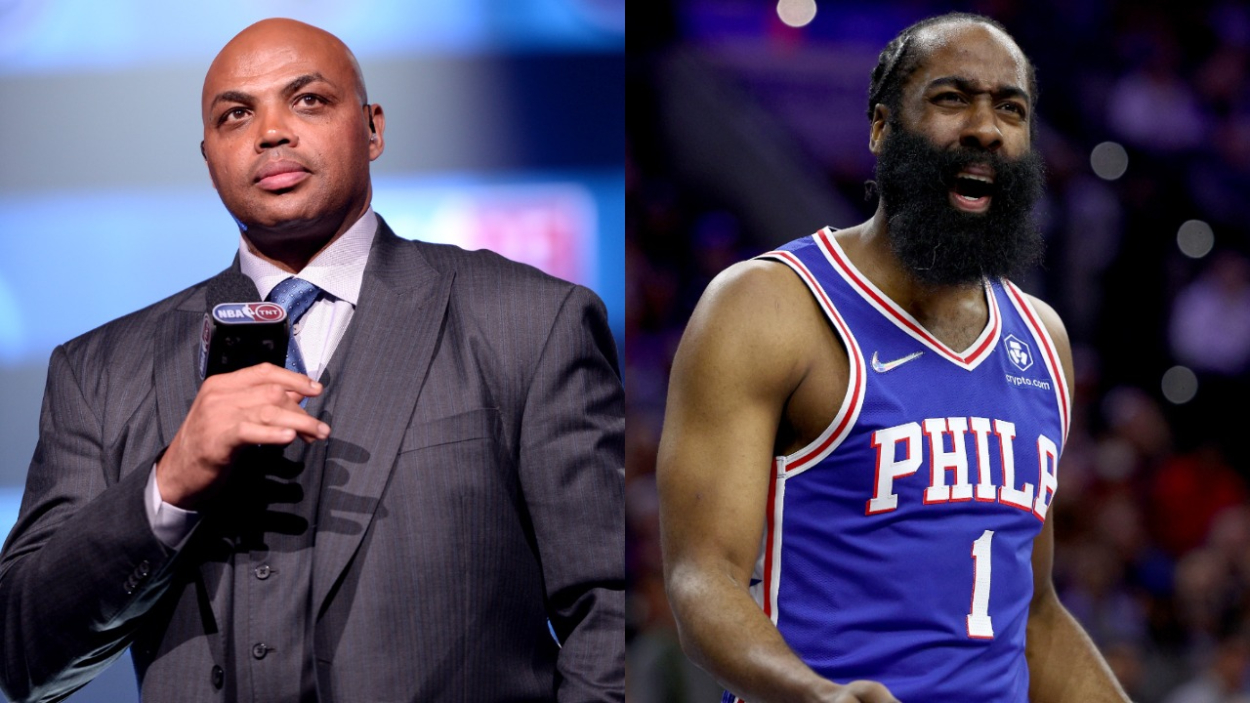 Charles Barkley Blasts James Harden for 'Fading in Big Games'
James Harden is known for coming up short in big games, and he did just that in the 76ers' recent contest against the Nets. So, Charles Barkley called him out.
For how great James Harden has been throughout his NBA career, there's a reason he hasn't won a championship: He comes up short in big games.
Luckily for his Philadelphia 76ers squad, their blowout loss to the Brooklyn Nets on March 10 wasn't a playoff game. However, it still had a postseason-like atmosphere given that Harden played on the Nets up until recently, and Ben Simmons played on the Sixers. So, The Beard's disappointing performance could just be foreshadowing for what's to come.
Charles Barkley, though, didn't let Harden get away with his disappearing act. Chuck had a brutally honest response to the 10-time All-Star's game against his old team.
James Harden had an awful game against the Nets
It had been all sunshine and rainbows for James Harden and the 76ers. In his first five games on the court with Philly, Harden averaged 24.6 points, 12.4 assists, and 7.6 rebounds. He also shot 53.1% from the field and 44.8% from 3-point range.
The Sixers won each game he made an appearance.
However, their contest against the Nets was a different story.
The three-time NBA scoring leader had just 11 points on 3-of-17 shooting. The Sixers lost by a whopping 29 points.
Harden did himself no favors with that kind of performance, especially against a team that has become Philly's natural rival, given the animosity that the Harden-Ben Simmons trade ignited. So, Charles Barkley, a 76ers legend, had a harsh response to the guard's game.
Charles Barkley blasted James Harden for 'fading in big games'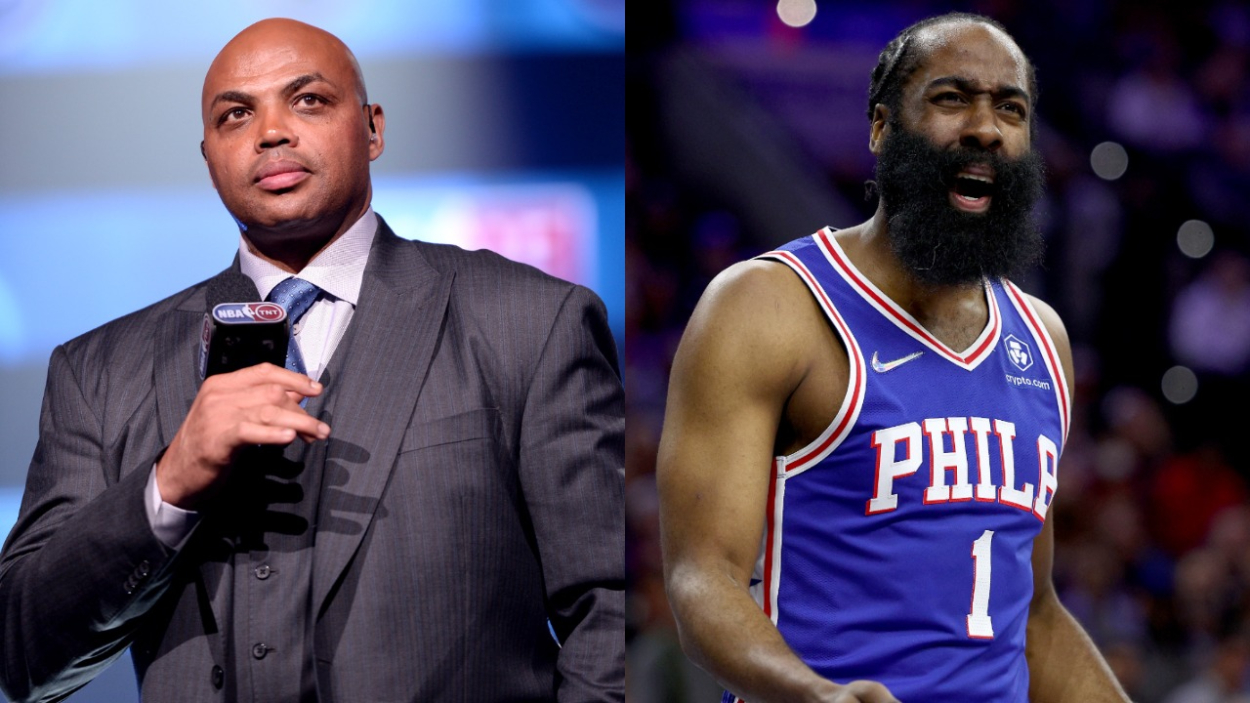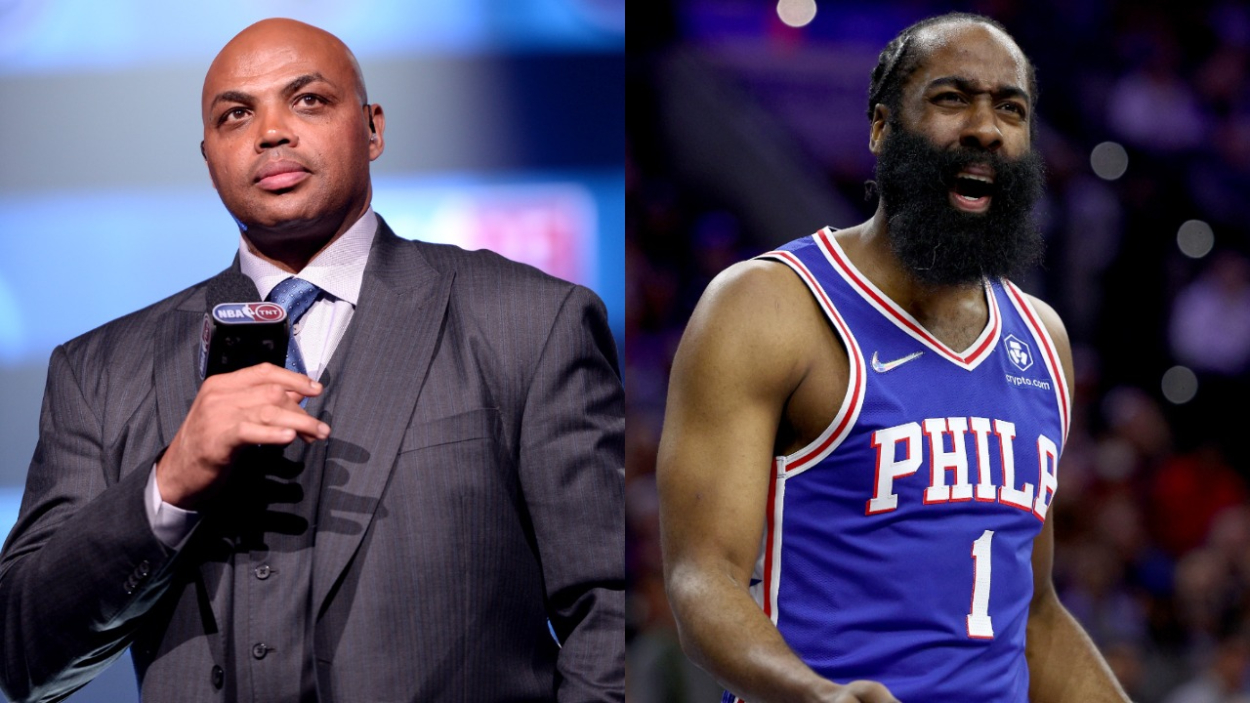 The showdown between the Nets and 76ers was ugly from the get-go. Brooklyn led 72-51 at halftime, and James Harden had already done most of his damage, scoring 11 points on 3-of-15 shooting.
So, Barkley had criticism before the game even ended.
"He has a reputation for fading in big games; he has done nothing tonight to make us forget that," Barkley said during halftime on an episode of Inside the NBA. "… James has just been flat-out awful."
Barkley then discussed how teams don't fork over boatloads of cash for their superstars to beat bad/mediocre teams. Those players need to beat the best of the best.
"We don't pay stars to beat Minnesota and the Knicks," he said.
After the game in which the 76ers lost 129-100, Barkley didn't let up.
"He's struggled in all big games," he said, per NBA on TNT's YouTube. "If you go back and look, even when [he was] in Houston, when they should have beat the Golden State Warriors (in 2018), they were up until Chris Paul got hurt. And Chris was the leader of that team. … James is a terrific player, a great player. But when the lights are the brightest, he has played awful. The thing about being a great player; you don't have to play great. You just can't stink up the joint."
Barkley seemed to make some great points, but how correct is he? Has Harden disappeared that much in big games?
The Beard disappears time and time again
This wasn't the first time James Harden has choked in a big game this season. In October, the 2017-18 NBA MVP had 14 points on 4-of-12 shooting for the Nets against the Miami Heat before later scoring just 14 on 5-of-21 shooting for Brooklyn against the Chicago Bulls in December. In a contest against the reigning Western Conference champion Phoenix Suns, Harden had 12 points and made four of his 15 shots.
But the postseason is where he has been most disappointing.
Here's a list of some of his worst performances.
2012: Games 3 and 4 of NBA Finals (lost in five games): 8.5 points per game on 20.0% shooting
2015: Game 5 of the Western Conference Finals (trailing 3-1): 14 points on 18.2% shooting
2017: Game 6 of the Western Conference semifinals (trailing 3-2): 10 points on 18.2% shooting
2018: Games 6 and 7 of Western Conference Finals (led 3-2 before losing 4-3): 32.0 points per game on 41.5% shooting; shot 24.0% from deep and committed 14 turnovers
James Harden is one of the greatest players of all time. He knows how to get the ball in the bucket, and he does it at a high level. In fact, The Beard even makes free-throws and three-pointers like no one in history.
But, as Barkley said, he shrinks when the lights are the brightest. It's time for him to start proving otherwise.
Stats courtesy of Basketball Reference