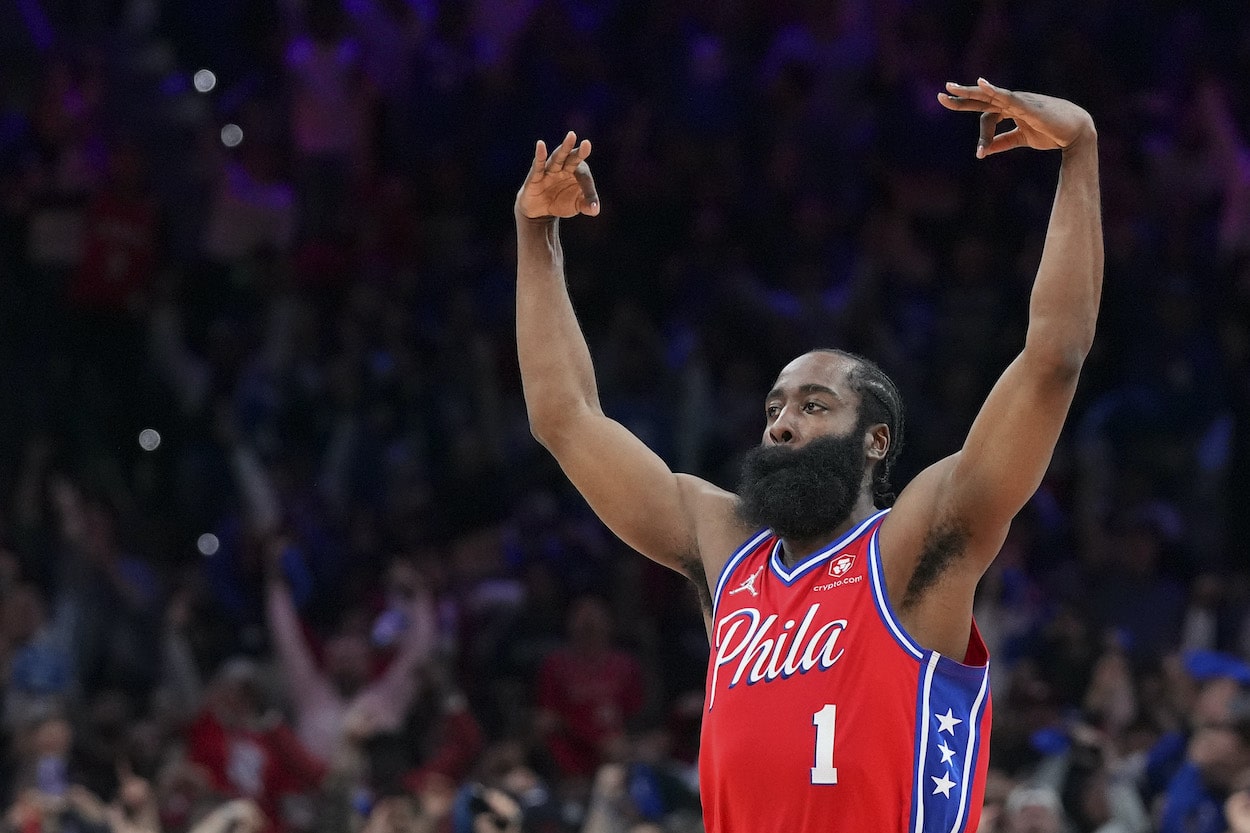 James Harden's Heroic Game 4 Emphatically Proved the Ben Simmons Trade Was Worth It
Ben Simmons could never have replicated James Harden's Game 4 performance against the Heat.
Over the last few weeks — as James Harden continued to look nothing like his old self and Ben Simmons watched from the bench as his new team got swept out of the playoffs in the first round — it started to look more and more like the blockbuster trade deadline deal between the Philadelphia 76ers and the Brooklyn Nets was a lose-lose for both sides.
It still might turn out that way, but only one of those teams has a chance to make a run to the NBA Finals this year. They have a chance because of Harden's heroic performance in Game 4 that willed the Sixers to a 2-2 series tie against the Miami Heat. With 31 points and six three-pointers in the contest, Harden accomplished what Simmons was never able to with Philadelphia, and in the process, he proved why the trade was well worth it no matter how the 76ers' season ends.
James Harden does what Ben Simmons was never capable of with the 76ers
The Heat entered Game 4 against the 76ers knowing a win would basically lock up their place in the Eastern Conference Finals. The game plan was clear: Force the ball out of Joel Embiid's hands and make Harden beat them.
That strategy has worked just fine against the Sixers over the last few months. Harden hadn't scored more than 22 points in a game since March, as it's been clear Father Time has been his toughest defender all season.
So, Miami double-teamed Embiid every time he touched the ball in Game 4. He still finished the game with 24 points, but he only managed to get off 13 field-goal attempts. For someone who averages nearly 20 attempts per game this season, that's far too low in a must-win playoff game.
It suddenly became Harden's time to show why he was brought to Philly in the first place, and he finally stepped up when the 76ers needed him most. The Beard went off for 16 points on 5-of-9 shooting in the fourth quarter to stretch the lead and power the Sixers to a much-needed win.
Harden finished the game with 31 points, nine assists, and seven rebounds. He also drained six threes to match his season-high. Do you know how many threes Simmons has made since being drafted in 2016?
Five.
In his entire career.
Five!
Harden topped that number in a single playoff game, and he put the 76ers on his back in a way Simmons never could during his time in the 2-1-5. In last year's playoff series against the Atlanta Hawks, Simmons attempted three shots in the fourth quarter over the entirety of the seven-game series. That is somehow not a typo.
When the pressure was at its peak, Simmons folded in epic fashion. He didn't even want to touch the ball in the fourth quarter of playoff games last year. Harden, on the other hand, lives for those moments. It hadn't paid off until Game 4 against the Heat, but Sixers fans at least know he won't pass up an open dunk with the season on the line.
This is the Harden Philadelphia traded for in February, and even though he isn't what he used to be, he's miles better than Simmons ever was for the 76ers.
Job not finished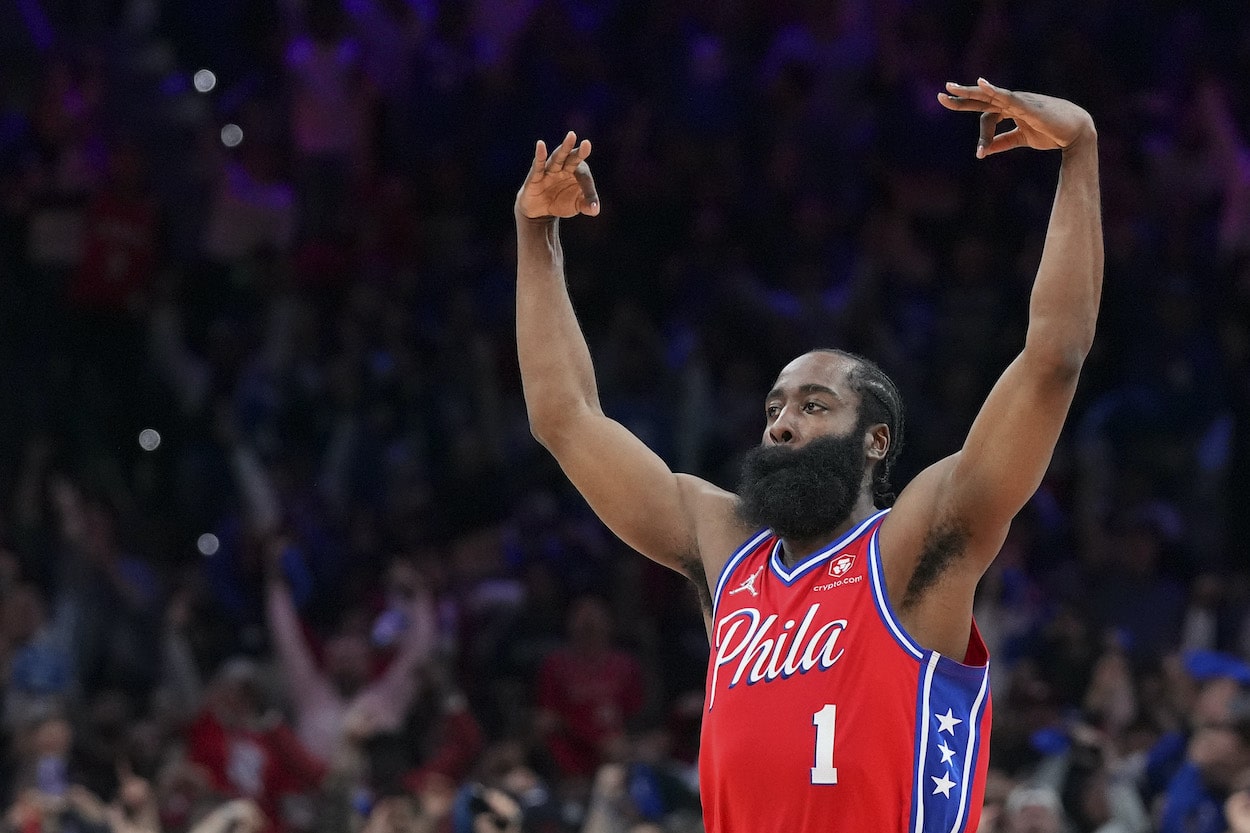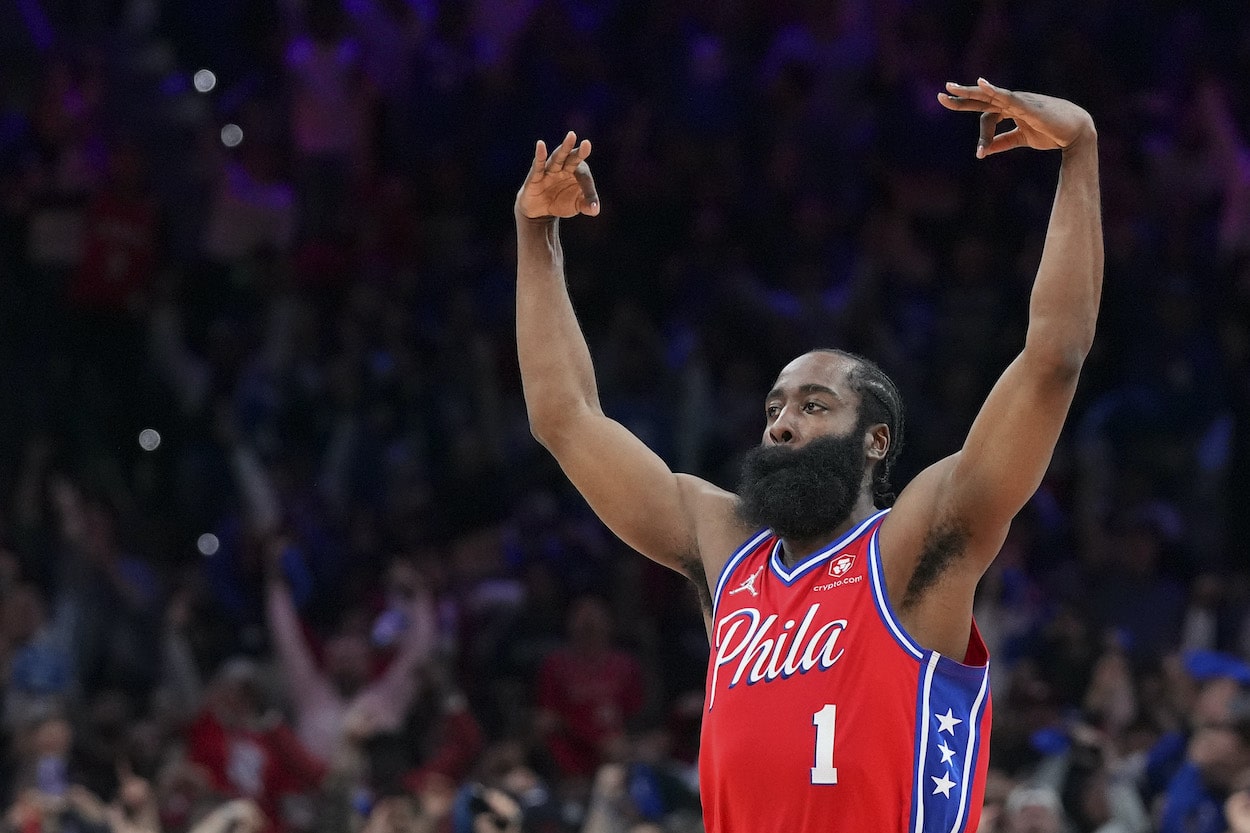 Even this version of Harden is an upgrade over Simmons, but he wasn't brought here for one stellar playoff performance. He was brought here to win a championship for the city of Philadelphia, and that's exactly what he's capable of with more performances like the one we saw Sunday night.
Embiid is going to continue drawing double- and triple-teams, and it will be up to Harden to close games late when the MVP candidate isn't an option. The veteran lefty proved he can still do just that, but it needs to happen on a more consistent basis.
The race for the Larry O'Brien Trophy is heating up, and Sixers fans should be thrilled Harden is leading the way at point guard instead of scared-to-shoot Simmons.
Like Sportscasting on Facebook. Follow us on Twitter @sportscasting19.