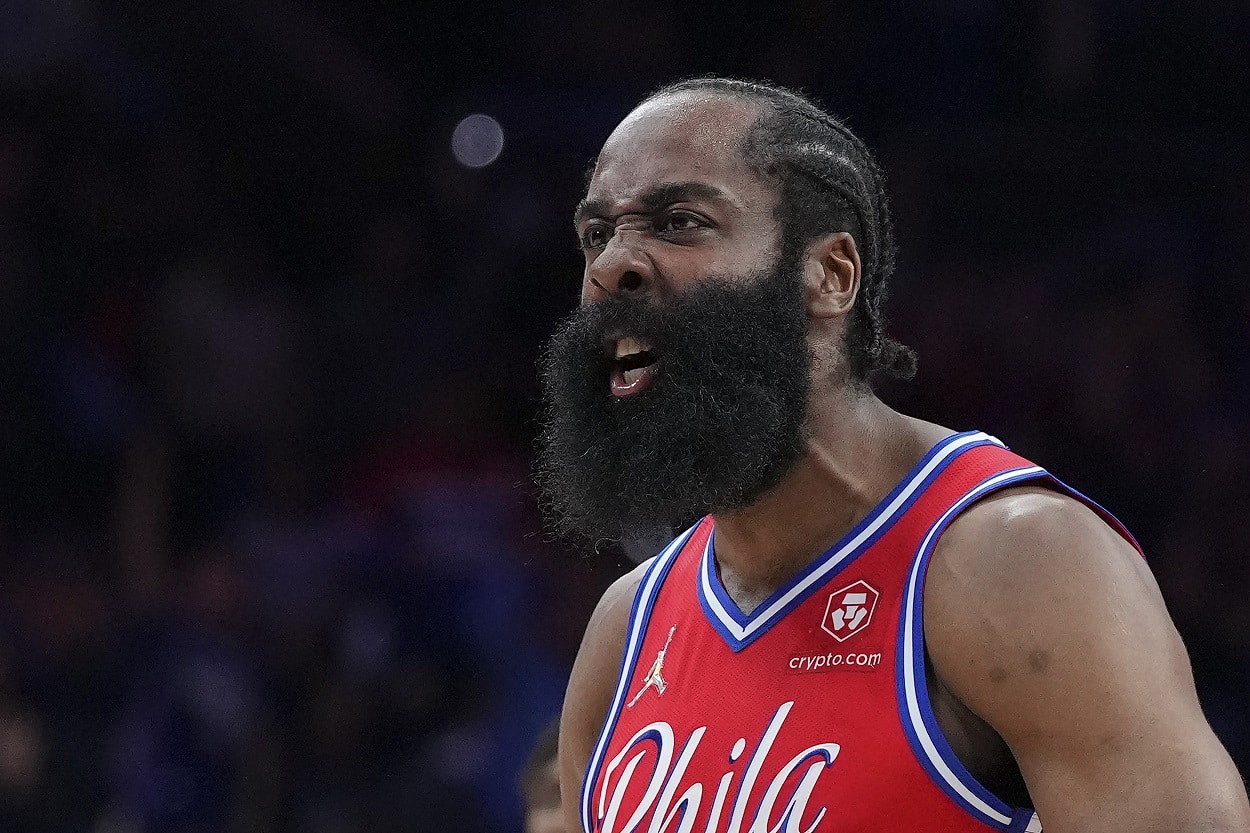 James Harden: A Longtime and Troubling Trend That Keeps 'The Beard' From Being an All-Time NBA Great Has Followed Him to the Philadelphia 76ers
The all-time NBA greats level up in the postseason. James Harden levels down.
James Harden had what was easily his best game in a Philadelphia 76ers uniform in Game 4 of the Eastern Conference semifinals against the Miami Heat. With his team desperately needing a victory to tie the series at 2-2, Harden scored 31 points, shooting 8-for-18 from the floor, a dizzying 6-for-10 from the 3-point line, and 9-for-10 from the foul line, also adding nine assists and seven rebounds in the Sixers' 116-108 triumph.
But both he and the 76ers as a whole backtracked something fierce on Tuesday night in Game 5 as they got blown out by 35 points, 120-85, and are now just one loss away from elimination.
Harden looked nothing like he did in the previous game, posting 14 points, six rebounds, and four assists in 37 minutes. He shot 5-for-13 from the floor, 2-for-6 from beyond the arc, and 2-for-3 from the charity stripe. There was once a time when Harden going to the foul line just three times in a game would almost warrant its own story. But that's not what we're doing here today.
No, today we're looking at how the 10-time All-Star's numbers always seem to dip in the NBA playoffs. Sure, they still look pretty darn good in an overall sense but compared to what players who've actually won championships do in the postseason, you'll see what a problem it really is.
James Harden's numbers dip in the NBA postseason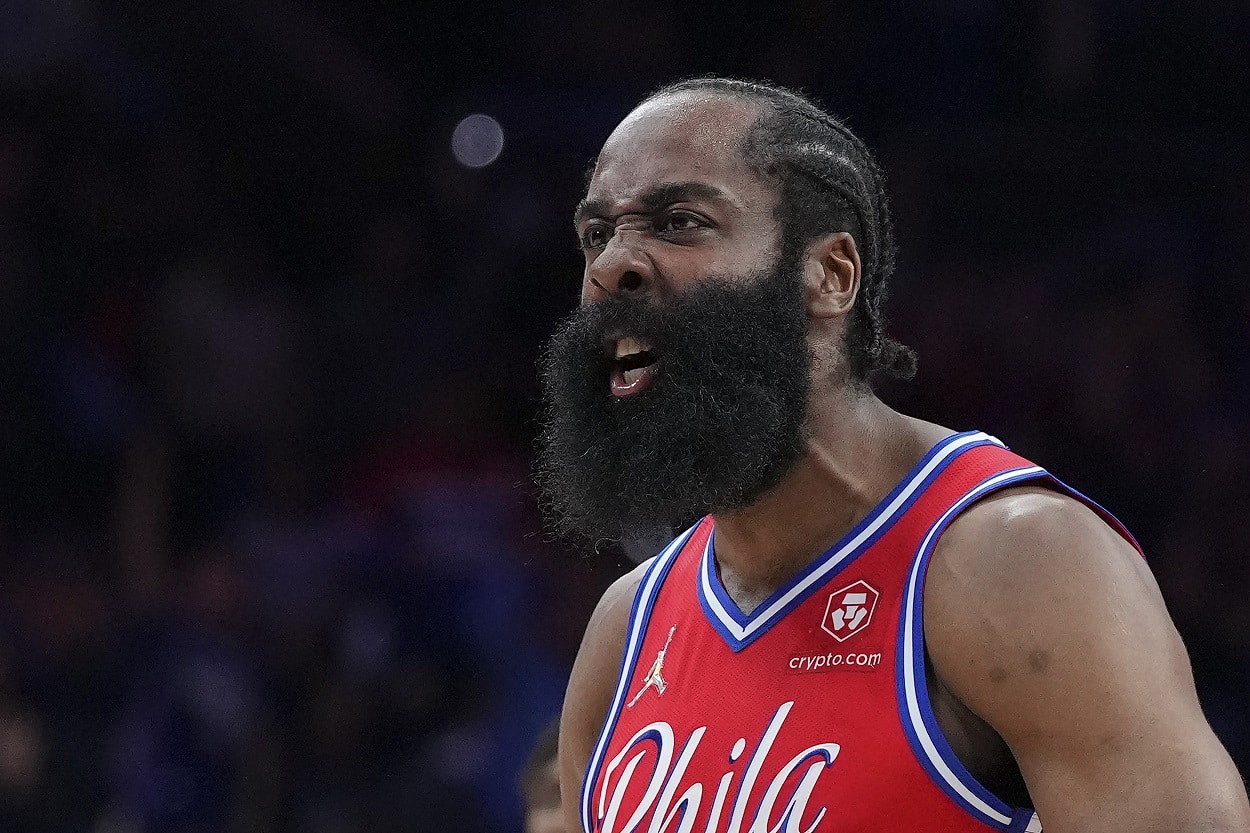 No matter what you think of the guy, there's no getting around the fact that James Harden has put up some staggering numbers throughout his career. Here's what he's done in 942 regular-season games over 13 years.
| PTS | AST | REB | STL | BLK | FG% | 3P% | FT% |
| --- | --- | --- | --- | --- | --- | --- | --- |
| 24.9 | 6.8 | 5.6 | 1.5 | 0.5 | .442 | .361 | .860 |
And here's what he's done in 148 postseason games.
| PTS | AST | REB | STL | BLK | FG% | 3P% | FT% |
| --- | --- | --- | --- | --- | --- | --- | --- |
| 23.0 | 6.2 | 5.5 | 1.7 | 0.5 | .426 | .334 | .869 |
Again, it's not as if these postseason numbers are terrible by any stretch of the imagination. But when you're considered an elite player and win an NBA MVP and are a consistent All-NBA selection, you're supposed to get better in the playoffs, not worse.
Oddly enough, one stat where Harden improves is on defense, which is pretty funny — you know, because he's a horrible defender overall. And he's better from the foul line.
But everything else is worse. And it's not as if a single postseason dragged his averages down. In 10 of 13 seasons, Harden's scoring average was worse in the playoffs than in the regular season. The exceptions were his second year in the league with Oklahoma City and his first two years with the Rockets.
So in every season for every team since the 2013-14 campaign, Harden has essentially choked in the playoffs. Yes, I know that's a strong word, but what else am I supposed to call it? And it's happening again with the 76ers.
In 21 regular-season games in a Philly uniform this season, Harden averaged 21.0 points, 10.5 assists, and 7.1 rebounds. In the Sixers' 11 playoff games thus far, "The Beard" has averaged 19.3 points (worse), 8.5 assists (worse), and 5.8 rebounds (worse).
The all-time greats level up in the postseason while Harden levels down
So now that you've seen how James Harden has declined in the postseason pretty much his entire career, here's a look at how some of the most celebrated champions of the past few generations have upped their game come NBA playoff time.
We'll start with the man most use as the measuring stick, six-time NBA champion Michael Jordan. In 1,072 regular-season games, Jordan averaged 30.1 points, 6.2 rebounds, and 5.3 assists per game. And if we're talking just his career with the Chicago Bulls, he averaged 31.5 points, 6.3 rebounds, and 5.4 assists in 930 games. But in 179 postseason games, MJ averaged 33.4 points, 6.4 rebounds, and 5.7 assists.
How about five-time champ Tim Duncan? In 1,392 regular-season games with the San Antonio Spurs, "The Big Fundamental" averaged 19.0 points, 10.8 rebounds, and 2.2 blocks per game. In 251 playoff games, he averaged 20.6 points, 11.4 rebounds, and 2.3 blocks.
Speaking of five-time champs, Kobe Bryant averaged 25.0 points in the regular season and 25.6 points in the postseason. Three-time champ Stephen Curry, who's knocked Harden out of the playoffs on multiple occasions, has averaged 24.3 points per game in the regular season during his career and has upped his average to 26.6 in the playoffs.
And, of course, we have LeBron James, who's also eliminated Harden from the playoffs. In 1,366 regular-season games, LeBron has averaged 27.1 points, 7.5 rebounds, and 7.4 assists. In 266 postseason appearances for the Cavs, Heat, and Lakers, the four-time champion has averaged 28.7 points, 9.0 rebounds, and 7.2 assists.
Okay, his assists go down a touch, but I think you see the point here.
The all-time greats level up when the NBA postseason rolls around. James Harden levels down. Is it really any wonder why he hasn't won a championship and likely never will?
Stats courtesy of Basketball Reference
Like Sportscasting on Facebook. Follow us on Twitter @sportscasting19 and subscribe to our YouTube channel.