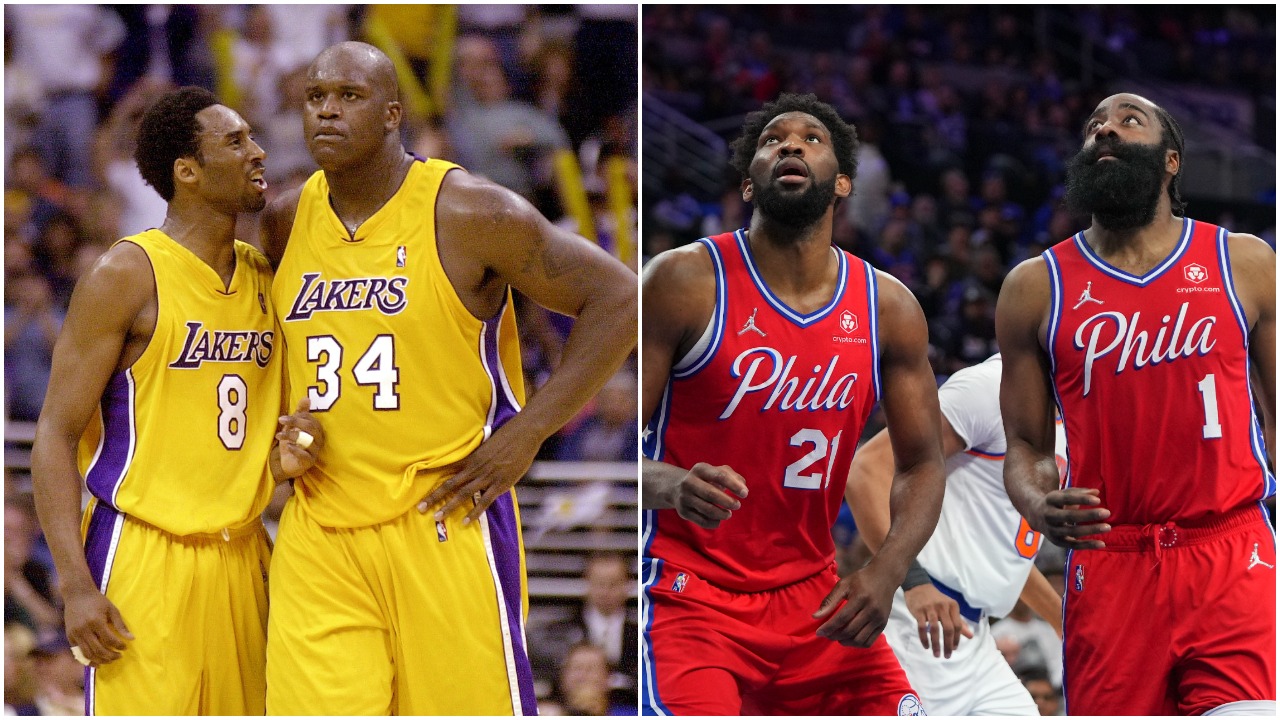 Shaquille O'Neal Quickly and Emphatically Shut Down Comparisons of Joel Embiid and James Harden to Him and Kobe Bryant
Shaquille O'Neal doesn't want people comparing the duo of Joel Embiid and James Harden to him and Kobe Bryant.
Simply put, the legendary duo of Shaquille O'Neal and Kobe Bryant is easily one of the best 1-2 punches in NBA history. And arguably the greatest guard-center combo as well, although Magic Johnson and Kareem Abdul-Jabbar or Bob Cousy and Bill Russell might have something to say about that. But we'll save that for another day.
While their relationship was undoubtedly rocky at times, both on and off the floor, there's no question that Shaq and Kobe got the job done for the Los Angeles Lakers back in the day.
Teammates for eight seasons in LA, the pair won three consecutive NBA titles from 2000 to 2002, electrifying crowds everywhere until parting ways in 2004 following their fourth NBA Finals appearance together, a five-game series loss to the Detroit Pistons.
These days, some see the new Philadelphia 76ers duo of current NBA scoring champ Joel Embiid and 2018 NBA MVP James Harden as the new Shaq and Kobe. But O'Neal isn't having it and emphatically got that point across recently.
Shaquille O'Neal quickly shut down comparisons of the duo of Joel Embiid and James Harden to him and Kobe Bryant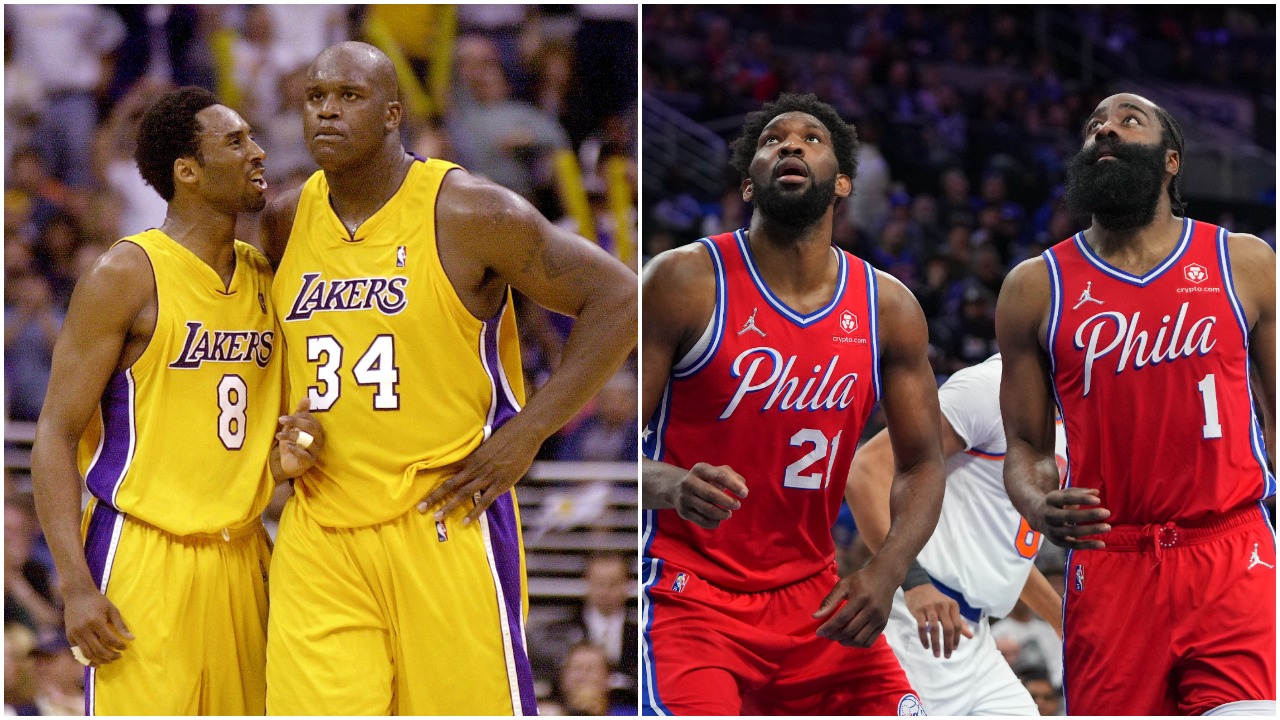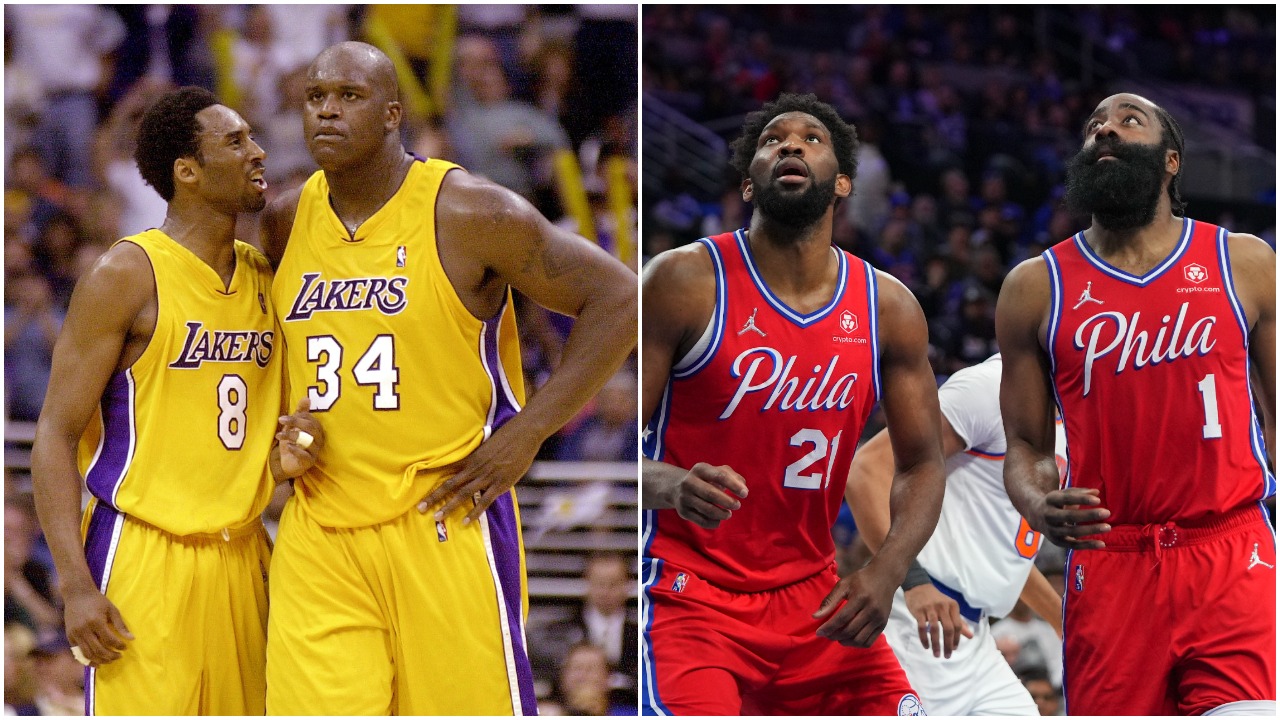 Traded to the Sixers after a disappointing run with the Brooklyn Nets, Harden played his first game alongside Embiid on February 25, and both played well in a 31-point drubbing of the Minnesota Timberwolves. Embiid scored 34 points and grabbed 10 rebounds, while "The Beard" dropped 27 points, 12 assists, and eight rebounds.
These types of performances continued for both as Embiid and Harden won their first five games together (Harden sat out a March 5 loss to the Miami Heat), averaging a combined 57.2 points, 18.4 rebounds, and 15.8 assists.
Things have fizzled since then, but given the duo's hot start, people began comparing them to the NBA's all-time great duos. Naturally, as Shaq and Kobe are one of them, the conversation recently came up during an episode of O'Neal's Big Podcast With Shaq.
"The Diesel" was asked by co-host Spice Adams if he thought Embiid and Harden were the next coming of him and Bryant, and Shaq put that notion to bed in a hurry with a quick "no." When Adams continued and wondered if Shaq thought the Sixers duo would be in the conversation if Philly won the title this year, the four-time NBA champ shut that down as well.
"Not at all. We won three out of four. Not off one year. Me and Kobe had eight years of damage together. No, not even close. Stop it. No.

"Listen. N-O. H no. And F no."

Shaquille O'Neal on the comparison of Joel Embiid and James Harden to him and Kobe Bryant
Numerous outlets reported that he used the words associated with the letters in the above quote, but those who actually listened to that particular episode know better.
But I think he still got his point across, and he's exactly right. No matter what happens this year, Embiid and Harden won't be anywhere near the same level as Shaq and Kobe. As O'Neal started to say during the show, get to two titles in a row and maybe a conversation about anointing that duo the next somebody can begin. But until then, let's keep that chatter down.
Besides, it's now the postseason. We all know Harden isn't winning anything anyway.
Stats courtesy of Basketball Reference